Filled with crumbling, camera-friendly ruins, Thailand's old capital of Ayutthaya has long been a popular Bangkok day-trip destination.
Just an hour outside of the city, this UNESCO-listed heritage site, founded in 1350, was the second Siamese capital after Sukhothai. Bustling with commerce, it was one of the world's most cosmopolitan cities, welcoming diplomats from far-flung nations.
But in 1767, 250 years ago, the Burmese moved in and demolished the kingdom, forcing inhabitants to move downriver and establish a new capital – Bangkok.
Nowadays Ayutthaya has much more to offer than a fascinating slice of Siamese history.
A recent influx of modern dining and sleeping options is tempting some to stay for the night, making it a great time to turn a visit to one of Thailand's most culturally rewarding cities into a weekend getaway.
Ayutthaya, Thailand's former capital
Ayutthaya's historic highlights
Though the ruins of the former capital are spread throughout modern-day Ayutthaya province, for the sake of time most visitors tend to stick to the main island, which sits at the confluence of three rivers: Chao Phraya (which flows to Bangkok and onto the sea), Lopburi and Pa Sak.
The total area considered World Heritage property is less than three square kilometers.
"The ancient city area is not that large and one of my favorite things to do there is to rent a bicycle and explore the city that way," says archaeologist Noel Hidalgo Tan of the Southeast Asian Regional Centre for Archeology and Fine Art.
In terms of specific historic sites, he recommends Wat Phra Sri Sanphet (the former palace grounds) and Wat Mahathat, home to one of Thailand's most photographed relics – a lone Buddha head emerging from the roots of a tree.
"The strangler figs are reminiscent of the trees growing on the temple ruins in Angkor," he says of the head.
"One can get quite close to the Buddha head but remember to be respectful, as people still worship it."
Next to Wat Mahathat is Wat Ratchaburana, which Tan says was recently restored by a team of Thai and German stone conservators.
"Wat Ratchaburana has heavy Khmer influences, it looks like one of the towers at Angkor Wat."
Nearby, the majestic Wat Phra Ram was constructed on the cremation site of King Ramathibodi I, Ayutthaya's first monarch.
Wat Lokayasutharam is where you'll find another well-photographed spot – a 42-meter-long reclining Buddha.
For those looking for more info on the city's historic sites, Ayutthaya-history.com is a great resource.
To get a sense of the city's cosmopolitan past, Tan recommends visiting the former Portuguese, Japanese and Dutch settlements to the south of the island.
"They represent some of the early multinational presences in the region who were allowed to build settlements," he says.
"Some of the region's earliest churches were established here, in the Portuguese Settlement. The Portuguese legacy continued when the capital moved to Bangkok and if you sail up the Chao Phraya you still see several churches along the banks.
"The Baan Hollanda museum is another great place – it was the former VOC (Dutch East Indies Company) building."
Going beyond the city's role as a center of commerce, Tan says it's also compelling to consider Ayutthaya's role in the region's ongoing battles for geopolitical supremacy.
"I think many tourists might come to Ayutthaya seeing it as a former ancient 'capital' of Siam – not just Thailand – before the capital moved to Bangkok," says the archaeologist.
"But it would be interesting to understand Ayutthaya as a political power that existed contemporary to other kingdoms in medieval Southeast Asia: Angkor (Cambodia), Lan Xang (Laos), Lanna and Sukhothai (northern Thailand) and Pegu and Ava in what is now Myanmar.
"These kingdoms competed, rose and fell in reaction to each other and so in the ruins one sees the echoes of greatness, and at the same time reminders of loss in battle."
MORE: Expert advice on visiting Cambodia's Angkor Wat ruins
The food
When it comes to food, Ayutthaya is famous for three things: giant river prawns, roti sai mai and boat noodles.
We asked Leela Punyaratabandhu, author of new cookbook "Bangkok: Recipes and Stories from the Heart of Thailand," to offer some insights on these essential eats.
"So popular are Ayutthayan giant river prawns that the animal has been named the aquatic animal symbol of Ayutthaya province – its mascot, if you want to think of it that way," she says.
Giant river prawns are prized for their rich, creamy, oozing tomalley and firm yet tender flesh.
"There are many dishes you can make with them from the classic tom yam or pad thai to the more elaborate dishes," says Punyaratabandhu.
"But what most people go for is simple grilled giant river prawns (kung phao) where fresh prawns are cooked over wood charcoal until slightly blackened on the outside and barely opaque on the inside. They're served split in half lengthwise allowing you to see (and scoop out with a spoon) the beautiful tomalley. They're pricy, but they're worth it."
Prices range from 400-1,400 baht ($11.75-$41) depending on weight.
Roti sai mai, an old-school sweet snack, is Punyaratabandhu's personal favorite.
"Only two components – no embellishments necessary – make up this perennial favorite: roti, a wheat-based pastry, and sai mai (literally, 'silk threads'), caramel hand-pulled into ethereal and crystalline strands as thin as your hair," she says.
"Not only is roti sai mai delicious; it's fun to eat, too, because the snack always leaves the hands of the vendors unassembled; you're the one putting the two components together seconds before you're about to eat it."
And lastly, every Ayutthaya visitor is going to want to hit up a local noodle stand for a few bowls of boat noodles.
"Boat noodles, noodles originally sold from boats, are some of the most delicious noodles Central Thailand has to offer," says Punyaratabandhu.
"There are multiple types of boat noodles, but the one that stands out among the rest and has come to define the entire genre, is the type redolent of dried spices with its broth dark, hearty, and slightly thickened with blood.
"Ayutthaya has some of the best boat noodles around."
Hip new offerings
This year, a piece of modern Ayutthaya architecture has taken a bit of the spotlight away from those historic ruins.
Opened in May, The Wine Ayutthaya – an extension to the Grand Chaophraya Restaurant (42/1 Moo 4, Ban Run, Ayutthaya; +66 89 615 5999) – was designed by Bangkok Project Studio and inspired by local wooden homes.
"The building was constructed to become a new tourist attraction in hopes of stimulating the economy of local communities," says lead architect Boonserm Premthada of the project.
A single story nine-meter high building blends in with existing large trees.
Made entirely from steel-reinforced plywood, the interior is divided into four platforms, each offering views of the river from different angles.
Another new riverside opening, Ayutthaya's The Summer House (71/1 moo 6 Koh Rean, Ayutthaya; +66 94 224 2223) is adding a modern splash to some old classics.
Located just a short drive from the city center, it's set in the owner's former family holiday home and features bright, modern decor that gives off a Swedish vibe.
Popular dishes include the Summer Roll, a buttery baked bun filled with river prawn and spicy mayo, cheese, lettuce.
MORE: A sneak peek from atop Bangkok's mighty MahaNakhon building
Where to stay
Ayutthaya is home to dozens of guesthouses and hotels, many dotting its river banks.
Among the top stays is Sala Ayutthaya, a chic boutique riverside property offering panoramic views of the Chao Phraya river and pretty Wat Phutthaisawan temple.
The design features multiple nods to the city's historic architecture, the most obvious being the liberal use of brickwork, which pairs beautifully with the hotel's stark white walls.
The pool might be small but the property's 26 modern, slick rooms are massive – and a steal, with rooms starting from just over $100 night.
Many offer views of the river, others have their own small private pool.
There's also a small gallery showcasing photography and paintings from the area as well as a riverside restaurant with an excellent drinks menu that includes a selection of Thai-brewed craft beer.
The slow boat to Ayutthaya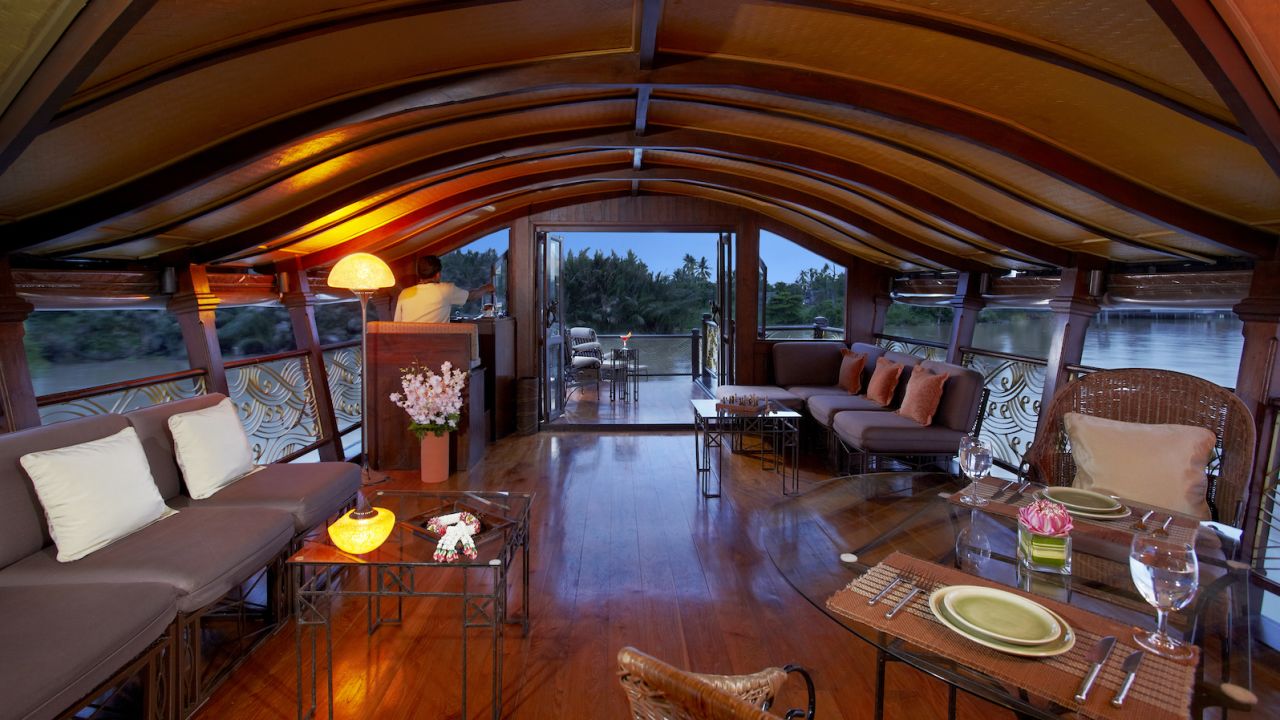 Easy as it is to get to Ayutthaya from Bangkok by road, an overnight cruise on a restored rice barge is a far more enjoyable experience.
There's nothing quite like sitting on the open deck, drink in hand, as you watch Bangkok's densely packed riverbanks thin out to make way for open countryside – dotted with the odd factory.
There are a few options available in Bangkok, with Anantara Dream at the top of the list.
Owned by luxury hotel brand Anantara, this 100-year-old teak barge only has two staterooms and can be booked for private return Ayutthaya journeys.
Tours are customizable but they recommend the two-night/three-day experience, offering plenty of time to explore the area.
Guests depart from the pier at the Anantara Riverside Bangkok Resort.
Bike tours
Though Ayutthaya's colorful tuk tuks are always standing by to shuttle you around, biking is a popular way to explore this compact city.
Bike rentals are widely available but for added insights we suggest booking a tour.
Among the recommended bicycle tour operators is "The Other Side of Bangkok," which recently started offering Ayutthaya excursions.
You can customize your tour depending on what you want to see/do.
Founder/director Peachaya Srirunnanngam – herself a former Ayutthaya resident – is a superb tour guide and a brilliant source of knowledge on the city.