Which came first, the chicken or the egg? If we're talking menus, you might be inclined to say "egg," if only for its ubiquity at breakfast. But the egg is the star of many other meals, too, and it is beloved for its workhorse qualities in recipes the world over.
You could say the egg is ready for anything, and for its close-up. Or, as the saying goes, when in doubt, "put an egg on it."
To understand the power of the egg, you only need to look at the titles of two tomes devoted to the food: "Egg: A Culinary Exploration of the World's Most Versatile Ingredient" by Michael Ruhlman and "All About Eggs: Everything We Know About the World's Most Important Food," edited by Rachel Khong.
"The greatest of all our foods, the egg combines beauty, elegance, and simplicity, a miracle of natural design and, as food, bounty," writes Ruhlman.
"For as long as eggs have popped from bird butts, they've been relished the world round," says Khong, "eaten, drunk, steamed, whisked, fried, baked, poached, cracked into dorm room bowls of Top Ramen, coddled in Michelin-starred restaurants. People eat eggs everywhere."
This unranked, purposefully meandering list takes us on a global tour of just some of those places, showcasing the myriad ways that eggs anchor dishes that are sweet, savory and every flavor profile in between.
Shakshuka, Middle East and North Africa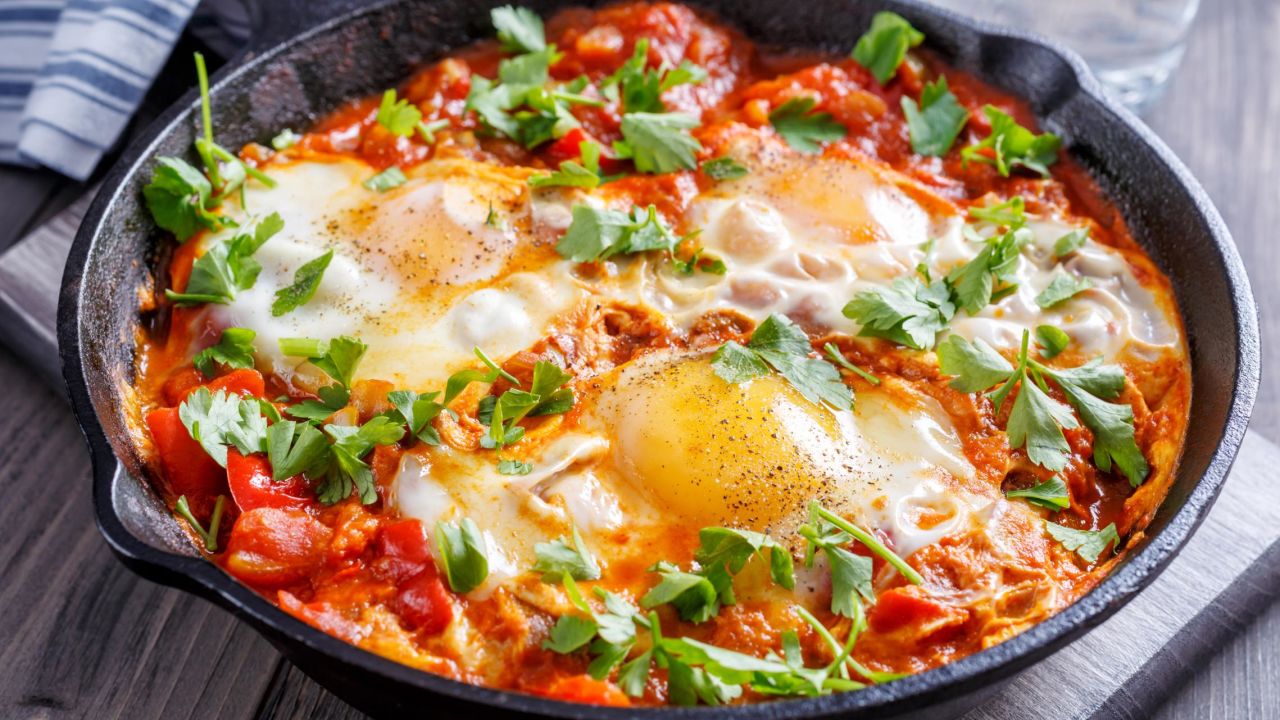 While most commonly referred to as an Israeli dish, shakshuka (rough translation: "all mixed up") is eaten across the Middle East and North Africa. In the West, it's often presented in iron skillets along with hunks of crusty bread, making it a brunch favorite.
What makes shakshuka so irresistible, though, is the soft-cooked egg poached in a peppery tomato sauce. Whatever extra accoutrements are added, nothing beats the thrill of dragging a slice of bread into the fragrant sauce laced with runny yolk.
Burger with the lot, Australia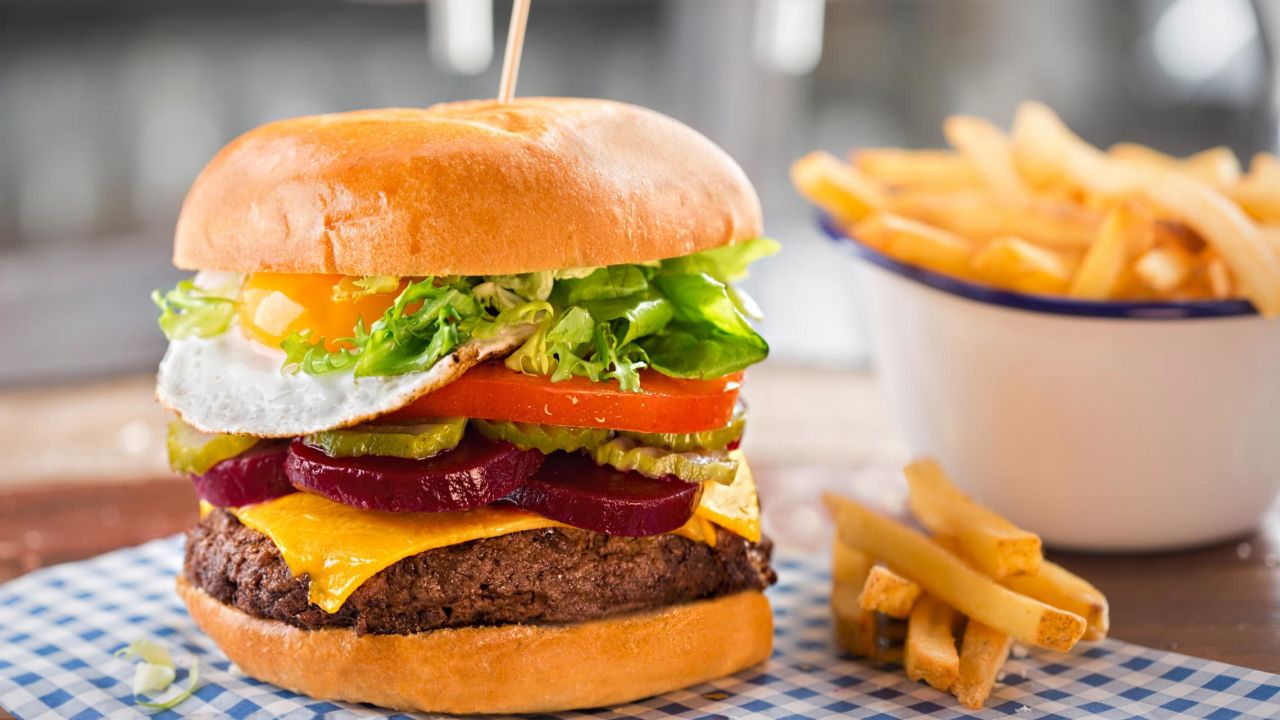 Australian cuisine stands on the strength of its uber-fresh ingredients, but one of the country's most beloved dishes is a more down-and-dirty affair – a burger from the local "milk bar" or fish-n-chip shop.
The stuff of beach days in the sun, the Aussie burger starts out simple enough with a plain white bun, minced beef patty, grilled onions, cheese. What makes it a "burger with the lot" are the additions of a fried egg, pineapple, bacon and a thick slice of tinned pickled beetroot.
Top it off with Australian barbecue sauce (similar to A1 steak sauce) and grab a stack of napkins because this is going to get messy. You can add lettuce and tomato if you like. As long as it's got that egg, you're right, mate.
Omelet, France
As with many dishes on this list, the origins of the omelet – the word and the eggy object itself – are contested. According to the American Egg Board's Eggcyclopedia, it supposedly began with the ancient Romans, who called it ovemele (eggs and honey).
But the omelet we know and love today probably came from France. Variations of the dish abound. Jacques Pépin's French omelet is made by adding fresh herbs to mixed whole eggs and cooking in a hot pan with plenty of butter.
Let the mixture sizzle, shake the pan and stir the eggs for a minute, tilt and fold the now-cooked egg over onto itself. Guinness World Record holder Howard Helmer can do it in 42 seconds.
Carbonara, Italy
Deceptively simple recipes often spark the most debate, and so it is with the delicious, decadent carbonara.
At its core: Egg, cheese, cured pork, black pepper over pasta. A dish with Roman roots, it's believed that carbonara was helped into being by adding bacon and powdered egg yolks (American-supplied rations in Rome's post-WWII days) to a basic pasta dish.
There may be as many as 400 variations, but according to Italian food historian Emilio Dente Ferracci, Roman tradition calls for pancetta or guanciale instead of bacon, fresh egg yolks over powdered and pecorino Romano for the cheese. Lucky for anyone who eats it, carbonara is both decadent and fairly easy to make.
Eggs Benedict, US
A brunch chart-topper, eggs Benedict can be traced to 19th-century New York. As Rachel Khong writes in "All About Eggs," the dish was named for a regular at Delmonico's restaurant, LeGrand Benedict – or possibly for a stockbroker named Lemuel Benedict who ordered a hangover cure at the Waldorf and was served poached eggs, toast, bacon and lashings of hollandaise sauce.
Author Michael Ruhlman loves that the sauce is made of yolk and butter ("Waiter, I'd like an egg, with butter and more egg on top, please.").
English muffins are the modern go-to for the dish's base, but a word of warning to home cooks from the late Anthony Bourdain via his cookbook "Appetites" – toast your muffins.
Tortilla Española, Spain
The tortilla Española is also known and best described as a Spanish frittata or Spanish omelet, with the focus on the eggs and potatoes. The key to mastering the dish, says one Bon Appétit recipe, is "to leave the eggs slightly undercooked" to achieve a custardy texture.
It can be enjoyed as a tapa, or as a meal any time of day; Alison Roman has a recipe in The New York Times that frames it as a breakfast casserole composed of "everything you love about a classic bacon, egg and cheese sandwich."
Scotch egg, UK
Nigella Lawson's favorite recipe from "Fortnum & Mason: The Cook Book" is the high-end cornershop's Scotch egg with mango chutney mayo and piccalilli. Fortnum & Mason's own history of the Scotch egg, which is a boiled egg surrounded by meat, dipped in egg wash and breadcrumbs, seasoned and deep fried, tracks the travelers' snack to 1738 and says it was likely inspired by a similar Indian dish.
It was initially called a "scotched" egg because of the anchovies added to the meat to bolster the flavor. These days the meat is nearly always pork sausage meat (no anchovy), although Gordon Ramsay favors a recipe that includes crumbles of black pudding and grated green apple.
Quiche, France and Germany
The basics: eggs, milk, seasonings and fillings of your choice. A savory open-faced custard pie, traditionally made in a pastry crust. While we tend to associate today's iteration with French cooking, the quiche is said to have originated in a medieval German kingdom before spreading across the region.
Once it reached France, it was renamed Lorraine, the pie gaining bacon and onions. Much later, cheese was added to most quiche recipes, too, but the traditionalists, such as chef Alain Ducasse, leave the fromage out of a classic Quiche Lorraine.
Pickled eggs, UK and USA
Once upon a time, bars served much heartier snacks than a bowl of peanuts, and the pickled egg was popular in the public houses of 19th century England.
The custom emigrated to the taverns of the United States, and eventually became a staple of dive bars, even making an appearance at Moe's on "The Simpsons." While the brine in a pickled egg jar can take almost any kind of addition to zhoosh up the basic vinegar water, adding turmeric, red cabbage and beet will produce bolder colors.
Menemen, Turkey
Menemen takes its name from a region in Turkey, where it's a popular breakfast dish, often served with yoghurt and flatbread or crusty bread. Similar to shakshuka, menemen consists of eggs scrambled with peppers and tomatoes.
This delicious base can be customized by adding things like feta, onions and sujuk (sausage flavored with chili, cumin and garlic), Turkish author Ozlem Warren explains in "All About Eggs."
Often served in a Turkish copper skillet called a sahan, menemen is not just for the mornings, says Warren, but also makes a great light supper or substantial lunch.
Huevos Rancheros, Mexico
Another breakfast favorite with plenty of variations, huevos rancheros ("rancher's eggs") is a hearty way to start the day, thanks to its composition of eggs, tortillas, refried beans, cheese and salsa.
Other toppings like sausage, guacamole and sour cream can be added, and almost any cheese works if you don't go with the traditional cotija.
Using both red and green salsa will turn huevos rancheros into huevos divorciados; Mexican chef Gabriela Cámara of Contramar and Cala has delicious recipes for salsa roja and salsa verde, both using the herb epazote, which you can see via her Masterclass.
Egg salad, France
We have the invention of mayonnaise to thank for the delightful flavors of egg salad. Mayo came, of course, from France, back in the 18th century, but it is believed a Brit eventually combined mayonnaise with eggs and threw it onto some bread.
Today's egg salad sandwich, a delicatessen staple, remains relatively simple. At LA's Konbi, chef Nick Montgomery's nod to the egg salad sandwich of Japanese convenience stores is made with both a rough-chopped hard-boiled egg and a soft-boiled egg, paired with French dijon mustard and crème fraîche on soft milk bread. Voila! Instagram gold.
Egg drop soup, China
What we call egg drop soup in the United States has, in many cases, lost some of its subtlety, with too much cornstarch. To make an authentic egg drop soup is not difficult – it's basically chicken broth with thin ribbons of beaten eggs added at the last minute, but using fresh green onions and ginger or perhaps a drizzle of sesame oil at the end will make it sing.
As New York food blogger Maggie Zhu (originally from Beijing) writes on Omnivore's Cookbook, these aromatics will "bring out the sweetness of the egg without the taste being overwhelming."
Croque madame, France
First there was a croque monsieur – a "gentleman's sandwich" of bread, cheese and ham – which appeared in Paris in the early part of the 20th century. Then some wise soul put an egg on it and the decadent delight became a croque madame – the feminine name a nod to a woman's hat.
What makes a good croque madame apart from the sunny side up egg are those undeniably French details – at Bouchon Bakery & Cafe, that means clarified butter, homemade brioche, Swiss cheese and a mornay sauce with (more) grated cheese and a dash of nutmeg.
Egg curry, India
As with all curries, each recipe you find for egg curry will have some tweak or "secret" ingredient, passed down through the generations. Almost everyone will prefer the one their mom or dad or grandmother made for them.
In "All About Eggs," Padma Lakshmi recalls a recipe her mother made when there was little else on hand.
Whatever egg curry it is you're cooking or savoring, it's a good bet that the hard-boiled eggs will be joined by at least some combination of the following ingredients: onions, garlic, tomato, curry leaves, ginger, cumin, cardamom, bell peppers, garam masala, black pepper and cilantro to garnish. In other words: heaven on a plate.
Loco moco, US
This one's not for the calorie-counters. The loco moco's origin story involves hungry teenagers, who were said to have ordered the appetite-crushing combo of steamed rice, a hamburger patty and a fried egg – all of it smothered with gravy.