Story highlights
Gorilla tracking in Uganda takes you into the home of some of man's closest cousins
A dining experience in Italy lets you ski by day, dine with Michelin-starred chefs by night
World's largest buffalo roundup can be experienced in South Dakota
Scrap all those other bucket lists you've been compiling.
Put away the brochures.
We've just put together a pretty special collection of crazy, fun and exclusive experiences that have your next 19 vacations covered.
ASIA
Swimming with blue whales (Weligama, Sri Lanka)
Manta rays and whale sharks are so 20th century.
The real catch for divers today is the blue whale, the heaviest animals that ever lived, and the best way to experience a close encounter is to sign up for a trip with an expert.
Natural World Safaris' eight-night, once-in-a-lifetime package was created by Patrick Dykstra, one of the first people to photograph and interact with Sri Lanka's blue whales.
Your base is Weligama Bay on Sri Lanka's southern coast, also the departure point for daily whale-spotting excursions, during which you'll have the chance to swim with, photograph or simply watch the mysterious giants.
Natural World Safaris; +1 866 357 6569; from $6,950 per person
Luxury island-hopping (Similan Islands, Thailand)
If one sun-drenched, sand-covered paradise isle isn't enough, you can sign up for a luxury six-night island-hopping experience.
There are no budget hotels or dodgy bus journeys.
Instead, you'll spend three nights at the Phulay Bay Ritz-Carlton Reserve and three nights on the luxury yacht that will take you on a three-night tour of the beautiful Similan Islands.
Phulay Bay; +66 (0)7 562 8111; from $24,760
Tour of North Korea
There are fairly frequent tours to North Korea these days, but it's still one of the world's most secretive states.
An 11-night visit here gets you the attention of the dinner table for a good few weeks.
"The constant stream of military personnel and statues of the Kims are fascinating, but what really blew me away was the scenery," says Paul Murphy, who visited in 2012.
"Obviously visitors are very closely monitored, but I was surprised by how beautiful the mountainous areas are, and there are also some stunning lakes."
Explore; +44 0843 634 6508; $4,390 per person
NORTH AMERICA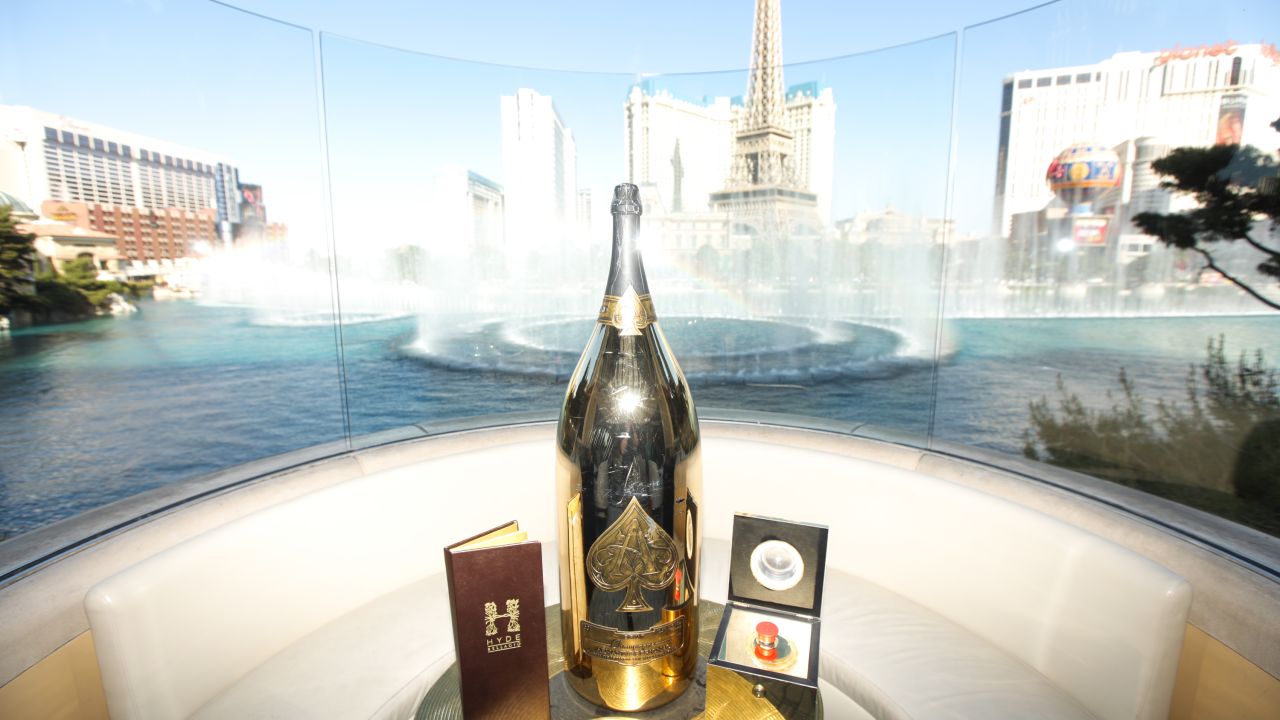 250K package, Hyde Bellagio (Las Vegas)
For $250,000 (loose change to the average poker champ), guests at the Hyde Bellagio nightclub in Las Vegas can sign up for a package that gets them seated centerstage on the Bellagio's patio before being given a 30-liter bottle of champagne and a special gold box.
Inside is a list of songs and a red button; patrons choose the songs they want the hotel's famous fountain to dance to before pressing the button to kick off the display.
Hyde Bellagio; 3600 S. Las Vegas Blvd., Las Vegas; +1 702 693 8700; from $250,000
World's largest buffalo roundup (South Dakota)
This ground-shaking spectacle takes place the last Friday of September during the Buffalo Roundup and Arts Festival in Custer State Park, home to the world's largest publicly owned bison herds (there are 1,300 of the beasts).
"It doesn't always go as planned – the buffalo have a mind of their own," admits the park's buffalo expert, Craig Pugsley.
"You hear a lot of whip cracking, see a lot of arm waving and hear a few screams as the cowboys try to coax the herd into the corrals and a crowd of 14,000 onlookers enjoy a scene from the Old West."
South Dakota Buffalo Roundup; Custer State Park; South Dakota; September 26, 2014; 9.30 a.m.-noon
Dog mushing (Yukon, Canada)
A professionally led dog mushing trip is an incredible way to experience the frozen north, and one of the best of them sets out from Whitehorse in Canada's Yukon.
When your team of faithful friends aren't whizzing you across the Yukon's ice plains, you'll sleep in a tent you've erected with your own fair hands.
Cabin Fever Adventures; +1 888 740 0815; from $945 per person
AFRICA
Serengeti balloon safari (Tanzania)
Seeing the great migration from the back of a jeep is great, but if a dust sandwich doesn't appeal, you can try a hot air balloon.
For $3,520 you can have the entire balloon to yourself and seven friends for an hour, after which you'll enjoy a delicious breakfast in the African bush.
Balloon Safaris; +255 27 254 8967; from $3,520
Saharan heli-desert trip (Morocco)
Camel safaris might sound tempting, but after the initial photo op and first five minutes, galloping across the dunes can actually be an uncomfortable, dusty, dehydrating affair.
A helicopter ride over Morocco's dusty expanse is a far more relaxed option.
The price of this package includes one night at the Dar Ahlam Desert Camp, a campsite whose tents have antique dressers, en-suite bathrooms and Persian rugs.
Original Travel; +44 (0) 20 3582 4990; from $6,879 per person
Gorilla tracking (Uganda)
Few things offer a sense of perspective like coming face to face with one of our primate cousins.
This gorilla tracking expedition is led by Dr. Gladys Kalema-Zikusoka, one of the world's top gorilla experts.
The three-night package includes transfers to and from Uganda's Entebbe International Airport, a trek through Bwindi Impenetrable Forest and a visit to a gorilla field research station where you'll have the chance to analyze some fresh gorilla dung.
Premier Safaris; +256 312 260260; from $6,500 per person
EUROPE
Luxury in a Cannes (Cannes, France)
Fancy experiencing Cannes like a Hollywood legend?
Oliver's Travels' luxurious Cannes package doesn't just include a week-long stay at a gorgeous six-bedroom villa on the French Riviera, visitors also get (albeit for one week) diamonds worth $1 million, a 24-hour entourage and airport transfers in the sports car of your choice.
A private beach is just a short walk from the villa, although the inclusion of a helicopter ride over Cannes will likely tempt you from your hideaway.
Oliver's Travels; +1 800 460 2504; from $462,926 per week
Michelin mountain dining (Courmayeur, Italy)
Sign up for the three-night Gourmet Ski package from Momentum Ski and your meals will be prepared by well known chefs Heston Blumenthal, Marcus Wareing and Sat Bains.
Your base will be the luxurious Hotel Royal e Golf, and on the first night you'll enjoy a dinner prepared by Michelin-starred chef Maura Gosio, with the three other chefs as guests.
On the following days, the trio of super chefs will prepare your lunch at two different mountain restaurants.
The next edition takes place January 9-12, 2015.
Momentum Ski; +44 (0)20 7371 9111; from $5,800 per person (double occupancy)
Maestro in the Making, Hotel Imperial (Vienna, Austria)
Ivory tinklers can channel their inner Mozart (or at least try) during this two-night Maestro in the Making package at Vienna's Hotel Imperial.
Music lovers join forces with a Viennese composer to create their own piece of music before it's played and recorded onto a CD.
For an additional fee, the piece can be performed by the Vienna Philharmonic.
Hotel Imperial; +43 (1) 501 100; from $32,000 for two people
SOUTH AMERICA
Luxury Amazon cruise (Peru)
Staying in jungle lodges is fun for the first few nights, until you realize that promised power shower is more of a trickle and an enormous spider has taken up residence in your bathroom.
A luxury five-night cruise is a much more enjoyable way of experiencing the Peruvian Amazon – you can watch the howler monkeys swing from the trees while you sip champagne in your hot tub (yes, there are hot tubs on this boat) and enjoy the freshest fish you'll ever eat.
Real World Holiday; +44 (0)11 3262 5329; from $5,000 per person
Journey to the End of the World (Patagonia)
It's not literally the end of the world, but it's not far off, and it's definitely the best way to experience Patagonia.
During this 15-night tour, you'll travel down Argentina's Patagonian coast to reach one of the world's southernmost points – the city of Ushuaia in Tierra del Fuego.
En route, you'll pass through the Magellan Penguin Reservation and stop for an excursion around the tip of the Peninsula Valdes.
From Ushuaia, you'll head back up north along the western side of South America and through the Andes, stopping off for a brief exploration of Los Glaciares National Park and the striking rock formations of Cordillera del Paine.
Sumak Travel; +44 20 3642 4246; from $4,843 per person
Galapagos adventure (Ecuador)
Passengers on Silversea's seven-day Galapagos Experience cruise can sign up for excursions led by the on-board expedition team's wildlife experts, and peruse a library of maps, atlases and charts provided by the Royal Geographical Society.
There are no cramped cabins; instead, spacious rooms feature down duvets, marble bathrooms and Italian linens.
Silversea; +1 800 722 9955; $5,960 per person
AUSTRALASIA
Exclusive rental of Richard Branson's Makepeace Island (Australia)
The billionaire life can be yours for a fraction of the cost, and unfortunately an even smaller fraction of the time.
Makepeace, owned by Richard Branson and Virgin Australia co-founder Brett Godfrey and located in the middle of Queensland's Noosa River, has three two-bedroom villas on offer.
You'll need more than a night to enjoy all the island has to offer.
There are Hobie cats, tennis courts, an outdoor cinema and a huge pool.
Makepeace Island; +61 42 815 3612, from $3,000 per night
Jet boat experience (New Zealand)
The Shotover Jet experience whooshed to fame earlier this year when the Duke and Duchess of Cambridge signed up for the 25-minute, high-speed excursion.
Passengers speed down Queenstown's narrow canyons in a jet boat powered by V8 engines, hitting speeds of up to 85 kilometers per hour in as little as three inches of water.
The boat is controlled by two units at the back.
Together, they thrust 760 liters of water a second; when these nozzles are repositioned, the boat changes direction. Very quickly.
Shotover Jet; +64 3 442 8570; from $108 per person
Outback helicopter tour (Australia)
If an Aboriginal-style walkabout sounds like fun but not quite right for you, a whistlestop helicopter tour is an easier way of seeing the main outback sites.
During this two-hour flight, you'll whiz over Uluru, Kata Tjuta and the Olgas – the company also offers helicopter tours of Lake Amadeus, Kings Canyon and the township of Yulara.
Ayers Rock Helicopters; +61 (0)8 8956 2077; from $768 per person
ANTARCTICA
Ski and sled to the center of Antarctica
Prince Harry has skied there, Bill Clinton flew there and Juan Carlos, former King of Spain, sailed there.
Now, for $50,000, you can ski and sled there, too.
"Antarctica is larger than life," explains Charles Lagerbom at the American Polar Society. "Its immensity challenges the senses. One feels like a very small piece of a larger whole.
"I found that I was never truly warm, just less cold at times. It seemed to wrap itself around you and became a palpable part of your daily grind."
We're pretty sure the views make up for all that.
Epic Tomato; +1 888 341 9663; from $49,950 per person