If only salt water – sweat, tears and the sea – really was the cure for everything, as Danish author Isak Dinesen once said. Then scuba diving would be just the antidote the world needed right now.
Until it's finally safe to get out exploring the world again, however, you can dream of where to dive beneath the surface of the ocean for the most wonder-inducing views on the planet.
"There are so many aspects of scuba diving that may be beneficial in directing our minds away from worries, stresses and daily demands," says clinical psychologist and PADI scuba diving instructor Laura Walton, who has dived everywhere from the South Pacific to Scotland.
"In modern life, we are constantly pulled into the past, present and future through our ability to think," she says. "But when we dive beneath the water, our attention is captivated by absorbing experiences of entering another world."
Depending where you descend, that might mean finning through a "Christmas tree forest" of baby corals off the Florida Keys, coming face to face with a wall of sharks on a French Polynesia atoll or having a stare-down with a giant Pacific octopus in the cold waters of British Columbia.
The world's most intriguing dive destinations take intrepid to the next level.
Raja Ampat, Indonesia
Bali brings the traveling masses to Indonesia. But intrepid scuba divers know to hop another flight east in the archipelago to West Papua, where some of the very best diving on the planet awaits in Raja Ampat.
This archipelago of four main islands (and over 1,500 smaller ones) sits in the Coral Triangle, at the bullseye of the planet's marine biodiversity, with sheer walls, fields of healthy coral gardens and a tremendous variety of microhabitats for divers to explore. Divers can base on land at properties like Misool Eco Resort or travel the region via a live aboard dive vessel such as the Damai II or the new Aqua Blu.
"Raja Ampat is best appreciated by somebody who is truly interested in the sheer variety of marine life," says underwater photographer Brandon Cole, who has visited the remote region many times to dive.
The clear warm waters of the marine protected areas here are home to over 1,300 species of reef fish and veritable fields of corals that are among the most pristine in the world.
"You can come back and say you saw nine species of anthias, five species of pygmy seahorses," says Cole, "Indonesia overall has continued to over-impress fish and coral geeks. But Raja Ampat deserves its position at the top."
Tuamotu Atolls, French Polynesia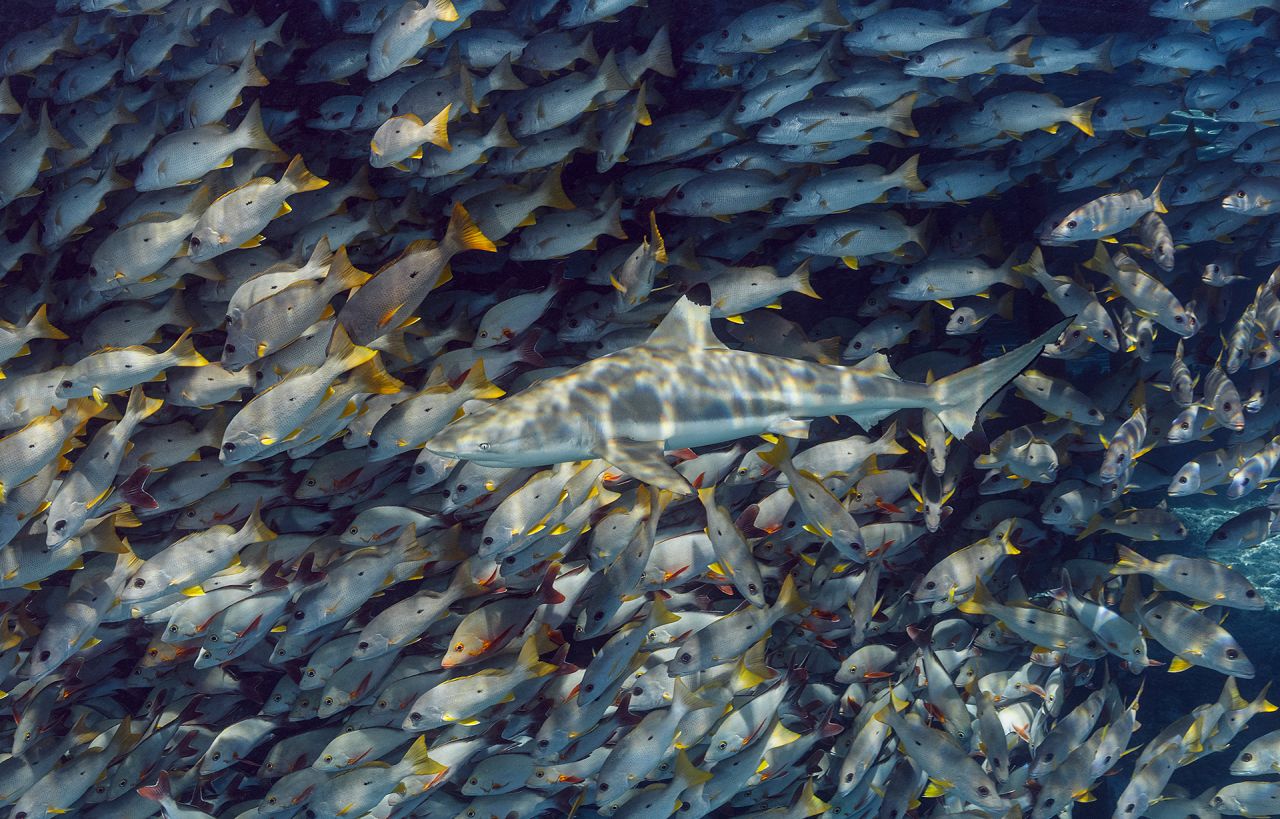 Leave Bora Bora to the honeymooning, overwater bungalow crowd and hop a flight northeast from Papeete in Tahiti to get to the Tuamotu Atolls instead – a chain of 80 islands and atolls that look, from the air, like coral ring life preservers tossed across an expanse of water that could blanket most of Western Europe
When you enter the water on the incoming tide to dive through the passages on atolls like Rangiroa and Fakarava (the latter is designated a UNESCO Biosphere reserve), a very sharky experience unfolds.
"The adrenalin kicks in as soon as you jump from the boat into the clear, warm water," says Bali-based underwater photographer Mike Veitch. "Some 75 feet down on the reef, hundreds of grey reef sharks surround you. And you can enjoy their incredible grace and power as they glide through the water, ignoring the divers around them."
After admiring one of the most impressive and reliable shark aggregations in the world, let the current push you into the atoll's calm, turquoise lagoon, where you might spot a manta ray winging its way across the pristine coral beds.
Palau, Micronesia
You've likely seen Palau and its iconic mushroom-shaped karst limestone islands on a screen saver or two, so staggering are the aerial views. And the newly reopened Jellyfish Lake is another classic Palau calling card.
But until you've submerged underwater in this marine wonderland located some 500 miles east of the Philippines in Micronesia, you haven't seen Palau at all.
The most famous Palau dive site, Blue Corner, is a reef that juts out into the open ocean, with big upwellings that attract passing pelagic fish, reef sharks and schooling clouds of pyramid butterfly fish, among many other species.
Local Palau wildlife guide, marine biologist and diver Ron Leidich has called Blue Corner an "underwater Serengeti," so riveting is the experience of diving in such an abundant confluence of marine life.