Travelers around the globe are one step closer to seeing a plane with its wings folded up being taxied to their gate.
Slated to be one of the next darlings of commercial aviation, the Boeing 777X hit a production milestone this week when its major fuselage sections – the airplane's nose, mid and aft sections – were brought together.
It has the longest body produced by the manufacturer, of 252 feet, and the widest wingspan of any aircraft in the company's 102-year history: 235 feet, five inches.
The aircraft is the 777-9 variant, building on the 777 and 787 Dreamliner, and offering the largest, and most efficient, twin-engine in the world, Boeing said in a statement.
Its hinged wingtips alone measure 12 feet, with locking pins to prevent them from folding during flight.
Wider cabins
The wings give the jetliner extra lift, similar to that of a giant sailplane glider, helping the plane to save an overall 12% more fuel than the Airbus A350, according to Boeing.
Its first flight is scheduled for 2019 and first deliveries are in 2020.
Seating 400 to 425 passengers, the plane features new lighting, architecture, a wider cabin and larger windows that are located higher on the fuselage than the current 777, the company said.
Folding wings are a feature of military aircraft, such as the F/A-18 fighters which need to squeeze onto US aircraft carriers.
But when it comes to commercial planes this feature, which allows it to land and taxi at any airport gate, is the first of its kind. In fact, the US Federal Aviation Administration had to draft new regulations just for the 777-9 and its sister craft, the 777-8.
X family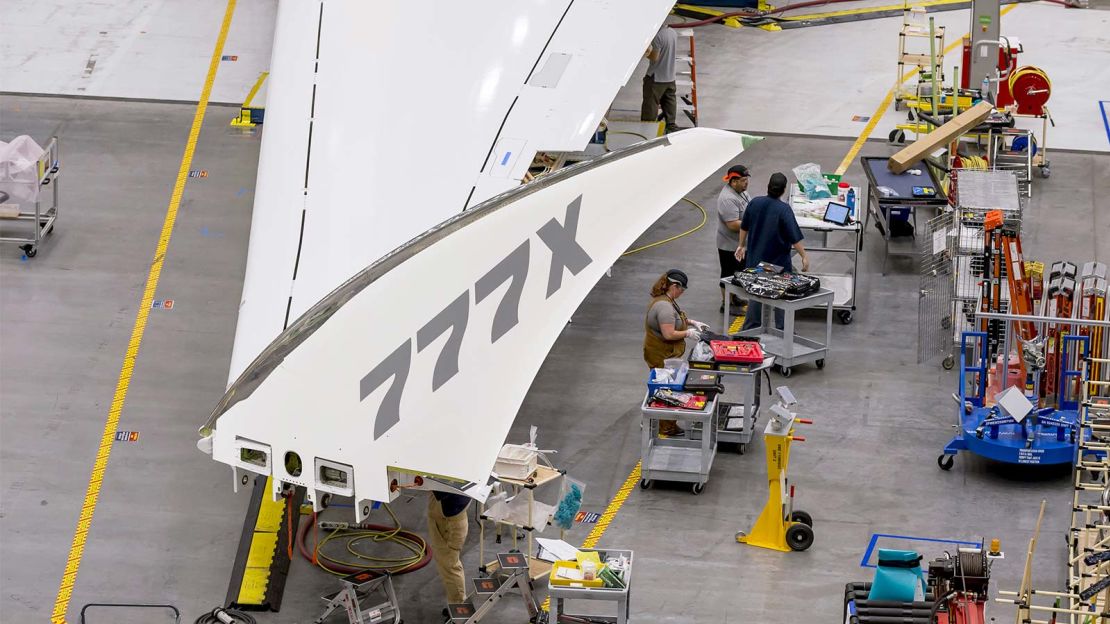 The plane's range is expected to reach more than 14,000 kilometers (8,699 miles) – about the distance between Dubai and Panama City.
Several airlines have placed orders, including Emirates, All Nippon Airways and Lufthansa.
Boeing's new X family comes as part of an engineering revolution allowing jetliners with only two engines to take on many of the same global routes as larger, fuel-guzzling four-engine airliners such as the 747 and Airbus's A340 and A380 Super Jumbo.
Initial versions of the 777 have been flying for two decades. The X family will come with its own newly designed engine: General Electric's GE9X, which is in testing.
The 777-8, which will have a longer range but a smaller capacity, is also in the works.