Booking.com has defended itself against accusations that it's continuing to use pressure selling tactics, despite a crackdown by UK regulators.
In February, the Competition and Markets Authority (CMA) announced that six hotel booking sites – Expedia, Booking.com, ebookers, Hotels.com, Agoda and Trivago – had been the subject of enforcement action due to "serious concerns" around "misleading" selling tactics.
Pressure selling, misleading discount claims, and pushing hotels which pay commission further up the rankings could confuse guests and be in breach of consumer protection law, the CMA said.
As a result, all six sites agreed to take action to be clearer about discounts, the number of other guests considering the property, and the number of rooms left. The final price of a room must be included in the headline price.
The sites were given until September 1 to comply.
But spot checks carried out after the deadline by UK consumer group Which? showed that while the other sites have complied, Booking.com was still in breach of the rules.
Although it has made some changes to its site – including making it more explicit where some hotels have moved up the rankings after paying commission – it has "not gone far enough," the group said.
Five out of 10 of its "only one room left on our site" claims were incorrect, the investigation found.
Which? looked at five UK destinations and five European destinations until it found examples of "one room left" claims. They then clicked through to see if the claims were legitimate.
Failure to comply
In one example, the Booking.com listing for The Banjo B&B in Liverpool warned "one room left" on a "budget double room." But when researchers clicked through, they found four identical budget doubles on sale at the same price of £49.
The site was showing the same issue when CNN checked on Thursday.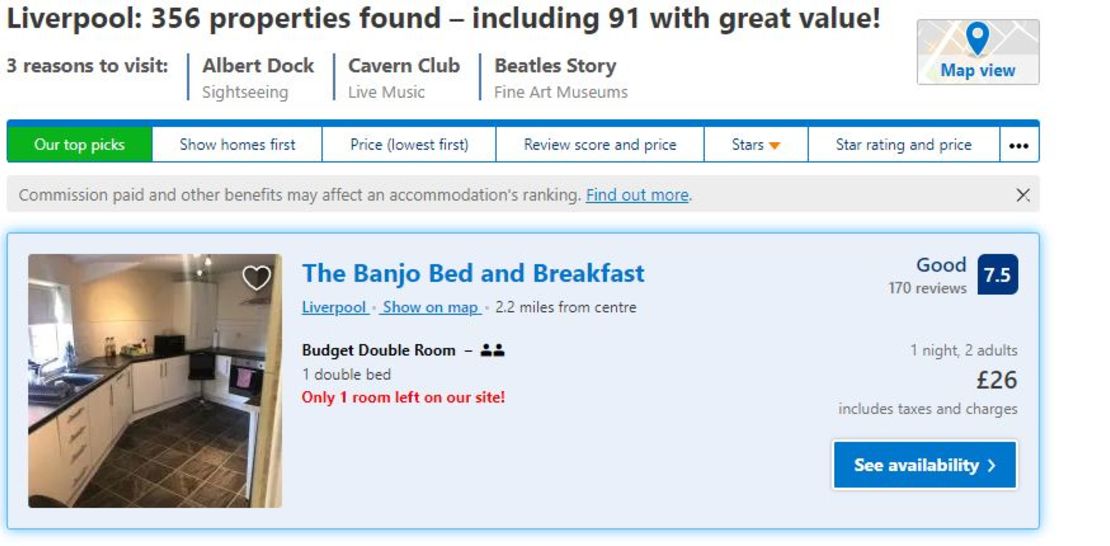 For a dummy booking on October 9, The Banjo showed "only 1 room left on our site!" But when CNN clicked through to book, it showed four identical budget double rooms, two at the same price of £26, and two at £32. Other hotel listings had similar results.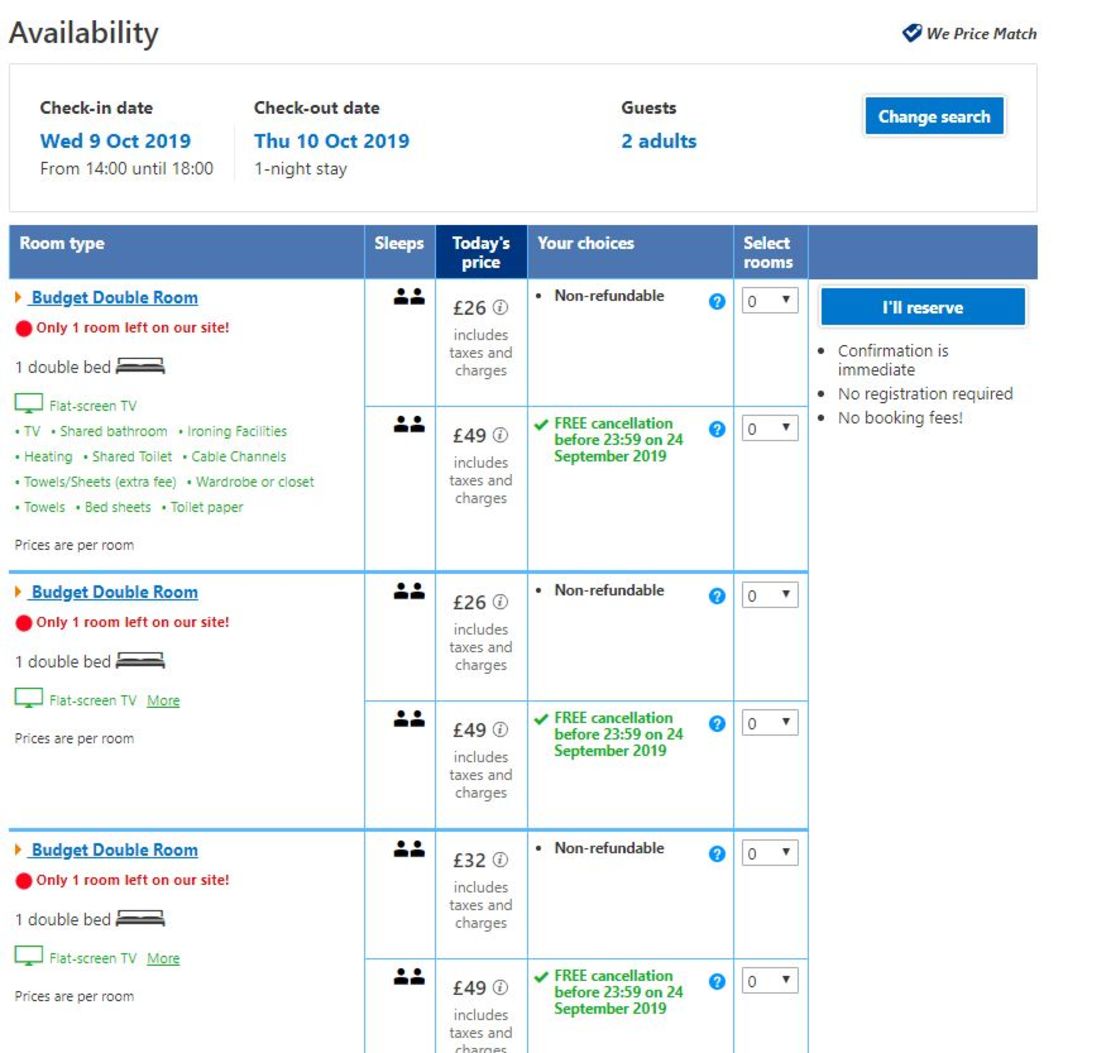 The spot checks showed that the other sites flagged by the CMA had changed their listings. Agoda, for example, has changed its wording to read, "We have only one [room] left at this price."
Last week, the CMA announced that a further 25 accommodation booking sites, including Airbnb, Google, and major hotel chains, had agreed to comply with its guidance. Six hotel chains – Accor, IHG, Hilton, Radisson and Wyndham – have requested more time to make the technical changes required to ensure that UK-based customers will always be shown the full cost of a room upfront.
The CMA said in February that it would take action "if we find evidence that firms are breaking consumer law."
Which? Travel's Naomi Leach said Booking.com needed to take immediate action.
"We found clear evidence that Booking.com has not yet sufficiently cleaned up its act and is flouting the rules on pressure-selling, which could lead to millions of consumers being rushed into making a booking," she said.
"It must now provide cast iron guarantees that it won't continue to mislead holidaymakers with these unscrupulous practices, otherwise the regulator will have to step in with strong action to bring it into line."
'Working hard'
A spokesperson for Booking.com told CNN it was "working hard" to comply with regulations.
"This includes implementing new ways to surface information to consumers about the availability and popularity of specific properties, with this messaging currently being optimized as part of that iterative process," the spokesperson said.
"We never stop looking at how we can optimize the consumer experience on our website and mobile apps, as well as working closely with authorities like the CMA on industry-wide improvements."
The CMA said it was poised to act if Booking.com failed to implement the required changes.
"We are aware of this isolated issue with Booking.com and have already raised it with the site," a spokesperson said. "They have assured us it will be quickly fixed.
"If we find that Booking.com or any other hotel booking sites use misleading statements then we will not hesitate to take further action."