Editor's Note: This article was originally published in September 2016.
Story highlights
Anthony Bourdain knew Vietnam was the right place to meet President Obama
"I love Vietnam. Everybody on my crew loves Vietnam," Bourdain said
We started talking internally about the possibility of shooting a scene with the President of the United States a long way out – nearly a year before it actually happened.
Some people at the White House had reached out and hinted at the possibility that maybe, just maybe, we might find a time and a place where the two of us could sit down to a meal together. These discussions were, out of necessity, very closely held until the very last minute.
CNN didn't know. The producers, even the camera guys who were to shoot the scene, were not told until the day before. At no point did the White House, CNN, or anyone else, offer guidance, suggestions or ground rules for what I might talk to the President about.
There may or may not have been an offer of a ride on Air Force One at one point. But I figured we'd look totally in the bag if we did that. You ride in a man's car – or his plane – you owe him something. And it just seemed weird.
I'm not a journalist. Or a foreign policy wonk. My politics are my own. Contrary to the assertions of angry Twitter warriors who think I'm getting regular guidance from the "Communist News Network," I've never once received a phone call or an e-mail or had a conversation that contained the words "wouldn't it be a great idea if…?" or " how about?"
I'm proud of the fact that I've had as dining companions over the years everybody from Hezbollah supporters, communist functionaries, anti-Putin activists, cowboys, stoners, Christian militia leaders, feminists, Palestinians and Israeli settlers, to Ted Nugent.
You like food and are reasonably nice at the table? You show me hospitality when I travel? I will sit down with you and break bread.
Feeding the President 'something that I would want'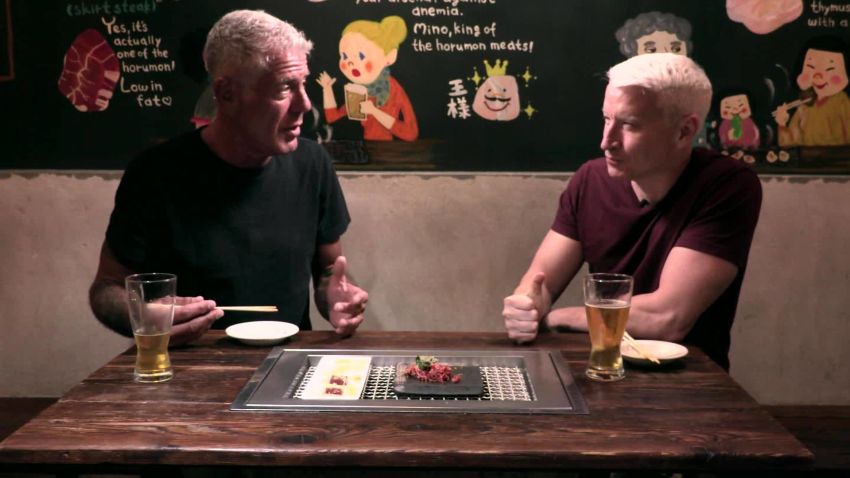 'We'd been secretly planning this for some time'
So I wasn't going to "interview" the president. And though I may admire him, I wasn't going to be a platform for discussion of a particular foreign policy agenda.
Barack Obama was apparently interested in sitting down for a meal with me – and I intended to speak to him only as a father of a 9-year-old girl, as a fellow Southeast Asia enthusiast (the President spent time in Indonesia as a young man), and a guy who likes a bowl of spicy, savory pork and noodles with a cold beer.
But where was this to happen?
Various locations were discussed. But when Vietnam came up, as one stop on a multicountry state visit to Asia in May, I knew where I wanted it to be.
I love Vietnam. Everybody on my crew loves Vietnam. We have a lot of experience working there, we have friends, connections, favorite dishes, favorite restaurants. It's beautiful. We know we can reliably do our best work there.
Bun cha is a beloved local specialty of Hanoi. It's basically bits of marinated, charcoal-grilled pork patties and pork slices in a room-temperature dipping sauce with rice noodles and herb garnishes. It's delicious.
I thought if the President is willing to play with us, then I should show him the best time I knew how, feed him something that I would want – in the kind of setting I most enjoy.
It's always seemed pointless to me to go all the way to someplace as extraordinary as Vietnam and spend time in an air-conditioned, Western-style restaurant with tourist-friendly food. The President, I guessed, had spent more than his share of time in the banquet rooms of major chain hotels, slogging through long state dinners, eating representative menus of "national dishes."
Bun cha is NOT a national dish.
And the second floor of the small, family-run, decidedly working class Bun Cha Huong Lien restaurant, in the Old Quarter of Hanoi, is not exactly the kind of place the President was likely to be taken by his hosts on any official state visit.
I got the definite impression that the Secret Service was initially less than delighted with our choice of venue. The location was … sub-optimal, as far as they were concerned. It was tight, with minimal exits, not particularly clean – and set off a narrow street. But they persevered.
I'd like to thank them. They were, all of them, very nice guys with thick necks. Many of them had to spend a lot of time standing stoically in the driving rain.
'He answered without hesitation'
What can I tell you about what it's like to sit across from the President of the United States and drink beer from the bottle?
I can tell you that Barack Obama was, in spite of having had a high-ranking leader of the Taliban whacked in Pakistan a few days previous, very relaxed and at ease. He seemed to enjoy himself sitting on a low plastic stool eating noodles and pork bits with chopsticks.
I talked to him as a father, as an enthusiast for the region, and he responded with real nostalgia for the Indonesian and Hawaiian street food of his youth.
When I asked him if it was OK that I get along with Ted Nugent, who has said many, many deeply offensive and hateful things about him personally, he responded "of course" – that that was exactly the sort of person we SHOULD be talking to: the people who disagree with us.
He was oddly resigned to and forgiving of his enemies. And when I asked him if – given the very likely ugly and frightening contents of the daily intelligence briefings to which he is privy – if it was "going to be OK" for my daughter as she grew up, he replied with confidence that on balance, it would.
In general, he spoke with the lack of careful calculation of a man who is no longer running for office. My hot dog question might have been diplomatically problematic for a first-term president. He answered without hesitation – like a Chicagoan.
He was funny, quick to laugh. When I asked him if he ever missed being able to go out to a bar, sit down by himself and have a cold beer while listening to old songs on the juke, he smiled and said "in about six months."
He put my crew at ease. Was kind to them. So much so that we were not nervous while we were with him.
Only afterward, when he had gone, did we all look at each other and say, "Did that just HAPPEN?"
Extraordinary effect
The captivating magic of Hanoi
The next day, I was suddenly recognizable to the Vietnamese who rode their scooters and motorbikes around me. They'd seen me in the newspapers and again and again would point at me, shouting "Bun cha! Mister Bun Cha!"
A few young Vietnamese who spoke English approached me and told me, with tears in their eyes, how incredulous they were, how shocked – how proud – that the President of the United States had come to their town and eaten not pho, or spring rolls, which they would have expected – but bun cha.
Bun cha! It was THEIRS! Their proud local specialty! And Hanoi beer too! They couldn't get over it. And on a low plastic stool, in the kind of place they always ate.
The effect was extraordinary. I cannot possibly overstate the warmth with which he was received by the Vietnamese – particularly the young ones – who were not even alive during the war years, for whom America appears a far, far more attractive (and less threatening ) model than China.
Vietnam's classic snail soup
Vietnam may still be a communist country. But you can hardly tell from the streets. Money flows in and out in a raucous, free-market scrum of Western brands and materialistic expectations. Buildings are going up everywhere, private enterprise having long ago outpaced ideology.
As in Cuba, the toothpaste is out of the tube. And there's no putting it back.
And as the show will remind you, Vietnam remains an extraordinarily beautiful place. It is enchanting. Its people, for as long as I've been going there, warm, food crazy, hospitable and proud. Halong Bay, where we shot much of the show, one of the most breathtaking locations on earth.
At the end of the show, I quote Gen. William Westmoreland's notorious quote claiming life is valued less in the East than in the West. A statement so stupid and ignorant that it still shocks today. Our long-time friend and colleague Ha talks about her many years as a tour guide, taking American veterans through the museum commemorating that terrible conflict.
And you can judge for yourself if the general knew what he was talking about.
I will sure as shit remember this trip to Vietnam. Not very long ago at all, I was a 44-year-old guy still dunking French fries with no hope of ever seeing Rome, much less Hanoi – much less EVER sitting across from the President of the United States, talking about hot dogs.