What was it like to travel on the first passenger flight of a trans-Atlantic jetliner?
Former British Overseas Airways Corporation air steward Peggy Thorne, 91, says the experience was unforgettable.
"It was exciting, it really was," she tells CNN Travel at British Airways HQ's Heritage Center, where she's guest of honor at the airline's 60th anniversary of this aviation milestone.
British Airways' predecessor BOAC flew the first turbo jet engine aircraft – the British de Havilland Comet 4 – from New York to London and London to New York on October 4, 1958. Thorne worked on board the eastbound flight.
Airplanes had been criss-crossing the Atlantic since the 1930s – with BOAC rival Pan American inaugurating the world's first trans-Atlantic passenger service in June 1939.
But before 1958, these trans-Atlantic flights took up to 20 hours, with several stops along the way. The BOAC milestone achievement cut this lengthy journey to the roughly 7-hour direct stint we're familiar with today.
Amazing experience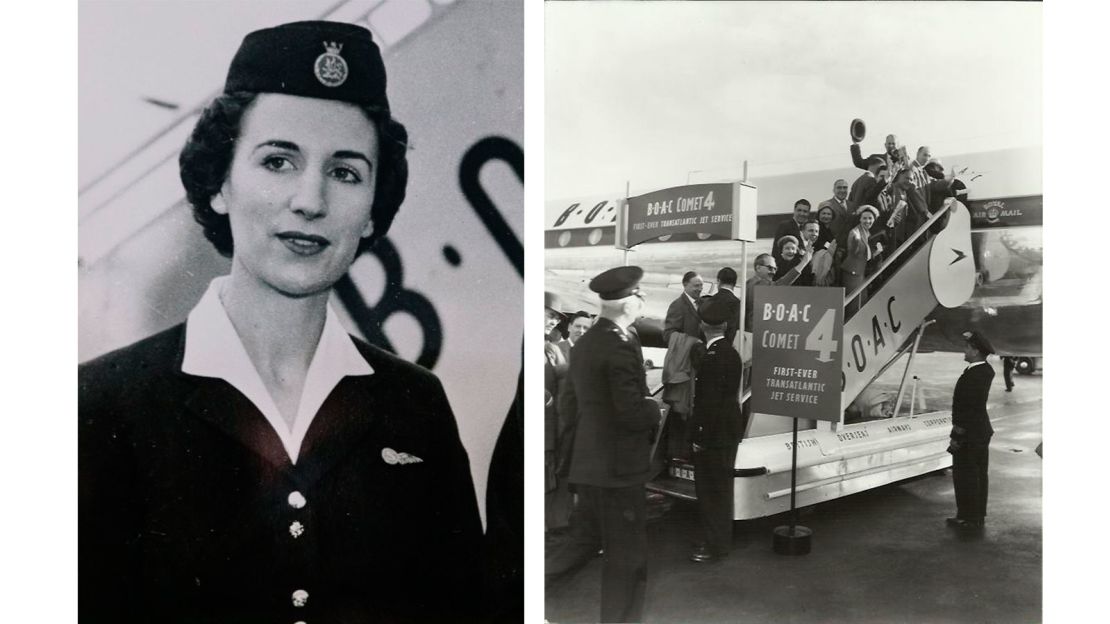 As a young woman, Thorne had a thirst for adventure. It was this desire to explore the world that led her to become a flight attendant.
"I suppose in the 1950s, there were not a lot of opportunities to travel, and I was then a secretary in the foreign office, so I'd seen a bit of the world," she recalls. "And I thought, I don't know, it seems a lot more interesting than what I'm doing now and so I applied, joined, stayed throughout my career."
Thorne says the tasks she did on board flights were pretty much exactly what air stewards do today – and she would know, in the lead up to the anniversary celebrations, Thorne spent the day with British Airways cabin crew members doing their training on flight simulators.
"I was so impressed with the way it was laid out with the mock-ups of the aircraft, because in the dark ages when I did my training, I don't think we had an aircraft to train on," she laughs.