People from all over the world descend upon Budapest each year, with the Hungarian capital's unique drinking venues acting as one of its top draws.
There are plenty of stand out watering holes dotted right across the city, with the 6th district boasting some of the best bars, pubs and clubs in Europe.
From ruin bars and bistros, to high-end bars and rooftop venues, there's something for everyone.
We've put together an ultimate guide to the best bars in Budapest to help you narrow it down…
Ruin bars
It's funny that they call them "ruin bars" – because for their founders, the venues generally lead to good fortune.
It started around 2001, so the story goes, with a bunch of young men looking for cheap places to drink. From their thirst and shallow pockets, some of the most lively and stylish places to drink in Budapest were born – the so-called ruin bars.
Derelict buildings and unused outdoor spaces have been transformed into friendly, pleasingly chaotic bars where you can still get a large beer for less than $2.
Szimpla Kert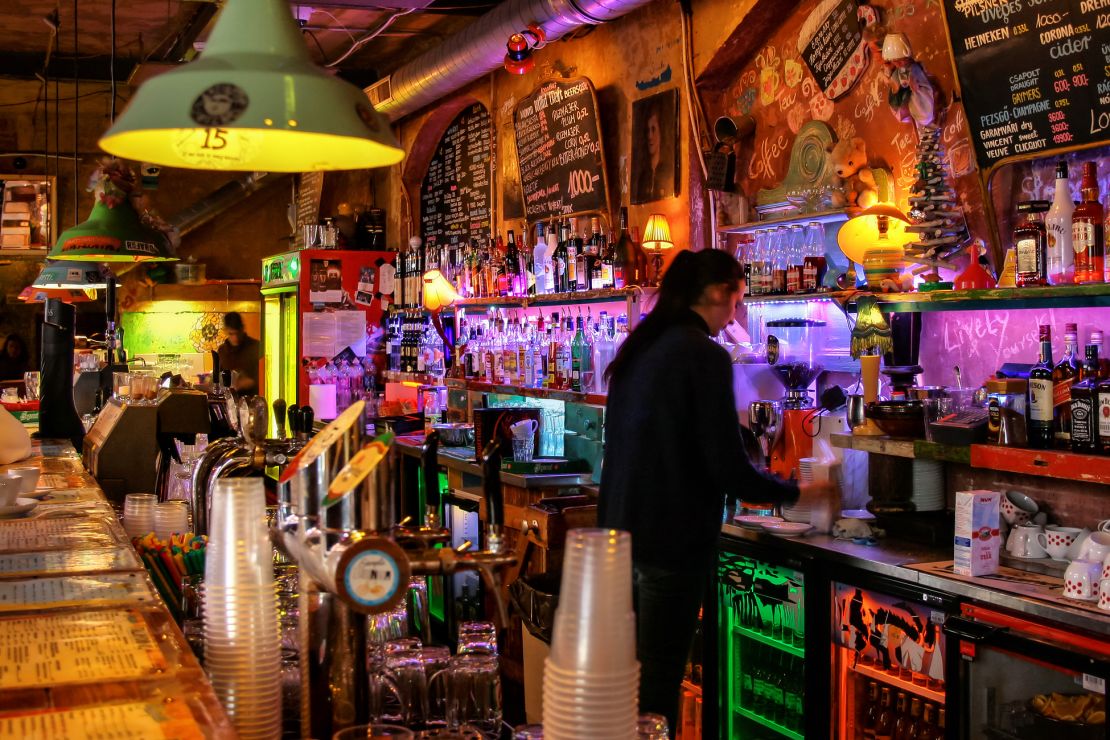 Szimpla Kert was the first ruin bar and remains iconic, it moved around before settling into its home in the Jewish Quarter of Budapest's 7th district in 2004.
It hosts a regular farmers' market and flea market, while live music and film screenings are also a regular feature.
Delicious pizzas served from a wood-fired oven are available at very reasonable prices.
Szimpla Kert has classic ruin pub traits: willfully mismatched furniture that's seen better days, artwork that some annoying customers have a habit of taking home without and a garden where you can catch the sun during the summer months.
Unlike other ruin pubs, Szimpla Kert has an old Trabant car in the garden that doubles as a table and chairs
Cigarette smoke takes up the place of the exhaust fumes and the ambience harks back to an era when the bloc was under communist times.
Szimpla Kert, Budapest, Kazinczy u. 14, 1075; +36 20 261 8669
Racskert
Just a few minutes' walk away is one of the area's more recent ruin pubs, Racskert.
A big, ramshackle garden bar in a disused parking lot – it's a plain spot, with none of the artful disorder of Szimpla.
Water cisterns recycled as lamps provide the illumination, while a mobile burger van serves snacks from the Bosnian Serb owner's homeland.
Racskert, Budapest, Dob u. 40-42, 1072; +36 70 428 1517
Ellato Kert & Taqueria  
There's a Mexican feel to Ellato Kert & Taqueria, a large garden filled with brightly painted tables – helped, no doubt, by the tacos and tortillas on the menu.
Ellato Kert & Taqueria, Budapest, Kazinczy u. 48, 1075; +36 20 527 3018
Instant and Fogas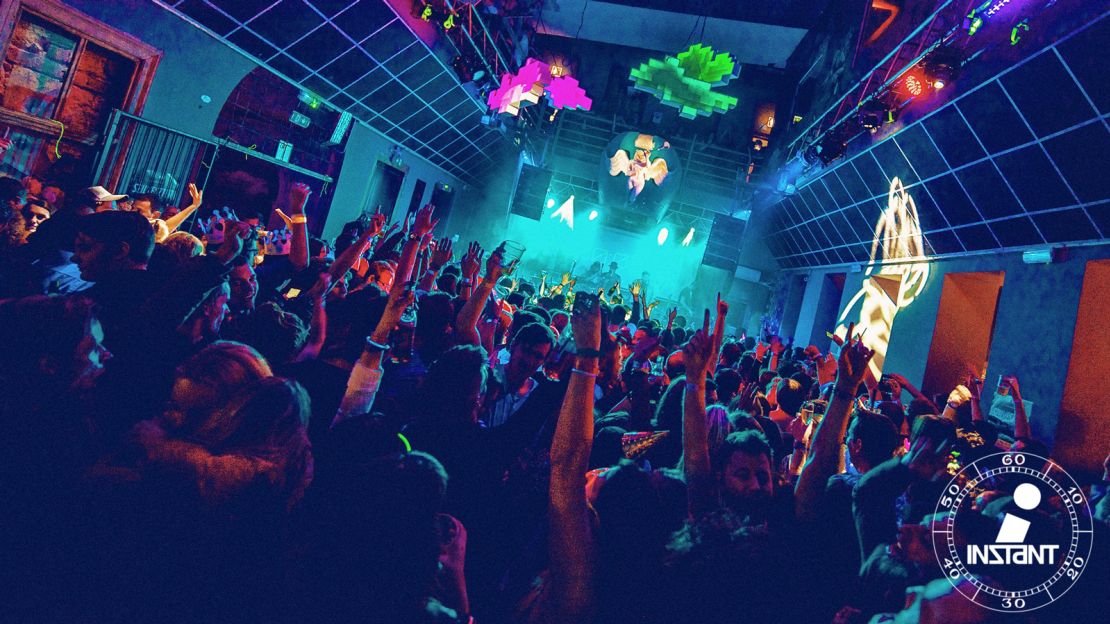 Once one of the more popular ruin bars in Budapest, the old Instant bar situated on Nagymező street was bulldozed in 2017 to make way for a new apartment block.
The venue then teamed up with Fogas club to form the largest ruin bar complex in Budapest.
Now situated in Akácfa utca, it opens until 6 a.m. each morning and is always full of partygoers and clubbers, who can alternate between the many bar and dance areas within its large building.
Instant and Fogas, Budapest, Akácfa u. 49-51; +36 30 123 4567
Anker't
One of the most popular party venues in the city, Anker't is essentially a large courtyard surrounded by bars, dance rooms and a snack area.
Often packed with partygoers, the bar has themed nights on Thursday, Friday and Saturday, with a great DJ to party the night away.
Anker't, Budapest, Paulay Ede u. 33, 1061; +36 30 360 3389
Rooftop bars
360 Bar