Renowned the world over for its beautiful architecture and breathtaking views, visitors flock to Budapest each year to experience the city's spas and wellness centers.
Drawing therapeutic waters from 118 natural thermal springs each day, a selection of Turkish baths provides visitors with a wide range of activities and treatments, while yoga retreats and wellness centers offer up a feast of fitness trends.
Here, we've compiled the ultimate wellness guide to Budapest to help you navigate your way around the best spa and wellness activities available when you travel to Hungary's capital city.
Thermal Beer Spa at Széchenyi Baths
Situated in the heart of the City Park, Széchenyi Baths houses a Beer Spa that offers a unique experience.
Visitors are treated to 36-degree hot water baths mixed with minerals and natural extracts used for beer brewing – hops, yeast, malt and barley.
This quirky therapeutic offering is delivered in six bath tubs, which can be used individually or with a friend.
Local beer is also served as an accompaniment to make the experience even more memorable.
To enter the Beer Spa, guests can either pay for entry to Széchenyi Baths, then book an extra ticket to the alcohol-fueled bath tub area, or book an independent ticket to enter the Beer Spa."
The baths also boast 10 indoor pools, an exquisite outside bathing area, saunas, steam chamber and massage rooms, with a number of other treatments available upon request.
Admission fee to Széchenyi Baths is around $21 on weekdays and $22 at weekends. The additional Beer Spa admission fee is $25 for one person, $30 for two.
Thermal Beer Spa, Széchenyi Baths, Budapest, Állatkerti krt. 9-11, 1146 Hungary; +36 1 363 3210. Open daily from 6 a.m. to 10 p.m.
Medicinal massages at Rudas Baths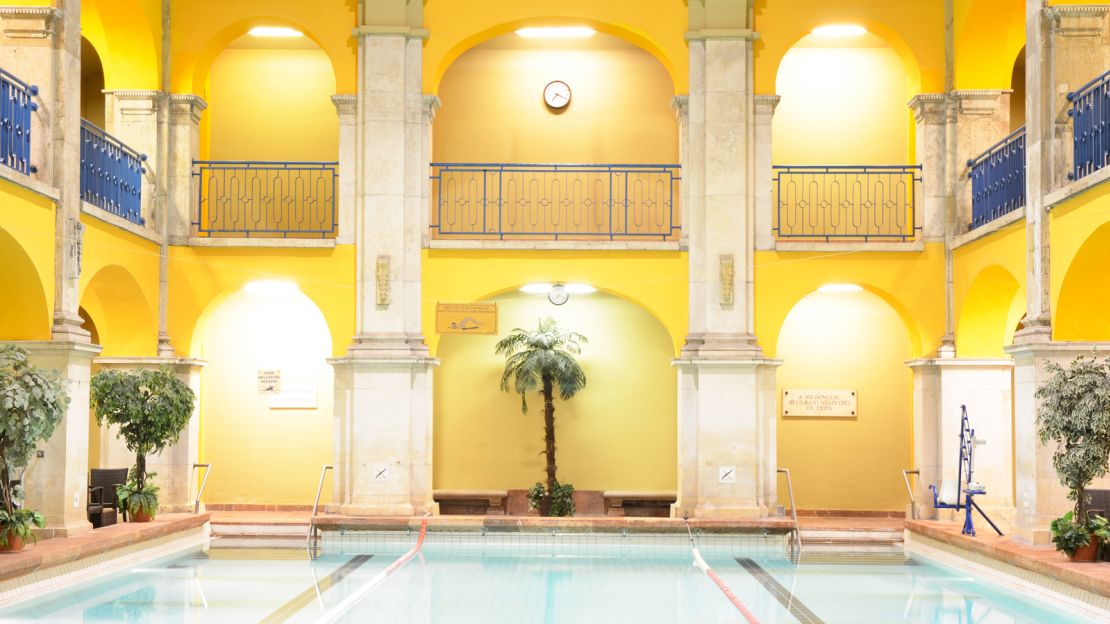 While most spas and wellness centers in Budapest have a wide range of massage treatments at reasonable prices, Rudas Baths holds one of the more extensive massage programs.
This traditional Turkish bathhouse is one of the more popular thermal spas in Budapest, with a wide range of treatments and thermal pools with medicinal benefits.
Rudas Baths boasts a large octagonal plunge pool, five smaller thermal pools, a larger swimming pool, a rooftop hot tub, sauna, steam room and massage rooms.
But the jewel in this venue's crown is its vast array of medicinal massages provided by experienced masseurs and staff.
The aroma massage mixes natural healing powers with various fragrances and aroma oils to relax the mind and body and is recommended for those suffering from stress as well as sleeping difficulties. Meanwhile, the thermal massage soothes pains of the movement system, easing joint problems and muscle tension.
There are also a whole host of VIP massages on offer, including the Rosemary Wonder, Orange Happiness, Hungarian Wines and Elderflower Harmony massages, but the pièce de résistance is the Kolop medicinal mud treatment.
This healing mud is taken from the River Tisza, the second largest river in Hungary. Kolop was qualified as a medicinal mud in 1968 and has a natural healing factor that aids the joints and spine – perfect for sport injuries.
Admission is $18.60 during the week and $23 at weekends. Massages start from $22 for 20 minutes upwards. Steam bath open daily from 6 a.m. to 8 p.m.
Rudas Baths, Budapest, Döbrentei tér 9, 1013 Hungary; +36 1 356 1010
Private Bath at Gellért Baths
Gellért Baths, or the Szent Gellért Gyógyfürdő, is based inside the world famous Gellért Hotel.
Although the bath house has a steam room, sauna, sun terrace, thermal baths and massage rooms, the best way to experience this traditional spa is by taking advantage of the private bath and massage rooms.
Built just over 100 years ago, it comes with its own sauna and relaxation room and serves as an ideal place to relax and unwind without bumping into other bathers.
Visitors can also take advantage of the many massages available thatpromote health and wellness, including mud therapy and herbal treatments.
Fees start from $20. Open daily from 6 a.m. to 8 p.m.
Gellért Spa, Budapest, Kelenhegyi út 4, 1118 Hungary; +36 1 466 6166
Wellness center at Csillaghegyi Árpád Baths