The islands of Cambodia have finally started to get the attention they deserve, but they're still positively picturesque and far less developed than their popular Thai neighbors.
Whether you're looking for an all-night party or an underwater adventure among pristine coral reefs, Cambodia's got an island for all tastes and all budgets.
Here are seven of the best island destinations:
1. Best island for partying: Koh Rong
Not too long ago Koh Rong's only tourist amenities were a handful of bungalows besides miles of dense jungle and gorgeous white sand beaches.
It's still possible to find solitude on some of the more remote parts of the island, but in the last few years dozens of cheap accommodations have been built and the place has become a backpacker Shangri-La.
Though Koh Rong remains surprisingly undeveloped it has become Cambodia's go-to spot for sunburned travelers who want to bake on the beach by day and get toasted by night.
On Tuesdays and Fridays there are island pub crawls with a reputation for getting messy, and on Wednesdays, Saturdays and full moon days, there are all-night parties on Police Beach. Luckily, the schedule leaves a few days off to detox and soak up some rays.
Getting there: High-speed ferries run from Sihanoukville (Speed Ferry Cambodia, Serendipity Beach Road, Sihanoukville, +855 34 934 744), which takes 45 minutes from shore and costs $22 return.
In terms of accommodation, there are numerous guesthouses in boisterous Koh Toch village, and nearby Monkey Island (+855 81 830 991) and Paradise Bungalows (+855 92 548 883) are a more relaxed option. Had enough partying? Beautiful Lonely Beach, located on the north side of the island, is accessible by a three-hour boat journey from Sihanoukville on the mainland.
2. Best island for relaxing: Koh Rong Sanloem
Koh Rong Sanloem is Koh Rong's slightly more chilled-out sister island. On Saracen Bay, a heart-shaped inlet with calm turquoise surf and beautiful white sand beaches, there are more than a dozen resorts that run the gamut from simple wooden bungalows to luxury air-conditioned villas.
On the other side of the island, Sunset Beach is aptly named for the colorful displays over the water as the sun sinks below the horizon. In a small fishing village called M'phey Bei there are myriad inexpensive accommodation options and a laid-back, backpacker vibe.
There's not much to do on the island, but that's the point. Days can be spent paddle-boarding, snorkeling or relaxing under a palm tree with a good book.
Getting there: From Sihanoukville, many of the Speed Ferry Cambodia ferries to Koh Rong also stop at Koh Rong Sanloem for $22 return. Accommodation options include Sweet Dreams (+855 98 913 003), Huba Huba (+855 88 554 5619), Chill Inn (+855 16 824 211), Paradise Villas (+855 92 548 883) and Lazy Beach (+855 016 214 211).
3. Best island for luxury: Song Saa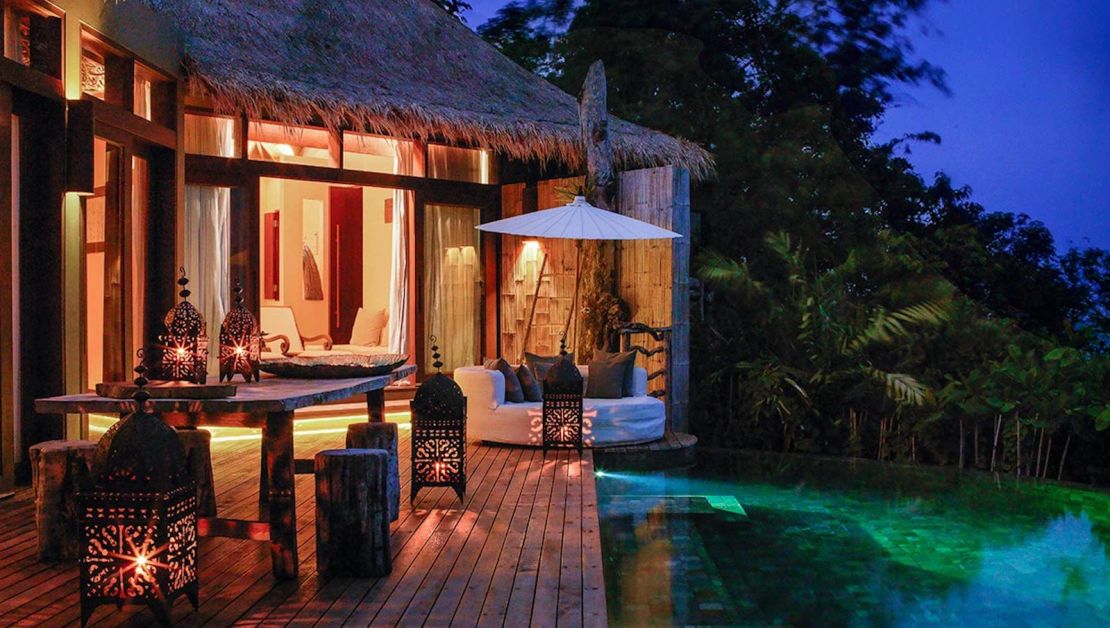 The nickname of these two small private islands means "sweethearts" in Khmer. Fitting, as you'd have to be pretty sweet on someone to take them there, with villa prices at the Song Saa Resort running as high as $3,000 per night.
The 24-villa resort, just off the coast of Koh Rong, offers Cambodia's most exclusive island experience, starting with the bottle of Champagne awaiting you at check-in.
If you choose their all-inclusive package, the Champagne's included and so is just about everything else, from the transfers from shore and the gourmet meals made from locally sourced foods to the well-stocked minibar and free international calls from your villa.
Even better, Song Saa is a model for sustainable development in Cambodia. The resort is helping the local community develop education and waste management programs and has embarked on several conservation efforts, including a marine reserve covering 50,000 square meters around the islands.
Getting there: There are twice-daily speedboats to Song Saa (+855 236 860 360) from the Sihanoukville port that are free for guests.
4. Best island for nature-watching: Koh Thmei
Located inside Ream National Park, Koh Thmei is home to monkeys, civets, lizards, more than 100 different species of birds and several threatened species, including the fishing cat, a wetland feline than makes its home near streams and mangrove forests.
The island has only one place to stay, Koh Thmei Resort, and the term "resort" is used loosely: It's little more than seven simple wooden bungalows, but it's eco-friendly and solar powered.
Guests can hike, bird-watch, snorkel or take the two-person sea kayak out for a spin. There are nearby deserted beaches to visit with occasional views of dolphins swimming along the coast.
Getting there: A taxi to Koh Kchhang, the fishing village closest to the island, from Phnom Penh costs $60, or $22 from Sihanoukville. Koh Thmei Resort (+855 97 737 0400) can organize a boat from Koh Kchhang.
5. Best island for sleeping in a hammock: Koh Ta Kiev
Koh Ta Kiev is home to just a few rustic eco-resorts and not much else, but what it lacks in amenities it more than makes up for in charm.
Days on the island are filled with beachcombing, jungle walks and snorkeling. Although there are generators on the island, once the sun goes down Koh Ta Kiev goes almost completely dark and it's possible to see bioluminescent plankton lighting up the water. Although free-camping is not allowed on the island, several of the resorts have tents, or will rent hammocks to those who would prefer to fall asleep under the stars.
Getting there: When you make a reservation at any of the accommodations on Koh Ta Kiev they will organize a boat from shore for around $10. It's also possible to rent a private longtail boat from Sihanoukville.
Accommodation is available at Ten103 Treehouse Bay (+855 97 943 7587).
6. Best island for diving: Koh Tang