Deep in the Aragon river valley, close to the border with France, lies the abandoned ruin of Canfranc International Station in Spain.
Once one of Europe's largest rail hubs, opulent Canfranc opened in style in 1928, with an inauguration ceremony attended by the king of Spain and the President of the French Republic.
During World War II, Canfranc was a hive of activity and intrigue, witnessing arrests, espionage and gold trafficking, but by 1970, the station had closed its doors.
Today it's a sleepy destination, popular with photographers thanks to its atmospheric exterior and striking setting beneath the snow-capped Pyrenees.
"Even though it is almost in ruins, it brings a lot of visitors," Mayor of Canfranc Fernando Sánchez Morales tells CNN Travel.
Now, Sánchez Morales confirms, plans are afoot to breathe new life into the station – thanks to a huge regeneration program.
"We are working on a project that will change Canfranc," says Sánchez Morales. "Every day we hear more feedback saying that this railways line is necessary and needs to be reopened."
Espionage, escape and resistance
Due to its border position, ownership of the station was originally shared between France and Spain. It's now owned by the local Aragon government in Spain.
"Canfranc Station is a monument to Aragonese culture," says Sánchez Morales.
The station played an active role during the World War II, bearing witness to moments of both hope and despair.
Prior to the Nazi takeover of the Canfranc municipality, the station acted as the gateway to liberty for some European Jews who were persecuted by the German regime.
"In the first years of the world war, from 1940 to 1942, thousands of Jews fled by train from Canfranc to Lisbon and the United States," says Ramón Javier Campo Fraile, the acclaimed writer behind the project heraldo.es/canfranc, which won the Premio Nacional de Periodismo Digital journalism award in 2003.
Among those who fled by train out of Canfranc, according to Campo Fraile, were the painters Max Ernst, who was not Jewish, and Marc Chagall. American entertainer Josephine Baker also transited through the station.
Spies traveled by train from Canfranc en route to join the anti-Nazi French Resistance and to pass messages to Allied countries.
"It was also used by the Allies, who passed information to France and Spain through a spy network," Mayor Sánchez Morales explains.
However, the Nazis took the municipality of Canfranc in November 1942 and maintained control until June 1944.
Escape through Canfranc became harder and the station became the site of many arrests.
Uncovered history
Canfranc was the only Spanish municipality occupied by the Nazis – and the regime made its presence felt.
Campo Fraile says more than 300 people were arrested fleeing towards Lisbon in Portugal and sent to prisons across Spain.
"The Germans controlled the traffic of gold, wolfram and they also lowered the French flag" he adds.
Rumors of Nazi gold trafficking through Canfranc station have abounded for years, but they were only confirmed in 2000.
Campo Fraile explains that a local bus driver found evidence revealing that "86 tons of Nazi gold passed through the station between 1942 and 1943."
"We have found more documents in European and American archives that prove that more than 100 tons of gold passed through the area," he adds.
Preserving the past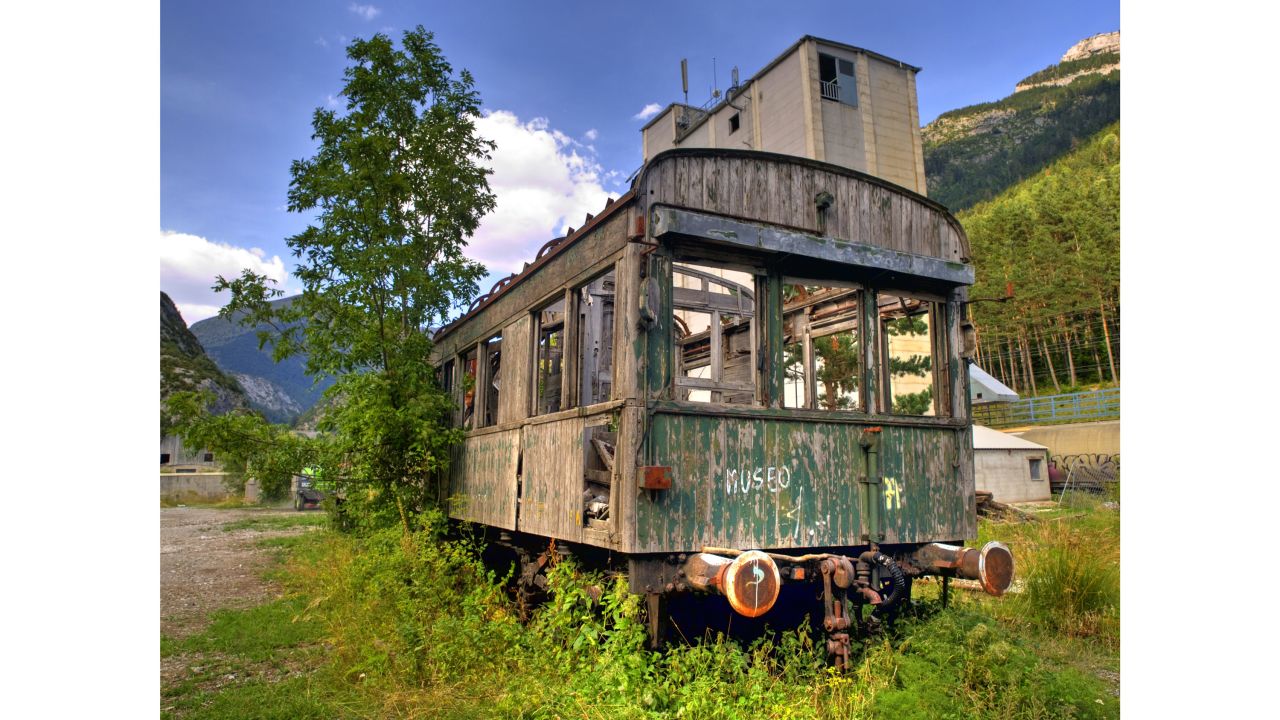 The tranquil surroundings of Canfranc station now bear little evidence of its dramatic and tragic past, but officials hope new regeneration plans will both preserve the station's history and drive tourism.
Green trees and craggy mountains frame the remaining shell of the station – which is crumbling but eye catching.
"The town now survives off of natural tourism, such as skiing, other services and overall the tourism that the train station brings," says Sánchez Morales.
Efforts to regenerate the old building are still in their early stages, but plans include a hotel and smaller station.
"We are fighting to create a big tourism complex, and also to open the line for international travel soon," says Sánchez Morales.
"The plans to revitalize the Canfranc station is the best way to recover all the historic buildings and infrastructure that haven't been used since 1970," says Campo Fraile.
Both the French and Spanish regional governments are hoping a route through the staggering scenery of Pyrenees will reignite tourism in the area.
This regeneration would put Canfranc firmly on the map – and allow more people to become aware of the region's role in 20th century history.
"This project […] will promote tourism to the place where thousands of people were saved when fleeing the horrors of war, and where various channels of espionage helped the allies to victory," says Campo Fraile.
CNN's Nabila Khouri contributed to this report.
To learn more about Canfranc's history, see Ramon Javier Campo Fraile's extensive work on the subject, including his books
"El oro de Canfranc" (Ibercaja 2002)
"La estación espía" (Península 2006)
"Canfranc, el oro y los nazis'" (Mira Editores, 2012, 2014 y 2017).
Campo also co-directed the documentary "Juego de espías" (Estación Cinema 2015) with Germán Roda.
Clarification: The article has been amended to clarify that while Max Ernst fled Nazi persecution, he was not Jewish.