Saint-Nazaire, France
CNN
—
In an age of ever-bigger cruise ships, it can be hard to stand out without constructing something the size of a small city and pushing it out to sea.
Now, instead of just ramping up the scale of their vessels, cruise operators are starting to innovate with boat design, ripping up the rulebooks on marine engineering to create something very different.
The latest example of this is Celebrity Edge, a large – but not super-massive – vessel that's just completed it's maiden voyage, a 15-day transatlantic crossing, ahead of its first passenger sailing on December 9, 2018.
From the outside, it might look like a standard, albeit glamorous, cruise ship.
But Edge has something unusual going on inside – an innovative endoskeleton design that owner Celebrity Cruises claims will make seagoing travel more epic than ever.
All previous large cruise liners have relied on centuries-old shipbuilding principles that require a solid hull to hold the vessel together. By shifting the spine to the center, Celebrity Edge's sides have been opened up – allowing maximum light and the potential to create suites with incredible panoramic ocean views.
It's been entirely designed using 3D technology, enabling engineers to push the boundaries of what's possible, while still creating something that can float and withstand the rigors of plying the high seas.
Celebrity says that Edge's passengers will be as close to the ocean as it's possible to get on a cruise ship without, presumably, jumping over the rail.
The price tag for creating this experience is a hefty $1 billion – and there's a sister ship, Celebrity Apex, due to launch in 2020.
With 28 million passengers expected to take to the waters globally in 2018 (up from 24.7 million in 2017), such a large investment may well be worth it.
But Royal Caribbean Cruises, Celebrity's parent company, must stand out in a crowded field. Chief rivals Carnival and Norwegian are also building new vessels to capture their slice of an estimated $45.6 billion market.
So will Celebrity Edge live up the hype?
CNN Travel got a preview of Edge back in September – in the midst of the frenetic work to get the ship launch-ready at the Chantiers d'Atlantique shipyard on the northwestern coast of France.
Cruise control
As morning fog was quickly burned away by a warm sun, the ship emerged, looming over the dockside, by all appearances ready to set sail – minus a neighboring large crane. Celebrity says that as of September 2018, it's 95.6% ready.
"That doesn't sound like much to go, but the part to go, that is all the visible part," says Richard Fain, chairman and CEO of Royal Caribbean Cruises, on hand to give a tour.
There are workmen everywhere. At this point, exploration of the ship requires protective hard hats and goggles. Last minute touch ups to the paintwork are being made in one corner. Wood is being sawed in another. Carpets are being unfurled and cleaned.
The work is intense, but with the ship's superstructure completed and afloat, Celebrity Cruises is excited about what it believes will be a game-changing design.
"It was never our intention with Edge to have a bigger ship," Celebrity CEO Lisa Lutoff-Perlo tells CNN Travel.
But her team did want to make a splash, and so harnessed technology to explore new frontiers.
Fain says the extent of 3D computer modeling in Edge's creation is unprecedented.
"Every ship in the last decade has used 3D renderings […] to understand what they're building," he says. "But this was entirely done in three dimensions and it's given us the ability to do things that you couldn't do before."
By shifting the boat's spine, the design team's vision of floor-to-ceiling windows, "infinite verandas" in bedrooms and ocean views on display wherever possible became a reality.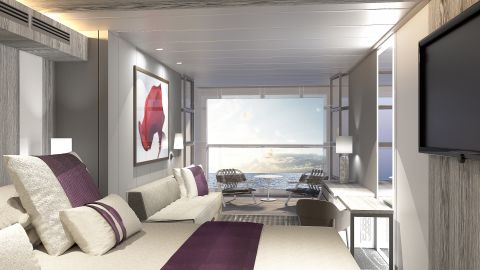 "Ships have traditionally been built with what's known as an exoskeleton, so the skeleton's on the outside of the ship," says Fain. "But if the skeleton's on the outside of the ship, that means that the outside of the ship is essentially sealed."
So how come this has never been done before?
It has, explains Fain, just not on this scale.
That's why the Edge's infinite verandas are so striking. They're featured in each of the ship's 1,467 staterooms, created by celebrated interior designer Kelly Hoppen.
And yes, they're impressive, even when the ship's berthed next to what is essentially a construction site.
The balcony merges seamlessly with the room. A simple press of a button turns the veranda into a self-contained space, then the vast windows can be pushed down to open the balconies directly onto the ocean.
"We can essentially put nothing between the cabin and the balcony," says Fain.
They weren't ready during CNN's September visit, but when Edge premieres, there are apparently going to be six two-story luxury villas on board too, each with its own private plunge pool.
Grand designs
Elsewhere, the ship has all the glitz and swagger you'd expect of a new vessel aimed at upscale cruise passengers.
The ambitious Grand Plaza forms the centerpiece of the ship. The impressive chandelier – part light fixture, part art installation, containing 765 blades made from LED strips – is already illuminating the area where passengers will socialize and dine in fancy bistros and restaurants.
The interior of the ship is the work of Paris design team Jouin Manku – which was involved in the Jules Verne restaurant in the Eiffel Tower. The concept is a fusion of modern touches with inspiration from the golden age of transatlantic travel.
"It is designed in a modern luxury elegant way," says Lutoff-Perlo. "I always think about our ships or describe our ships as beautiful boutique hotels sailing around the world."
Celebrity Cruises is keen to stress the seaworthiness of its new design, describing the construction process in detail.
Fain explains that ships of this type are assembled like Lego bricks, ceiling first.
"They start the blocks upside down and they do them in small sections and then they flip them over, which I always find fascinating," he says.
Once the ship is delivered into the water, it has to undergo two sea trials. One is purposefully rough, to fully test the ship's limit. Edge has already passed that one successfully.
The ship also has what's called a parabolic ultrabow, another Celebrity Cruises innovation that, it's claimed, will help make it more energy efficient – a pressing concern both financially and environmentally.
This builds on pre-existing "bulbous bow" designs by locating the ship's propellers to the front of the vessel, reducing drag in the water.
"It still has a bulbous bow, it's just included in this extra sheathing which allows the ship the energy efficiency. The propellers are forward not back, so there's nothing to interrupt the water coming into the propeller," explains Fain.
Above the water line, Edge has plenty of overly opulent features.
The pool deck is dominated by two giant hot tubs shaped like martini glasses. On the top deck, a giant X-marks-the-spot is surrounded by a rooftop garden with tree-like sculptures.
The spa wasn't ready when CNN Travel visited, but has also been designed by Hoppen and is going to span 22,000 square feet.
The Magic Carpet
And then there's the so-called "Magic Carpet," which is pretty cool.
It's an orange moving platform that forms an extension to the ship and moves up and down its side, taking on a different role depending on its position. It doesn't move when people are on it.
The platform can move from deck 16, right at the top, down to deck 2, to assist with tendering – the boarding and disembarking of passengers at various cruise destinations.
"Originally we created it to be a tendering platform, to make that experience a lot better," says Brian Abel, Edge's SVP of hotel operations. "Than we realized we only use that like 20% of the time. So what else are we going to do with it? That's when we came up with the idea of making it move as a restaurant or extension of the pool deck or special dinner.
"It's a nice way to leave the ship and get back on, when you get back on we'll have music playing – with champagne and water – and all the other boats will be like 'What's going on on that ship?'" laughs Abel.
Bookings for Celebrity Edge have already been brisk, according to Celebrity Cruises. But while the vessel's novelty touches will help create a buzz, the challenge will be maintaining its appeal to generate a return on that $1 billion investment.
"Having seen Celebrity Edge in its final stages of construction, I believe it genuinely will be a game-changer," Sue Bryant, cruise editor at the UK's Sunday Times, tells CNN Travel.
"There's some really innovative design, not least the clever balcony cabins, which are much bigger than those on rival ships, and the Magic Carpet, a platform that serves as an al fresco restaurant suspended over the side of the ship. On a warm night in the Caribbean, I reckon that will be the hot ticket for dinner."
Bryant adds that the ship could attract the attention of the millennial market – "people who might previously have considered themselves too cool for cruising."
Lutoff-Perlo says she's confident Edge, with its high ceilings, open feel, relatively modest size and huge windows showcasing views of ports and oceans will win over skeptics.
"They see the spaciousness of it, they see the beauty of it, they see the experiences that we're creating and they say: 'Wow I might not have sailed on a ship before, taken a cruise before, but I definitely want to be on Edge,'" she says.