Editor's Note: Sign up for Unlocking the World, CNN Travel's weekly newsletter. Get the latest news in aviation, food and drink, where to stay and other travel developments.
Jemma Gregory stumbled across Denise Warner's podcast more or less by chance.
It was 2006. Jemma, a student in Brisbane, Australia in her 20s, was looking for a LGBTQ+ listen on her "old school" chunky iPod.
"It was when Apple had just started promoting podcasts on iTunes like, way, way back in the day," recalls Jemma.
"I just typed in 'lesbian' into the search bar to see what came up, and their show was one of the first ones at the top. So I listened – and it was funny and just really relatable."
Jemma was hooked. When, at the end of the show, Denise and her co-host suggested listeners phone or email them with any questions, she decided to send a message.
Jemma didn't think the hosts, based thousands of miles away in the US, would pay her email any attention.
But when Denise saw Jemma's message in her inbox, she was delighted.
In 2006, Denise was in her late 30s and had just started podcasting. She'd started up the project with her best friend, recording the show from her apartment in south Florida.
"We just wanted to share our girls' night with the world and spotlight LGBT projects," Denise tells CNN Travel. "That was our goal."
When Denise imagined her ideal listener, it was probably someone like Jemma – a person keen to listen to frank, funny and incisive discussions, and ready to propose questions and send in feedback.
But so far, most of Denise's listener interactions had been disappointing, to say the least.
"We would say the phone number and then we would get all these awful call-ins that were men asking really dark or sexual questions, and we were like, 'No, no, no, this is not what we want. Click, hang up on him," says Denise, miming hanging up on a phone call. "We just couldn't get the engagement that we wanted."
That's why Jemma's email was like a light in the darkness.
"She came along, and it just snowballed – that was exactly what we were looking for."
"I found your podcast," wrote Jemma in her first message. "I love it. I'm listening all the way from Brisbane, Australia."
Then, Jemma reeled off some fun questions – what kind of lunch pail did you carry when you were a kid? What's your go-to meal? What was your favorite subject at school?
In the next episode, Denise and her co-host gave Jemma a shout-out and used her questions as a jumping off point for their conversation.
The podcast was recorded live and Denise and her co-host usually ran a corresponding chat room during the recording.
"Normally, the people would just kind of talk to each other in the chat room, not really pay attention to us," says Denise.
But Jemma's fun questions seemed to shift that dynamic.
"Now they were so fully engaged, answering the questions and listening to our answers," says Denise.
After the episode wrapped, Denise dropped Jemma an email, thanking her.
"That went so well," she wrote. "Maybe you can send questions every week."
Jemma took Denise up on the offer – being involved in the podcast gave her a sense of community, and it was fun.
So started a pattern: Jemma would email questions across the Pacific, Denise would answer them on air. Soon, Jemma's questions became a fixed segment. Sometimes she even appeared on air. And in between recordings, the two women would send each another messages.
"We had, for a solid two years, just back and forth weekly email exchanges," recalls Jemma. "It wasn't just the questions, it was, 'This is what's going on in my life' – girlfriends at the time, and going out and having fun. So we built up a friendship for a few years before anything else, which was nice."
"All these years went by, with her diligently sending in her questions and everything," says Denise. "The chat room knew her, and we would have little flirty things on the air if she'd call in."
Meeting in person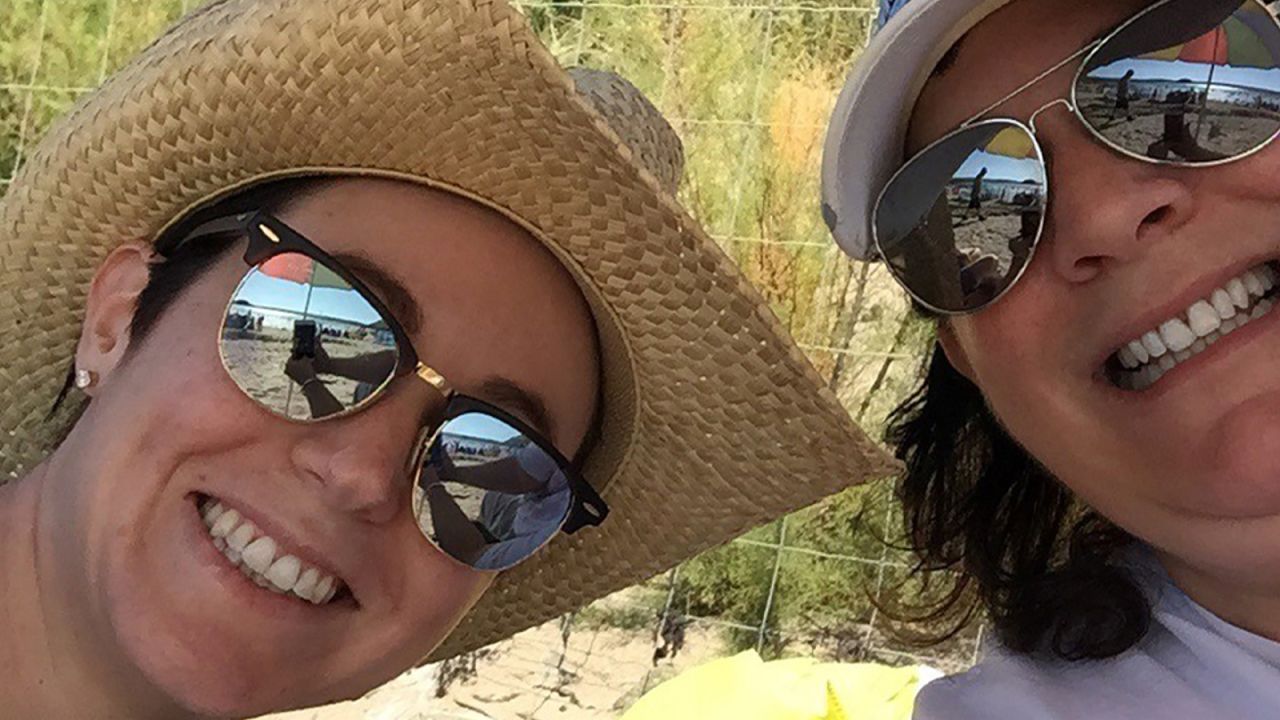 Time went on and Jemma took up a teaching position, which afforded her long summer vacations. In 2008, Jemma started planning a trip to the US with one of her close friends, with stop offs in New York and Los Angeles.
She wrote Denise an email detailing her plans. Maybe she could swing by Miami during the trip and they could meet at last?
Both Denise and Jemma were curious to meet in person. But while their podcast interactions were sometimes a little flirty, they didn't really think anything romantic would happen between them. Denise was conscious she was a bit older than Jemma. And Jemma just figured Denise was a pal on the other side of the world, someone fun she could hang out with while she was in the US.
"In my mind, we were still firmly friends," says Jemma.
When Jemma and her friend landed in Miami, Denise's co-host picked them up from the airport. Then the trio headed directly to Denise's workplace so they could catch Denise during her lunch break.
"I turned up and she – having had this wonderful online friendship – wouldn't even give me eye contact," recalls Jemma, who remembers being confused and a little hurt.
Denise says her uncharacteristic shyness was because she was internally panicking. The moment she met Jemma in person, the feelings that had been bubbling under the surface of their emails came to a head.
"I just was so afraid that she could see in my face that I was like, 'Oh, wow. This will be great if this blossoms into something.' I didn't want it to come across that way, so I was trying to play it as cool as I possibly could," recalls Denise.
Denise was concerned about making her feelings for Jemma obvious, in case they weren't reciprocated.
Plus, even if they were, Denise was worried about the age gap, not to mention the ocean that usually separated them.
"There were a lot of obstacles that I was afraid of," says Denise. "But one thing about being with someone younger is they're fearless. She conquers every obstacle and makes it work – and I'm pretty sure by the time that four days were up, we were in it."
It was on day two of the visit that Jemma and Denise's natural connection and chemistry took over.
"We went shopping and just started holding hands. It was a normal, natural thing," says Denise.
For the rest of the trip, the two were "inseparable."
On the third day, Denise and her co-host recorded a special podcast episode where Jemma joined live from the studio.
"We were just outrageously flirting on the air," recalls Jemma, laughing.
"Weren't we joking about planning a wedding and selling tickets?" says Denise. "We definitely had fun with it."
Their listeners, many of whom had been tuning in since Jemma first started emailing in questions, were thrilled too.
"They were along the ride," says Denise.
But after these whirlwind few days, saying goodbye was hard. Denise recalls she and Jemma "kiss crying" all the way to the airport..
"It wasn't even like she was going back to Australia. She was just going to LA, so we'd be able to talk on the phone, and everything for the next week or so," says Denise. "But it was just heartbreaking that she wasn't going to be there. It was really difficult."
But amid the sadness, there was excitement and anticipation.
"It was just, 'This feels right. And so we'll just see how it goes without labeling it – without trying to put any pressure on the situation. And we'll just see what develops from here,'" says Jemma.
Long distance
Jemma returned to Australia and continued emailing in podcast questions – only now those interactions were mixed in with long distance phone conversations and blurry video calls.
Staying in touch from afar wasn't easy.
"You could talk in a video, you could talk on the phone, but it's not the same as having someone right there," says Denise.
But both Denise and Jemma were keen to see where their connection would go.
"This felt like there was a lot of room for growth, a lot of room to grow into something," says Denise. "So I didn't really think about dating other people. I would bring my laptop to friends' houses and set it up, so Jemma could be a part of it."
Nine months passed. By then, Denise's podcast listeners were almost as invested in the relationship as she and Jemma were.
They'd heard about the whirlwind four days in Florida, the woes of long distance, and how the two women longed to be together.
"One of our listeners was from London, and she would listen and hear our struggles with the distance and all that other stuff," recalls Denise.
One day, this listener got in touch with Jemma and said she wanted to fly her out to the US, to surprise Denise for her birthday.
Jemma was touched, and took her up on the generous and kind offer.
"I had no clue," recalls Denise, "It was the biggest surprise."
From there, a routine developed: Jemma and Denise would save up for plane tickets and Jemma would travel to the US twice a year. This arrangement worked – partly because Denise is petrified of flying and couldn't stomach a long haul flight to Australia. But also Denise only had a couple weeks of leave each year, whereas as an Australian teacher, Jemma had a much more generous vacation allowance.
"I had eight weeks over the summer and four weeks over the winter," says Jemma. "So I would take those breaks and basically the minute the school would break up, I would be on a plane and then I wouldn't land until the day before it started back up again."
"She would stay with me for big long chunks of time," recalls Denise. "This way she knew my whole family and my whole circle of friends and everything, and just fit right in."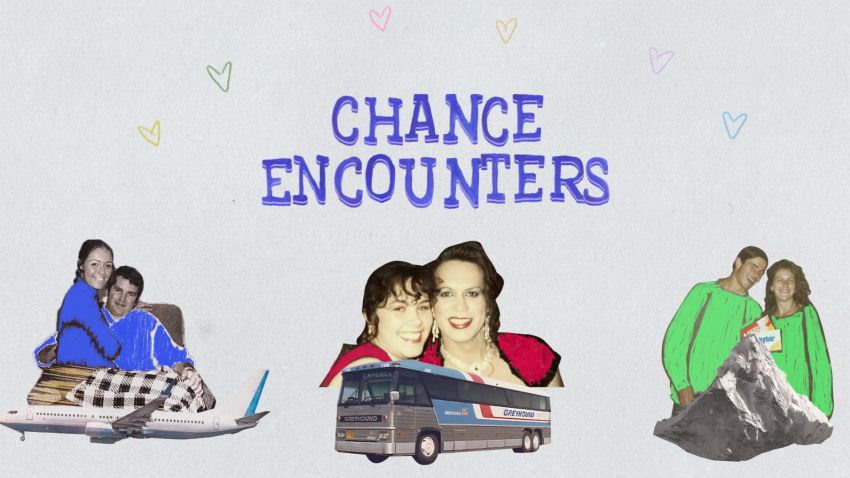 Meet the couples who fell in love while traveling
On one of these visits, on New Year's Eve 2009, Jemma was unexpectedly offered a job in London by the same British listener who'd previously flown her out to surprise Denise.
"The listener ended up being a really good friend, kind of like a fairy godmother for us," says Denise.
While Jemma grew up in Australia, she's half English, so she'd always figured she might end up living in the UK for a period. Plus, the job was a great work opportunity – and seemed to pave the way for Jemma and Denise to see one another more often.
"England is obviously a hell of a lot closer to America, only being like an eight hour flight," Jemma explains.
"I could handle that," says fearful flyer Denise, laughing.
Denise and Jemma had previously looked into the possibility of Jemma moving to the US – but unless she received a job offer from a company willing to sponsor her work visa, it would be impossible. At that time, gay marriage had yet to be legalized in the US, so a fiancée visa was out of the question.
But after Jemma accepted the job in London, she and Denise started wondering if they could live together in the UK.
In 2010, gay marriage wasn't legal in the UK either. But after a bit of research, Denise and Jemma learned they could get married somewhere else and then move to the UK together via Jemma's British citizenship.
They remember discussing this plan one evening during one of Jemma's visits, both drunk and giddy at the thought.
"This could really happen. We could really be together all the time. We could wake up together all the time, we could buy a house, we could have cats. It all became very real with that opportunity," says Denise.
Still, there were still a lot of hoops to jump through, and a lot of uncertainties.
"But her getting to England was probably the first step," says Denise.
Denise and Jemma started looking into where and when they could get married, and settled on a hotel overlooking the stunning Niagara Falls, in Canada.
This was partly because as an international gay couple looking to get married in 2010, Canada presented the easiest option.
But the location was also special for Denise, who'd grown up across the bridge on the American side of the Falls.
Denise and Jemma's wedding was a glorious, celebratory day.
"We even had a rainbow," says Denise.
"Couldn't ask for more," says Jemma. "It was perfect."
The couple combined their last names following their wedding, becoming Denise and Jemma Warner-Gregory.
Making the jump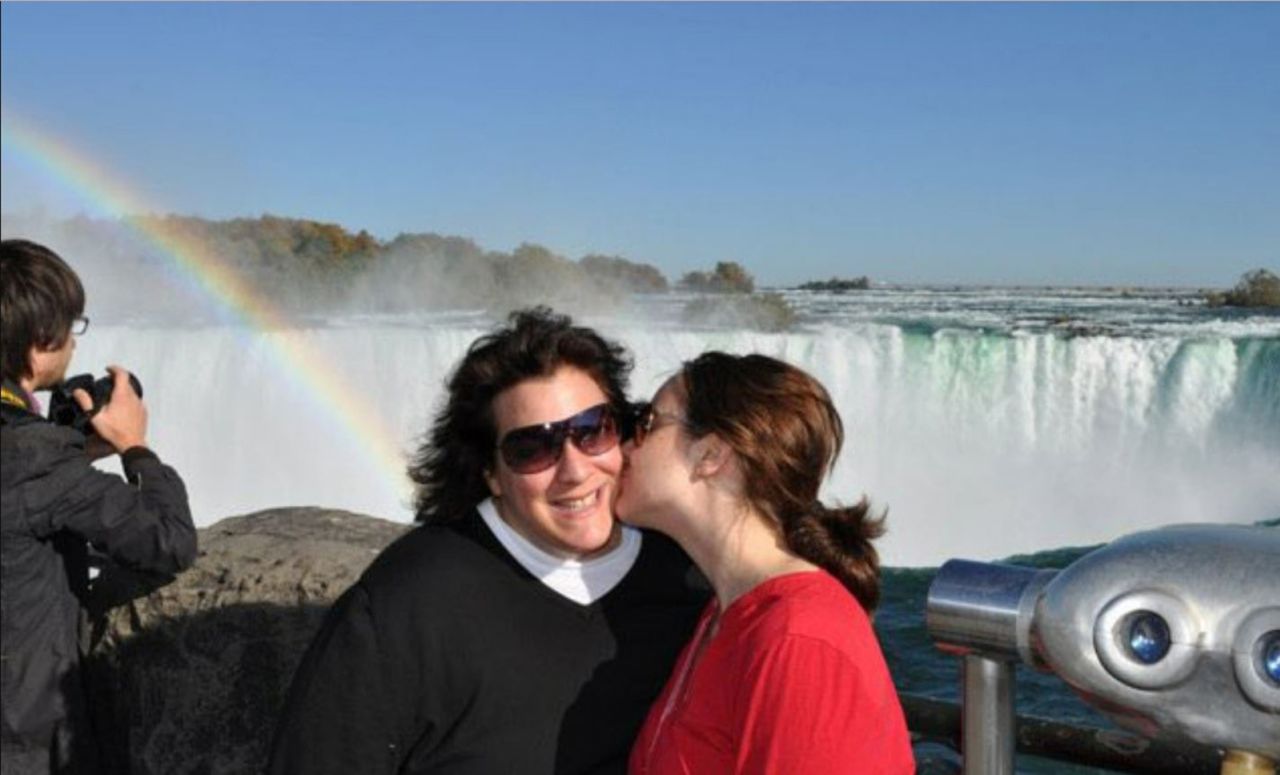 While Jemma had traveled a lot before she met Denise, Denise was the opposite – before meeting Jemma, she hadn't even owned a passport. For Denise, the idea of moving to the UK was daunting, and she was especially worried about leaving her family.
"I'm an only child, and my dad passed away when I was 19. So it's just me and my mom. And I'd never really lived more than like a mile or two from my mother," says Denise. "So for me to be thinking about moving to another country – I don't think anybody believed that would happen."