When Eileen Monaghan's cousin Nora died in 2014, Eileen grieved not only the loss of a beloved older relative but also her last link to Ireland.
Eileen's grandmother emigrated from the tiny village of Shalvey, in Donegal, Ireland in the late 1800s. Growing up in the US, young Eileen loved hearing her grandmother's stories of Ireland and became fascinated by her Irish roots.
Today, Eileen and her husband Gerard are travel-loving retirees – they've visited all seven continents and explored some 65 countries – but for Eileen, no country will ever top Ireland.
On past Irish trips, Eileen and Gerard would always make a pilgrimage to Eileen's grandmother's old house. Then they'd pop round to cousin Nora's for a cup of tea and a catch up.
"She'd be charming, delightful and wonderful," Eileen recalls.
Eileen only found out Nora had passed away when an unopened Christmas card was returned across the Atlantic, the sobering word "deceased" scribbled on the envelope.
As Eileen and Gerard mourned their Irish relative, they were saddened by the realization that next time they found their way to Shalvey, there'd be no one ready with the kettle on.
The following year, 2015, Eileen celebrated her 70th birthday with a voyage on board Cunard's Queen Elizabeth cruise ship.
"We wanted to go through the Panama Canal, so we did the Queen Elizabeth down the coast and outside of Costa Rica," says Eileen.
One evening, midway through the trip, Eileen was getting ready for dinner in her cabin, while Gerard was in the elevator, traveling from the seventh to ninth floor. As the elevator made its way up the ship, Gerard tuned into a conversation playing out between the couple standing next to him.
They sounded Irish, which intrigued Gerard. He loves speaking with people on his travels, and finds accents fascinating, so he decided to initiate conversation.
"Lovely lilt," he commented. "Where are you from?"
"From the North, County Derry," said the man.
"Oh that's next door to Donegal," said Gerard, adding that he'd spent some time in Ireland. "My wife's family is from Shalvey."
His elevator companion looked surprised.
"I had a cousin in Shalvey, but she died last year," he said.
Gerard stared at him, disbelievingly. What were the chances? But yet the similarities were striking, and tiny Shalvey's population numbered no more than 15 people.
"Nora?" he asked.
"Nora," replied the man, his eyes widening.
The elevator doors opened and the occupants got out, looking at one another in disbelief.
The Irish couple introduced themselves as Paddy and Hazel McEvoy. In turn, Gerard gave his name and Eileen's. It dawned on them all that Eileen and Paddy were distant relatives who'd never met, but were about to be unexpectedly reunited on a cruise ship in the middle of the ocean.
The group arranged to reconvene for a post-dinner drink, with Gerard adding that Eileen was celebrating a significant birthday.
"My wife was just saying how it was a shame she didn't have any family on board to celebrate with," he said. "Now she does."
With that, Gerard rushed back to the cabin to tell Eileen.
"We're going to meet your cousin," he told her, hardly believing the words as they came out of his mouth.
Eileen couldn't believe it either. She was in shock when she met Paddy at the cruise bar. He welcomed her with an enveloping hug and friendly smile.
"I don't believe this is happening," Eileen recalls thinking.
The unexpected family reunion turned into an hours-long conversation about family, nationality and everything in between.
"By the time we got through talking about all the relatives on both sides, it was time to go home," jokes Paddy. "But we did squeeze in a few words about travels here and there."
"We've both done a lot of traveling in our time," adds his wife Hazel. "We compared stories of travels around the world."
Transatlantic friendship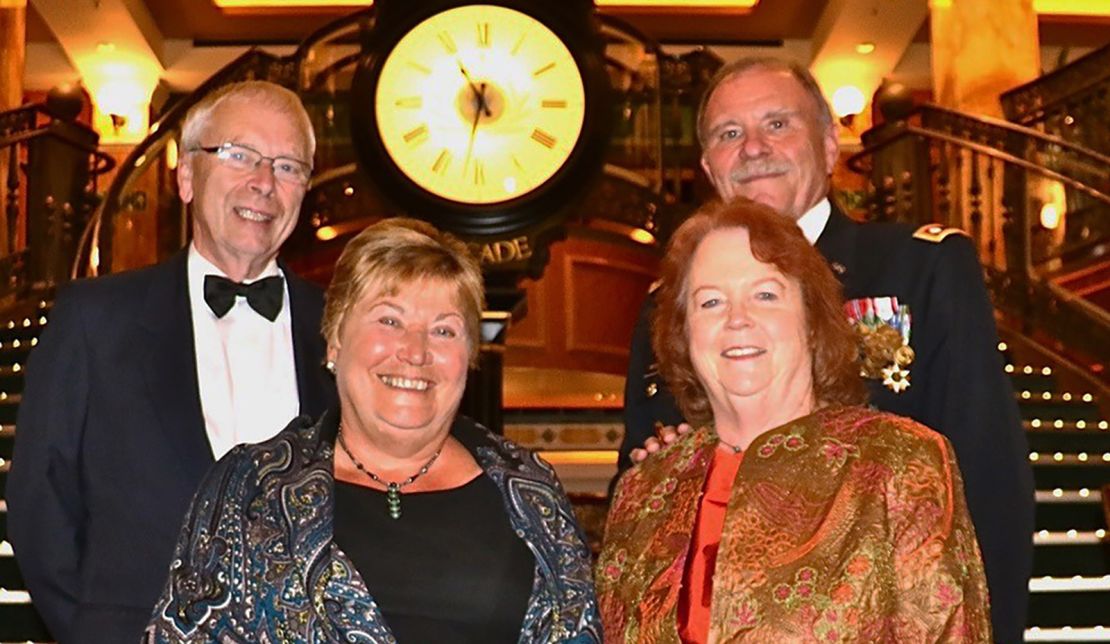 For the remaining two weeks of the cruise, the two long lost cousins and their spouses were inseparable.
"We met every day on the cruise after that, and got to know each other," recalls Hazel. "We had drinks before and after dinner every night."
At the time, the foursome were all in their 60s and 70s and there was, as Paddy puts it, "an awful lot of water under the bridge" to fill in.
It turned out both couples had sons living in Boston. They all, especially Paddy and Gerard, enjoy debating history, religion and politics. All four love travel. Already plans started brewing for future family get-togethers.
When the cruise ended, the McEvoys and the Monaghans exchanged contact details, promising to stay in touch.
Paddy and Hazel happened to be heading to the US later that year to visit their son. When, in one of many post-cruise email exchanges, they mentioned the upcoming trip to Eileen and Gerard, the Americans immediately invited their Irish relatives to visit them in Connecticut.
Paddy remembers his American daughter-in-law being especially wary about the whole situation.
"How do you know these people? I feel like they're about to take you to their basement, never to be seen again," he recalls her saying, only half-jokingly.
As such, it was pretty hilarious when Paddy and Hazel arrived at Eileen and Gerard's Connecticut home only to be enthusiastically shown around the American couple's basement conversion.
But the visit went off without a hitch, and the connection made on the cruise seemed only more solid on the ground.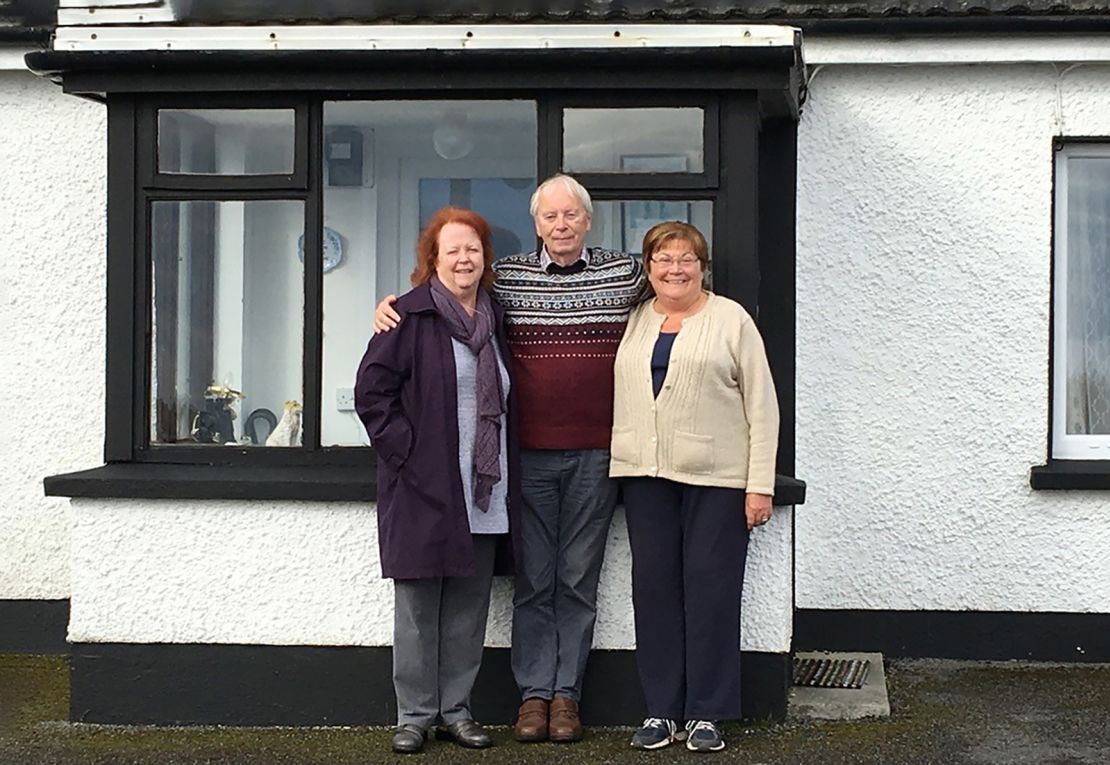 Eileen and Gerard returned the visit later in the year. It was so special for Eileen to once again be welcomed by an Irish cousin, cup of tea in hand.
From there, as Hazel puts it, "a great friendship developed."
"We've been friends ever since and we visit across the Atlantic regularly now to see one another," she says.
There have been adventures in Ireland, trips to Eileen and Gerard's second home in Vermont and group vacations – and their Boston-based sons enjoy meeting up too.
Eileen has also met a whole host of other Irish family members through Paddy. She tells him today that he "brightened her future" by opening a door she'd thought forever closed following Nora's passing.
Cousins and friends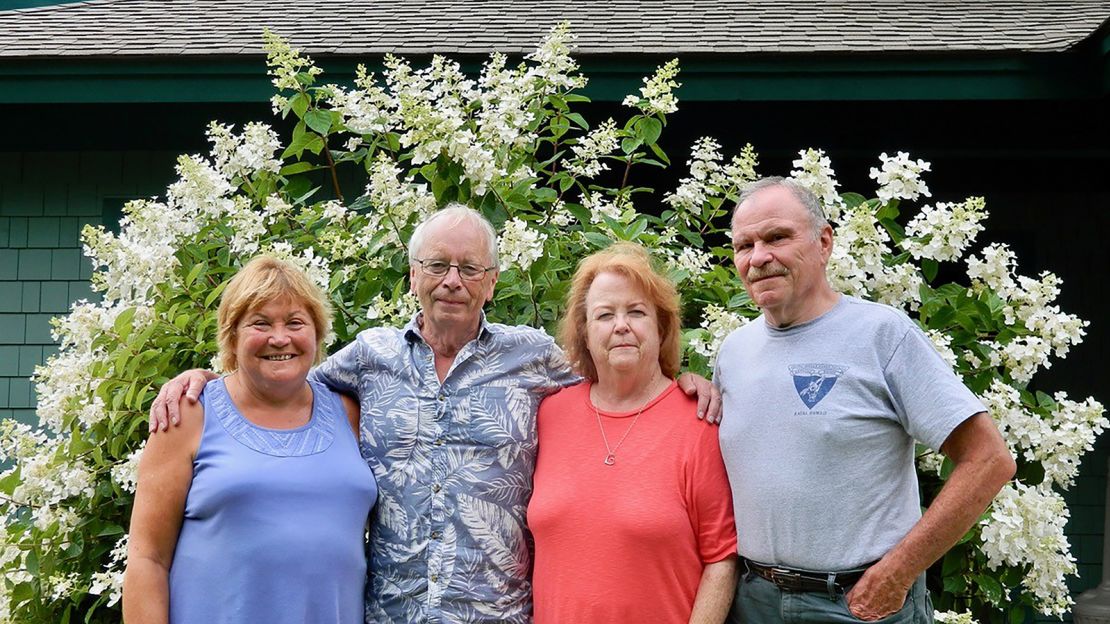 Today, the cousins like to imagine Nora "laughing her head off" at the idea of Eileen and Gerard meeting and becoming close thanks to the unlikely combination of a cruise ship, an elevator and an overheard conversation.
Due to the pandemic, it's been almost four years since the McEvoys and the Monaghans have met in person, but the two couples are set to finally reunite this summer.
They're counting down the days, and in the meantime the foursome have stayed in touch via lively video call and long emails.
Last year, Eileen's brother passed away, and she says Paddy and Hazel's letters and emails "helped so much" during that tough period.
"It really means the world that we've met these people, how lucky we are to meet them," says Eileen.
Hazel summarizes their story with the following words: "fun and friendship and family."
"I'll go with those three and add 'fascinating'," says Gerard.
Over the years, Eileen and Paddy have analyzed their family trees more than a few times, trying to work out exactly what their relationship is – they're connected through marriage, and through their respective grandmothers.
"I think it makes us fifth cousins or something," guesses Eileen.
"Oh no," says Paddy. "We're much more than that. We're friends."