Story highlights
Zhengzhou residents lined up to try bags of mountain air
Zhengzhou is one of the most polluted cities in China
Event was a tourism publicity stunt for nearby Laojun Mountain in the same province
Whatever the motive behind the event, it made for some powerful images of some China residents' desperation for better air.
Making the media rounds this week are photographs of residents of Zhengzhou, the capital of China's Henan Province, lining up for a chance to breathe fresh mountain air via sealed bags.
Some of the more heart-tugging photos were of parents and grandparents fixing the masks on children's faces so they can have a few rare sniffs of the fresh O2.
Zhengzhou is one of China's worst cities for air pollution, ranking 10th in a Greenpeace list of the country's most polluted cities in 2013, which used official data from the Ministry of Environmental Protection.
At the time of writing, Zhengzhou's AQI (Air Quality Index) recorded an "unhealthy" 157. Even Beijing, often the subject of bad pollution headlines, recorded a "moderate" AQI of 55 (the capital made headlines with its off-the-chart AQI reading of 755 last January).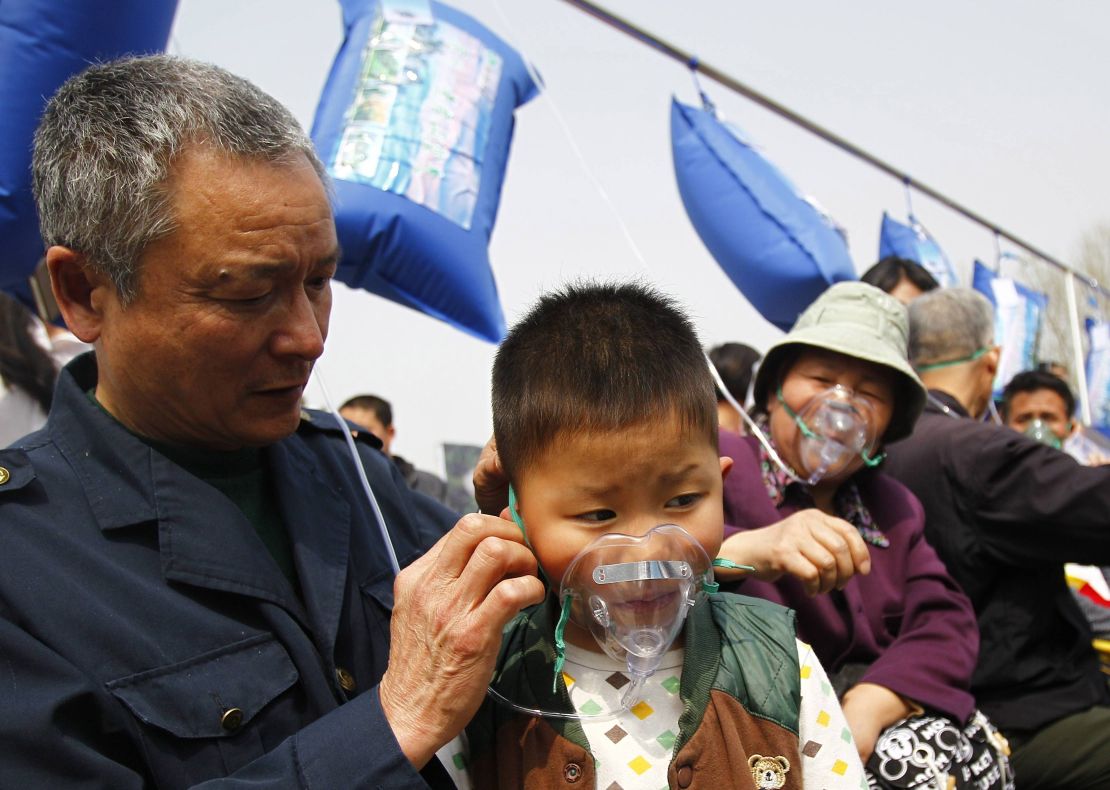 New York recorded an AQI of 62.
READ: Beijing pollution: Does it put you off traveling there?
The late-March series of events were part clever travel marketing gimmick, part public awareness campaign for China's air pollution crisis, put on by Laojun Mountain Natural Reserve Development Co.
The company brought in 2,000 cans and 40 bags of air that had been packed in Laojun Mountain, also located in Henan Province.
"A TV crew came to Laojun Mountain to test the air and found it unbelievably good and we had the idea of doing this to promote tourism to the area," sales and marketing officer for the park Khurram Zhang told CNN.
Known for its fresh air, the mountain was designated a national nature reserve in 1997, and sits 120 kilometers away from the nearest city of Luoyang.
"We collected 2,000 cans of air from She Shen Ya (a cliff on Laojun Mountain) early last month and we gave them out in multiple locations as a marketing campaign. It was gone in 20 minutes," said Zhang.
"We've launched two more events giving away air from the mountain. There will be more free fresh air coming in the future."