Editor's Note: CNN Travel's series often carries sponsorship originating from the countries and regions we profile. However, CNN retains full editorial control over all of its reports. Read the policy.
The sun was blazing on the white sand of Dadonghai Bay when Stanley, an endangered green sea turtle, was slowly lowered back into the ocean to begin his new life.
He might not have made it there at all.
Stanley hatched prematurely when he was found by fishermen in the Paracel Islands in the South China Sea, according to Frederick Yeh, founder of Hainan-based conservation group Sea Turtles 911.
"(He) just couldn't move … Usually when they hatch they're very active, they're scrabbling across the beach really fast," he said. "It's like a frenzy and that's what gets them past all the predators."
But Stanley was different. Within a week of being found he was delivered to the sea turtle hospital and laboratory at Hainan Normal University in Haikou for treatment.
Dozens of other rare and endangered sea turtles just like Stanley have been rehabilitated at the hospitals and labs on Hainan Island, supervised by Sea Turtles 911's Yeh and Hainan Normal University Professor Haitao Shi.
Volunteers and tourists visiting the turtle labs at the university, located in Lingshui village on the coast, or at the Ritz-Carlton Sanya in Yalong Bay, which teamed up with Sea Turtles 911 to build a Sea Turtle Shelter on the resort's grounds, get a chance to see the creatures up close and personal.
It's a rare opportunity, because tourists won't be seeing any of them on the island's beaches – not anymore anyway.
Hainan Island, the southernmost province China, has long been renowned in the country for its natural beauty and native wildlife, earning it the nickname "the Hawaii of China."
But with sea turtle meat and shells in high demand for years across China, in the past 30 years the animals stopped coming to Hainan to lay eggs.
Now Yeh and Shi hope to bring them back by educating the population, raising awareness among tourists and rehabilitating and releasing seized turtles.
"Historically, this is their motherland," said Shi. "So they should return back."
Does this airline have the coolest cabin crew uniforms ever?
Saving Hainan's turtles
Both men discovered their passion to save the world's rapidly vanishing turtles and tortoises early in their careers.
Shi was working as a researcher in China's remote Xinjiang province when he realized the problems the reptiles faced.
In the 1960s, there were 15,000 Central Asian tortoises every square kilometer in some parts of Xinjiang, according to Shi. By the time he arrived in the 1980s, there were just six.
"It (made) me realize that turtle species are facing this huge risk of extinction because (they're) very special. With a big shell, it's very difficult to escape, it's very easy to be caught … those species will be very easy to be made extinct," he said.
For Yeh, who was raised in the United States, his first sight of sea turtles on sale in a remote Hainan village deeply shook him.
"I felt really hopeless at that time … You would see land turtles and freshwater turtles (in the market) and some of those are legal, but when you see a sea turtle it's clearly not supposed to be there and that's shocking to see," he said.
It was in that same village, where he'd seen turtles for sale less than a year before, that Yeh set up his first "turtle hospital" in 2008 and began working to save the region's sea turtles.
It wasn't enough to save individual turtles though – both men wanted to encourage broader change by teaching visitors and tourists about conservation.
In 2011 Yeh struck his first deal with a hotel to bring tourists to the turtle hospital in exchange for educating them about conservation.
He later opened the Sea Turtle Shelter inside the Ritz-Carlton close to Sanya, in Hainan's south.
"We had to raise awareness to tell the tourists not to buy these turtle shell products … It's just the tourists who are coming to Hainan and buying them and creating that market," Yeh said.
20 China travel tips that will make your vacation easier
'I'd never seen sea turtles this up close before'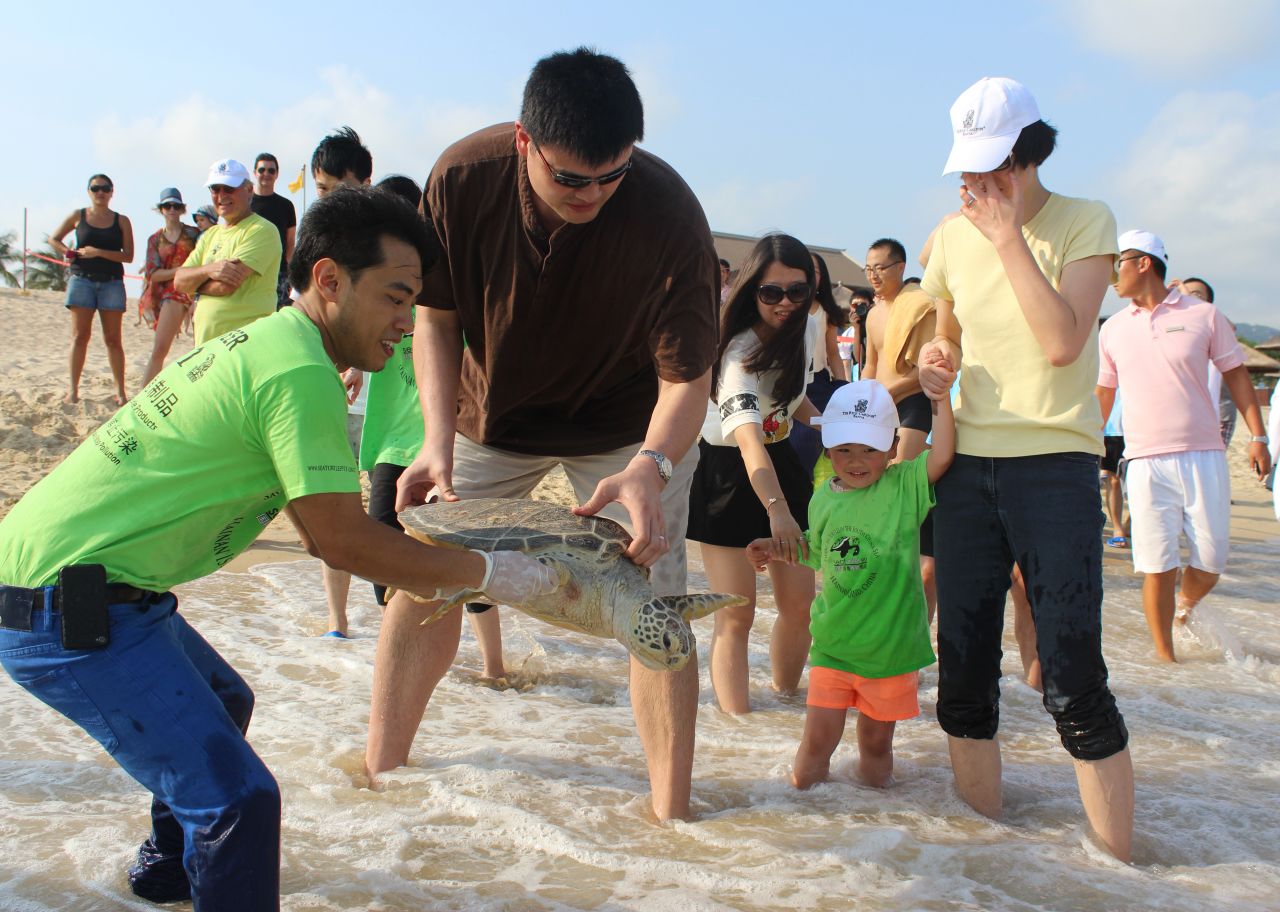 Through the US China Ecopartnership, which began in 2015, young interns from both countries are now arriving by the dozen to work with the two men and their organizations to help protect sea turtles and learn about conservation.
One such student, Morgana de Partee from Hawaii, helped guide Stanley back into the ocean on June 16. Another, Elizabeth Liu from Kansas, spent her time caring for the turtles at the university.
"I remember the first day I came in and saw the turtles," said Liu. "It felt surreal. I couldn't believe it, because I'd never seen sea turtles this up close before. Being able to work with them is something I could never imagine for myself."
Convalescing inside the university hospital on a recent visit were endangered green turtles, two rare hawksbill turtles and even an enormous loggerhead turtle, rarely seen in the area.
"It's our first one we've had," Liu said.
Some came from illegal shipments, which had been seized by police, stuffed together so tightly their shells had chipped.
Others had been kept as pets, until they grew too large to keep, while the loggerhead was found stranded on a beach with parasites slowly devouring him.
Now that the enormous turtle is almost healed, Yeh wants to attach a tracker to him before he's released.
"Where they forage and where she goes is really important for the conservation of the species," he said.
Hainan: Part Hawaii, part Dubai and all China
'Eye opening'
Yeh said he wants to take classes around the world on virtual tours of the turtle laboratory, using Skype, to teach them about these giants of the sea and how best to help them.
Meanwhile Sea Turtles 911's partnership with the Ritz-Carlton, Marriott and Sheraton hotels, among others, means tourists can get a rare opportunity to see sea turtles returning to the shores of Hainan, if only to leave for now.
For Shi, his dream has always been to pass on his passion for conservation to other people – to hotel guests, to visitors to his lab and, of course, to his students.
"Even some students when they graduate from my university, they don't work in sea turtle conservation. Doesn't matter. Maybe they will do the conservation for the other wildlife," he said.
"Even if they do other jobs, maybe not have any relationship with wildlife conservation, I think their knowledge, their conservation awareness, will influence their lifetime."
He already has one convert in Liu.
"I had no idea that opportunities like this would exist in Hainan, or even in China in general. It's been really eye opening," she said.
Yeh said it had been a lot of hard work to get to this point but he is hopeful his efforts will pay off.
"When you see the sea turtles in Hawaii, how great they are, it's worth it when you can envision that and hope that one day it will happen in Hainan, one day, in China," he said.