Story highlights
Boundaries are hard to make out along the border of Portugal and Spain
People travel often between the two countries and share a strong connection
Portugal's border with Spain, its only neighbor, is considered one of the oldest and longest in Europe.
The division once assumed great significance. In the years when Portugal was ruled by a dictatorship, from 1926 to 1974, many opponents risked their lives to cross and leave their homeland. But the 1985 Schengen Agreement, which removed Europe's internal borders and established a passport-free zone, dramatically changed life in the border towns.
Today, many of the villages have a feeling of "a strange limbo," having lost their significance, said Miguel Proenca, who photographed the northwestern border along the Minho River. An economic crisis hit these towns hard.
"With the entry of the two countries in the European Union and the free circulation of people and goods, the economy of the border towns, despite revitalization attempts, eventually faded," he said.
What is the meaning of a border once the political divisions are gone? What defines the communities on either side? In what ways are they interconnected and at the same time separate?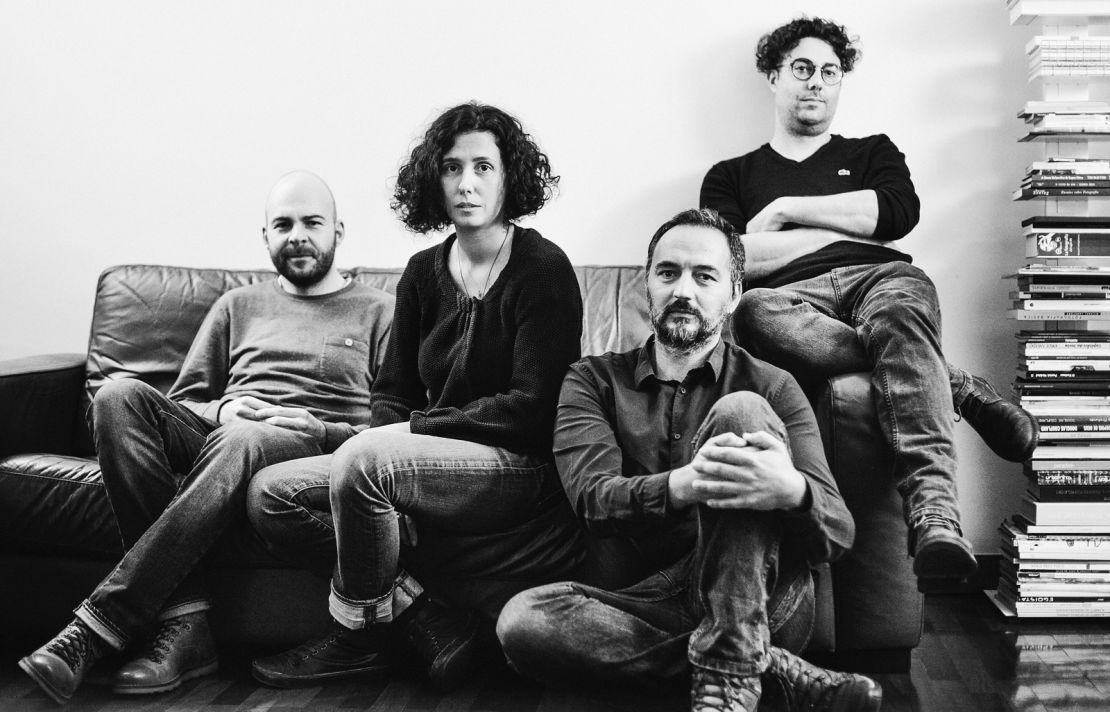 These questions are presented in "The Thin Line," a series of photos shot along the border by Proenca and the three others in the Colectivo photo collective: Antonio Pedrosa, Lara Jacinto and Tommaso Rada.
Each photographer took a section of Portugal's 754-mile border with Spain and spent about a year driving through the roads and villages on the northern and eastern frontiers, far from the main cities.
The photos depict a place where boundaries are hard to make out.
The child on the horse in the fourth photo above is a Spanish girl performing at a fair in Portugal. In the sixth photo, the man posing with a fancy shirt in Spain is from Portugal. In the first photo, a Portuguese woman and her Spanish friend walk their dogs along the borderline.
"For most people who live along the northern border of Portugal, crossing the boundary line is now commonplace," Jacinto said. "There is a strong cultural proximity, a single universe divided by a border."
More than a third of the EU's population lives in border areas, according to the European Commission. The Colectivo group is now embarking on a second chapter throughout Europe, photographing different countries with the support of the VSCO Artist Initiative.
What happens with Europe's open borders remains to be seen. The arrival of hundreds of thousands of refugees, coupled with the terrorist attacks in Paris, have sparked calls to bring back border controls.
"There could not be a more interesting time to explore the issue of the European borders, and obviously the refugee crisis and the terrorist attacks gave a different meaning to the project we are developing," Proenca said.
"Because we decided to focus on the domestic borders, in the larger picture, the questions that we were asking ourselves and the essay raised is still the same and is about the identity of Europe: the multiculturalism, citizenship, economy, different speeds of growing, communitarian isolation and discrimination."
Colectivo is a Portuguese photo collective. You can follow its photographers on Facebook, Twitter and