Home to the likes of St. Tropez, Cannes and Nice, the glitzy Côte d'Azur conjures up images of yachts, designer clothes and perma-tans, but that's just half the story.
From the pastel-hued Sanary-sur-Mer along the coast to Marseille, the western side of the Provence coastline of France couldn't be more different.
Dotted with quaint fishing villages, picturesque vineyards and hidden azure sea inlets known as calanques, it's a world of travel enchantment where unspoiled nature meets lazy quays and the simpler, sun-kissed delights of the south are all ripe for discovery.
Sanary-sur-Mer
Sanary-sur-Mer is as picturesque a port as any in France, with charming boat-lined quays perfect for strolling along.
Ocean explorer Jacques Cousteau developed the technology used in his expeditions here, and his son Jean-Michel, who continues his father's legacy, still lives in the family villa and moors his boat in the harbor.
Visitors can admire the stunning frescoes at Gothic Revival church Saint-Nazaire and visit the village's nine chapels, which date back to medieval times.
There's also a popular market held on Wednesdays, with fresh local produce and artisanal fare on offer, as well as the catch of the day fresh from Sanary's local fishermen.
At the far end of the quay, fisherman's sanctuary Notre Dame de Pitié's many ex votos testify to a perilous local trade
Meanwhile, the scenic walk up the Montée des Oratoires provides the best views, as well as a great workout.
Boat tours from the quay are plentiful and beaches for bathing in the clear turquoise waters easily accessible.
Where to eat
While there are many inviting quayside cafés here, La P'tite Fabri'k stands out for its emphasis on seasonal produce and a fresh spin on the Mediterranean classics.
However, it's best to arrive early to secure a table with the best views of the quay.
And not far from the port, sheltered in its own cozy courtyard, La P'tite Cour is Sanary's gourmet enclave, serving fresh fish, sophisticated vegetables and delicious local wines. Diners are advised to make a reservations in advance.
La P'tite Fabri'k, 16 Quai Charles De Gaulle, 83110 Sanary-sur-Mer, France; +33 4 94 74 02 17
Where to stay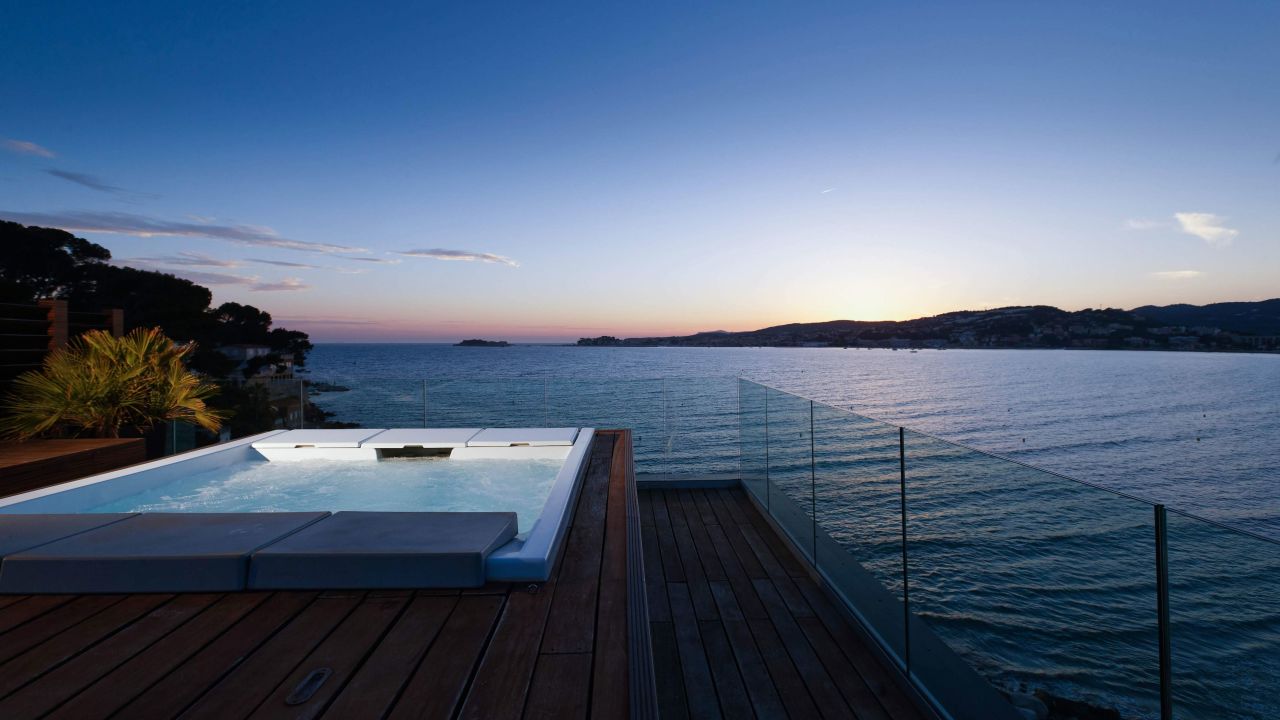 Sanary's luxury spa hotel Hostellerie de la Farandole, is a great contemporary beach side hideout where guests can relax by the pool, on a private beach or their own spacious terrace.
There's also L'Hotel & Spa Du Castellet, located nine miles away in the village of Le Castellet, which delivers the best of Provence in one elegant package. The five-star hotel boasts a Michelin-starred restaurant, a world-class spa, a six-hole golf course and gorgeous villas with picturesque views.
Hotel & Spa Du Castellet, 3001 Route des Hauts du Camp, 83330 Le Castellet; +33 4 94 98 37 77
Hostellerie La Farandole, 140 Chemin de la Plage, 83110 Sanary-sur-Mer; +33 4 94 90 30 20
Cassis
Positioned a short jaunt down the coast, colorful Cassis is a secret the French would rather keep to themselves.
An inspiring mix of postcard-perfect port and lively resort, watching the fishing boats unload the daily catch while tucking into a plate of fresh oursin (sea urchin) accompanied by a crisp glass of Cassis, the refreshing local white with saline undertones, is an ideal way to spend an afternoon here.
It's also abound with sophisticated shopping and dining, not to mention a popular Wednesday market (and the Saturday morning marché producteur reserved for local farmers.)
But a visit to Cassis without seeing the gorgeous calanques, on foot or by boat, is almost unthinkable.
A town of great natural beauty, Cassis is situated at the foot of the magnificent russet red Cap Canaille, Europe's tallest maritime cliffs, and flanked by the Parc National des Calanques, both breathtaking places to explore.
"Walkers have three routes to choose from," says winemaker Jean-Marc Espinasse, who produces his luscious Mas des Brun Rosé nearby.
"The first is from the Cassis port to the three nearby calanques. The second, a steep walk up the Route des Crêtes to Cap Canaille for some amazing views. And third, an easy walk, or a great bike ride, through town to the vineyards."
Reachable via a scenic hike, the tiny Calanque de Port-Miou, positioned around 30 minutes from town, is the most accessible.
Boat-lined Calanque de Port Pin, another half hour on foot, is beautiful, but not as remote as Calanque d'En-Vau, which is a two-hour challenging hike from Cassis Harbor.
Those who make the journey here are rewarded with limpid turquoise waters, white sand beaches and cliffs that plunge straight into the sea.
Visitors are advised to check with the national park site before setting off, as when conditions are windy (as they often are during summer) the park closes for safety reasons
However, there are many boat tours available from the port for those wish to see any number of the calanques inside the national park.
The area is also home to a selection of vineyards such as Clos Sainte Magdeleine, which offers tours as well as tastings twice a day.
Another stunner, Domaine du Bagnol produces organic whites and rosé, while Clos d'Albizzi offers a food truck and pop up bar every Thursday evening. Reservations are recommended for all three.
Clos Sainte Magdeleine, Avenue du Revestel, 13260 Cassis; +33 4 42 01 70 28
Domaine du Bagnol, 12 Avenue de Provence, 13260 Cassis; +33 4 42 01 78 05
Where to eat
The freshest fish and traditional Provencal fare is available right on the port at the La Vieille Auberge restaurant, which has a terrace as well as an indoor dining room.
Reservations are a must here and diners are advised to order the classic bouillabaisse a day ahead.
Two-Michelin-starred chef Dimitri Droisneau's elegant La Villa Madie goes the whole nine yards, with views to match and his second tier restaurant, La Brasserie du Corton, satisfies epicures while offering gentler prices.
Meanwhile the Le Chai Cassidain wine bar is a great place to sample all those delectable local wines by the glass ensconced in a cozy red leather chair or on the terrace.
La Villa Madie, Avenue de Revestel-anse de Corton, 13260 Cassis; +33 4 96 18 00 00
Le Chai Cassidain, 6 Rue Dr Séverin Icard, 13260 Cassis; +33 4 42 01 99 80
Where to stay
Set high on the cliffs and stunningly lit at night, Cassis's beautiful medieval castle Château de Cassis overlooks the entire village. Visitors can spend the night at its gorgeous on site B&B Chateau de Cassis.
Château de Cassis, Chemin des Lombards, 13260 Cassis; +33 4 42 01 63 20
Marseille
Marseille may be France's second largest city, but as frequent visitors know, it's really a vibrant tapestry of lively villages.
One of the prettiest, the Vallon des Auffes, located in the seventh arrondissement of Marseille is a charming fishing port famous for its restaurants, nightlife and popular nearby beaches.
Built by Italian fishermen in the 18th century, it's still filled with wooden boats and spanned by a graceful bridge, under which visitors can dine on some of the best bouillabaisse around.
Where to eat
Marseille's top spot for a gourmet bouillabaisse, among other marine delights, is L'Epuisette, which boasts fabulous dishes and spectacular views out of floor-to-ceiling windows – best enjoyed at sunset.
Meanwhile restaurant and guesthouse Chez Fonfon has been serving up the fresh catch of the day in a classic bouillabaisse since 1952 and is an excellent, well-priced base for exploring the area.
L'Épuisette, Vallon des Auffes, 13007 Marseille; +33 4 91 52 17 82
Chez Fonfon, 140 Rue du Vallon des Auffes, 13007 Marseille; +33 4 91 52 14 38
Where to stay
For an extra authentic stay, several "cabanon," traditional fishing cottages converted into convenient apartments near the beach, are available for rent via Airbnb.
Getting there
TGV trains run direct from Paris Gare de Lyon to Marseille Saint-Charles (which takes around three hours and 20 minutes.)
Already reasonable fares become laughably cheap, with prices as low as 35 euros ($40) each way in the off season for those who book well in advance.
Travelers can rent a car from a number of agencies at Saint-Charles station (be sure to specify automatic if you don't drive manual,) or there's the option to book a train from Paris directly to Cassis, which will set you down less than a mile from the port.
For Sanary, it's best to book direct from Paris to Ollioules, situated 45 minutes from Marseille, then take a seven-mile taxi ride or a bus from the station.
American journalist Jennifer Ladonne, who's called Paris home for 12 years, writes regular travel features for France Today magazine and is the Paris restaurants and hotels reviewer for Fodor's Paris travel guide.