Editor's Note: Sign up for Unlocking the World, CNN Travel's weekly newsletter. Get news about destinations opening, inspiration for future adventures, plus the latest in aviation, food and drink, where to stay and other travel developments.
On December 1, Laura Massey-Pugh and Stevie Massey, both from the UK, cycled through a blizzard into Brandenburg Gate in Berlin approximately 180 days after setting off on a journey to become the fastest cyclists to circumnavigate the world on a tandem bicycle.
The husband and wife team, who began their grueling challenge on June 5, traveling for around 18,000 miles (28,968 kilometers) through 21 countries, were greeted by thrilled friends and family, who'd been anxiously awaiting their arrival in the rather brutal weather conditions.
"It was dark. It was also snowing. They [their friends and family] were absolutely frozen, but they still got their banners out and everything," Massey-Pugh tells CNN Travel.
"So it wasn't quite how we'd envisioned it, where we'd arrived in a blaze of glory – it was more of an absolute battle right to the end. But I think that's just made us even more proud of our achievements."
Tandem bike challenge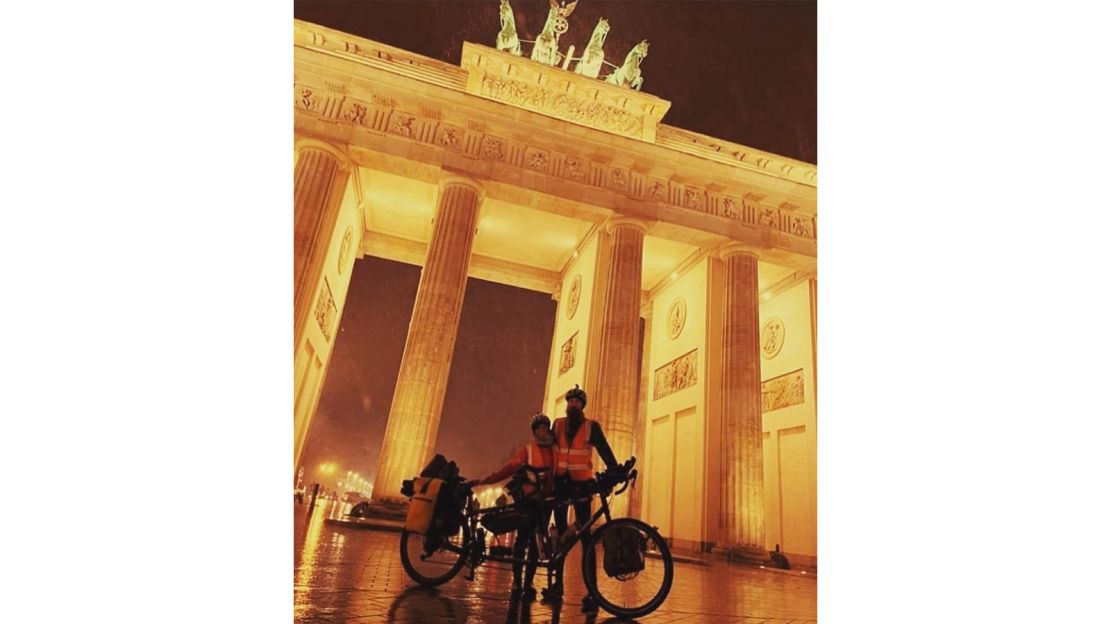 Taking on a record-breaking tandem bicycle journey wasn't something the veterinary surgeon would have thought was on the cards for herself before she met Massey at a beer festival in 2015.
While they were both keen cyclists, Massey-Pugh says she was more of a "day-to-day commuting cyclist," while Massey was an experienced long-distance rider who'd been using tandem bicycles since he was a youngster.
"He regaled me with his stories of long-distance bike rides, and riding from Land's End [mainland Britain's most southwesterly point] to John O'Groats [a Scottish village located on mainland Great Britain's northeastern tip] and back again," Massey-Pugh says of their first meeting.
During their second or third date, Massey took her out on a two-seater bicycle, and the experience "almost brought her to tears."
"Little did she know that she would have become a super stoker," he says, explaining that a 'stoker' is the person who stays at the rear of the tandem, while the person at the front is described as the 'captain.'
While the pair, who were married in 2018, have been on many solo bike rides together, they "really clicked on the tandem," although it took Massey-Pugh a little while to adapt to it at first.
"The actual tandem is not that hard to get used to, particularly if you've ridden bikes before," she explains.
"If you're in the backseat like me and you're used to riding and steering your own bike, I think it can almost be harder to suddenly relinquish all that control and not see where you're going."
New record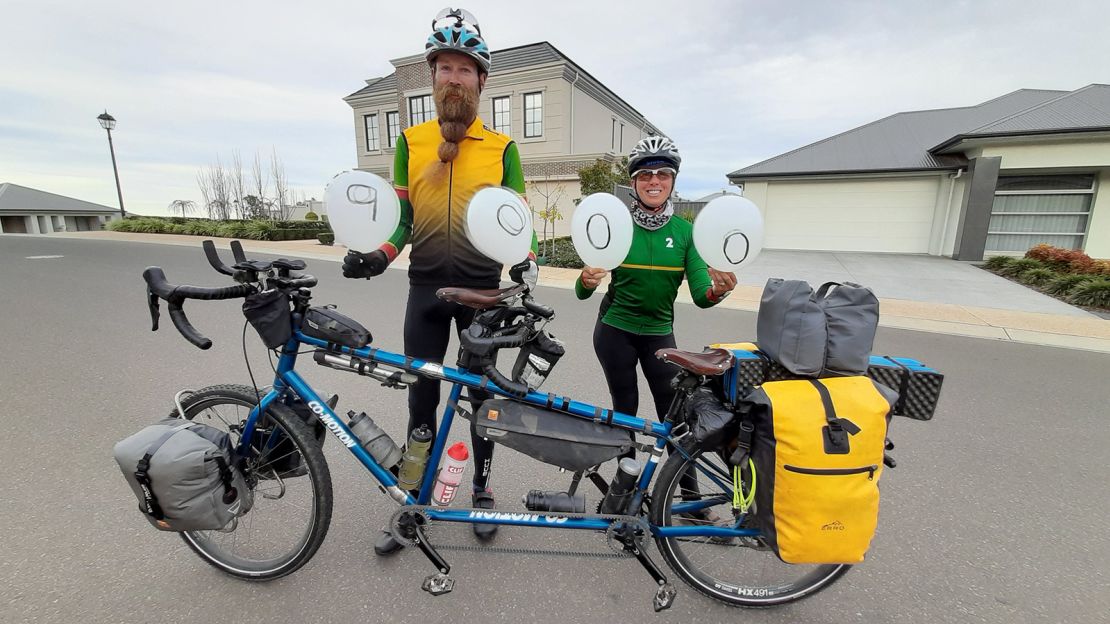 Back in 2020, the couple read about two women, Cat Dixon and Raz Marsden from the UK, who'd broken the world record for the fastest time circumnavigating the globe on a tandem bicycle.
Although they were incredibly impressed by the achievement, Massey-Pugh says she couldn't help thinking "we could go faster than that," and decided to look into things further.
They quickly discovered that while there was a current record for the fastest women and the fastest men to complete this challenge on a tandem bicycle, there was no record holder for a mixed male and female team.
In order to achieve the record, they would have to meet a number of requirements from Guinness World Records, including cycling for a minimum of 18,000 miles in the same direction, pass through two antipodal points, locations on opposite sides of the planet, and start and finish at the same point.
Once they'd contacted Guinness and committed to the task, the couple began what turned into around 18 months of "hard planning," and training.
The couple, who'd ridden thousands of miles on a tandem together by the time they began their six-month trip, say that just getting to the start line felt like half the battle.
Getting a tandem suitable for a trip such as this proved to be one of the toughest challenges.
"It's a very niche thing, a tandem," explains Massey. "So it was [a case of acquiring] parts from all around the world to get exactly what we wanted for the job we had to do.