Editor's Note: This CNN Travel series is, or was, sponsored by the country it highlights. CNN retains full editorial control over subject matter, reporting and frequency of the articles and videos within the sponsorship, in compliance with our policy.
Made up of more than 1,000 islands spread over 90,000 square kilometers, Maldives is a country like no other.
The majority of the nation's 160-plus resorts sit on individual islands, many of which are accessed by float plane from capital Male's Velana International Airport.
A private island paradise in a country that's 99% water, famed for having some of the world's most stunning coastal scenery? Not a tough sell for most travelers.
But there are downsides. Being on a remote island can limit dining options. And opportunities to learn about Maldives' fascinating history and the challenges it faces as the world's lowest-lying nation are in short supply.
That's where CROSSROADS Maldives comes in. Just a 15-minute air-conditioned speedboat ride from the international airport, it's the country's first multi-island leisure and lifestyle destination, designed to target both international tourists and locals looking for a day escape from the capital.
Arriving guests pull into a picturesque 30-berth marina – where they're likely to spot a superyacht or two – that connects to an open-air dining and retail zone. From there, they're shuttled via electric buggy to one of two resorts – the SAii Lagoon Maldives, Curio Collection by Hilton or the Hard Rock Hotel Maldives – which occupy their own individual islands, all connected by narrow bridges. Daytrippers can head for the SAii Beach Club, a separate venue with its own private beach and dining options.
A rare chance to learn about Maldivian history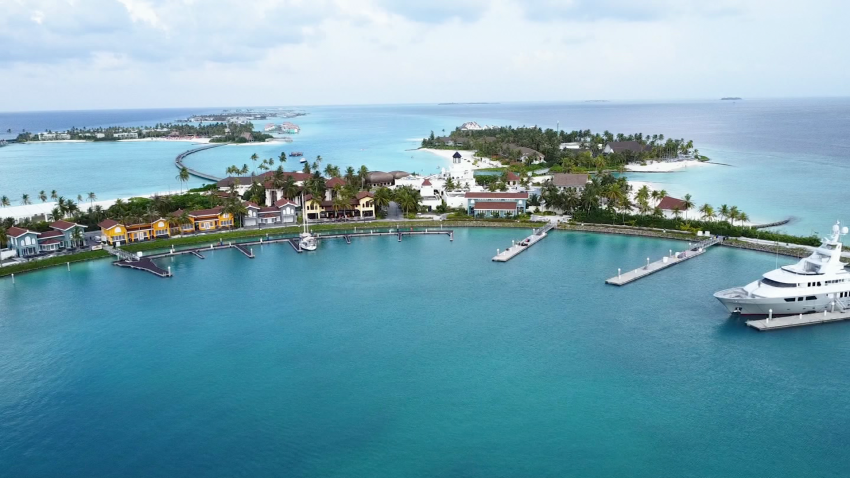 Maldives' first multi-island lifestyle complex
Though the stunning white sands and blue waters are what draw most tourists to Maldives, CROSSROADS also seeks to educate visitors on the country's extensive history, which dates back to 2,000 BCE, as well as the environmental challenges it faces today.
These issues are front and center in the Maldives Discovery Center, located near the marina.
Here, visitors learn about the country's culture, people, history and climate struggles through a series of colorful interactive displays.
"This is important because Maldives is always considered a luxury destination, but nothing more," says Mohamed Firash, CROSSROADS Maldives' marketing and communications manager.
"It's also a country with a rich history.  There was a disconnect before, and this will help rebuild that relationship between tourism and local culture."
CROSSROADS was inspired by Maldives' role as an important stop on trading routes, connecting East and West through the ages. This philosophy carries over into the dining zone, too. It's home to the country's first and only fine dining restaurant dedicated to Maldivian cuisine – Kalhu Odi.
"If you have been to other resorts in Maldives, usually they serve a bit of Maldivian cuisine or host a Maldivian night," says Firash.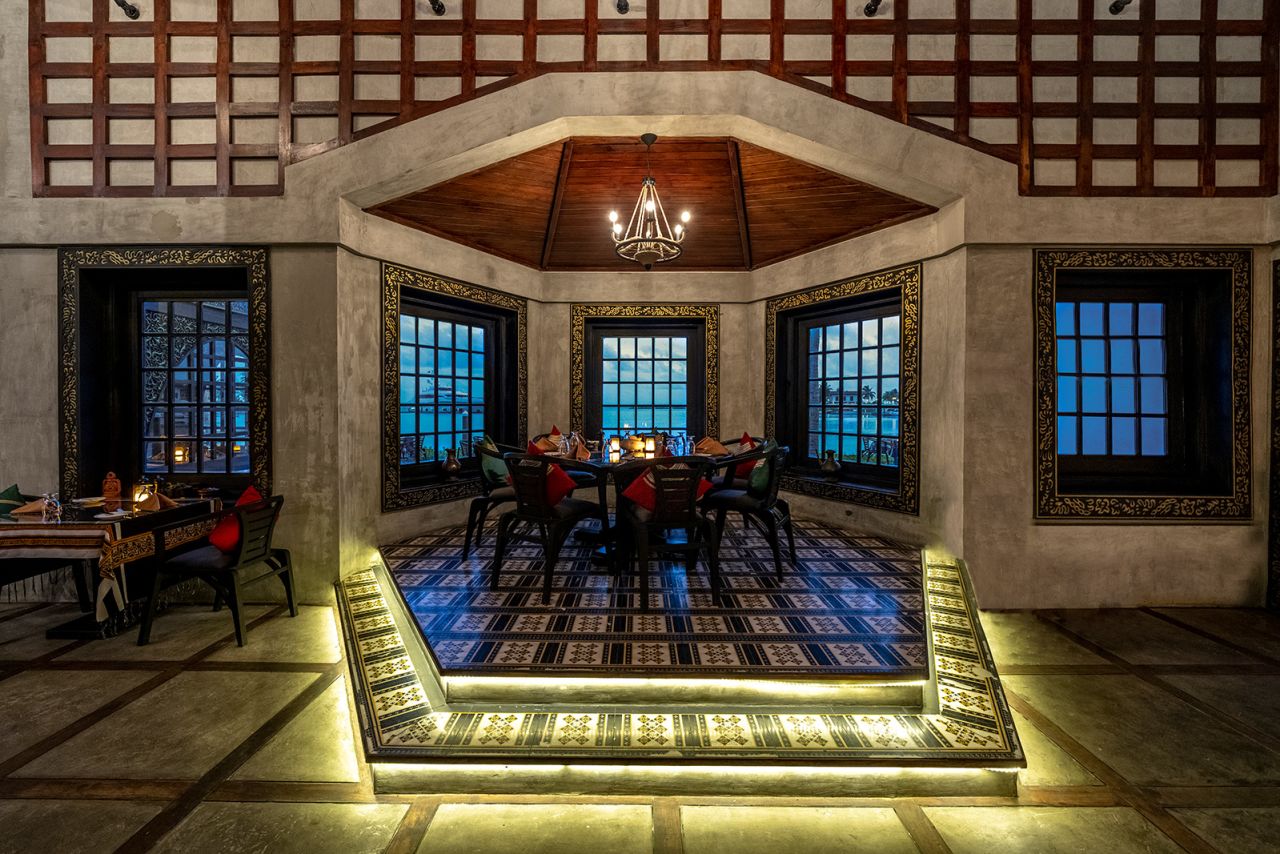 "But there's no fine dining restaurant available for tourists to experience the local cuisine. This restaurant serves different types of food available throughout the country. The experience is incredible."
Kalhu Odi is one of more than a dozen different dining outlets at CROSSROADS. There's also an outpost of Sri Lanka's famed Ministry of Crab, the Hard Rock Café, Japanese restaurant Nihonbashi Blue, Indian eatery Kebab and Kurry and Chinese restaurant Jiao Wu. Those in need of some spice can head for Thai restaurant Kinkao.
Coral propagation in the Marine Discovery Centre
Like most resorts in the Maldives, CROSSROADS has a watersports center for those looking to get out on boards and JetSkis or plan scuba and snorkel excursions in the surrounding reefs.
Adjacent to it is the Marine Discovery Centre, which teaches visitors about the importance of sustainable practices. An onsite coral propagation nursery offers a hands-on experience that gives broken pieces of coral a second chance at life.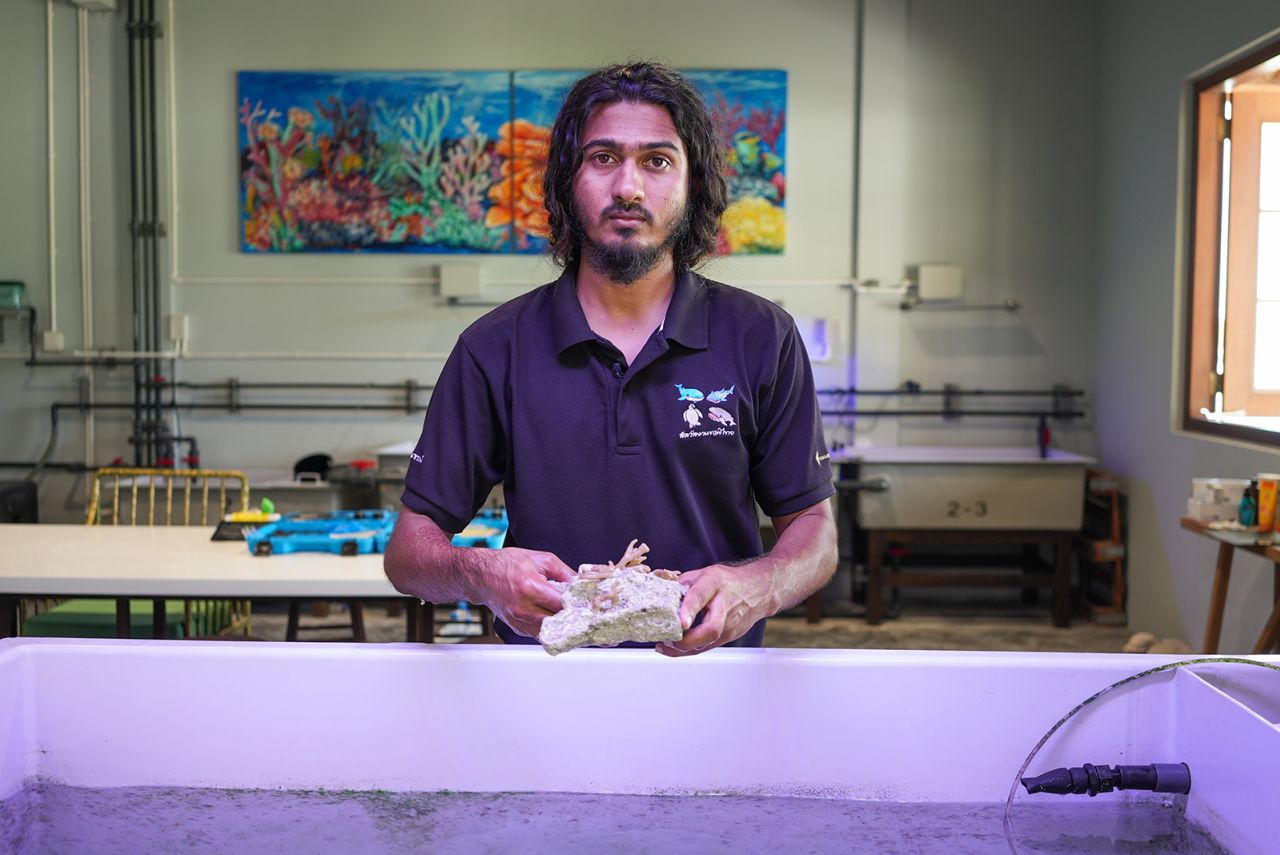 "We collect the broken pieces from the reefs and then we bring it here," explains research assistant Ali Shaamy as he demonstrates the process.
"The pieces are glued to a dead rock. We call it the stone attachment method. After a week, we move them to the resort's lagoon.
"It's important because the islands, the ocean, the fish… the whole marine biodiversity is connected to the coral reefs. If we don't have the corals, we don't have the beauty or the fish, and then guests don't come."
According to the World Bank, tourism directly and indirectly accounts for two-thirds of the country's GDP. Striking a balance between the need to welcome tourists while also protecting the country's natural resources is an ever-present issue in this country of just over half a million people.
As part of efforts to fulfill its own commitment to environmental preservation, CROSSROADS recently became the latest destination in Maldives to receive its Green Globe Certification (GGC) following a rigorous sustainability audit.
Travelers don't need to look far to see why the need to adhere to strict sustainable practices is necessary. At sunset, not far offshore near the SAii Lagoon resort pool, dolphins can often be spotted leaping into the air on the horizon.
During the speedboat transfer back to the airport during a recent visit, several pods of dolphins emerge to swim and jump beside the boat, their grey fins cutting through the crystal-blue waters, not far from cargo ships docked at a Male port.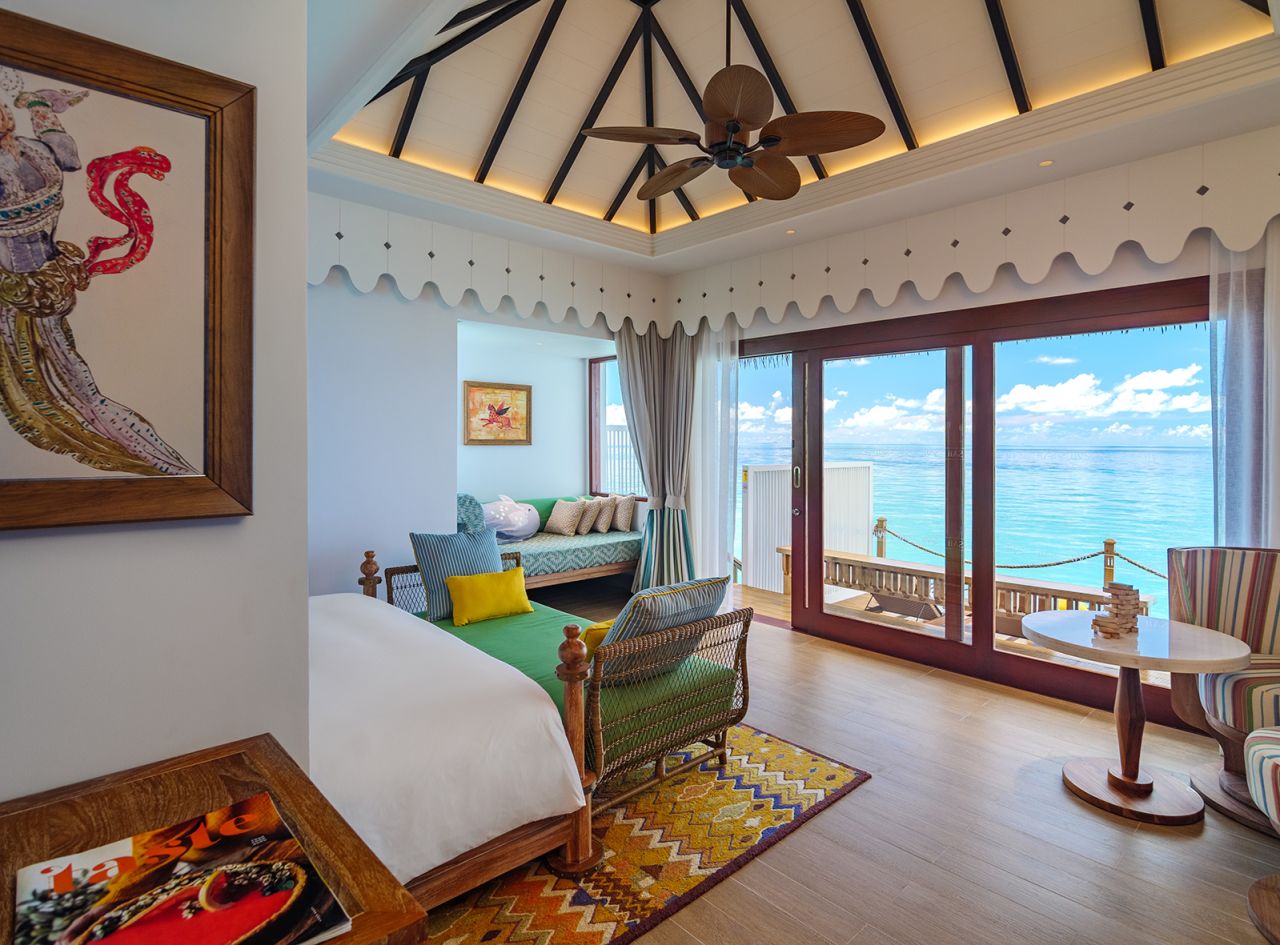 A destination for locals, too
In addition to SAii Lagoon and the Hard Rock Hotel, CROSSROADS is preparing to open a third resort, SO/ Maldives, later this year.
It will feature a selection of 80 overwater and beach luxury villas. SAii, meanwhile, has 198 suites and villas – both overwater and beach-access, while Hard Rock Hotel has 178 rooms including family suites, beach villas and one and two-bedroom overwater villas.
Guests of the two resorts can choose from a variety of meal plans, including an all-inclusive package that offers free dining at most CROSSROADS venues.
Though travelers could easily spend a few days at CROSSROADS, it's also a great option for visitors needing a place to stay near the airport, depending on flight schedules, as float planes can't fly after dark.
Those who just want to come for the day can visit the marina, beach club and retail/dining zone, as well as the discovery centers. And that includes local Maldivians.
"This is the first project that is open for the general public and tourists as well," says Firash.
"Because Maldives resorts are private, locals or even visitors are not allowed to go unless you have a booking to stay. So this is the first facility that is open for locals and visitors to visit for a day use, or maybe just to experience dining facilities we have."
The reaction from the locals since it first opened in 2019 has been impressive, he says.
"They really appreciate that they have something other than the city to come out and experience during their weekend, and bring their families out of Male. It's a bit congested, so this is a good opportunity for them to be away from the busy life."