Known as mien in Hanoi, vermicelli takes many forms in Vietnam.
You'll find it in pho, spring rolls, noodle soups and served with grilled meats – but nowhere is it more ubiquitous than in Cu Da village.
About 13 kilometers south of Hanoi, this ancient village is known for its prolific vermicelli production and beautifully preserved architecture.
Grinding arrowroot to create flour, pasta makers produce hundreds of tons of vermicelli each year to keep up with national demand.
"Of course people want to modernize the production process, but (almost) everything is still made by hand in Cu Da village," Quỳnh Anh Nguyen, a photographer based in Hanoi, tells CNN Travel.
"I think that's special in the 21st century."
Vermicelli noodle paradise
In Cu Da, white and yellow vermicelli noodles dangle everywhere, covering rooftops and walls – pretty much any surface that noodles can be hung from.
The unusual scene dates back about 60 or 70 years, when residents first started hand-making noodles for their own consumption.
But the noodles' high quality attracted interest from all over Vietnam, and vermicelli soon became the village's calling card.
"Producing good quality vermicelli is a must," Cong Minh Dinh, head of the village farmers' union, tells CNN Travel.
"Through years of experience, there have been many changes and developments. For example, vermicelli used to be coated in copper pans and molded in small tins.
"Nowadays, we use much bigger buckets and barrels for higher productivity. We also use automated machines that transmit heat instead of using direct fire (like we used to)."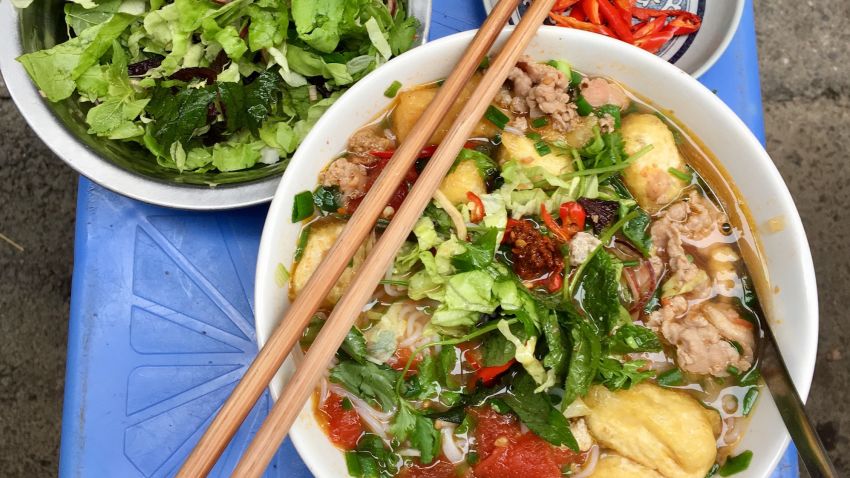 Ready to graduate from pho?
Despite a few adjustments, the process is still highly labor-intensive.
First, pasta makers grind arrowroot into a flour, then mix it with water to create a paste. The paste is then smeared into a thin pancake on a bamboo tray, steamed, then dried in the sun.
Once dry, the paste is then cut into thin noodles and dried again. It's then packaged and distributed across Vietnam.
Ancient architecture
Come for the vermicelli but stay for the architecture.
Throughout the late 19th and early 20th centuries, the village benefited from a thriving economy, thanks to its position on a bustling trade route along the Nhue River. This relative prosperity enabled residents to build and maintain beautiful homes, gates and temples.
"I really love this place, because you can find so many well preserved buildings," says Nguyen. "You can see a mix of Asian, Chinese, Vietnamese and even French colonial-style architecture all in one village."
The ultimate Hanoi street food tour
The ornate Cu Da Temple, for example, is a national heritage site that showcases precious stones and colorful motifs of dragons, unicorns and phoenixes.
Also notable are the countless French-style villas – many of which were built as community centers where residents would gather to make decisions.
Lining the peaceful river, the photogenic two-story buildings feature pastel tones, pretty balconies, eaved rooftops and intricate stone carvings.
"By visiting our village, I think people can learn a lot about preserving valuable cultural assets and traditional beauties that our ancestors left behind," adds Dinh.
Getting there: Hire a taxi from Hanoi to make the one-hour journey to Cu Da village.