Editor's Note: Sign up for Unlocking the World, CNN Travel's weekly newsletter. Get the latest news in aviation, food and drink, where to stay and other travel developments.
Mention Dalmatia, and Split and Dubrovnik usually spring to mind. But head to the northern stretch of this coastal Croatian region and you'll find a road a little less traveled.
Croatia's coast from Zadar to Trogir manages to pack in an astonishing amount of history and culture, as well as mesmerizing landscapes, in under 90 miles (around 144 kilometers).
And that's just the mainland – there are also dozens of islands scattered along the coast. Many are uninhabited; others are the sort of place to go when you need to get away from it all.
There's even Kornati National Park, one of Croatia's most compelling natural spaces, spread over 89 islands. You'll soon see why getting around by boat is such an appealing option.
The great cities of Zadar and Šibenik take you back in time: Zadar to the Roman period, Šibenik to the time of Croatia's medieval rulers. Meanwhile, Trogir – whose old town occupies its own little island – is a magical place protected by UNESCO World Heritage status. In between are alluring coastal villages, secluded beaches and an interior wine region.
Zadar and around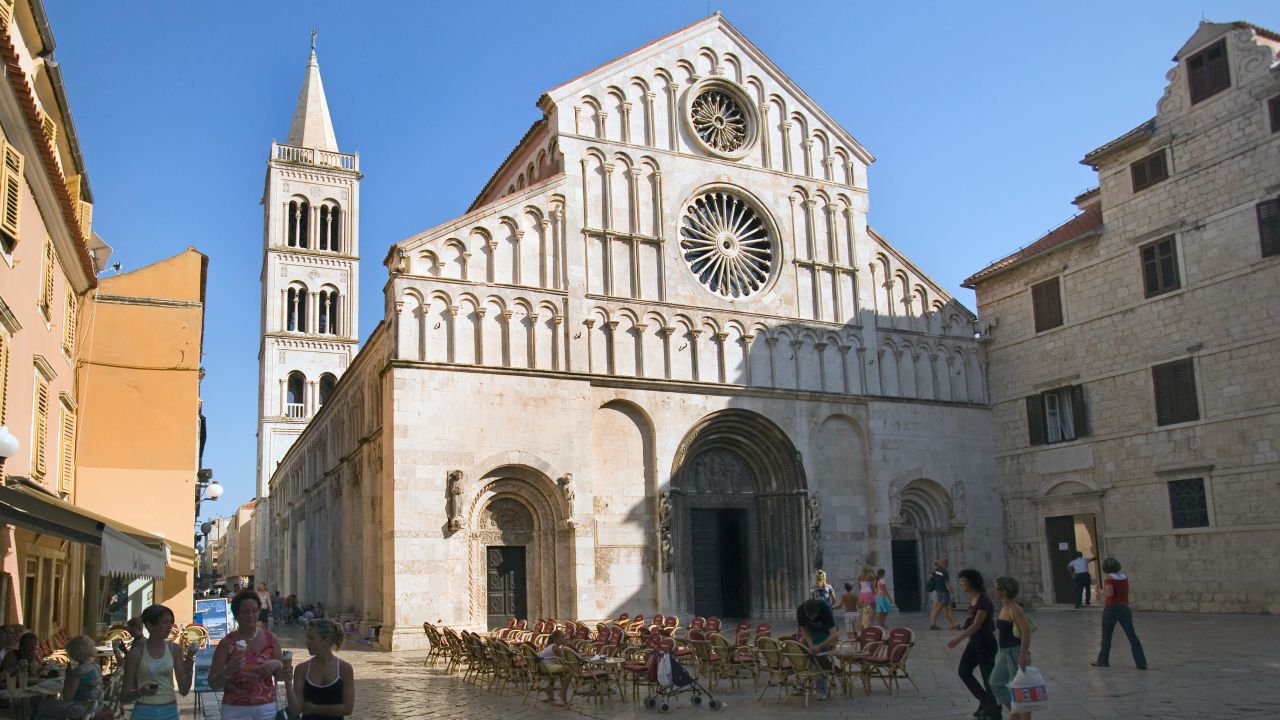 Step into the historic center of Croatia's oldest city – founded by the ancient Liburnian tribe and colonized by the Romans in the first century BCE – and you'll get an insight into what makes the country's history such a fascinating one. In just one square within the walled old town you'll be immersed in centuries of history.
Trg Opatice Čike is centered on the remains of the ancient Roman forum, many of whose stones were used to build the ninth-century St. Donat's Church beside it. Next to the church is the romanesque cathedral of St. Anastasia.
Opposite, don't miss the 11th-century bell tower beside St. Mary's church – a renaissance Benedictine monastery (but with bits of Roman and medieval within). Both St. Mary's and the baptistery of St. Anastasia were destroyed during Allied bombing in 1943 and had to be rebuilt.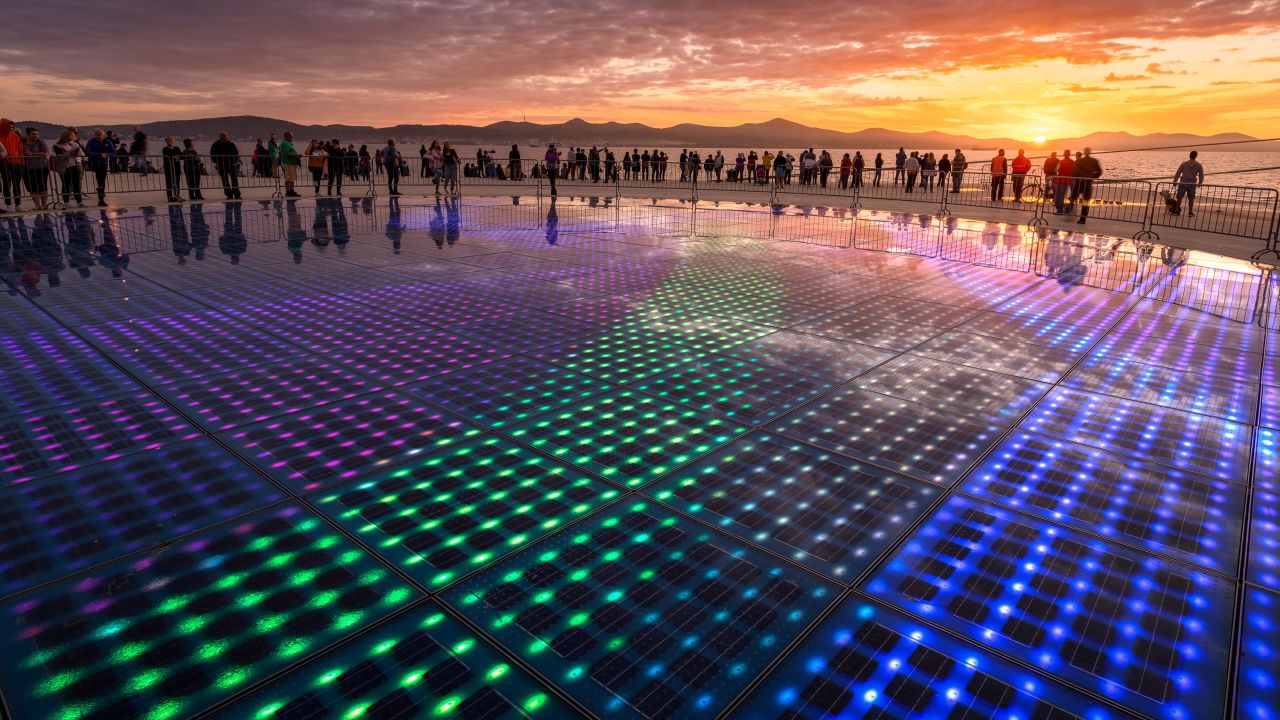 Wander along Zadar's waterfront and you're firmly back in the 21st century when you come across two art installations by Nikola Bašić that have become major attractions.
Sit on the gleaming marble steps by the water's edge and listen to the haunting sounds of the Sea Organ, an underwater set of pipes powered by waves. Just beside it, embedded into the waterfront is its companion piece, "Greeting to the Sun," lit by blue glass panels that glow at night.
Once you've had a leisurely browse of Zadar's excellent food market a five-minute walk away on ulica Hrvoja Vukčića Hrvatinića, it's time to hit the beach.
Follow the coast just north of the center and you'll come to family-friendly Borik and Diklo beaches, while just below the old town are city beaches – Kolovare gets our vote for its lively beach bars. If you're after a full beach experience, head about four miles south of Kolovare and you'll reach the village of Bibinje, whose nearly three miles of beaches ends at Croatia's largest marina.
Before you leave the mainland, make a quick detour about 10 miles (16 kilometers) north of Zadar to the attractive small town of Nin. Its setting is an unusual one: two protective spits of sandy beach curve around the old town, which sits on its own tiny island connected by two bridges.
The surrounding salt flats give a clue to Nin's importance during the Middle Ages, which you can see for yourself with a visit to the Nin Saltworks.
Take a tour of the museum and discover that little has changed over the past 1,000 years – the salt is still being harvested by hand. Once you've explored the old town's narrow lanes, head to the sandy Queen's Beach just outside it, and join the locals smearing themselves in the "therapeutic" mud you'll find in the reeds behind the beach.
Zadar archipelago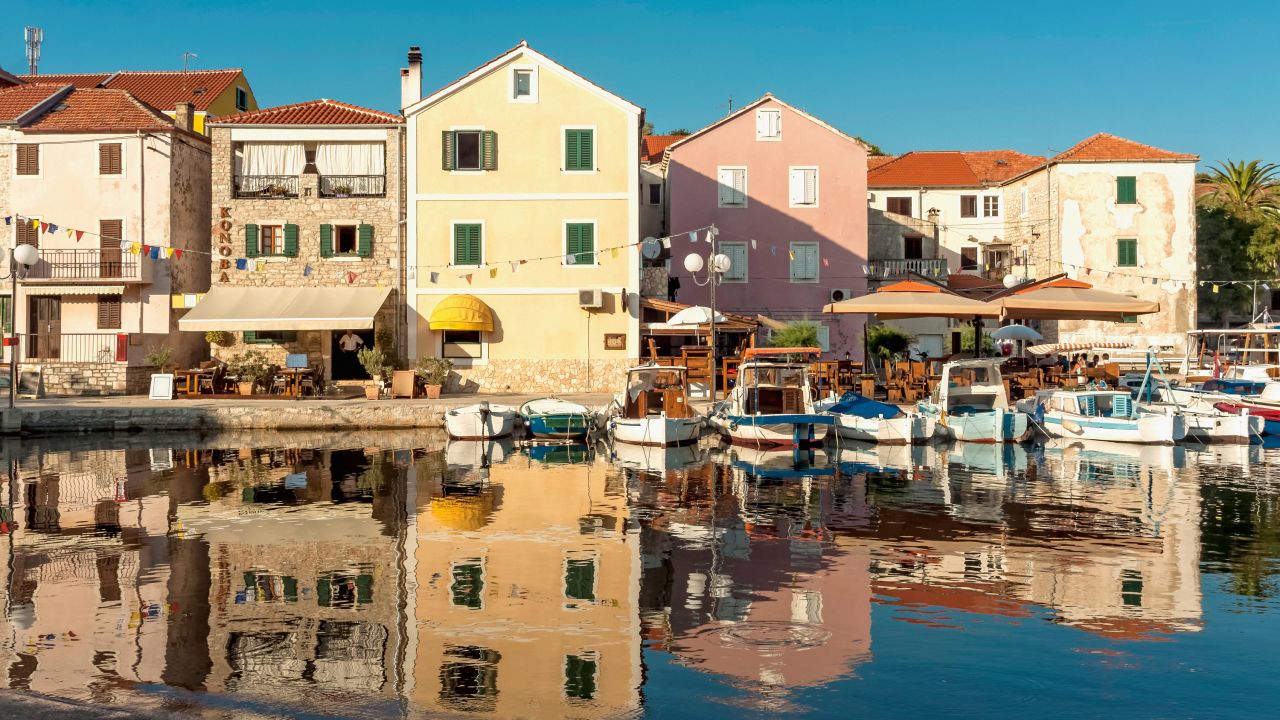 The numerous islands scattered off Zadar's coast are some of Croatia's most laid back, and many of them are reachable by ferry.
The two closest and easiest to reach – Ugljan and Pašman – are only 25 minutes away by boat and are almost like suburbs of Zadar, albeit suburbs smothered with olive groves, indented with pebbly coves and crisscrossed with hiking and biking trails.
Silba, around three hours or so by ferry from Zadar, is one of the furthest flung, a chilled-out place where cars aren't allowed and even bikes are banned during the summer months. Its smaller neighbor, Olib, is on the same ferry route and feels even more remote.
Head about two hours west from Zadar by fast ferry and you'll reach sinuous Dugi Otok, which translates as "long island." Drive along its coastline to find tiny fishing villages, old Yugoslav military U-boat bunkers, and Veli Rat – the Adriatic's highest lighthouse at 135 feet.
Climb to the top for views of Dugi Otok's northern coast and neighboring islands. While you'll see that most of the island's beaches are pebbly coves, there's sand at Sakarun on the west coast, while at the southern tip is the enchanting Telašćica Nature Park, whose 25 coves and six islets are wedged into a claw-shaped landscape of oak forests and olive groves lined with footpaths.
Follow the trail to the inland saltwater Lake Mir, or "peace." When it's not high season, it lives up to its name.
Kornati National Park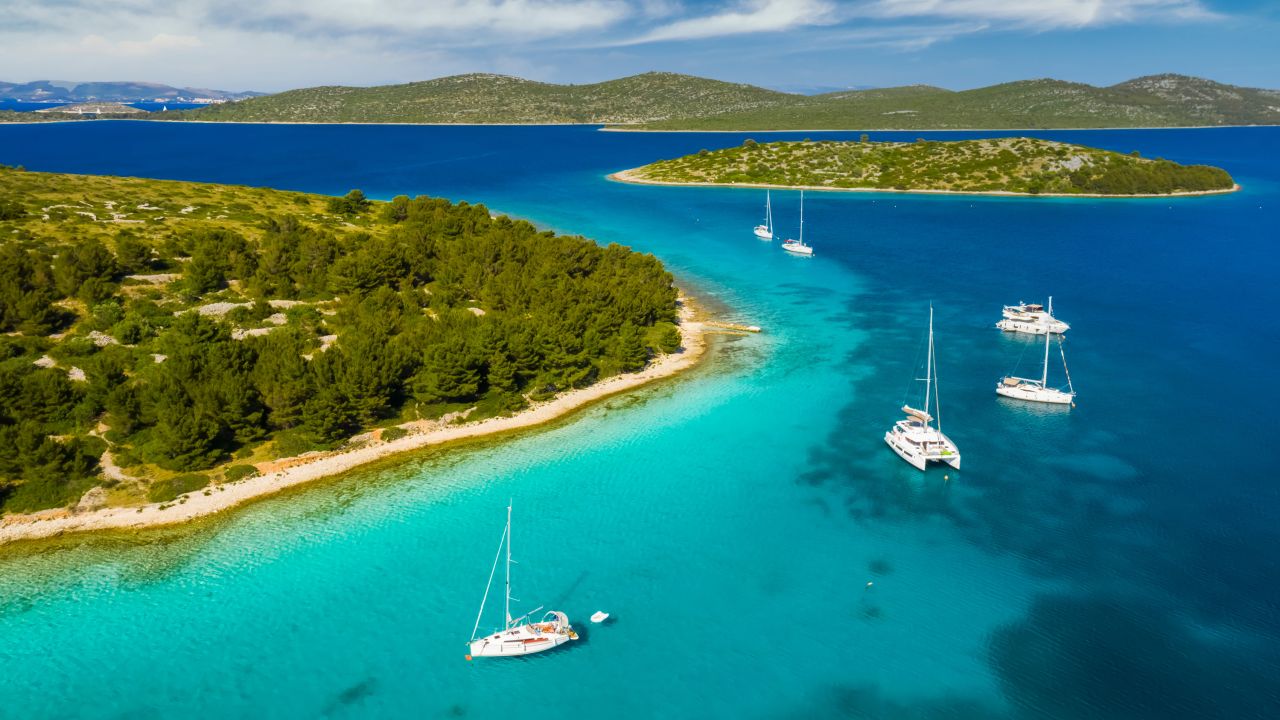 Sailors have long known about the joys of weaving through the Kornati National Park, an archipelago of 89 eerily barren but starkly beautiful islands just south of Dugi Otok.
If you want to go off grid, this is the place to do it – there's no mains water or electricity anywhere on the islands, just rainwater, gas and solar energy. In fact, there's not even a permanent population, apart from the odd flock of sheep.
Once the season kicks in, some of the islands, including Kornati, Priškera and Levrnaka, come to life. Restaurants and rental cottages open up for the boating crowd, and there's also a well-equipped marina on Priškera.
There's little to do but swim, eat, drink, maybe do a little hiking – and repeat. If you don't have your own boat, join a boat tour from Murter, an island close to the mainland that's connected by a bridge.
Šibenik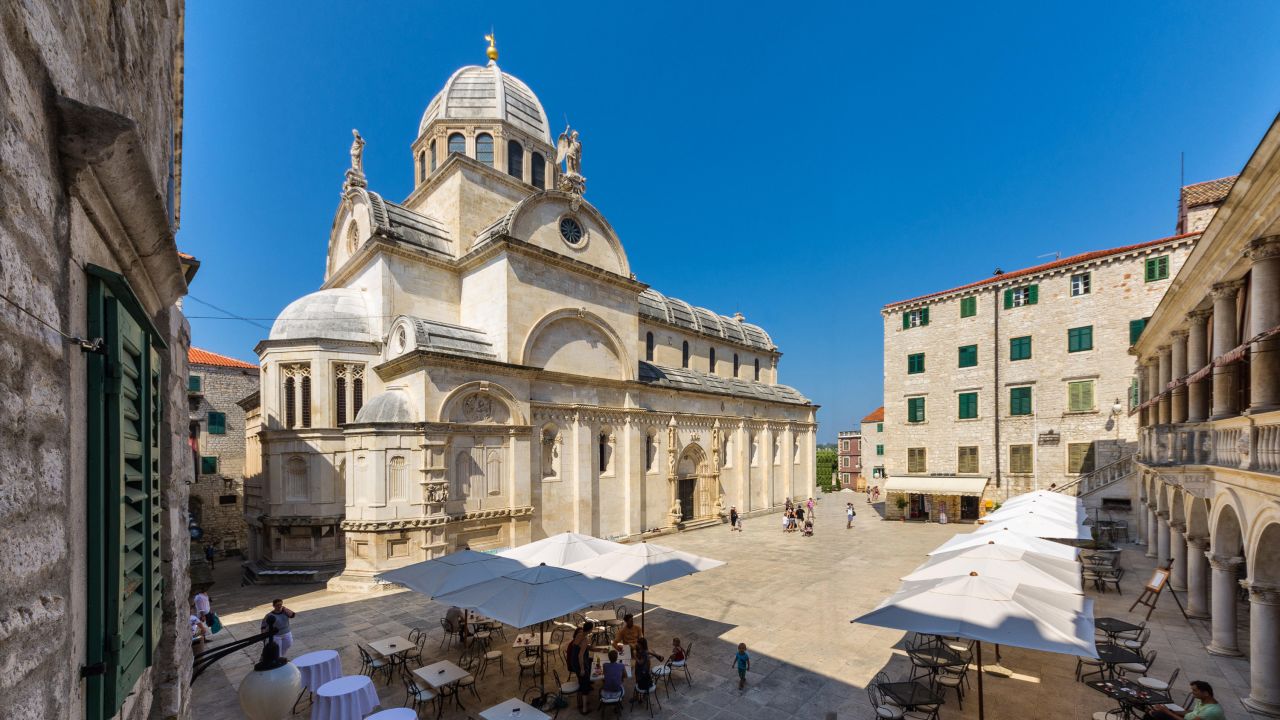 One of Croatia's greatest cities is curiously overlooked by most tourists, but Šibenik is a must-visit.
Founded in the 11th century CE by Croatians – not Romans or Greeks, like other Dalmatian cities – it's home to the magnificent UNESCO-listed Cathedral of St. Jakov, a gothic-renaissance marvel, with a frieze of 71 sculpted portraits around the outside.
The Venetians ruled here from 1412 to 1797, and it's easy to get pleasantly lost in the labyrinth of marble lanes they left in the historic center, but save time to visit three of the city fortresses they built.
The quickest one to reach, St. Michael's, is less than a 10-minute walk from the waterfront and doubles as an open-air venue for summertime pop concerts with superb views of the Adriatic beyond.
Look out, too, for signs leading you about five minutes south of the fortress to the fragrant Medieval Mediterranean Garden of St. Lawrence's Monastery. Breathe in the scents of lavender, rosemary and wild herbs as you relax on the garden's benches.
Šibenik is often used as the jumping-off point for visits inland to Krka National Park, whose waterfalls are at least as impressive as those in the more famous Plitvice Lakes National Park.
Buses leave Šibenik for the riverside town of Skradin 12 miles north, from where you take a boat east along the Krka River past seven stupendous waterfalls. The most famous is Skradinski Buk, with 17 cascades tumbling into each other.
At this point you can disembark and follow the footpath to get a closer look before going deeper into the lush greenery flanking the river. The boat stops at various points, including the thundering Roški Slap waterfall and the Visovac island monastery.
Late spring, early summer and fall are good times to visit, as water levels can drop during the summer months.
Primošten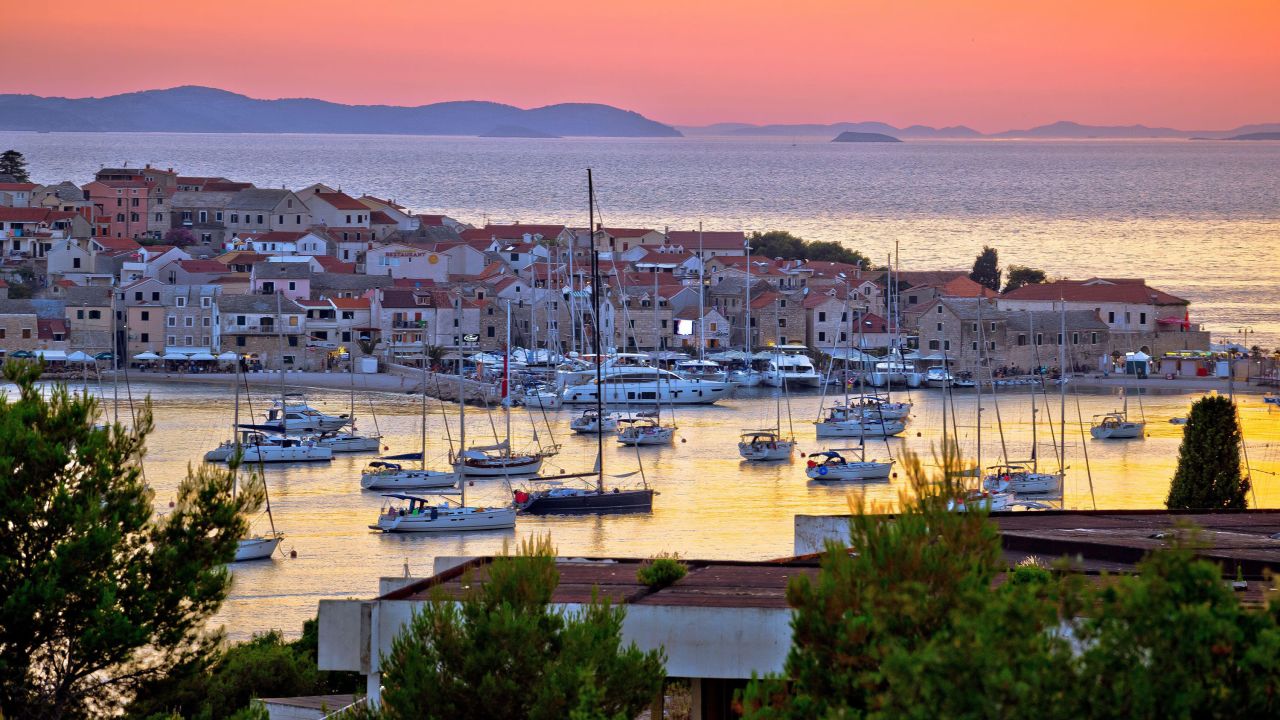 Wine lovers can base themselves in the charming town of Primošten, about 18 miles (28 kilometers) south of Šibenik. You'll be in a prime spot to visit the nearby wineries specializing in the indigenous Babić grape which produces a soft, fruity red wine in a landscape of rolling hills and olive groves – try Matošin or Prgin.
Primošten's old town is on its own little island connected to the newer town by a causeway. Its stepped alleyways lead up to the 15th-century church St. George and lovely views of the Adriatic. Look out for a little promontory just to the north of the old town, where you'll see pebbly beaches backed by pine trees.
Trogir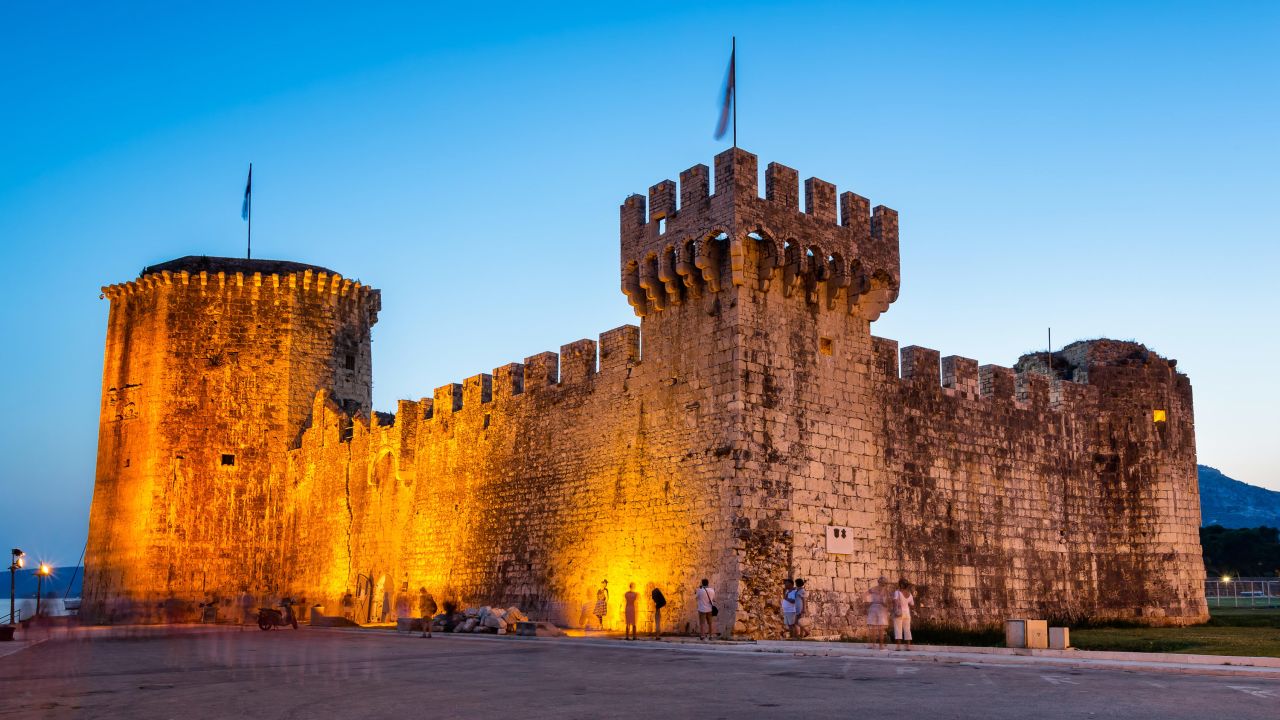 Tiny Trogir's walled old town also sits on its own small island, sandwiched between the mainland – where the newer part of the city is – and the sprawling island of Čiovo, whose northern and western coasts are lined with beach resorts. Bridges connecting all three.
Stand in its central square beside the romanesque St. Lawrence's Cathedral and you'll instantly see why the old town is on the UNESCO World Heritage Site list.
It's a delightful jumble of medieval palaces and cobblestone lanes, with squares where restaurants and bars squeeze into small courtyard gardens.
Wander along the Riva waterfront to reach the 15th-century Kamerlengo Fortress, an atmospheric venue for summertime performances of classical and pop concerts.
Mary Novakovich is the author of "My Family and Other Enemies: Life and Travels in Croatia's Hinterland"