For the biggest, highest, fastest and most expensive, Dubai remains unrivaled in the world of money-no-object luxury.
Opulence is everywhere. Here are some of the experiences that remind why Dubai has become a destination for glittering excess:
1. A room at the top
The Burj Al Arab is the building that put Dubai squarely on the global map.
The ultraluxury hotel continues to be the city's unofficial icon. Taller than the Eiffel Tower and designed in the shape of a billowing Arabian dhow sail, the levels of service and ostentation at the Burj remain undimmed in its 16th year.
At $24,000 per night in peak season, the 780-square-meter Royal Suite spans the entire 25th floor and has a private elevator, cinema and rotating canopy bed with a mirror above it – to make the room feel even more spacious, naturally.
Getting to and from the Burj Al Arab by road is hardly slumming it in one of its fleet of white Rolls-Royce Phantoms.
To avoid that pesky traffic there's a helicopter transfer to the building's helipad, $2,700 for a 15-minute hop from the airport before you're deposited 212 meters above sea level.
Throw in a bottle of 1982 Chateau Lafite-Rothschild 1er Grand Cru Classe at $24,000 from the extraordinary aquarium-surrounded Al-Mahara restaurant and you're well on the way to a $50,000 overnight.
2. Sky views
Dubai's skyline seemingly changes by the week.
The scale of some massive developments on reclaimed land – notably the Palm and the World – can only truly be appreciated with a bird's eye view.
Seawings whisks passengers on a seaplane from Dubai Creek up over the city, taking in the city's most iconic buildings and sights including the Burj Al Khalifa – the world's tallest building.
Other options for flights include a hop to Ferrari World in Abu Dhabi where the world's fastest roller coaster awaits those who wisely avoided a heavy lunch.
A private charter costs about $3,000 – small change for the definitive city tour.
3. Ultimate VIP shopping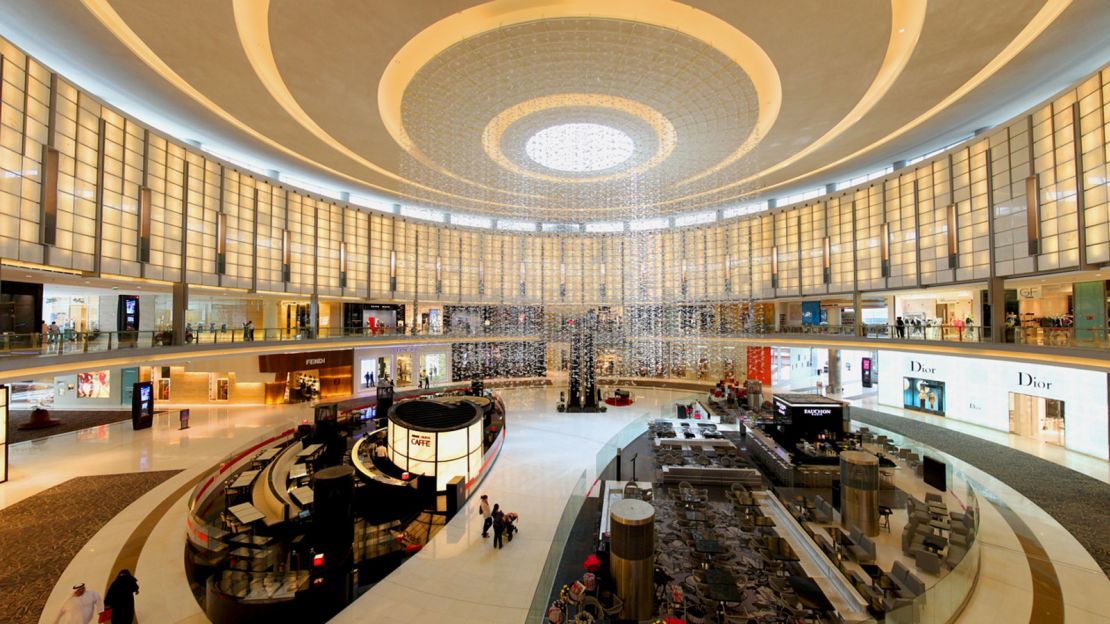 Coming to Dubai without going shopping is, frankly, a no-no.
Anything coveted is available, from every luxury brand imaginable through to bargaining in the gold and spice souks of the old town.
Dubai Mall has buggies for VIP guests to negotiate its 1,200 stores and 5.4 million square feet of retail space.
With 80 million visitors last year, it claims top spot as the world's most visited shopping and leisure destination.
It's also got an aquarium – the world's largest, naturally, featuring the world's largest crocodile.
Just $800 gets three VIP hours with one of Dubai Mall's personal shoppers, but to really hit the bank manager where it hurts, a visit is needed to one of its 62 jewelry and watch specialists.
4. Super rich dining
Dubai is also a global dining destination with few rivals, its restaurant scene up there with the world's best. Celebrity chefs abound and venues outdo themselves with superlatives.
The city has offered up questionable dining firsts including the $1,000 cupcake and the $800 ice cream sundae.
For the world's highest dinner, At.mosphere in the Burj Khalifa – the world's tallest building – serves a full a la carte menu 410 meters above the city, for lunch or dinner.
Thirty grams of Oscietre Caviar costs a mere $210, but obviously needs to be accompanied by a bottle of Domaine de la Romanee-Conti, La Tache Grand Cru, Cote de Nuit, 2000 at $18,000 a go.
5. A theme park of one's own
Cooling down in the desert city doesn't come much better than Aquaventure, the city's enormous waterpark at the aptly-named Atlantis.
Covering 17 hectares, it's been designed so that you never have to get out of the water as you conquer rides including the 27-meter Leap of Faith – a near vertical drop which shoots you through a shark-infested lagoon.
Best of all, though, wealthy visitors can skip the lines altogether and get serious bragging rights by renting out the entire place for an evening splash.
The tab for that: $40,000 for two hours.
Those who prefer their water frozen can hire Ski Dubai for a cool $135,000 per day, meaning no pesky learners getting in the way on the slopes.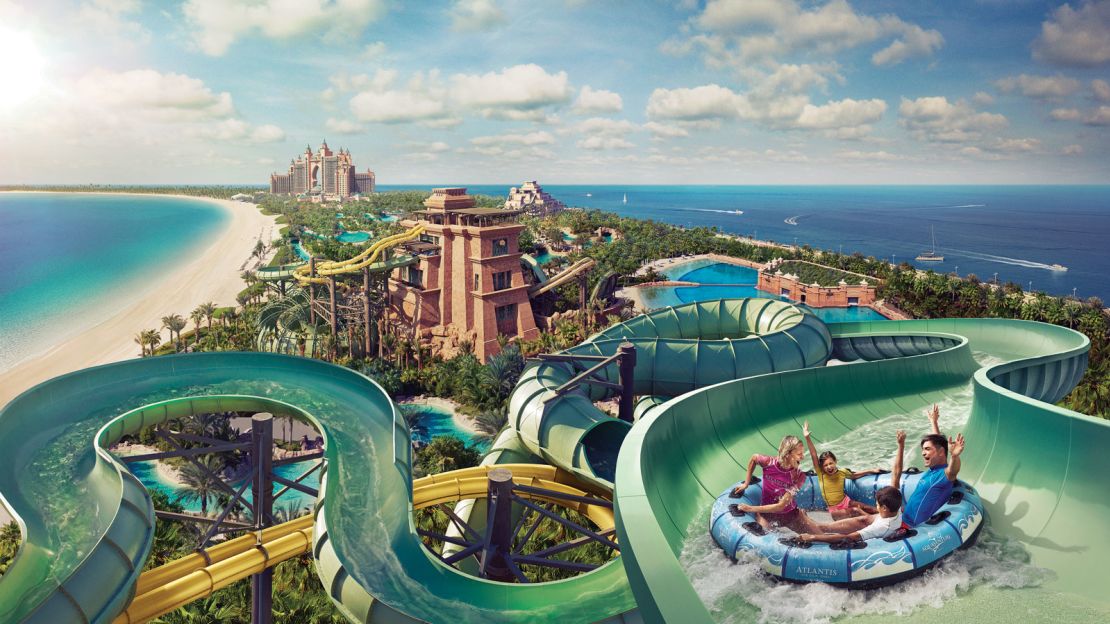 6. $49 million apartment
If you're really going to go all-out, it makes sense to finish your stay by putting a down payment on the city's most expensive apartment, put on the market recently for $49 million.
You won't be able to move in until 2017, but when you do the penthouse pad offers eight bedrooms across 42,477 square feet, an infinity pool and spa, as well as garage space for your 12 favorite cars.
If you fancy catching some air, then 16,641 square feet of balcony space should see you right.
Located at One at Palm Jumeirah, uber-cool Japanese designers Supe