Not everyone can afford to buy a castle, but that doesn't mean you can't rent one (or a small part of one). At least for a night or two.
Across Europe, many fairytale castles have been transformed into hotels. Check out 15 of the best and most beautiful turreted places to stay:
1. Hotel de la Cite, Carcasonne, France
There are few better places to base yourself while you explore the fairytale city of Carcassonne than Hotel de la Cite. It's the only hotel set inside the ramparts of the UNESCO World Heritage site, and when the throngs of day trippers depart you will have the place almost to yourself.
Enjoy an aperitif on the terrace as the sun sets over France, taking in the spectacular views, before sitting down to a sumptuous dinner in the Michelin-starred restaurant.
2. Swinton Estate, Masham, England
The English may not be hugely romantic. But their country castles certainly are. Swinton Estate is the ancestral home of the Cunliffe-Lister family, and has been transformed into a 30-bedroom luxury castle hotel. It comes complete with turrets, long echoing corridors and enormous staircases leading up to huge, individually decorated and designed bedrooms.
It's the kind of place where you expect to bump into Jeeves and Wooster in the dining room. Country living in England at its finest.
3. Hotel Schloss Thannegg, Grobming, Austria
Hotel Schloss Thannegg lies in the midst of the Austrian Alps, a fairytale sight in the snow and the perfect winter-break getaway.
The ceilings date back to 1150, the wine cellar is over 850 years old – plus the hotel has its own free ski shuttle that will whisk you away on an alpine skiing adventure. It's perfect for families as well as couples, this is a whimsical mountain retreat.
4. Ashford Castle, Ireland
Ashford Castle takes its job seriously, with turrets and ramparts, armour and oak panelling, Waterford chandeliers and rococo gilt mirrors.
Its first stones were laid in 1228 by the de Burgo family, and for eight centuries its inhabitants, including the Guinness family of brewing dynasty fame, have gazed out upon the blue waters of Lough Corrib, Ireland's second-largest lake. Today, the castle has 83 bedrooms, a spa, and 140 hectares of wooded parkland.
5. Castel Porrona, Tuscany, Italy
Centuries in the making. Don't waste it. Deep in the rolling Tuscan hills of Italy – in a delightful village dating back to the 11th century and surrounded by vineyards, sunflower fields and olive groves – lies Castel Porrona.
Each of its 25 rooms offers stunning views of the village, the castle grounds and the sweeping landscape. In the summer, sit on the flower-bedecked terrace and enjoy a glass of Tuscan wine.
6. Burg Wernberg, Germany
Dating back to the 12th century, this castle hotel sits high on a hill, offering panoramic views over the Bavarian countryside. Steeped in history, the castle was converted into Burg Wernberg hotel back in 1953.
Since then, guests have been able to enjoy the Gothic charm of the building, along with the more contemporary appeal of the cuisine, much of which is reliant on regional produce, including game from the nearby forests.
7. Dornröschenschloss Sababurg, Germany
A real-life fairy tale.
What could be more romantic than a castle that was the setting for the legend of Sleeping Beauty, who is said to have slept here for 100 years before Prince Charming's kiss saved her?
You too can fall into a deep slumber at Dornröschenschloss Sababurg; the 650-year-old castle, set in the heart of the Reinhardswald Forest, has been converted into a dreamy castle-hotel surrounded by a high wall – said to be the wall of thorns in the Grimms' fairy tale.
8. Pousada de Óbidos, Portugal
There are only a few rooms – so plan your seduction in advance. Within the city walls of Obidos lies the Pousada di Óbidos, which has been converted into one of the country's finest hotels – and one of the first to become a pousada, a traditional or historical Portuguese hotel.
With only nine rooms, the hotel is charming and intimate, though it can be difficult securing a booking, particularly in the summer months. The tower room is particularly popular.
9. Ruthin Castle, Wales
A dungeon and whipping pit are included. Now that's romantic. You can live out your King Arthur fantasies at Ruthin Castle, situated deep within expansive parkland and woods.
The castle in Denbighshire has a gory history, and comes complete with its own dungeon, whipping pit and drowning pool; but those days are long gone, and the castle is now a romantic hotel that holds regular medieval banquets where you can feast like Henry VIII, who once called this castle his own.
10. Abbaye de la Bussière, Burgundy, France
No more monks. Just luxury, and lots of love. The monks may have long departed, but there is still an air of tranquility surrounding Abbaye de la Bussière. This former monastery, which dates back to the 12th century, is situated in six hectares of beautiful Burgundian parkland.
The interiors include dramatic vaulted ceilings, six-meter-high stained glass windows, stone balustrades and a romantic sweeping staircase.
While the Abbaye is unmistakably ecclesiastical in appearance, there's nothing remotely monastic about the 11 rooms, which are more redolent of an English country house hotel. The food, however, is undoubtedly Gallic.
11. Amberley Castle, West Sussex, England
They never close the portcullis nowadays.
Step back in time at Amberley Castle, which has been hidden away for 900 years near the picturesque village of Amberley in the bucolic South Downs countryside. Step beneath the portcullis past the 18-meter walls and you will discover landscaped gardens, stunning examples of medieval architecture and an unrivaled atmosphere of peace and tranquility.
The castle may be steeped in history, but there's nothing old-fashioned about the quality of accommodation; with 19 luxurious rooms, many with four-poster beds and all featuring whirlpool bathrooms, you will be cosseted like royalty.
12. Fenton Tower, North Berwick, Scotland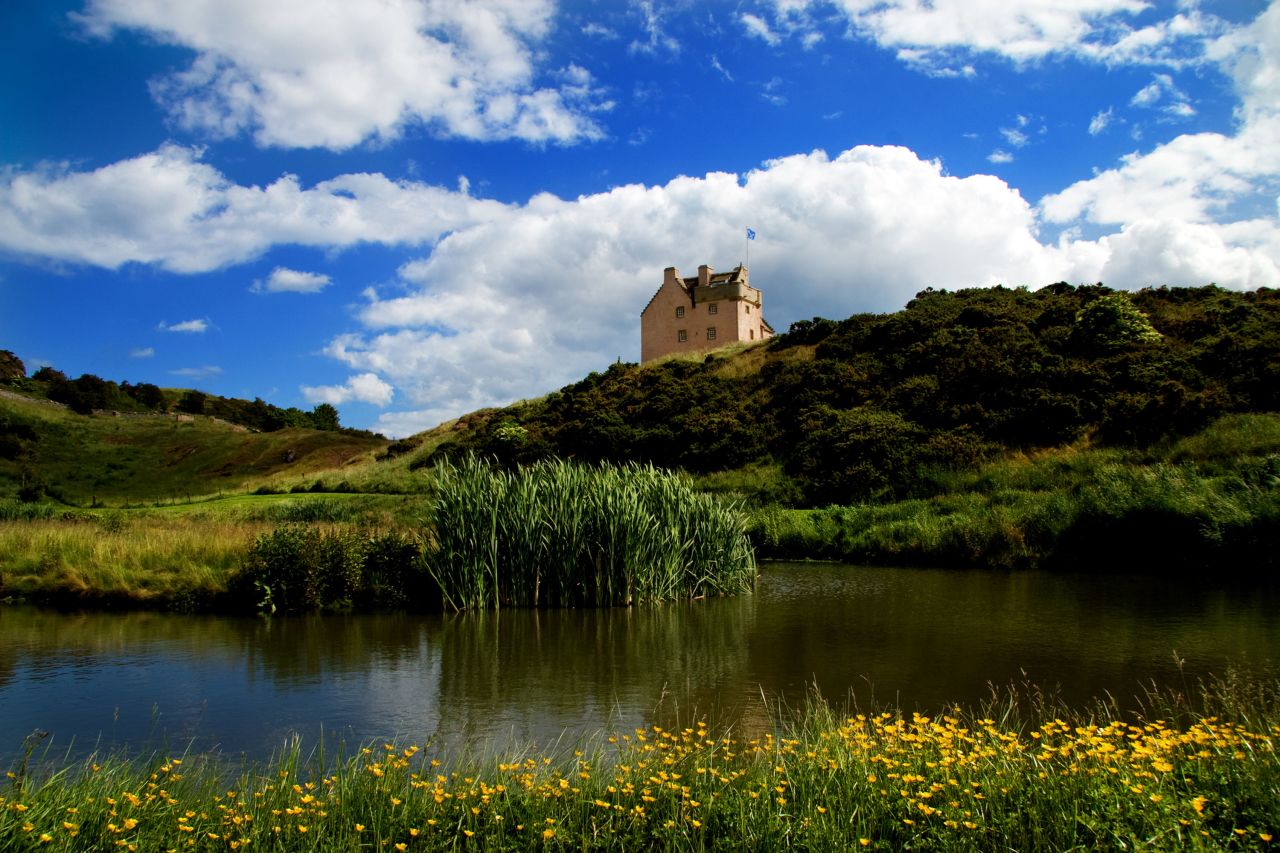 Walls are 2 meters thick – to hold all that romance inside. Fenton Tower is a magnificent fortified 16th-century tower which stands proud above the fertile farmland of East Lothian offers stunning views over the Firth of Forth.
It once provided refuge to King James VI of Scotland on the run from a rebel army; now it's been converted into luxurious accommodation for up to 12 guests. With its dedicated staff, it offers outstanding service and cuisine in a secluded and secure environment – after all, you are staying in a fortified tower with walls that are two meters thick.
13. Château de Bagnols, France
Arrow holes included, so Cupid's sure to hit. Château de Bagnols is everything a castle should be, complete with a moat, drawbridge and towers with cruciform arrow holes. But it's also a wildly romantic five-star hotel. Its lavish interiors are about as far removed from the clean contemporary lines of your average modern boutique hotel as you can imagine.
The rooms are exquisite – all individually decorated and filled with an array of antiques and works of art.
14. Witchery by the Castle, Edinburgh, Scotland
No other bath will feel right after this. While not strictly a castle, the Witchery is situated in the shadow of Edinburgh Castle's ramparts, and offers the most romantic accommodation in the city.
With its lavishly indulgent, antique-filled suites secreted within dreamy 16th-century building, guests are swept into an opulent, Gothic fantasy. Oak-paneled walls hang with tapestries, mirrors and carvings, and ornately painted and gilded ceilings pile on the atmosphere.
The Inner Sanctum suite boasts an antique four-poster bed, red and gold walls, and a sitting room with views over the historic Royal Mile.
15. Balfour Castle, Shapinsay, Orkney Islands, Scotland
Northerners do it better.
Dubbed the most northerly castle hotel in the world, Balfour Castle is is the perfect bolt-hole to woo your lover. Log fires crackle, stags' heads adorn the walls, Victorian antiques abound and in the library false bookshelves open onto secret passages – great for illicit trysts.
The Laird's bedroom features a magnificent four-poster bed carved with the Balfour family's coat of arms. And you can even get married in the castle's tiny chapel, which holds just 20 people.
Editor's note: This article was previously published in 2013. It was most recently reformatted, updated and republished in 2017 and again in May 2018.