Editor's Note: The CNN Original Series "Eva Longoria: Searching for Mexico" journeys across the country's many vibrant regions to reveal its unique and colorful cuisines. The series premieres on CNN at 10 p.m. ET/PT Sunday, March 26.
Eva Longoria has taken on many roles, including award-winning actor, producer, activist, entrepreneur — and now TV show host. But throughout her demanding career, she has stayed true to one of her original passions: cooking.
"My love affair with cooking started long ago," Longoria said in her 2011 cookbook, "Eva's Kitchen: Cooking with Love for Family and Friends."
She discovered her passion when, as a hungry 6-year-old, she pulled a chair up to the stove, grabbed a frying pan and cooked up an egg all by herself.
"Of course, the pan was full of eggshell. I didn't use any butter or oil, so the egg stuck everywhere. I can't even remember now what it tasted like, but I can recall the feeling of accomplishment I had after cooking that egg. I found it empowering and energizing."
The Texas native said it was a revelation, and from that point forward she learned everything she could about cooking.
Longoria has come a long way since then. She wrote her cookbook, inspired by her globe-trotting travels. She also frequently shares her favorite dishes on Instagram with her 9 million followers.
"There's nothing like a homemade meal and sharing memories in the kitchen with your loved ones!" she wrote in one post.
Many of her dishes pull from her Mexican heritage — like her tomatillo salsa, tamales, huevos rotos (fried eggs and potatoes) and pan de polvo (Mexican shortbread).
Here are four iconic dishes from Longoria's cookbook, along with her personal notes about each recipe.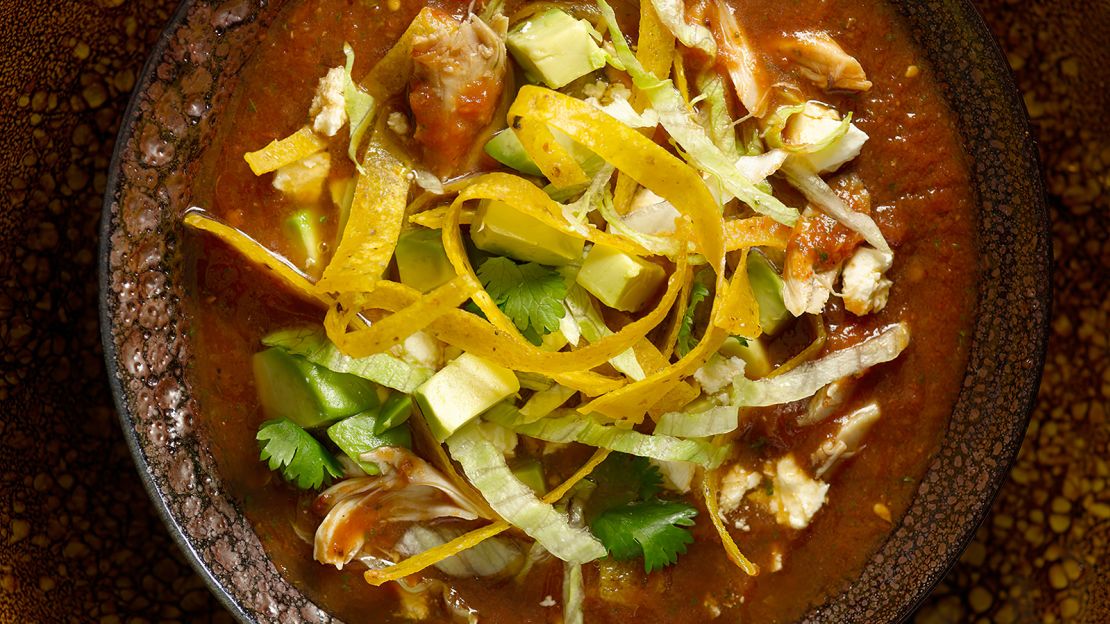 Tortilla Soup
My friends request this recipe more often than any other. I am often asked if it's a family recipe. I take it as a compliment that people always seem so surprised to hear I found it in a magazine when I was about 12 years old. I've made it so many times since then, and it has evolved into what it is today. I think it's so delicious — and popular! — because of its clear but very flavorful broth. So often tortilla soup is heavy, but this one is hearty without being unpleasantly thick. Look for dried pasilla and ancho chiles in the spice aisle of supermarkets or Mexican or Latin grocery stores.
Make 4 to 6 servings
Ingredients
4 pounds | 2 kilograms chicken legs
4 pounds | 2 kilograms chicken thighs
12 cups | 3 liters homemade chicken broth, store-bought low-sodium chicken broth or cold water
4 dried pasilla chiles
4 dried ancho chiles
6 tomatoes, chopped
1 large white onion, diced
6 large garlic cloves, peeled
2 teaspoons | 6 grams kosher salt, or to taste
2 large bunches fresh cilantro, leaves and tender stems chopped
For serving
1 cup | ¼ liter vegetable oil, plus more if needed
36 white or yellow corn tortillas, sliced into ¼-inch-thick (6-millimeter-thick) strips
1 head iceberg lettuce, cored and shredded
6 large avocados, pitted, peeled and diced
3 cups | 366 grams grated or crumbled queso fresco (about 12 ounces)
Instructions
1. In a large stockpot, boil the chicken legs and thighs and the broth over medium-high heat. Reduce the heat and simmer until the chicken is opaque throughout and tender when pierced with a fork, about 30 minutes. Using a slotted spoon, remove the chicken from the pot and set aside to cool. Set aside the stockpot of broth. As soon as the chicken is cool enough to handle, pull off and shred the meat; discard the skin and bones.
2. Meanwhile, place the pasilla and ancho chiles in a medium saucepan and add cold water to cover. Bring the water to a boil over medium heat. Reduce the heat and simmer until the chiles are soft, about 10 minutes. Drain the chiles and remove thei