Editor's Note: Sign up for Unlocking the World, CNN Travel's weekly newsletter. Get news about destinations opening and closing, inspiration for future adventures, plus the latest in aviation, food and drink, where to stay and other travel developments.
The airline industry slowly resumed service after a Federal Aviation Administration system outage caused thousands of flight delays and cancellations across the United States Wednesday.
The FAA briefly halted all domestic flight departures across the US Wednesday morning, lifting the ground stop around 9 a.m. ET after it restored a system that provides pilots with pre-flight safety notices.
But airlines continued to delay or cancel flights because of ongoing congestion.
By late Wednesday afternoon, the FAA's website was still showing ground delays at some airports.
Major US carriers including United Airlines, Delta and American Airlines all said they had grounded flights in response to the situation. United and Delta have issued travel waivers in response to the outage. American Airlines said its customers could rebook their flights Wednesday and Thursday without additional fees.
FlightAware, which tracks delays and cancellations, showed more than 9,500 flights to, from and within the United States as being delayed as of 6 p.m. ET, and more than 1,300 flights canceled.
Southwest, which canceled thousands of flights after Christmas following a systemwide meltdown, was hit hard, with more than 400 canceled flights. About 10% of Southwest's Wednesday flights had been canceled and about half delayed as of 6 p.m. ET.
Southwest operations had resumed by mid-morning, the airline said.
"As a result of the FAA's outage, we anticipate some schedule adjustments will be made throughout the day," Southwest said in a statement, encouraging travelers to check their flight status online or via the airline's app. Southwest has also issued a waiver allowing travelers to change their flights.
American Airlines was also hit hard: Including feeder airlines that use regional jets, American said it had canceled nearly 400 flights as of midday Wednesday.
Cause of outage under investigation
The affected system, Notice to Air Missions (NOTAM), sends alerts to pilots to let them know of conditions that could affect the safety of their flights. It is separate from the air traffic control system that keeps planes a safe distance from each other, but it's another critical tool for air safety.
In a statement Wednesday night, the FAA acknowledged that a corrupted file had led to the outage, confirming CNN's reporting.
"Our preliminary work has traced the outage to a damaged database file. At this time, there is no evidence of a cyberattack," the FAA said.
That echoed what Transportation Secretary Pete Buttigieg told CNN's Kate Bolduan in an interview Wednesday.
"There's been no direct evidence or indication of [a cyberattack] but we are also not going rule that out until we have a clear and better understanding of what's taken place," Buttigieg said.
The 90-minute ground stop of flights across the United States Wednesday morning was implemented out of an "abundance of caution." Buttigieg said that there were "irregularities" overnight in the safety messages that were going out to pilots that reflected a larger issue.
Buttigieg, who has been hard on airlines over their staffing and technology issues in the last year, said the Transportation Department and Federal Aviation Administration would "own" responsibility for their failures.
"No, these kinds of disruptions should not happen and my primary interest now that we've gotten through the immediate disruptions of the morning is understanding exactly how this was possible and exactly what steps are needed to make sure it doesn't happen again," Buttigieg said.
Buttigieg said via Twitter Wednesday morning that he had ordered an "after-action process to determine root causes and recommend next steps."
Nav Canada also reported an outage of Canada's NOTAM system on Wednesday. That nearly three-hour outage did not impact flight operations and its cause is under investigation, the air navigation service provider said.
"At this time, we do not believe the cause is related to the FAA outage experienced earlier today," Nav Canada said in a statement.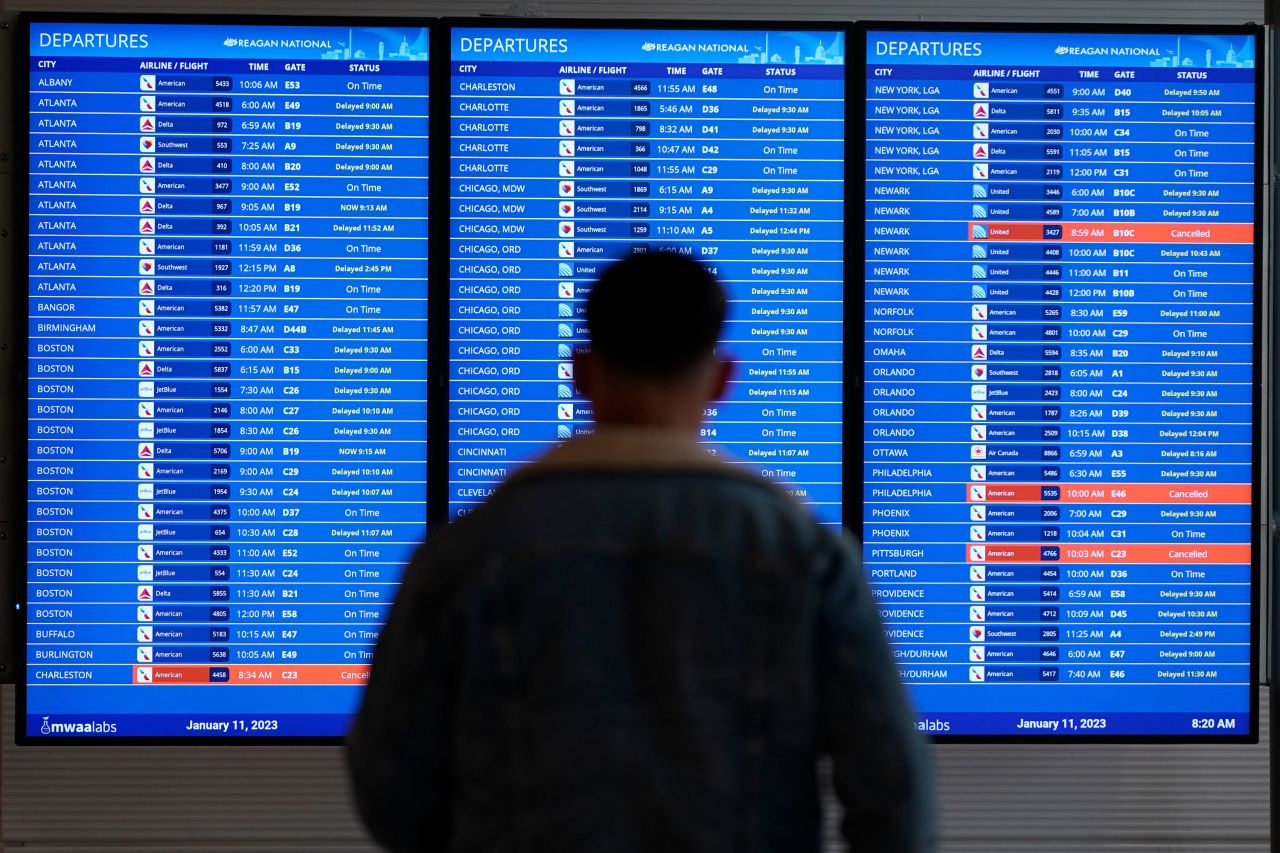 Another aviation meltdown
It's the second time in less than a month that frequent flyer Erin Potrzebowski has had her Southwest flight canceled as part of mass flight cancellations.
"I've never experienced anything like the event today and like the Southwest event from a couple of weeks ago," said Potrzebowski, who was waiting for a rescheduled flight to New Orleans at Chicago Midway International Airport on Wednesday.
"It's common to experience weather-related issues but I've never experienced mass cancellations that impact the entire country," Potrzebowski said.
Calls came swiftly for aviation system upgrades.
"Today's FAA catastrophic system failure is a clear sign that America's transportation network desperately needs significant upgrades," said Geoff Freeman, president and CEO of the U.S. Travel Association.
"Americans deserve an end-to-end travel experience that is seamless and secure. And our nation's economy depends on a best-in-class air travel system."
The Federal Aviation Administration is currently without a permanent leader, and President Biden's nominee for the role has faced criticism.
Investment in the agency is set to be addressed this year by Congress when the five-year FAA Reauthorization Act signed in 2018 expires.
International impacts
International flights bound for the United States were continuing to take off from Amsterdam and Paris Wednesday despite the situation. A Schiphol Airport spokesperson told CNN that "a workaround had been issued" and flights were still departing from Amsterdam.
Paris' Charles de Gaulle airport was not seeing cancellations, but delays were expected, according to the airport's press office. Frankfurt Airport also told CNN it had not been impacted.
A London Heathrow Airport spokesperson told CNN early Wednesday that they were "not aware of canceled flights and that flights to the US had left recently," however, there were passenger reports of significant delays.
Shabnam Amini told CNN that she and other travelers had been sitting on board Americans Airlines flight 51 to Dallas for almost three hours at Heathrow because of the FAA outage.
She said they had been informed that there were delays but were still boarded onto the aircraft.
Commercial airline pilots use NOTAMS for real-time information on flight hazards and restrictions. The FAA stipulates NOTAMS are not to be relied on as a sole source of information, and so some flights may be able to satisfy safety requirements by using other data.
Wednesday's incident comes on the heels of another aviation crisis. A huge winter storm over the end-of-year holidays caused extensive disruption and helped trigger the Southwest Airlines meltdown that affected thousands of passengers.
While Wednesday's flight cancellations at Southwest are a problem for its customers, it was nowhere near as bad as what it experienced from December 21 through December 29, when about 16,000 flights, or nearly half of its schedule, had to be canceled due to lack of available staff.
CNN's Barry Neild, Paul P. Murphy, Betsy Kline, Livvy Doherty, Chris Isidore, Sean Lyngaas, Betsy Klein, Marnie Hunter and Stephanie Halasz contributed to this story.