Story highlights
Most of the world's famous gardens are notable not only for their design and beauty, but for their history
Many host international competitions that are open to visitors
Parc de la Tete d'Or in France will host the World Rose Convention and Festival in 2015
Garden Kingdom Dessau-Woerlitz in Germany was declared a UNESCO World Heritage Site in 2000
History and botany mix with landscape design and architecture in these 13 fabulous gardens around the world.
While many are attached to famous estates, the gardens are destinations in their own right and deserve their own list.
Parc de la Tête d'Or (Lyon, France)
This beautifully maintained 289-acre park in Lyon has an extensive botanical garden but is best known for its spectacular rose gardens, which are playing host to the 17th World Rose Convention and Festival in 2015.
The park's main highlight is the International Rose Garden, with its 16,000 rose bushes showcasing 450 varieties, while the Competition Rose Garden hosts an annual contest featuring the newest varieties.
Fun fact: the park's name, which means "Golden Head Park," comes from an old legend about the grounds about buried treasure. The Crusaders are supposed to have buried a golden Christ's head somewhere on the park's property.
Parc de la Tête d'Or, 69006 Lyon, France; +33 4 72 69 47 60; free admission
READ: World's largest natural flower garden opens in Dubai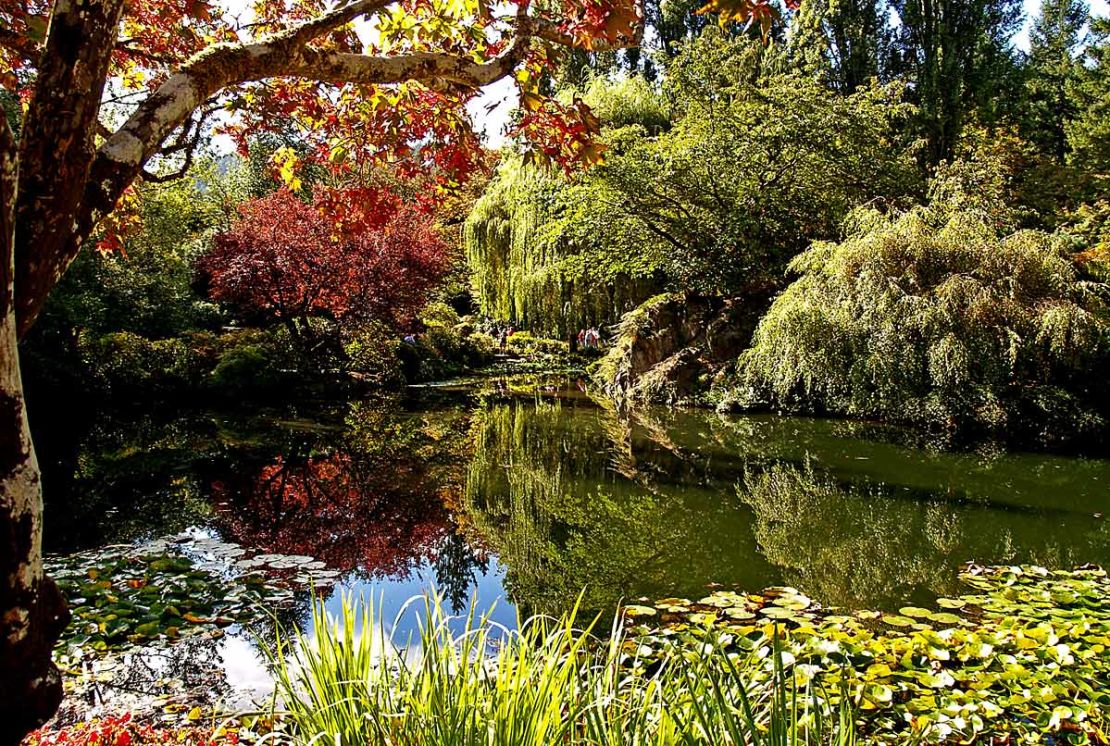 Butchart Gardens (British Columbia, Canada)
When Jennie Butchart's husband, a manufacturer of Portland cement, told her in 1904 that his company had exhausted the limestone in their quarry, the door was opened to create what would later become one of Canada's notable tourist attractions.
Butchart Gardens near Victoria in British Columbia were created within that disused quarry.
Featured views include the Edwardian-style Sunken Garden (gallery above), with a lake where reflections of multi-colored foliage surrounding it take on a beauty of their own.
Butchart Gardens, 800 Benvenuto Avenue, Brentwood Bay, British Columbia, Canada; +1 250 652 5256; official peak season June 15-August 31; adults CA$30.80 ($28) youth CA$14.35 ($13)
Hershey Gardens (Pennsylvania)
When chocolate magnate Milton S. Hershey decided to create a thing of beauty to be enjoyed by residents of "his" town in Pennsylvania, the result was Hershey Gardens, opened in 1937.
A notable feature is the Butterfly House, home to hundreds of North American butterflies, in which visitors can observe the entire life cycle of the butterfly, from egg to adult.
There are 11 themed gardens on site, including the whimsical Children's Garden and a rose garden with nearly 6,000 roses of 275 varieties.
Hershey Gardens, 170 Hotel Road Hershey, Pennsylvania; 1 717 534 3492; adults $10.50, children 3-12 $7.50
The Royal Botanic Gardens (London)
On a bend of the Thames at Kew in southwest London, the Royal Botanic Gardens was listed as a World Heritage Site in 2003, acknowledging its contributions to botanical and environmental science since 1759.
The Temperate House is the world's largest surviving Victorian glass structure.
An iron-framed greenhouse dating from the 19th century, it was to become a model for conservatories around the world.
The Royal Botanic Gardens (Kew Gardens), Brentford Gate, London, +44 20 8332 5655; adults £15 ($25), children free