If you're taking to the skies to visit friends and family over the holidays, be prepared to jostle your way through crowded airports, packed planes and frenzied baggage queues with millions of fellow travelers.
"Everyone knows how close they're going to be with other people on a plane," said Sara Nelson, president of the Association of Flight Attendants, a union representing flight attendants in the US. "But they may not be taking into account how full those airports will be as well. No space. No way to socially distance."
Some 4.2 million people are expected to fly for the Thanksgiving holiday, nearly twice as many as last year, according to the American Automobile Association.
The good news this year is that many fliers will be vaccinated against the novel coronavirus – including nearly all international travelers entering the United States.
The bad news is that many Americans will still not be fully vaccinated by Thanksgiving, including children under 12 and those who choose, for whatever reason, not to get a shot.
A good many people may also be "newbies" to the strict federal mask mandate implemented in February, said Nelson, who has been a United Airlines flight attendant since 1996.
"People need to understand that there's a federal mask policy in place," she said. "It starts at the airport door and continues throughout the entire process until you leave the airport at your destination."
Here are eight tips on how to keep you and your family safe – and reduce stress – while flying this holiday season.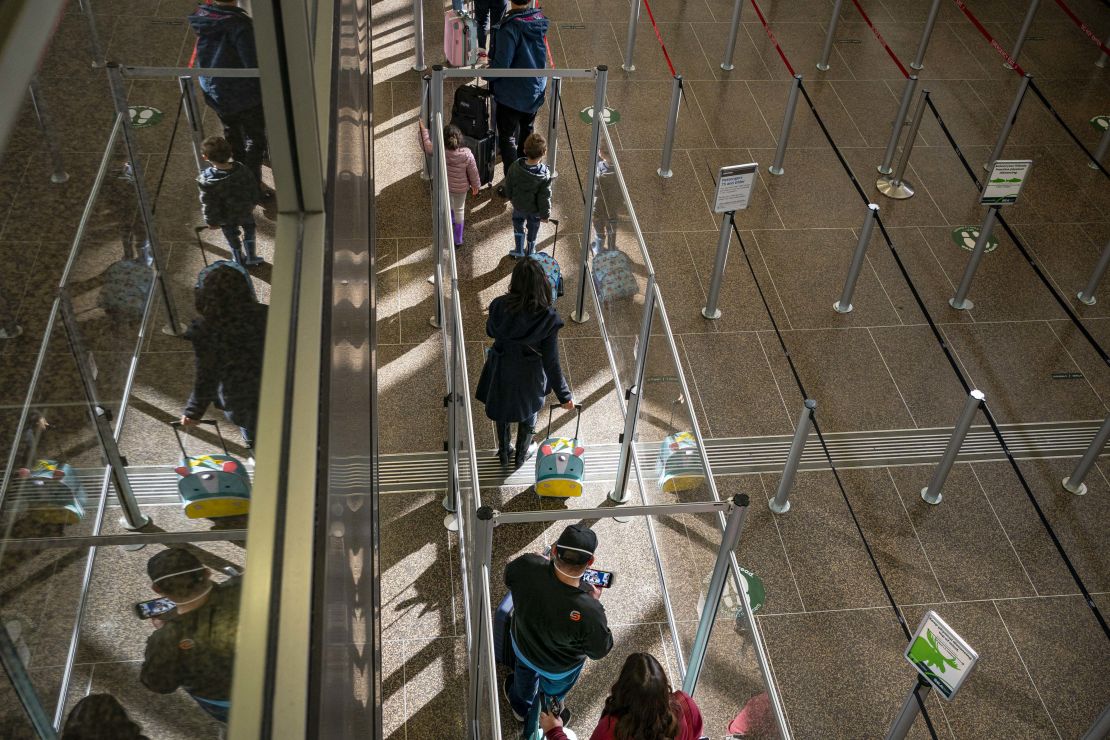 1) Get your child over age 5 vaccinated and get a booster
Children in the US who are ages 5 years and older are now eligible for the Covid-19 vaccine, but like adults, are not fully protected until two weeks after the second dose. Because there has not been enough time between the vaccine's availability and Thanksgiving for children in this young age group to have received their second shot, none will be fully vaccinated during the Thanksgiving travel period.
Parents should treat partially vaccinated children as if they are not vaccinated, said CNN Medical Analyst Dr. Leana Wen, an emergency physician and professor of health policy and management at the George Washington University Milken Institute School of Public Health.
Parents and children should continue using masks and social distancing during travel and consider taking a rapid Covid test before gathering with family, Wen said.
If you're an adult who has not yet gotten your booster shot after being fully vaccinated earlier this year, please do so now, she added.
"We know that immunity to symptomatic infection wanes over time, so I would highly recommend for anyone eligible for a booster to get the shot at least two weeks before getting together with family for the holidays," Wen said.
2) Fly off-hours and on less busy days
If you can travel to and from your destination on less busy travel days, you and your family will encounter fewer people and may be more successful at social distancing, said Linsey Marr, a professor of civil and environmental engineering at Virginia Tech, who is a leading expert in aerosol transmission of viruses.
"That's especially important if you have children under two who cannot wear a mask," Marr said. "You can also try to book flights at off hours, later in the evening or very early in the morning, to try and avoid the crowds."
Because few people have more than a few days off for Thanksgiving, peak travel typically occurs on the day before Thanksgiving, which this year is November 24, and Sunday, November 28. The holiday itself, on November 25 this year, is often less busy.