Chiang Rai, Thailand
CNN
—
"Song soon."
"Pai."
"Baen."
"How."
Nonsensical gibberish? Not a chance.
It's a new language I've had about 10 minutes to master to communicate with my new friend, Thongkam.
In spite of my thick accent and unconvincing tone, this beautiful Asian elephant understands the directions, lifting her leg to allow me to climb onto her shoulders before walking forward, turning then coming to a stop.
For two hours, I get to hang out with Thongkam as she strolls through bamboo jungles before taking a chilly dip in the Ruak River, a tributary of the Mekong.
This once-in-a-lifetime opportunity is part of the Four Seasons Golden Triangle Tented Camp's "mahout" (elephant trainer) experience in northern Thailand.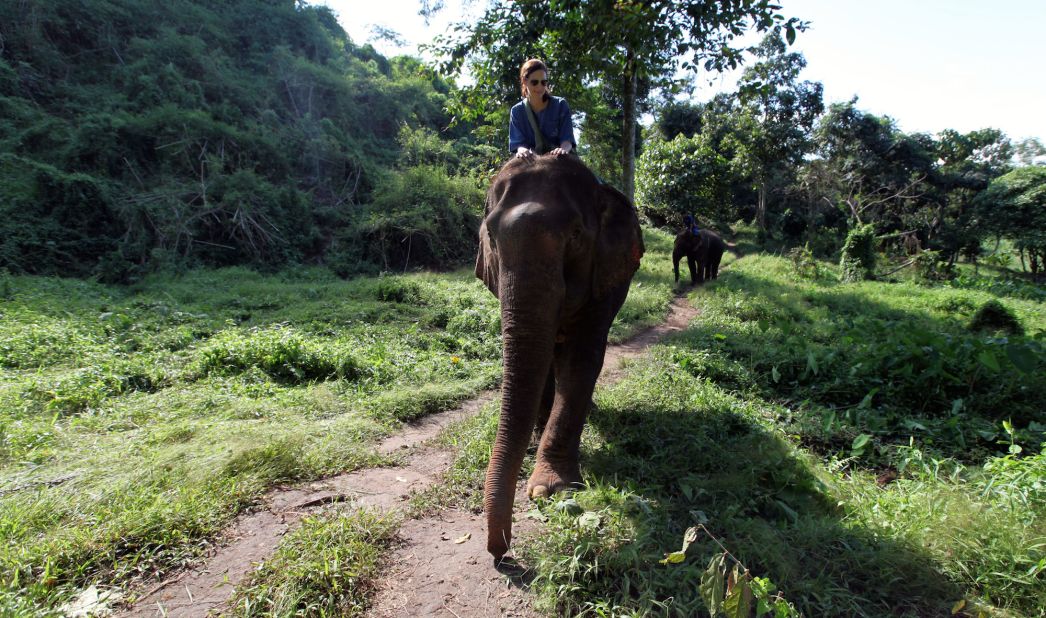 Inside the Four Seasons Tented Camp Golden Triangle
Tents in name only
Though the mahout training sessions are what made the Four Seasons Tented Camp stand out when it opened 10 years ago – it's been a constant presence on the usual "world's best" lists ever since – the camp is a worthy escape in itself.
The similarities its 54-square-meter "tents" (there are 15 of them) share with their traditional counterparts end with the canvas.
Each is filled with traditional decor and hardwood floors. There's a king-sized bed, a massive hand-hammered copper bathtub and an outdoor shower.
TV? Nope. (Staff tell me the only guests who ever seem to complain about its absence are the teenagers.) But there is Wi-Fi.
Coffee machine and a stocked free bar? Of course.
You'll want to have something to sip while you lounge outside on your tent's private terrace and peer across the treetops into neighboring Myanmar, the occasional sound of a trumpeting elephant shattering the silence.
Sounds relaxing, right? It is. If you don't mind walking.
The camp's 15 tents are a reasonable distance apart, stretching for about one kilometer across the side of a forest-covered hill, all connected via a lovely bamboo-lined brick trail.
For those in a hurry the camp has a fleet of three 1970s Land Rover Defenders, which regularly bump along the road beneath the tents. You'll appreciate these old school clunkers when you've enjoyed one too many tum yum martinis at the Burma Bar and need to make your way to the other side of the camp for a private traditional "kanthok" dinner.
Long-tail boats draw tourists to southern Thailand
What's coming in 2016?
Camp manager Reza Jafari says most guests stay three to four nights, which gives them a chance to go out on day trips or experience other camp activities, such as a spa treatment or cooking class with the camp's talented executive chef, Pisan Torphet.
"The biggest challenge for me personally is to continue evolving the camp and not allowing anyone to rest on their laurels, by continuing to push the bar higher and higher," says Jafari.
With the resort about to turn 10, there are already some expansion plans underway for the new year.
"We are working with our owners at the possibility of introducing a new two-bedroom suite that will feature its own private pool," he says.
"We are currently in the midst of finalizing designs with the renowned designer Bill Bensley and hopefully can start work in the first quarter of 2016."
Ethics of elephant tourism
Like most of the elephants working at the Four Seasons Tented Camp, Thongkam hasn't had an easy life. Now in her early 50s, it's believed she was put to work in Thai logging camps shortly after she was born.
After that, she spent many years walking the streets of Surin, a city in northeastern Thailand, with her mahout, begging for money. So how did she wind up in a luxury camp?
About eight years ago the Golden Triangle Asian Elephant Foundation (GTAEF) invited Thongkam and her mahout to move to Chiang Rai. The nonprofit foundation is supported by the Four Seasons Golden Triangle Tented Camp and neighboring Anantara Elephant Camp & Resort and operates on their shared land.
It performs elephant rescues – some come from the streets, others from illegal logging camps, trekking camps or elephant shows – while inviting mahouts and their families to join the elephants in the foundation's safe, green environment.
GTAEF staff acknowledge that in a perfect world all elephants would be roaming free in the wild.
Until this happens, it aims to assist captive elephants, improving their lives and welfare, "while also taking part in conservation and wild elephant programs to ensure the survival of the wild herd." Not all of the elephants at the foundation work with resort guests, as they need to be completely comfortable interacting with people.
"The elephant camps at Anantara Elephant Camp & Resort and Four Seasons Tented Camp Golden Triangle are the only camps in Thailand who have a stated policy not to purchase elephants," says John Roberts, GTAEF director of elephants and conservation activities, in a statement.
"This is because we have discovered that the purchase of an elephant from traditional mahout communities invariably leads to the purchase of at least one other elephant by them. This, in turn, drives the capture of elephants from the wild."
Getting there
Chiang Rai is about an hour and a half by plane from Bangkok. Several domestic Thai airlines offer daily flights.
The camp is in Chiang Saen, about an hour's drive from the Chiang Rai airport. The camp offers private airport transfers.
Weather permitting, guests have the option of hopping on a long-tail boat at the local Chiang Saen pier on the Mekong river for a fun, fast cruise directly to the camp.
Private helicopter charters are available to connect guests of Four Seasons Resort Chiang Mai with the Four Seasons Tented Camp Golden Triangle.
Bangkok bars can please the eyes; here are 9 of the most stunning