Story highlights
"Freegan" restaurant serves food discarded from market
Venue is a squat with reclaimed furniture
How do chefs choose their ingredients?
While most are governed by season, taste and fashion, for one Paris-based cook there's another factor that trumps all – they have to be free.
Aladdin Charni runs the Freegan Pony restaurant on the outskirts of Paris, feeding 400 people a week with a vegetarian menu sourced entirely from free produce, discarded by the city's food market.
Far from being substandard fare, the restaurant's improvised dishes are drawing in customers and impressing critics, while raising diners' awareness of food waste.
"Being a Freegan is feeding oneself from food waste collected from bins that would otherwise have been thrown away," Charni told CNN. "Sometimes it's very good quality, sometimes it's a bit damaged. When it's damaged we don't take it, of course, but often there's about one tomato in the box that's spoiled."
Global crisis
Every year, roughly a third of the food produced for global human consumption gets thrown away or lost – approximately 1.3 billion tonnes of cereals, dairy, vegetables, meat and fish.
It's a bitter irony when an estimated ninth of the world's population are undernourished.
Saddened by this global paradox, Charni decided to act, opening the Freegan restaurant in November 2015. But unlike many individuals in the growing freegan movement, the chef doesn't dive into dumpsters to source his produce.
In the early morning four days a week, the Tunisian-born foodie drives to the city's southern suburbs to collect from Rungis, the largest wholesale food market in the world.
There, he finds a myriad of edible goods – still in their crates, deemed past their sell-by date but still "delicious."
"The particularity of Rungis is that fruits and vegetables that are thrown away are not saleable, but they are perfectly usable. The boxes are right there, people can see them. The fruits look great and so do the vegetables, so (none of the diners) are worried," Charni explains.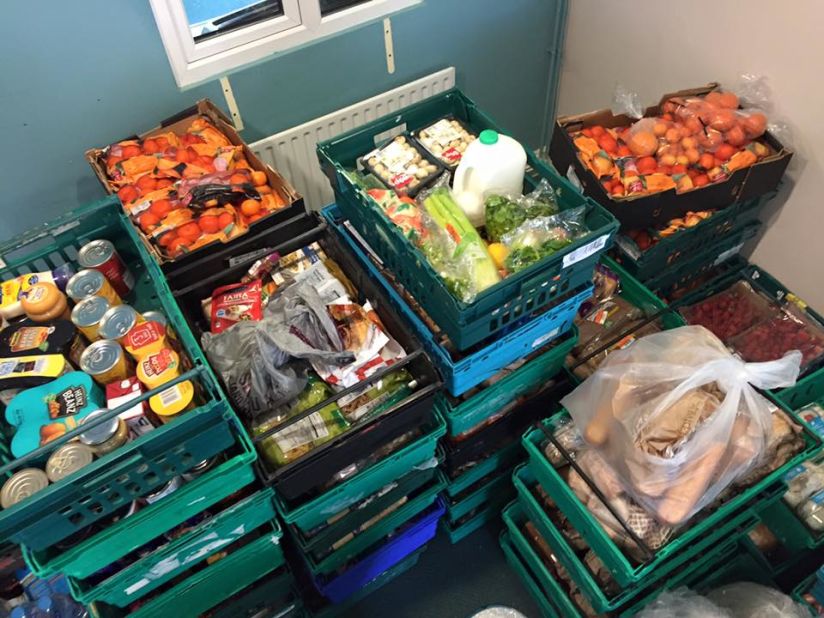 The restaurant that serves food waste
Reclaimed food, building, furniture
Back in the kitchen, a team of volunteers help prepare the day's starter, main and desert, which are sold on a "pay what you feel" basis.
Housed in a vast concrete warehouse beneath the Paris ring road, the dining hall is made cosy with reclaimed tables, chairs and rugs. Like the ingredients, the rent is free – the city hall-owned building is illegally occupied by Charni, who has a reputation for opening squats in the French capital.
It's all part of his ethos to reduce waste and make the most of what's available.
"We wanted to infuse life in a place where nothing was happening – it was empty for 15 years," he explained. "We give life back to a place, to fruits and vegetables, to a location, to furniture that would have been thrown away."
Freegan movement
Charni isn't the only social entrepreneur to harness the Freegan philosophy to challenge attitudes to food waste. Created in December 2013, The Real Junk Food Project is a global network of "pay what you feel" cafés that now numbers more than 120 across seven countries.
All of the venues cook food destined for waste and have had a "very positive" reception, according to its founder Adam Smith.
"I think the human race as a whole doesn't want to throw food away," said Smith. "It's instinctively built into us to not waste, and we are seeing people changing their behavior around food waste due to The Real Junk Food Project exposing the shocking nature of it."
While Smith said some supermarkets are going "above and beyond" to donate food to the cafes, he admits there's still "a long way to go" in getting others to support the initiative.
France is now a leader in this respect, becoming the first country in the world this February to force stores to donate unsold food to charities.
Read: The man who kayaks to work
While Charni is realistic about the impact of his sole restaurant, he believes that by getting customers to eat freegan and ask questions, the battle against food waste has already begun.
"Being Freegan won't change the world, but it will open a discussion regarding the issue of food waste on a scale of a city or a neighborhood.
"I'm not expecting it to resolve the problem of food waste at a global scale, but if I manage to create awareness amongst Parisians then it's already something."