Story highlights
A number of incredible hotel designs have moved past the concept stage and are now being built
The five-star Shimao Wonderland InterContinental sits in an abandoned Shanghai quarry
Off the coast of Fiji, a U.S. company is engineering the world's first underwater resort
Ever wish you could sleep underwater?
Or perhaps on a bed bobbing over a crystalline sea?
Get ready, because this is the future of the luxury hotel industry.
Though there are dozens of amazing hotel concept designs floating around the Internet, few will ever actually be constructed for various reasons – usually related to feasibility.
Which makes it all the more exciting that almost all of these incredible luxury projects – from undersea resorts to cascading ground-scrapers – are already under construction and due to open in the coming years.
Shimao Wonderland InterContinental (Shanghai, China)
Shimao Wonderland Intercontinental was one of the most talked about hotel designs of the past decade.
After a slight delay in bringing the elaborate plan to fruition, it looks as if this "wonderland" is finally getting off the ground – or rather, into it.
The lavish resort, carved into the edge of an abandoned quarry outside Shanghai, is now on track for completion in early 2017, according to project director Martin Jochman of JADE + QA studio, with offices in the UK, Hong Kong and Shanghai.
The "ground-scraper" will feature 328 rooms cascading down a rugged cliff face toward a 90-meter-deep lagoon with the lowest levels of the property (including the restaurant and many public areas) located below the water.
Activities capitalizing on the striking setting will include a water-based leisure area and extreme sports center offering everything from bungee jumping to rock climbing.
Poseidon Underwater Resort (Fiji)
A hotel situated entirely underwater may sound like the stuff of fantasy films.
But that's exactly what's brewing off the coast of Fiji where U.S. Submarine Structures is engineering the world's first underwater resort.
In addition to 24 suites, the property will contain a library, spa, bar, restaurant and event space – all with views out over a coral-filled lagoon teeming with fish.
Developer L. Bruce Jones says guests will have access to four Triton submersibles and "will be able to learn how to pilot them" to the ocean's depths.
First slated to grace the ocean floor in 2008, Poseidon remains very much a work in progress.
However, Jones says he believes Poseidon could open in about two years.
Keemala Resort (Phuket, Thailand)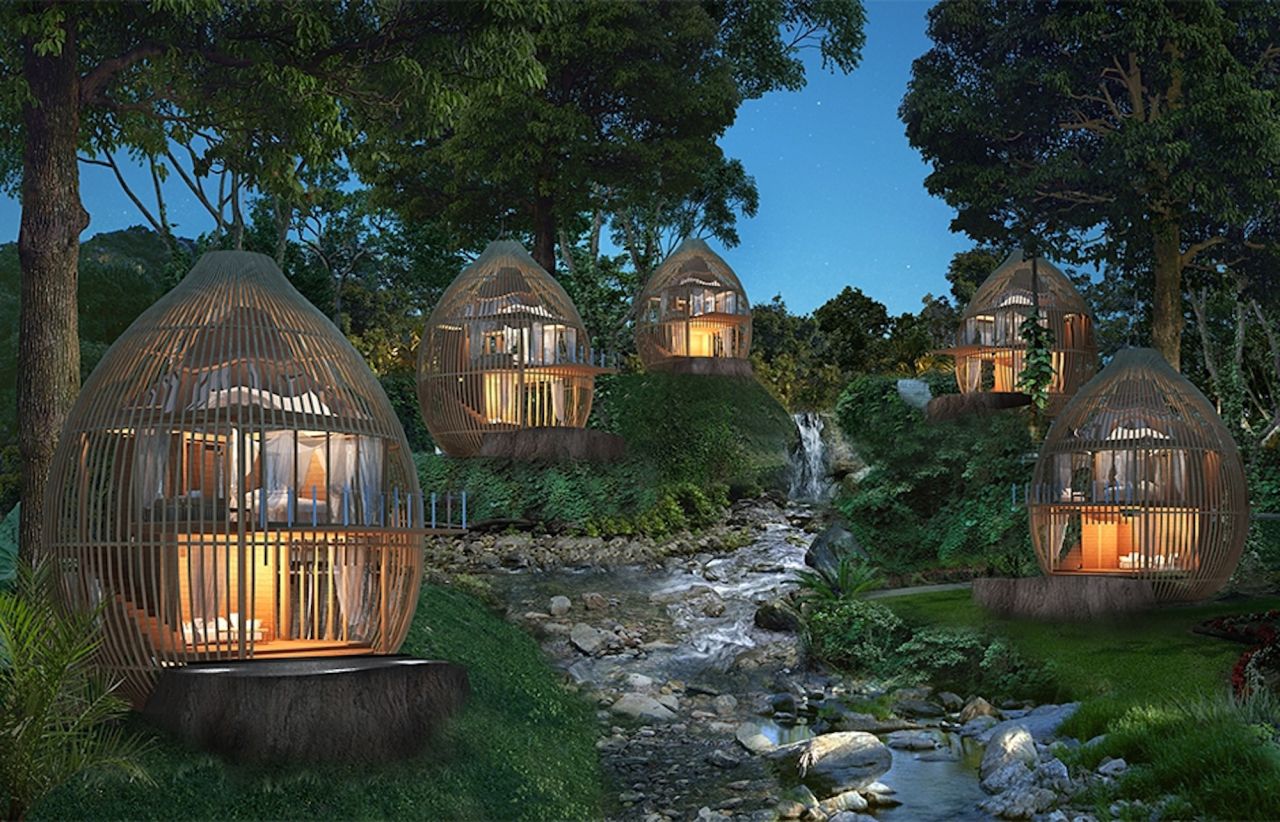 The Ewok Village of "Star Wars" will have its real-life match in Thailand's forthcoming Keemala Resort, a tropical space of thatched huts, treehouse pools and terraced herb gardens tucked into a rainforest along the Andaman Sea.
Set to open its doors on the island of Phuket before the end of this year, the adults-only wellness property invites guests to celebrate the culture of four fictional tribes as they wander from the holistic spa to the yoga pavilion or meditation rooms.
Cooking and martial arts classes, scuba diving and private yacht charters round out the long list of luxe offerings.
Lofoten Opera Hotel (Norway)
A sleek, snake-shaped architectural marvel will soon slither along a hillside in northern Norway offering spectacular views over the Lofoten Islands.
The 11,000-square-meter Lofoten Opera Hotel, designed by architecture firm Snohetta, will contain a mix of hotel and apartment units, an amphitheater and a spa within its curvaceous body, while offering access to hiking trails and sea basins nearby.
Though the hotel was due to open in this remote corner of Scandinavia in 2015, just how soon you can book your ticket remains to be seen.
Snohetta's Anny Li told us the completion date has yet to be announced.
The Hotel Crescent (Baku, Azerbaijan)
A half-moon rising above the Caspian Sea is on its way to becoming the latest architectural landmark of the oil-rich Azerbaijani capital of Baku.
Designed by South Korean architecture firm Heerim Architects & Planners, the 33-story Hotel Crescent will become the centerpiece of the sprawling 450,000-square-meter Crescent Bay skyscraper complex when completed in late 2016.
Located on an artificial island just offshore, the arched hotel will be linked to the mainland and nearby business and entertainment centers (known as Crescent City and Crescent Place) via a swooping bridge.
Amillarah Private Islands (Dubai)
Dubai is well acquainted with bombastic development projects – and generally open to adding private islands to its coast – so it should come as little surprise that the world's first floating archipelago will bobble its way to this Middle Eastern playground in the coming years.
OQYANA Real Estate and Amillarah Private Islands was granted the necessary permits to begin work on the 33 artificial islands in June.
CEO of Amillarah Private Islands Paul van de Camp said the company will now begin work, using its "Dutch heritage of hundreds of years of working with the water" to craft the development.
Plans call for high-end villas that open up onto private beach-fronts, contemporary seaside apartments and several hospitality and retail elements all floating together in the Persian Gulf to form the Australasia portion of the World Islands.
The Royal Atlantis (Dubai)
Imagine what a hunk of Swiss cheese might look like if it were made out of Lego.
Now you can begin to picture the block-y aesthetic of the UAE's next signature resort: Royal Atlantis.
Bahamas-based Kerzner International hopes to "redefine luxury" when it opens this $1.4 billion complex in 2018 on the man-made Palm Islands off Dubai's coast.
The resort will house 800 guest rooms and 250 luxury apartments across 46 floors of stacked glass boxes.
Amenities in the forthcoming property range from a Givenchy spa and Gordon Ramsay restaurant to an interactive marine park and sky pool 90 meters above The Palm that hopes to rival that of the Marina Bay Sands in Singapore.
Salt & Water floating hotel (Location TBA)
A plan to create a floating hotel with catamaran apartments that won the 2015 Millennium Yacht Design Award is now in development by Serbian design studio Salt & Water.
Salt & Water created the floating hotel to promote tourism on inland lakes.
The concept consists of a central construction with a reception, restaurant and event hall, as well as individual catamaran rooms that guests can navigate away from the property and dock wherever they desire.
Each pod is designed to be a "frame of nature" with a salon, galley, a bathroom below and a bedroom above, in addition to two outdoor patios.
Design director Svetlana Mojic cautioned there's nothing built yet.
"At the moment we are looking for potential investors and collaborators, but since there is a great deal of interest from people all over the world, I believe it will be built very soon," she said.
Dawang Mountain Resort (Changsha, China)
Believe it or not, Shimao Wonderland isn't China's only resort in development to incorporate a disused quarry into its concept.
The Deep Pit Ice and Water World, part of the forthcoming Dawang Mountain Resort near Changsha, will be partially suspended over a quarry pit.
The property will have two contrasting environments: a lake with sunken gardens below and an indoor snow center above.
A separate 100-meter-high tower will house a five-star hotel with 330 suites looking over Tongxi Lake, Dawang Mountain and a sports and leisure complex.
Construction on the extravagant project from Vienna-based Coop Himmelb(l)au began in July.
Spokeswoman Marina Jovanovic said the company expects to have everything completed in 2016.
Mark Johanson is a freelance travel and culture writer based in Santiago, Chile. You can follow his adventures at markjohanson.com.