Story highlights
Eltham Palace is Henry VII's childhood home given a Gatsby twist
Trinity Buoy Wharf is home to London's only lighthouse
We agree, London can be horrible at times.
Commuters jammed on the tube. Tired, lost souls tramping through Trafalgar Square or Piccadilly Circus. Shoppers looping around M&M World, desperately looking for the exit. It needn't be like this.
There's a beautiful, quirky, gorgeous London out there and the locals have been hiding it where some visitors won't think to look – beyond the city's center.
They just need to hop on a train, bus, bike to find it. To help, we've timed escape routes from Oxford Circus to 20 of greater London's greatest hits. So let's delve a little farther into England:
Dalston Eastern Curve Garden, Dalston
Slip behind the green wooden entrance of Dalston Eastern Curve Garden and, in an instant, the grime and noise of the Kingsland Road is magicked away to be replaced by the fairy-lit pastoral glow of the very best kind of summer wedding reception.
Between the trees can be heard the gentle chatter of other visitors enjoying drinks from the on-site cafe or tucking into picnics, but leaning back on the white-painted seats it feels like this community garden is all yours.
Dalston Eastern Curve Garden; 13 Dalston Lane, London. Free entry; open daily
Like that? Try this: Nearby Abney Park is the northeast outpost of London's Magnificent Seven: picturesque suburban cemeteries built in the 1830s and 1840s to ease overcrowding in parish burial grounds.
Abney Park; South Lodge, Stoke Newington High St, London; +44 20 7275 7557. Free entry
Beavertown Brewery, Tottenham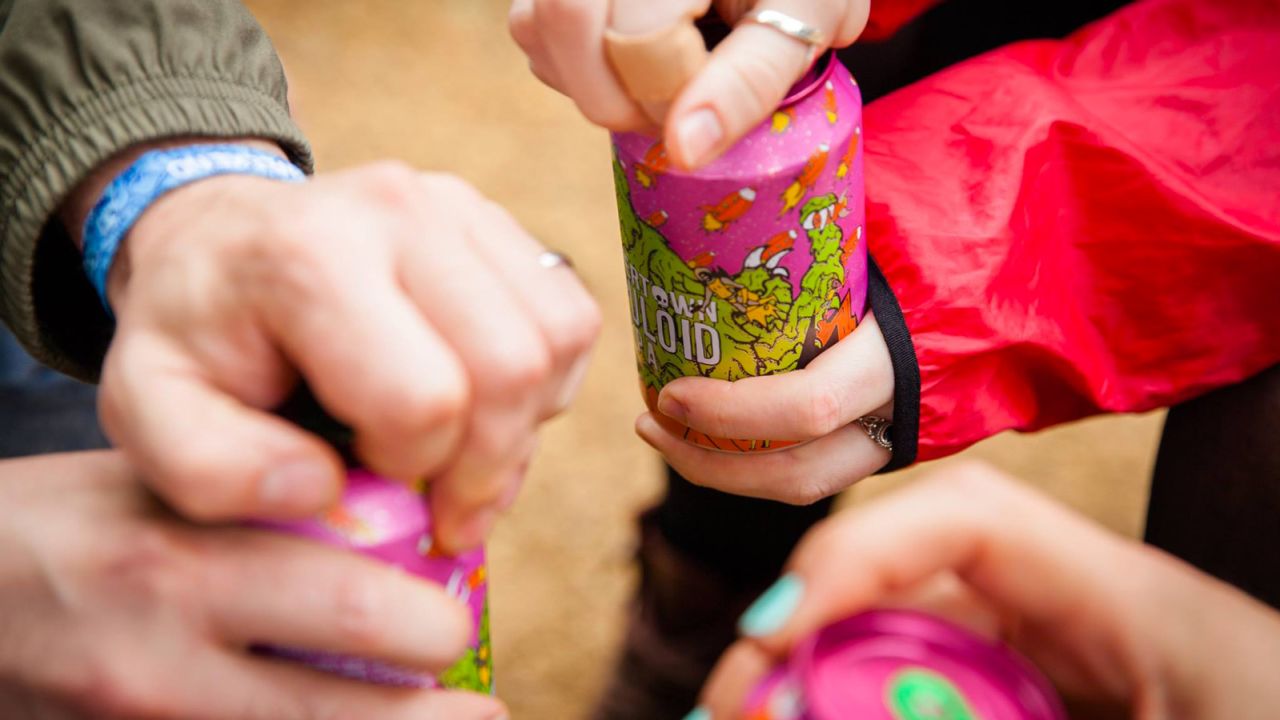 Thanks to its fruity and powerfully hopped American-style IPAs, and its can designs by Nick Dwyer inspired by 1950s sci-fi comic books, Beavertown Brewery has become the purveyor of London's most stylish tipples. They're never better – or cheaper – than from the source – in the brewery's on-site taproom in an industrial park in unfashionable Tottenham Hale.
It's the perfect diversion on the journey to or from Stansted Airport (but with ABVs up to 9.1%, there's a risk of missing that plane).
Beavertown Taproom; Units 17 & 18; Lockwood Industrial Park; Mill Mead Road; Tottenham Hale; London. Open Saturdays 2 p.m. to 8 p.m.; check website before traveling
Like that? Try this: Rowans Tenpin Bowl, two stops away on the Victoria Line.
While Bloomsbury Lanes or Lucky Voice offer chichi bowling and karaoke options in central London, Rowans has been offering no-nonsense bowling, karaoke, ping pong, pool, great music and bad dancing to an up-for-it local crowd since the 1990s.
Rowans; 10 Stroud Green Road, Finsbury Park; London
God's Own Junkyard, Walthamstow
God's Own Junkyard is the former workshop of legendary signmaker Chris Bracey, also known as the Neon Man. He collaborated with artists from Damien Hirst to David LaChapelle and his work appeared in films including "Bladerunner" and "Eyes Wide Shut." Bracey died in 2014, but his family have kept the workshop open for sales, hire and general ogling. The Rolling Scones Cafe provides refreshments.
God's Own Junkyard; Unit 12, Ravenswood Industrial Estate, Shernhall St, London; +44 208521 8066. Free entry
Like that? Try this: The William Morris Gallery, dedicated to the designer and socialist who was another of Walthamstow's artist sons.
William Morris Gallery; Lloyd Park, Forest Road, London E17 4PP; +44 20 8496 4390. Free entry
BAPS Shri Swaminarayan Mandir, Neasden
BAPS Shri Swaminarayan Mandir, better known as Neasden Temple, was built in the 1990s from Italian Carrara marble and Bulgarian limestone, shipped to India and then hand-carved by a team of 1,526 sculptors.
The stonework was then assembled in an unassuming corner of northwest London, just around the corner from IKEA. At the time of construction, it was the largest Hindu temple outside of India.
BAPS Shri Swaminarayan Mandir; 105-119 Brentfield Rd, London; +44 20 8965 2651. Free entry
Like that? Try this: The west London neighborhood of Southall, whose large South Asian population has earned it the nickname Little India. Southall Broadway has shops selling everything from food, spices, clothes to jewelry, as well as great restaurants.
Southall; visitsouthall.co.uk
Trinity Buoy Wharf, Docklands
For those who like their Instagram moments post-industrial, there's this hip arts quarter. Sitting just across the river from the O2 Arena – one of London's biggest concert venues – it's home to studios, galleries, street art, a period-perfect 1940s-style American diner and London's only lighthouse.
Trinity Buoy Wharf; 64 Orchard Place; London. Free entry
Like that? Try this: The Prospect of Whitby, London's oldest riverside pub and another of the city's nautical landmarks. Look out for the gibbet and hangman's noose hanging from the Thameside balcony.
The Prospect of Whitby; 57 Wapping Wall, London; +44 207 481 1095
Hampstead Heath Ponds, Hampstead
London's greatest park is so vast and wild it's not even a park – it's a gosh-darned heath. In typical heath fashion, it's a terribly romantic place where you can imagine Heathcliff and Cathy in a stolen embrace, or Colin Firth as Mr Darcy emerging dripping from the Men's Bathing Pond.
Highgate Men's Pond and Kenwood Ladies' Pond offer single-sex outdoor bathing and are open all year round, while the mixed pond – on the other side of the Heath – is open May to September. There's also a lido at the foot of the Heath's Parliament Hill.
Hampstead Heath swimming; +44 20 7485 3873
Like that? Try this: Tooting Bec Lido. At 100 yards long, this south London institution is the capital's biggest outdoor pool.
Tooting Bec Lido; Tooting Bec Road, London; +44 20 8871 7198
Rivoli Ballroom, Brockley
For anyone who's ever wanted to jitterbug the night away inside a "Twin Peaks" dream sequence, Brockley's 1950s-style Rivoli Ballroom is sumptuous, sexy and fully authentic. More than 100 years after it first opened its doors in 1913, the Rivoli still hosts regular cabaret evenings, pop-up cinema nights and jive parties.
Rivoli Ballroom; 350 Brockley Road, Crofton Park, SE4 2BY; +44 208 692 5130
Like that? Try this: The Troxy in Limehouse. The first feature this monster 3,520-seat art deco cinema screened was "King Kong," back in 1933. Now it's an ultraglamorous events space, with upcoming shows including a stop on RuPaul's Drag Race's world tour.
The Troxy; 490 Commercial Road, London; +44 207 790 9000
Crystal Palace Dinosaurs, Crystal Palace
Almost 140 years before "Jurassic Park," southeast London's Crystal Palace Park hosted the world's first dinosaur show.
Benjamin Waterhouse Hawkins's lifesize sculptures of prehistoric animals were – in 1854, five years before Darwin's "The Origin of Species" – based on the latest advances in the new science of paleontology. These days, we'd call these wonky beasts a good first effort.
Crystal Palace Park; Thicket Road, London; Darwin and the Dinosaurs audio trail
Like that? Try this: The family-friendly Horniman Museum, with its on-site petting zoo and eccentric collection of exhibits, including a preposterously over-stuffed walrus.
Horniman Museum and Gardens; 100 London Road, London; +44 20 8699 1872
King Henry's Mound, Richmond
Richmond Park is the largest of London's eight Royal Parks and is famously home to herds of Red and Fallow deer. But hidden away in Pembroke Lodge Gardens is a little hill offering a tree-lined view all the way to St. Paul's Cathedral, 10 miles to the east.
This is one of London's eight "protected views" of St Paul's, carefully tended by generations of gardeners and kept clear by building legislation that ensures no new constructions get in the way.
King Henry's Mound; Queen's Rd, Richmond, London
Like that? Try this: Harrow View Point. While there are plenty of incredible vantage points in the city, from Primrose Hill to Alexandra Palace, for a hillside amble all to yourself in a quiet corner of northwest London, there's Harrow View Point in Old Redding.
Harrow View Point; Old Redding; Harrow
Eltham Palace, Eltham
"Wolf Hall" meets "The Great Gatsby" at Eltham Palace, the medieval royal estate where King Henry VIII spent his boyhood and whose interiors were given an art deco makeover in 1933 by textile millionaire Stephen Courtauld and his wife, Virginia.
The supremely elegant interiors – including the curved entrance hall by Swedish designer Rolf Engstromer – were cutting-edge design and came with all the latest mod cons, but the Great Hall, 14th-century exterior and sumptuous grounds were all restored by the Courtaulds to their original glory.
Eltham Palace; Court Yard, Eltham, Greenwich, London
Like that? Try this: 2 Willow Road, a Modernist family home designed by architect Ernö Goldfinger in 1939 and occupied by him and his family for more than 40 years. And yes, he was the inspiration for the Bond villain Auric Goldfinger.
2 Willow Road; Hampstead, London