Editor's Note: CNN Travel's series often carries sponsorship originating from the countries and regions we profile. However, CNN retains full editorial control over all of its reports. Read the policy.
One of China's fastest-growing provinces, Guizhou has been steadily upgrading its offerings and is now one of the most promising travel destinations in the country.
From jaw-dropping superlative achievements to some of the most breathtaking scenery in China, here are nine reasons you should visit this southwest province before everybody else picks up on its allures.
Record-breaking caves
Already a popular tourist destination, Shuanghe Cave in Guizhou's Suiyang County is set to welcome a new wave of visitors.
After decades of exploration, explorers confirmed in March that Shuanghe Cave, stretching 148 miles (238 kilometers) long, has claimed the title of Asia's longest cave – a record previously held by Clearwater Cave in Sarawak, Malaysia.
The Shuanghe Cave Network is comprised of eight main caverns and more than 200 entrances.
During the 19 surveys carried out since the karst cave was discovered three decades ago, scientists have found a number of rare fossils (including those of an extinct saber-toothed tiger), underground landform features (including five rivers and waterfalls) and many cave-dwelling animal species.
Meanwhile, in Ziyun – another county in Guizhou – travelers will find Miao Room, the largest known cave chamber by volume in the world.
World's largest single-dish radio telescope
With a diameter the size of 30 US football fields, China's Five-hundred-meter Aperture Spherical Radio Telescope (FAST) – nicknamed the Eye of Heaven – is the world's largest single-dish radio telescope.
While it wasn't built for the purpose of seeking extraterritorial life, FAST's uber sensitivity and size mean it'll likely be the site of Earth's first contact with aliens. In fact, they're already searching for them.
Located in the lush natural basin of Guizhou's Dawodang Depression, FAST has already identified 11 pulsars – rotating neutron stars that are essential to answering questions about the universe.
FAST was completed in 2016. Its remote location was one of 400 places scientists surveyed over 10 years.
Why Guizhou? The egg-cup shaped valley is perfectly sized and the surrounding mountains provide a shield against radio frequency interference.
Though travelers can't visit the telescope, a 300-hectare Astronomy Science Tourism Park is planned for Hang Lung Village, five kilometers from FAST.
The park will feature 15 different astronomy-themed projects including a FAST visitor center, a dark sky park and an astronomical time village.
Brewer of China's national liquor
Moutai – a colorless baijiu distilled from fermented sorghum – is widely considered the de facto national liquor of China.
It's been the drink of choice at official banquets for decades – Richard Nixon and Barack Obama are among the many guests who have been served Moutai by Chinese leaders during their visits.
Named after the town producing it in Guizhou, Moutai is particularly popular during Lunar New Year, when its normal market price lifts to about $200 per 500-milliliter bottle.
Moutai even overtook LVMH Group in market capitalization as the most valuable luxury brand in the world in January 2018, right before the Chinese New Year holiday.
Fun fact: The vintage Moutai served to Kim Jong Un at a recent banquet in China was a rare version brewed in the 1980s and a coveted collector's item.
Moutai, the town, features baijiu-themed attractions including a museum park explaining the culture and history of the famous liquor. There's also a massive seven-story statue of a Moutai bottle.
Moutai Chinese Liquor Culture City, Hebin Road Central, Moutai; Opens daily 8:30 a.m.-5:30 p.m.
China's most beautiful waterfall
Plunging 70 meters and spanning 101 meters, Huangguoshu in Guizhou's Anshun county is one of the largest and most beautiful waterfalls in the world.
Tourists can get a close glimpse by walking along the 134-meter-long water curtain cave behind the fall.
This stellar attraction is part of a group of 18 waterfalls inside Huangguoshu National Park.
World's highest bridge
Would you cross the world's highest bridge?
Towering 1,854 feet above Beipan River, the Beipanjiang Bridge – connecting two cliffs in Guanling, Guizhou – is now the highest bridge in the world.
That's roughly the height of a 200-story skyscraper.
The bridge cost over $140 million and took more than three years to build.
World's largest natural Azalea forest
Every spring, millions of visitors flock to Guizhou's Bijie City for one colorful reason – azalea blossoms.
Dubbed the world's largest azalea forest, Baili Azalea Forest Park (or Hundred-mile Azalea Forest Park) covers more than 130 square kilometers.
Showcasing more than 20 species of rhododendron, the natural flower park is subdivided into zones including a vacationing and leisure zone, a camping zone and a reserve development zone.
Baili Azalea Forest Park, Pudi, Dafang County, Bijie, Guizhou
700,000 blooming cherry trees
In addition to Baili Azalea Forest Park, Guizhou is also home to what's claimed to be the largest cherry blossom plantation in the world.
Guian Cherry Garden near Guiyang, the capital city of Guizhou, is carpeted by a staggering 700,000 blossoming cherry trees every March, attracting more than a million visitors to the sea of pink.
UNESCO-listed karst landscape
One of the most spectacular landscapes in the world, the 176,228-hectare South China Karst spreads across various provinces including Yunnan, Guangxi, Chongqing and Guizhou.
It was inscribed as a UNESCO World Heritage Site in 2007.
The section of South China Karst in Guizhou's Libo county is blanketed with high conical karst peaks and tower karsts and is even considered a world reference site for cone karsts.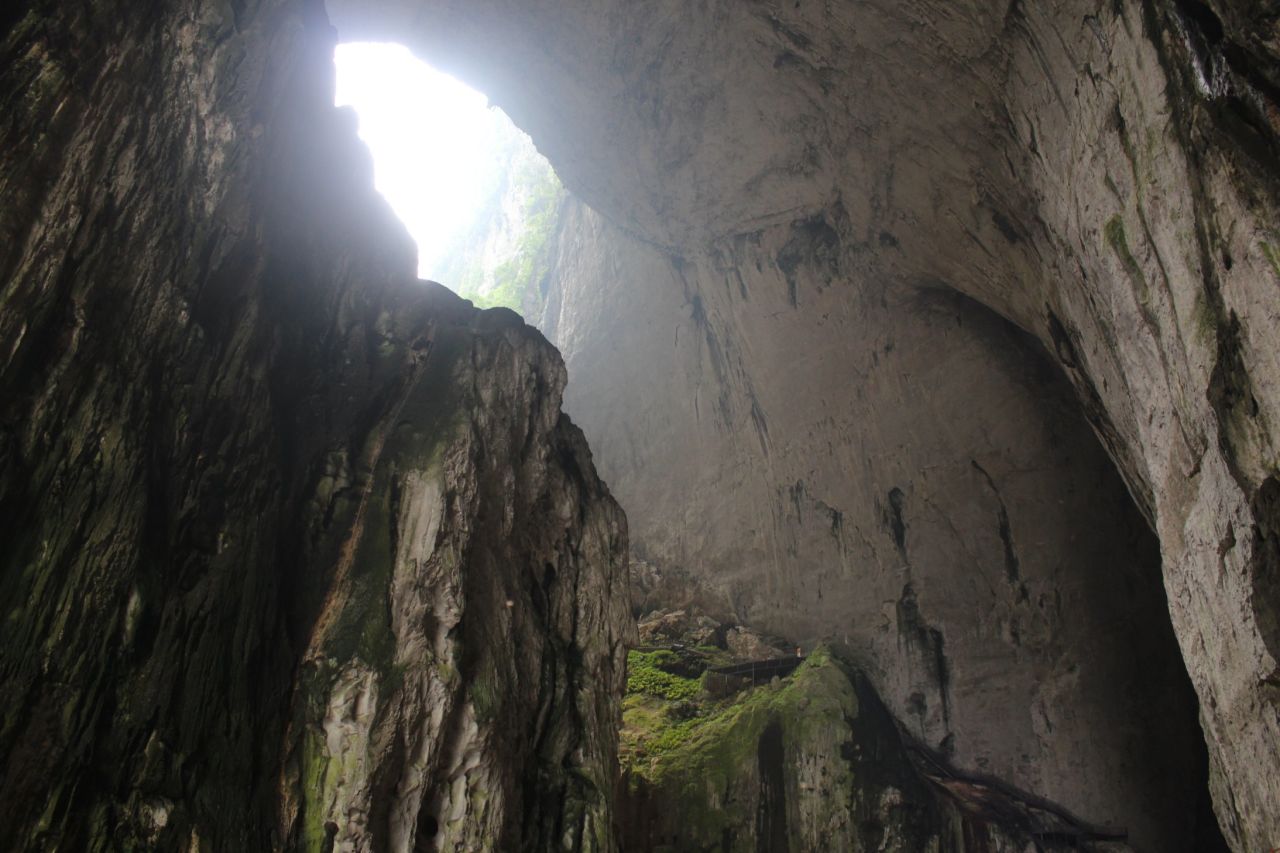 Beautiful Guizhou: Images from China's most underrated region
Big data and China's first virtual reality theme park
In recent years, Guizhou has established itself as the country's big data hub.
Last year, US tech giant Apple made Guizhou the home of its first Chinese data center.
Long before that, mammoth corporations including Alibaba and Amazon had already built their data centers in the province, along with thousands of other big data companies.
The appeal? Since 2014, the province has made multiple strides in big data innovations. Meanwhile, its mild climate supplies plenty of cool air to data center servers, thereby reducing energy consumption.
"The big data industry is a perfect opportunity for Guizhou to develop its economy without introducing polluting industries, while helping its poor population shake off poverty," Jing Yaping, deputy director of the provincial big data development authority, told Xinhua.
But while travelers can't really experience the big data phenomena on their own, they can hit up China's first virtual reality theme park. which just opened at the end of April.
Located outside of Guiyang, the Oriental Science Fiction Valley features 35 virtual reality attractions ranging from roller coasters to sci-fi simulators and interactive shooting rides. There's even a 53-meter robot statue for visitors to bungee jump off of.