Earlier this year, Gwendolyn Bruhn, 94, traveled from her home on the Hawaiian island of Oahu to the Hawaiian island of Maui to attend her great-granddaughter's wedding.
In the inter-island departure terminal at Daniel K. Inouye International Airport in Honolulu, Bruhn came face to face with an unexpected surprise. On the terminal wall was a large photograph from 1947, depicting Hawaiian Airlines flight attendants lined up in front of an aircraft, each wearing the uniform of the time: crisp shirt, mid-length skirt, flowers pinned in their hair.
For Bruhn, this photograph wasn't just an interesting glimpse into aviation history. It was a glimpse into her own past.
"I thought, 'Oh my god,'" Bruhn tells CNN Travel. "I saw my picture, as I was years back."
Bruhn is one of the Hawaiian Airlines flight attendants in the photograph. She's on the far right, in the top corner of the frame, gazing just past the camera.
"I was surprised and flattered that a picture of me was on the wall," she says today.
Bruhn was traveling to Maui with some of her family members. After they spotted the photograph, Bruhn's granddaughter, Samantha Beaumont, asked the passenger sitting underneath if they would mind temporarily moving so the family could take a picture of Bruhn with her younger self.
The passenger obliged, and Bruhn posted for the photograph, adding another unexpected chapter to her Hawaiian Airlines legacy.
"I didn't expect to see myself as I looked years back as a flight attendant, but I was very honored," says Bruhn.
Getting her air legs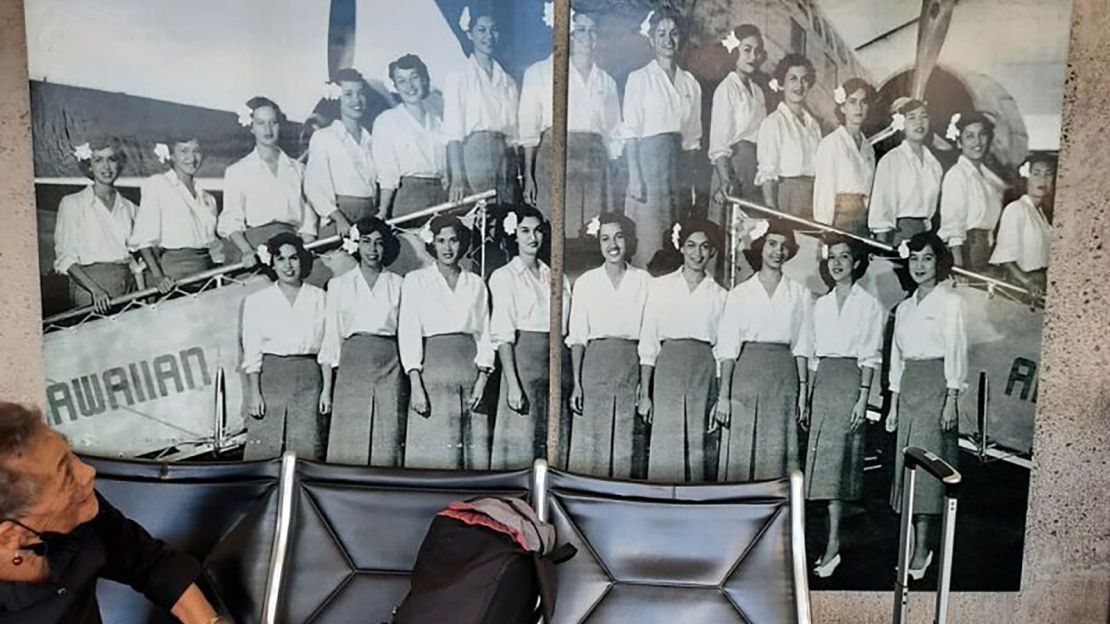 Hawaiian Airlines launched in 1929, just a year after Bruhn was born. Bruhn was a flight attendant for the airline from 1947 to 1950.
Bruhn is her married name – when she started flying, aged 19, she was still Gwendolyn Kamai, living in Honolulu with her parents and siblings.
While today Hawaiian Airlines transports passengers across the world, in the early years the carrier only flew within Hawaii. But the airline was already making waves, connecting islands by air that had previously only been reachable by boat.
Bruhn was thrilled when she learned, via a flight attendant friend, that Hawaiian Airlines was looking to hire more staff.
"At that time they wore beautiful gray uniforms and yellow blouses, and they were very striking, and I'd admired them from afar, not knowing that someday I was going to be lucky to be wearing that same uniform for Hawaiian Airlines," she recalls.
Before Bruhn got the job, she'd never stepped on board an airplane in her life, but she brushed over this lack of flying experience in the interview.
"They asked me if I had ever flown on a plane, and I thought I better say yes," she recalls. "And then they asked me, "Were you ever air sick?" And I said, 'Oh no, I was great.'"
On Bruhn's first flight, she fought back nausea as the propeller aircraft made its way from Honolulu to the town of Hilo. She did her best to hide her discomfort from passengers.
"I'd tell myself, 'I can't show them that I'm airsick, because I'm supposed to be someone they can trust," she says.
Despite this shaky start, Bruhn loved her job from day one.
"I was so honored to be accepted as a flight attendant," she says.
She adds that her nausea gradually faded "as I got my flying legs."
Bruhn worked all the routes on offer at the time, and found something to enjoy in all of them.
"The Hilo flight was long, but it was very interesting," says Bruhn. "The volcano would erupt sometimes, there were times that the captain could not go over, but near enough, so that the passengers would be able to see the lava erupting."
She loved flights to and from Hawaii's Big Island.
"It was known for its beautiful flowers and leis, whenever someone would come on board, they would always have a beautiful lei on," recalls Bruhn.