Editor's Note: CNN Travel's series often carries sponsorship originating from the countries and regions we profile. However, CNN retains full editorial control over all of its reports. Read the policy.
The dancing begins almost as soon as the sun sets on Sanya, in southern Hainan.
Dozens of locals – some in costume, some without – set up in the wide paved areas beneath the palm trees, along the famous long white shoreline of Sanya Bay.
Then, to the beat of an electronic boombox or traditional Chinese performers holding drums and cymbals, the synchronized movements begin.
Watching the dancing as the waves break on the shore, on a balmy summer evening, it's easy to see why Hainan, an island and the southern-most province in China, has long been known in advertising campaigns as the "Hawaii of China."
But only a few hundred meters down Sanya Bay, a different side of Hainan is glittering and glowing in the growing dark.
On a newly reclaimed island on one edge of the bay, the imposing towers of Phoenix Island are projecting a light show.
Giant diamonds sparkle on the sides of the massive hotel, followed by hundred-meter high dolphins splashing across an animated sea.
It's just one of a growing number of extravagant Hainan resorts and hotels, each trying to out do each other in novelty and grandeur.
'A little dream to go to Hainan'
The next day, dressed in full suits and glamorous dresses beneath the beating tropical sun, couples pose to have their wedding photos taken beneath the palm trees and beside the white sand.
Around them, dozens of tiny white crabs scuttle from hole to hole along the beach, an example of the natural beauty which has lured the couples here to make Hainan a permanent part of their memories together.
Wei Kailei, dean of the College of Tourism at Hainan University, tells CNN the island is a "world-class attraction."
"It is well known as an island of leisure, vacation and longevity," he says. "The blue sky and pure water in Hainan are even more precious, contrasted with the rest of the nation plagued by smog."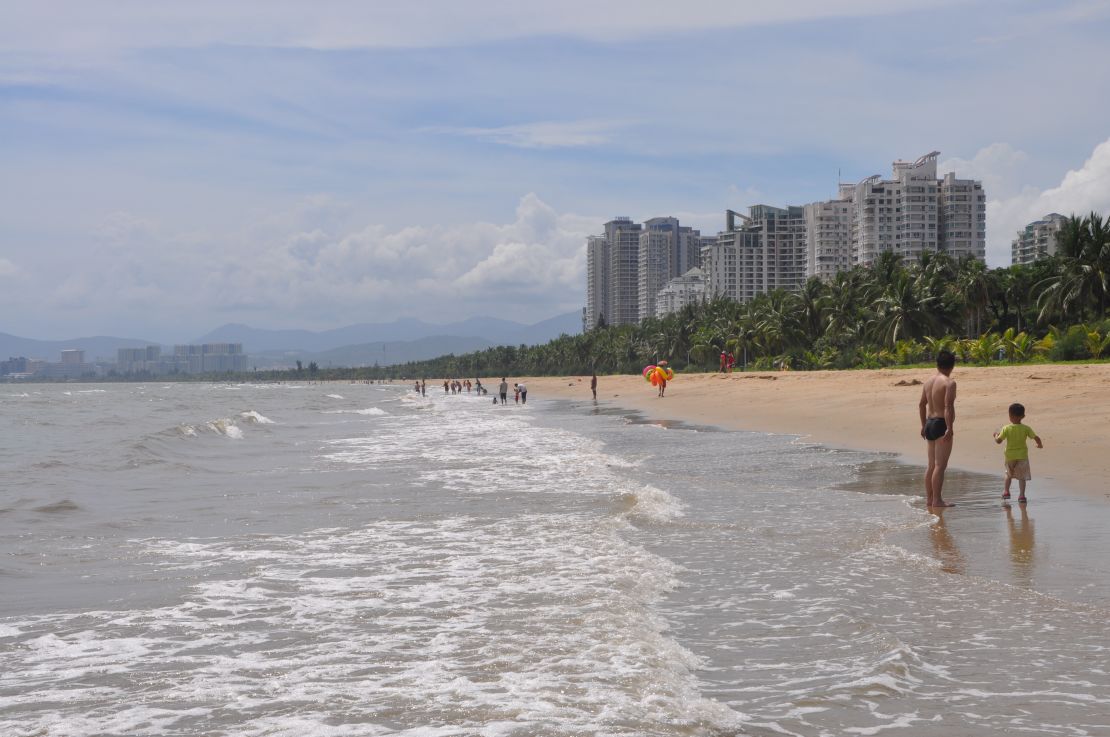 Sichuan native Thomas Liu brought his wife and his son to Hainan all the way from their central China hometown of Chengdu.
"For (my son) to see how broad the sea is and have a beach where he can play? It's great for him," he says, while walking along Yalong Bay.
"I think many people, when we are young, we know that Hainan is a very beautiful place, so I think for many people they have a little dream to go to Hainan."
Despite the island's natural beauty, however, Liu says it's becoming a little too popular.
"There's too many people here, from now I think all over the world and all over China," he says.
According to the provincial statistics bureau, more than 60 million tourists made trips to Hainan in 2016, up 12.9% compared to the previous year.
But the island and its main cities of Haikou and Sanya are popular tourist destinations not just for Chinese but also for many Europeans.
Valter Julia, a Russian citizen from the city of Norilsk, says she and her partner came to Hainan nine years ago for the first time and, after they had a son, they'd wanted to return.
"I think it is a good place to have a rest … Very special and very pleasurable place," she says.
'Oriental Dubai'