It's the island paradise in southern China referred to by people across the country as "the Hawaii of China."
But it isn't Hainan's natural beauty that's catching the eye of visitors to the island's major cities of Sanya and Haikou in recent years.
Spectacular new hotels and entertainment complexes are springing up everywhere.
"Design has become a really key and important feature of new projects entering the market," architect Scott Myklebust, whose firm M CO Design has been creating buildings for Hainan since 2005, tells CNN.
"It's such a competitive market, there are so many hotels that are being developed and built – finding something that differentiates you from all the others is key."
If you drive along Sanya's enormous, sandy bay you'll see the huge, curved structures of Phoenix Island towering above the artificial island built especially for them.
Ma Yansong, the founder and principal partner at Mad architects, told journalists in 2010 the design for Phoenix Island was iconic, designed to help sell Sanya "like a business card."
"It is an island in the sea. Architecture on the island should look like it grew out of the sea. They should be curvy, just like coral or sea star. It feels like they are a group when they are pieced together," he said, according to Hainan Daily.
Entering the city from the east though, you could drive past the half a dozen enormous, flat, tree-like buildings of the Beauty Crown Grand-Tree Hotel, which opened in 2016 in Sanya's city center.
Further north, flying into Haikou, you might see the beginnings of an enormous ying-yang symbol, which developers say will be a massive entertainment complex known as the Nanhai Pearl.
And that's just the start. Many more eye-catching structures are being planned for the island.
"The market has been an arms race to develop the next most interesting or extreme project," says Myklebust.
Myklebust isn't just a casual observer in Hainan's architectural "arms race."
Spread over an intimidating 440,000 square meters on Lingshui Bay near Sanya is M CO Design's sprawling Aloha hotel and entertainment complex.
Inspired by the famous Waikiki waterfront in Hawaii – a fitting design for the "Hawaii of China" – the resort will feature thousands of hotel rooms, serviced apartments and villas for all ranges of guests.
"If you look at the hotels along Waikiki they're right up against the water, and then at the back, along the road, is basically a commercial and retail district … It's the biggest thing we've ever built," says Myklebust.
Already in its third stage of development, the project is likely to be completed around 2019, adds the architect.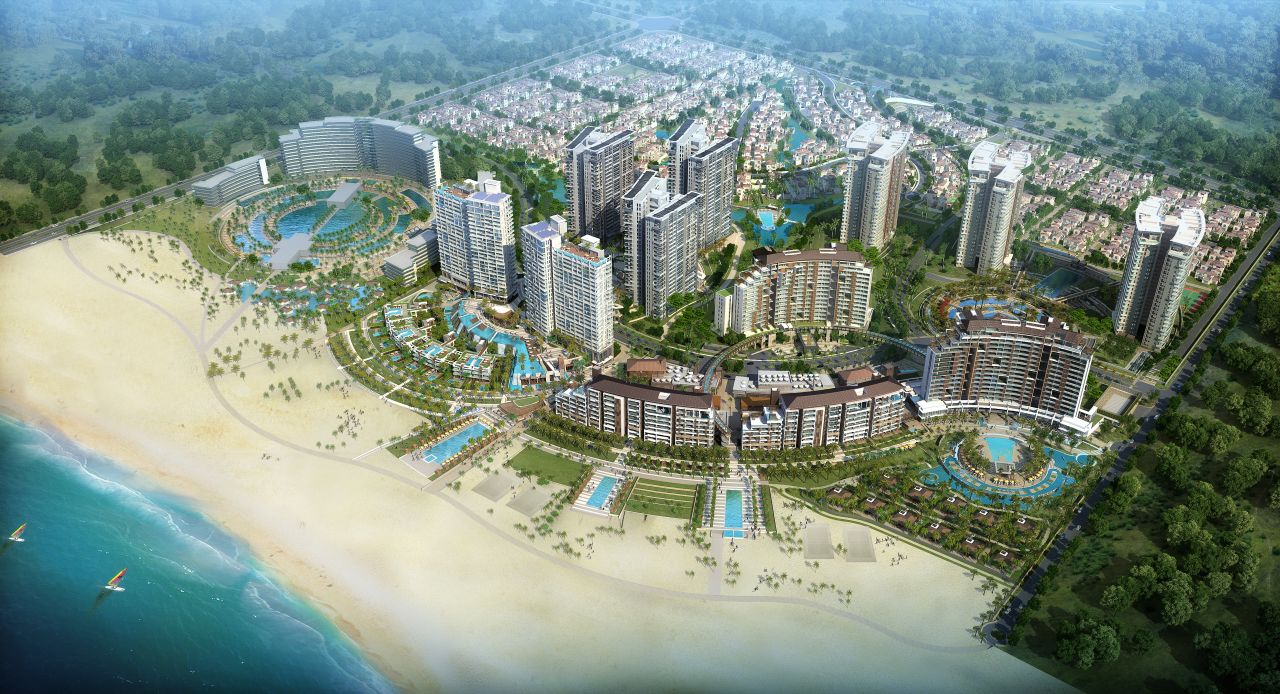 A flower in the ocean
Few projects planned for Hainan are as spectacular as the artificial island being constructed off its western coast though.
Unlike Phoenix Island and Nanhai Pearl, the Ocean Flower Island isn't located close to one of Hainan's two major cities, but it certainly doesn't lack in grandeur.
Spread across multiple artificial islands and built by Evergrande, one of China's largest property developers, the project is advertised to contain theme parks, shopping malls, museums and an opera theater as well as a massive conference center.
One of the designers on the project, LAVA founder Chris Bosse, says its sheer size made it difficult to design.
"The challenge of the project … is to build something so big and so artificial and make it feel natural," he says.
"Our inspiration generally comes out of nature, out of geometry from nature and process from nature and things you see and feel and experience in nature."
To that end, Bosse's design for the initial stage of the island was a lotus flower, with five separate petals coming out from the center.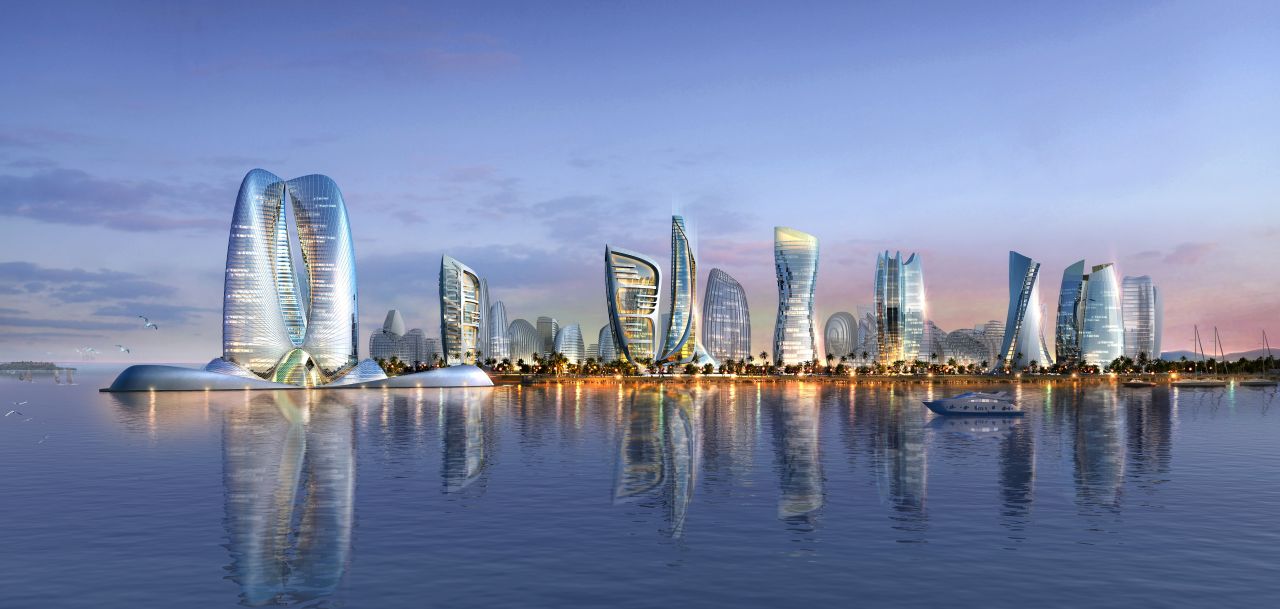 Bosse, who has worked as an architect extensively across China, including during the 2008 Beijing Olympics, says Hainan Island itself has something special that needs to be factored into local designs.
"It struck me as this amazing, beautiful, natural place but with a great future and a future that will involve a lot of people and a lot of development," he says.
"To try to bring these two things together without destroying the land will be a challenge."
'You're looking for miles'
Bosse isn't the only architect to try to weave Hainan's natural beauty and assets into their plans.
Elsewhere on Hainan, Paramount Hotels and Resorts is planning an enormous five-star hotel, complete with shops, restaurants and even a waterfall.
Mike Stewart, director of design at YWS Design & Architecture, says Paramount Boao's design is based on a flower.
"(But) we wanted to see this was more the budding stage of the flower, this was meant to show the growth and the future potential for this whole area," he tells CNN.
Between the large tower of rooms at the rear and the luxury apartments at the front, close to the beach, there's a large shaded area where guests can paddle man-made rivers in a canoe or shop and eat beneath the simulated canopy.
"When a breeze comes through, (the canopy) will angle to draw it down into this shaded area. The idea is that, with the pattern on there in the shape of leaves, it feels like a tree canopy when you're underneath," says Stewart.
But it isn't all based around nature. Stewart says they've included a special cultural touch for visitors heading down to the VIP apartments – a Chinese tea house floating on the lip of the waterfall.
"The tea house is an open structure, very traditional in its appearance but there are no walls so when you walk through the glass you're looking over the waterfall and down the vista of the beach, so you're looking for miles," he says.
Stewart feels guests and developers on Hainan and around the world increasingly want vacation destinations that offer statement experiences.
"But we're not trying to design architecture for architecture's sake. We're trying to design it so people feel proud of spending their money in that location," he says.
A spokesman for Paramount Hotels and Resorts confirmed to CNN the project was on track to open around 2020.
Projects left in limbo
The tide of projects and ideas doesn't show any signs of slowing down at the moment.
But as with all large, spectacular projects inside China there's never any guarantee construction will be completed, given the growing weight of Chinese debt, political intervention and general business uncertainty.
In August 2016, HNA Group held a design competition for the master plan for their man-made Nanhai Pearl artificial island off Haikou, which was won by New York-based Diller Scofidio + Renfro.
But as of now, the Haikou Planning Bureau said they hadn't yet received a final design for the enormous island.
Indeed, for some of the architects who've designed the majestic structures soon to be dotting Hainan Island, sometimes they can just hope one day they'll see their dream realized.
"You never know for a while … (In China) it's a very on-again, off-again process so you never really know where they're going to end up with it," says Stewart.
"I hope they do it, it'd be great."
CNN attempted to contact Evergrande and HNA Group for this article but received no response.