It's magical. And it's very loud.
That moment when a helicopter lifts off is a sweet sensory overload, with turbine engines screaming and the main rotor beating the air into submission just a few feet above your head.
But coddled in a good set of noise-canceling headphones or cocooned in a super-soundproofed cabin, you can experience the wonder of rotary-winged flight while marveling at the spectacular views unique to heli-sightseeing.
Here's four of our favorite North American heli-tours.
Québec City, Québec
GoHelico is based at Québec City Jean Lesage International Airport (YQB), and provides tours over the 400-year-old UNESCO World Heritage city and region.
"The most popular tour is 'Québec, its river, its landscapes,' which is a 25-minute flight," says Stéphanie Huot, general manager, GoHelico.
"We do operate year-round – summer is the busiest season, our fall foliage flights are spectacular, and our passengers can even experience our famous winter Carnaval de Québec from the air!"
Audio guides are available in many languages, and GoHelico's pilots are English- and French-speaking.
The pilots love to share their knowledge of the region during a flight, while passengers get photos of the grand Château Frontenac hotel, the Plains of Abraham, and Québec's walled Old City.
And for those would-be aviators who are itching to get their hands on the controls, GoHelico offers a Pilot for a Day intro to flying a helicopter.
Best flight: Québec, its River, its Landscapes; CA $189 per person (US $138)
Niagara Falls, Ontario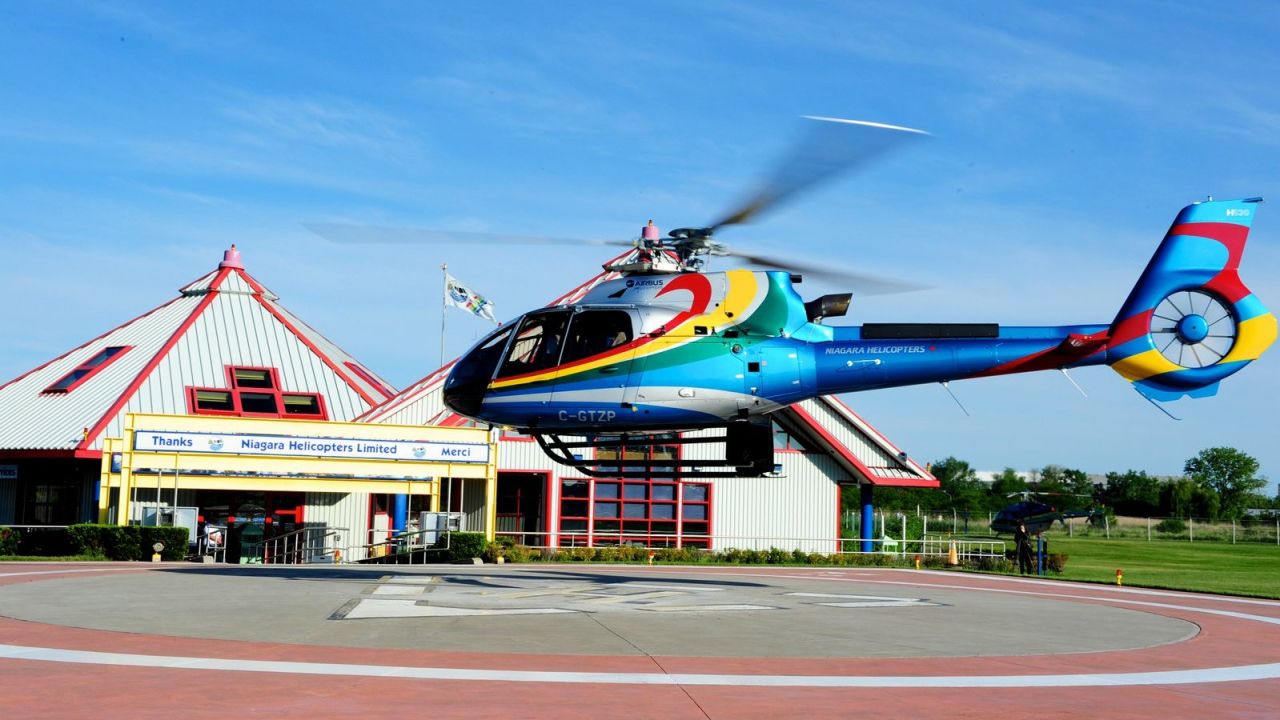 The thunderous sound of thousands of cubic meters of water plunging over Niagara Falls every second draws millions of visitors to the Falls and the surrounding region annually.
The Falls straddle the Canada-United States border along the Niagara River between Lake Erie and Lake Ontario, and last year, close to 100,000 people experienced an aerial tour of the Falls with Niagara Helicopters.
"As soon as you take off, you can see the path the glaciers took to carve out Niagara Falls," says Anna Pierce, vice president and general manager, Niagara Helicopters. "Just seeing all that water rushing from one lake to the other is awe-inspiring."
In operation for over 50 years, Niagara Helicopters operates a fleet of four Airbus Helicopter H130s. These state-of-the-art machines were designed with heli-tours in mind, with air-conditioning and vibration control, and for enhanced safety on the ground, a fully-enclosed tail rotor called a "fenestron."
"The best part is the seating," says Pierce. "There are three seats in front with the pilot, four in the back that are raised stadium-style, and the views out of the huge windows are incredible."
And if flying over the Falls isn't enough of a treat, Niagara Helicopters will also fly guests to a local vineyard for a tour, wine tasting, and a specially prepared meal. "The ice wines are spectacular," says Pierce.
Best flight: Our Classic Tour; CA $144 per person (US $105)
Whistler, British Columbia
It's about a two-hour scenic drive to Whistler Village along the aptly named Sea to Sky Highway, from Vancouver's multi-award-winning YVR airport. Whistler is home to the world-renowned Whistler Blackcomb ski resort, the focal point of the area's year-round outdoor adventures.
Just up the road from the Village is the Whistler Heliport, where Blackcomb Helicopters takes guests on heli-tours over the region's Coast Mountains.
Blackcomb's most popular tour is the BC Experience, which includes a flight over the ski area and, weather permitting, a landing on a 12,000-year-old glacier on Rainbow Mountain.
Even in the middle of the summer, passengers can have a snowball fight or make snow angels during their 15-minute stop on the glacier.
"We've even flown 300 people to the top of a back-country glacier for a spectacular champagne cocktail party," says Jordy Norris, sales and marketing for Blackcomb Helicopters. "And last year, we flew more than 20 wedding parties to the glacier for an unforgettable ceremony and photos!"
Best flight: BC Experience; CA $285.00 per person (US $209)
Las Vegas, Nevada
The Grand Canyon is one of the Seven Natural Wonders of the World, and its dimensions are staggering – 277 miles long, between 10 and 18 miles wide from rim to rim, and with an average depth of one mile.
The vast majority of visitors to the Canyon enjoy incredible views from locations on the North and South Rim, gazing down to the Colorado River, far below. But for the more adventurous – and well-heeled – Las Vegas-based Maverick Helicopters may very well have the ultimate Grand Canyon heli-tour.
"It's two and a half hours of pure experience from the time the helicopter lifts off to the time it returns," says Bryan Kroten, vice president of marketing, Maverick Helicopters.
"As you depart, you'll head towards Lake Las Vegas and Lake Mead. Then we do a giant 'S' turn over the Hoover Dam, so passengers on both sides of the helicopter have a perfect view."
After flying for about 45 minutes over the Mojave Desert, the helicopter begins to descend into the Canyon, dropping 3,500 feet to the Canyon floor for landing.
"Guests are able to get out and explore for a half hour, enjoy some bubbly and snacks, and take the all-important selfies," says Kroten.
The return trip flies through the brilliant red rock formation called the Bowl of Fire, which is accessible only by helicopter. Then the heli-adventure concludes with a pass along the spectacular Las Vegas strip, just as the city's lights come on at sunset.
Maverick Helicopters has a huge fleet of 47 Airbus Helicopter EC130s and H130s, was a launch customer for the machine, and worked with Airbus on design enhancements to what has become the world's preferred sightseeing helicopter.
Best flight: Wind Dancer – Sunset; US $574.00 per person
Howard Slutsken is a regular contributor to aviation magazines and blogs, and is based in Vancouver BC.