Pick up one of Nancy Chandler's vibrant Thailand maps and you'll be astounded by the depth of detail, eye-catching designs, quirky annotations and original recommendations.
That's exactly how expats Isabelle Der Hagopian and Julie Torreton felt when they encountered the popular Bangkok map for the first time.
Inspired by the colorful graphics and local know-how, the pair set out to design a similar guide for Hanoi.
"When we started, we would drive around on a motorbike and one of us would jot down notes," Der Hagopian, a Swiss doctor, tells CNN Travel.
"We were just amateurs, doing it for fun – not for the money. We did everything with no budget and drew the first maps by hand."
The duo's first "Xin Chao Map of Hanoi," printed in 2010, caught the attention of Nancy Chandler's daughter Nima, who took the reins after Chandler passed away in 2015.
"We were so excited (to hear from them)," says Der Hagopian. "The Nancy Chandler map of Bangkok was our inspiration, our ideal map."
The two teams joined forces, and Der Hagopian and Torreton became the authors of the inaugural "Nancy Chandler's Map of Hanoi" in 2013.
"What we wanted to highlight were the places that did not appear anywhere else – our preferences, our personal advice," says Der Hagopian.
So which ones are her favorite?
Whether you're looking for secret spas or sunset walks, terrace bars or street food stalls, Der Hagopian shares a shortlist of hidden Hanoi destinations with CNN Travel.
THINGS TO DO
Long Biên Bridge
"I recommend going to the Long Biên Bridge, which was inspired by Alexandre Gustave Eiffel (of Eiffel Tower fame) at sunset," says Der Hagopian.
"Built in 1902, this historic bridge has outstanding views of the rural Banana Island in the middle of the Red River. I usually ride my motorbike across, but you can walk it in about 45 minutes.
"What really strikes me on the bridge is the light. It's not the light that you will find in other big cities in Southeast Asia. The light here, maybe because of the level of humidity, is soft and really gorgeous.
"The bridge itself is interesting because it almost doesn't feel strong enough to support you. Like maybe it will break. It's a little scary but beautiful at the same time."
Long Biên Bridge, Cau Long Bien, Hoan Kiem, Hanoi, Vietnam
Lenin Square
"This is a small square that's very popular at night for children and families. They rent electric cars and enjoy the area, like a carnival.
"But my recommendation is to go in the early morning, when the elderly residents do healthy activities, such as play badminton or practice tai chi in the park.
"It's calm, peaceful, and very quiet. It's a nice experience to just go there and enjoy the atmosphere with the soft lights – it's almost like being in a movie."
Huong Sen Healthcare Center
"Back when we were doing research for the map, we would spend so much time riding around that we were so tired afterward.
"We would often stop by local spas to try them out. This one I really liked – it's a really good one.
"It's a traditional Vietnamese way to experience the spa and takes about 2.5 hours in total.
"You go inside, have a shower, then you go to a bath in a private barrel, and then get a massage.
"They give you a herbal tea to drink and you put your feet in a huge basin of ginger and herbs. Even during the massage they will put a hot herbal compress on you … it's just amazing.
"You can ask for a private room for the massage if you like, otherwise you will be in a large room with 15 beds (women and men are separate) and it can be a little bit noisy."
Huong Sen Healthcare Center, 68 An Dương, Yen Phu, Hanoi, Vietnam; +84 24 3927 1330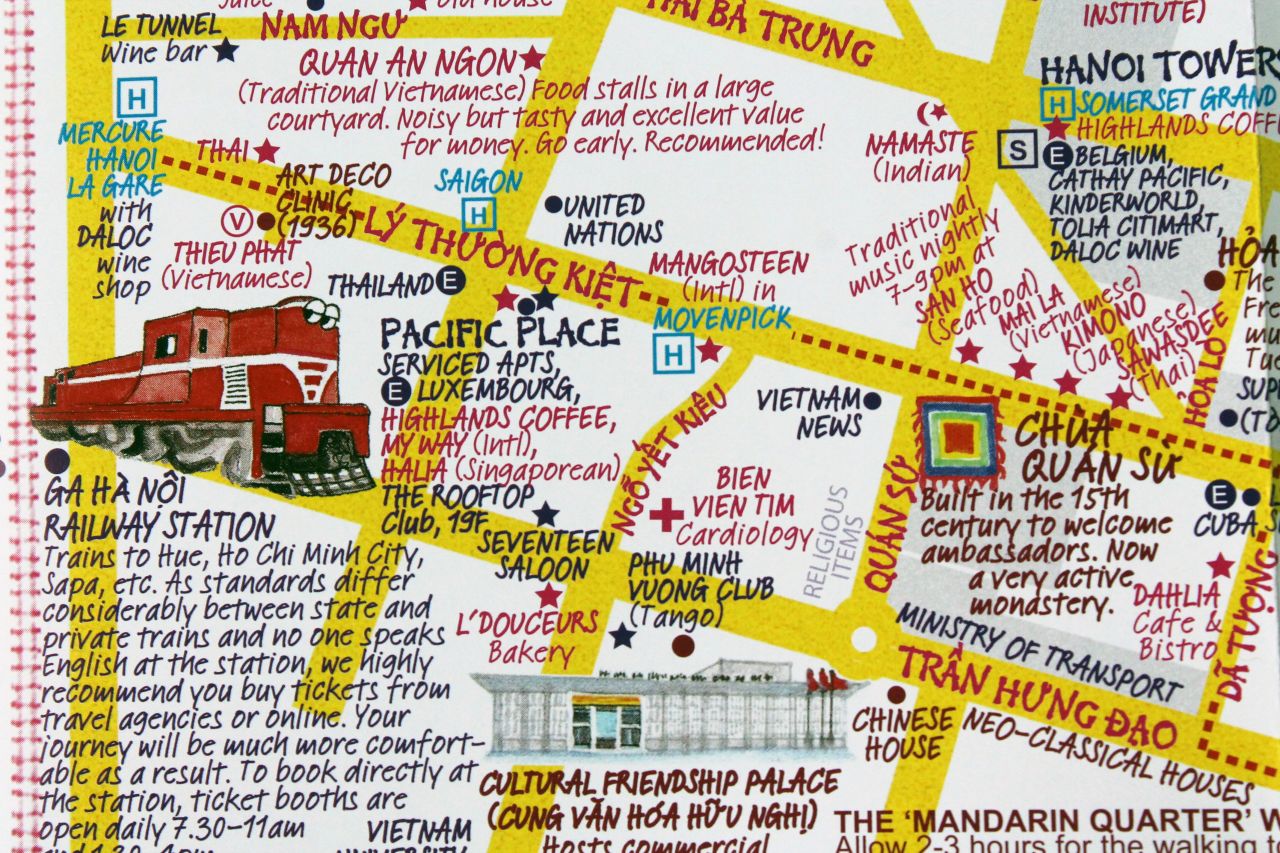 Cho Hom Market
"This multi-level market is my favorite. First of all, the building is beautiful – it's late modernist construction built in the '90s.
"When you enter, it feels like its own city inside – there's life everywhere. All of the vendors live there and they know each other, so the atmosphere is very convivial.
"Upstairs, there's a dedicated fabric market with colorful textiles and tailor vendors. Downstairs, there is a wet market on the ground floor, fruit vendors everywhere, and lots of coffee shops up near the roof garden on the third floor.
"You can sit down and enjoy a coffee, or a Vietnamese tea, and try local snacks downstairs in the middle of the fruit market – and just watch the action and the ladies selling the fruit, watching this life in Hanoi.
"What I like the most in Hanoi … is just to go everywhere, to be seated with a cup of the local café sua da (iced coffee with condensed milk) and just look at people. A lot of life happens outside – you can just be seated and things will happen."
Cho Hom Market, 149 Pho Hue St, Ngo Thi Nham, Hanoi, Vietnam; +84 24 3825 6172
WHERE TO EAT
Phở Thìn
"Trying street food is a really important part of understanding and experiencing Hanoi culture. People here love food. They are passionate about it and very picky.
"They won't eat at restaurants unless they're very good. So, if you see an empty street food restaurant – don't go.
"While in Hanoi you must eat the national noodle soup: Phở, usually made with thin slices of beef, a slow-cooked beef broth and spices like cinnamon, anise and ginger.
"There is not a week that goes by where I don't eat at least one bowl of phở. I'd suggest a local stall called Phở Thìn.
"It's just one lady who has been doing the same soup for years. She has no fridge, so she goes every day to the market and the food is always fresh."
Phở Thìn, 13 Pho Lo Duc, Quan Hai Ba Trung, Hanoi, Vietnam; +84 4 3821 2709
Bánh Cuốn Thanh Vân
"Bánh cuốn is another street food you should try – it's a steamed rice flour pancake with minced pork (or chicken) and mushrooms inside. This is specific to Hanoi.
"Try it at Bánh Cuốn Thanh Vân – the rolls here are light and the mushroom flavor explodes inside your mouth. It's served with just a fried onion, so it has a nice crispy texture."
Bánh Cuốn Thanh Vân, 81 Le Van Huu, Hanoi, Vietnam
1946
"This local Hanoian restaurant is built inside a heritage building and, when you go, it really feels like you're dining in the past.
"I can't suggest just one special dish. I usually order half the menu and share with friends, but I do like the wild pork and some great clams with lemongrass.
"It's hidden on a tiny road that cars can't even drive down. It's easy to find if you're looking for it, but you probably won't see it otherwise."
1946, 3 Lane Yen Thanh, 61 Cua Bac St, Ba Dinh, Hanoi, Vietnam; +84 24 6296 1946
Quan Kem Caramen
"Quan Kem Caramen is a nice place to go on summer evenings. A hundred people will be outside the small cafe, either stopping on motorbikes for takeaway or sitting on small stools and eating outside.
"The best dish to get here is crème caramel, which has its origins in French heritage from Hanoi's time as a colony.
"It's like the French version, but there is a small taste of coffee that is really delicious.
"They also have other desserts, like fresh mango with ice, coconut ice cream and coconut jelly. They're all worth a try."
Quan Kem Caramen, 29 Hang Than, Ba Dinh, Hanoi, Vietnam
WHERE TO DRINK
Manzi
"Manzi is an art cafe and bar set inside a French colonial villa. It's run by young Vietnamese who are very interested in contemporary art and the creative lifestyle in Hanoi.
"They organize a lot of exhibitions with Vietnamese artists and live concerts, talks, and so many events.
"There are a lot of young artists doing creative things in the city, but you don't always know how to meet them. But they're always at Manzi.
"The place is always really active and it's a great mix between local artists and creatives, as well as foreigners who are interested in this side of Hanoi."
Manzi, 14 Phan Huy Ich, Nguyen Trung Truc, Hanoi, Vietnam; +84 24 3716 3397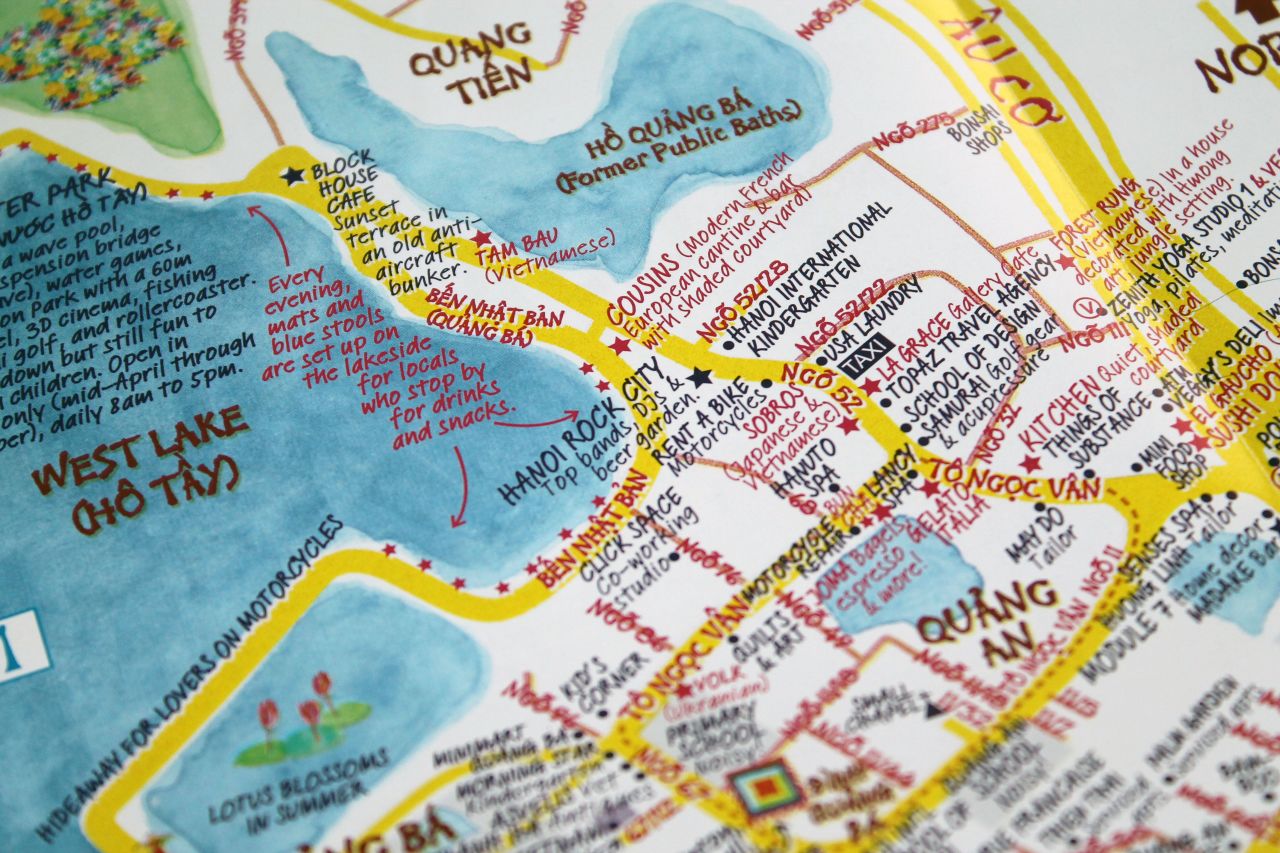 The Summit
"The Summit terrace bar is on the 20th floor of the Pan Pacific Hanoi (formerly the Sofitel Plaza)."
"The hotel itself is a tower and not very charming, but the view from this bar is just stunning. You are above the Red River, the lakes, and you can totally understand the geography of Hanoi from above.
"When you just arrive, it's hard to totally wrap your head around where things are and how the city is organized. So a visit to this bar will give you an idea of the lay of the land, and how green the city is.
"Of course your cocktail will be a bit expensive, and the decor is a little bit old-fashioned – it reminds me of the '90s – but I kind of like that."
The Summit, Pan Pacific Hanoi, 20/F, 1 Thanh Nien Rd, Ba Dinh District, Hanoi, Vietnam; +84 24 3823 8888
Unicorn Pub
"For the best cocktails, I recommend Unicorn Pub where we have enjoyed so many great parties."
"The bar is a teeny, tiny, dark little place with a Vietnamese owner. The bar became known in Hanoi because of the 'phở' cocktail."
"It is honestly delicious. You have to try the soup first, but then try the cocktail. The drink contains lots of the spices that they use for the soup – cinnamon, lime, and some chili – but it's sweeter."
Unicorn Pub, 2 Hang Than, Nguyen Trung Truc, Hanoi, Vietnam; +84 98 121 0752
WHERE TO SHOP
Ha Truong
"Ha Truong is a famous Vietnamese designer – they call her the 'Vietnamese Coco Chanel' in the news. I love what she is doing.
"She changes her collections every year and is always trying to improve, studying in Paris and trying to enhance the quality – which is already amazing.
"Her designs are less expensive than Europe, of course, but the quality is all done by hand and they're all incredibly elegant."
Ha Truong, 37 Xuan Dieu, Tay Ho, Hanoi, Vietnam, +84 4 3715 4345
Chula Fashion
"This is an interesting shop. It's run by a Spanish couple – he is an architect and she is a designer. Together, they have made this gorgeous boutique – it feels like you're walking into an old pagoda. Then they design their dresses to be really original, incorporating inspiration from Vietnam.
"It is a colorful boutique with a familial atmosphere. You can order a coffee and there's a courtyard, so you have this relaxed feeling among the creative designs.
"Walking to the shop is also very enjoyable, because it's located near Tay Ho Lake where there's a lovely promenade and lots of little coffee shops."
Chula Fashion, 43 Nhat Chieu, Nhat Tan, Tay Ho, Hanoi, Vietnam; +84 24 3710 1102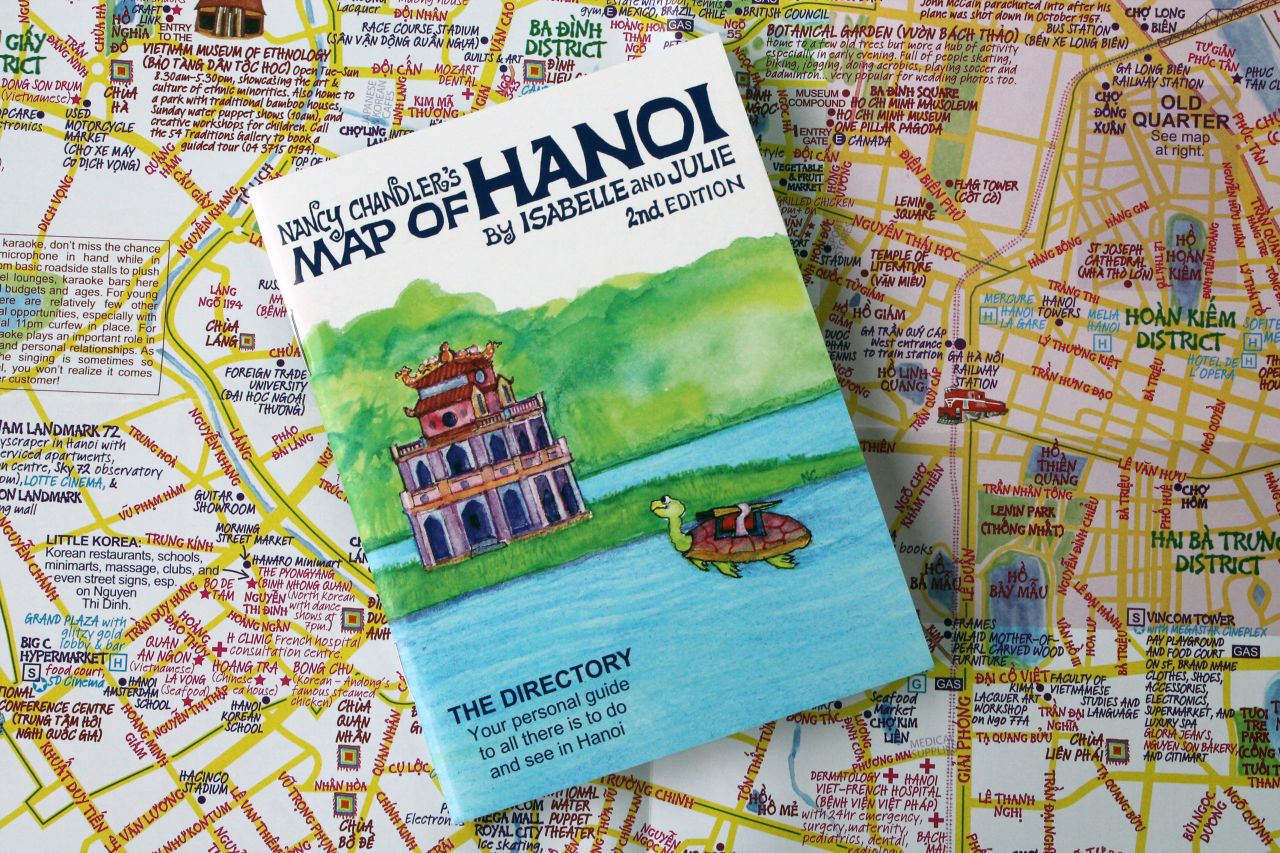 Atelier Pascale
"To find high-quality lacquer boxes and handicrafts, you can visit this small factory – just a little bit outside of the city."
"It's not that far, but most tourists don't know about this place. It's more of a factory, with a low-key shop next door, but there is an area where you can order custom works."
"Don't expect to find a really fancy store here, but the people are welcoming and there are always locals shopping here to take advantage of the good prices."
"It's an interesting experience because you can also peek into the workshops and see how the crafts are made."
Atelier Pascale, Ai Mo Street, Bo De Ward, Long Bien, Hanoi, Vietnam; +84 4387 2790