Hong Kong will soon be more connected to mainland China than ever, with the city's section of the high-speed railway scheduled to open on September 23.
Costing more than $10.7 billion to build, the Hong Kong section of the Express Rail Link will connect the city with China's 25,000-kilometer national high-speed rail network.
The newly opened 26-kilometer line is part of the larger Guangzhou-Shenzhen-Hong Kong high-speed rail network, and is operated by Hong Kong's MTR company.
Trains will depart from the swanky, newly built West Kowloon Station, offering travelers easy access to 44 destinations serviced by China Railways' famed bullet trains.
An estimated 70 (Monday to Thursday) to 82 (Friday and weekends) trains will pass through the station daily.
Hong Kong to Beijing by bullet train
The longest bullet-train journey from West Kowloon Station is the nine-hour Hong Kong-Beijing route, which costs from RMB1,077 or $157.
In comparison, a direct Cathay Pacific flight between Hong Kong and China's capital city takes three hours and costs an average of $500 at the moment (according to Cathay Pacific's website). A low-cost flight costs about $150 on average.
The Hong Kong bullet train service also includes popular travel destinations like Shanghai (8.25 hours), Guilin (3.5 hours) and Kunming (7.5 hours).
The most frequent service runs between Hong Kong and Chaoshan in southeastern China – a 2.5-hour journey – with five return trips daily.
There is currently no direct flight serving these two destinations, while it takes around four hours to get there by car.
Joint immigration checkpoint
A joint immigration checkpoint has been built inside West Kowloon Station, allowing passengers to avoid an additional check when crossing the border in and out of Hong Kong.
However, travelers still need to have a valid China visa or travel document to ride the train.
The opening of the station marks the first time mainland Chinese laws have been given jurisdiction inside Hong Kong territory, stirring some heated opposition before its opening. (Although it is part of China, Hong Kong is governed under a separate legal framework granting the city political and legal freedoms not available on the mainland.)
Political controversies aside, the new Express Rail Link offers an alternative way to travel to major Chinese cities through Hong Kong – and avoid China's notorious flight delays and airport commutes.
How to get a high-speed rail ticket to China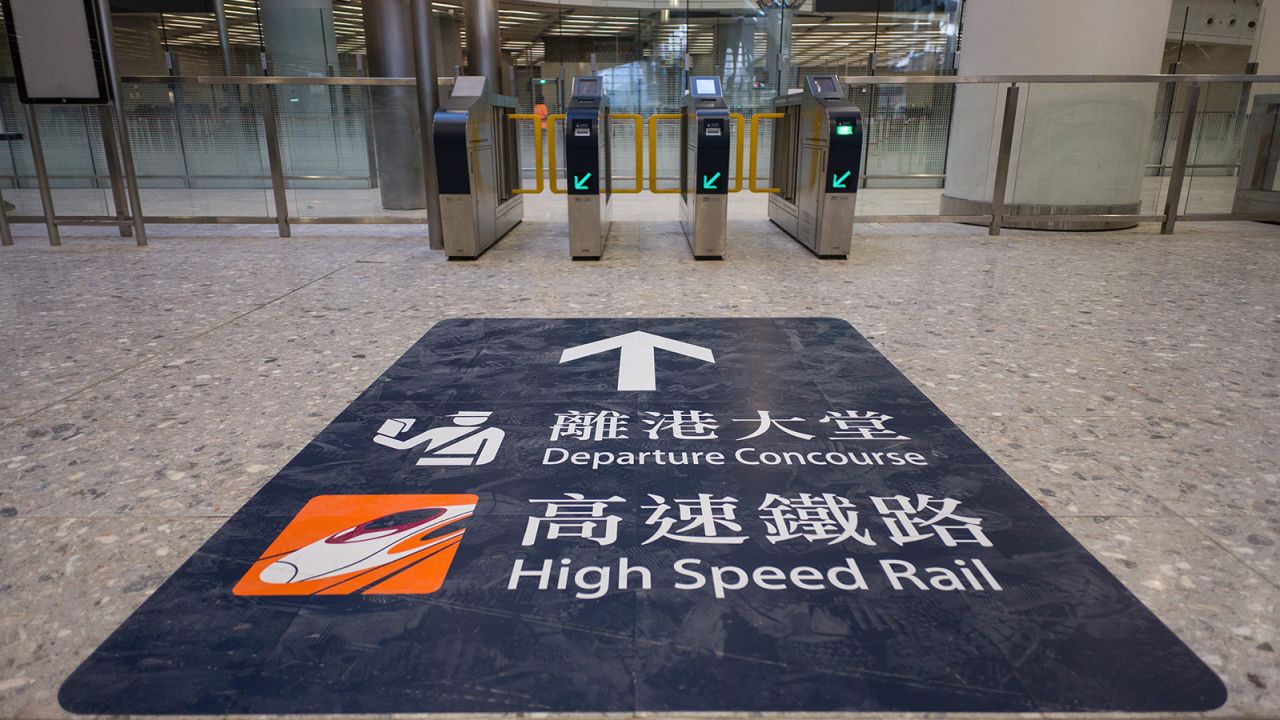 Tickets can be purchased 28 days in advance at station counters and ticket machines. Tickets bought over the phone and online are sold up to 30 days in advance.
Passengers departing from Hong Kong, including foreign passport holders, can get their tickets through a dedicated online website.
Like the established high-speed rail system in China, the Hong Kong section will follow a real-name policy on ticketing. This means travelers will have to present and verify their identities when purchasing or collecting tickets.
"But passengers with a longer ID name that can't be registered by the online system may have to come to purchase the tickets at the counter directly," one rail hotline staff member told CNN Travel.
High-speed rail limitations
Travelers are advised to arrive at the station at least 45 minutes before their departure time to clear security and immigration.
China's high-speed railway has a similar baggage allowance policy as airlines. Travelers can check this website for more on luggage restrictions.
Due to its relatively short distance, the Hong Kong section of the Express Rail Link has a maximum speed of 200 kilometers/hour, much lower than the top speed of 300 kilometers/hour China's bullet trains usually hit.
Therefore passengers going to a nearby destination, such as Guangzhou and Shenzhen, may be better off using the existing train system to save time/money.