In Hong Kong, we know better than anyone that time means money. So we'll waste no time getting to the list of the best of Hong Kong.
Whether you have a week or a day, mix and match these top city experiences for an unforgettable trip.
1. Victoria Harbour, up close
The Hong Kong skyline is stunning and there are many ways to take in the view, from a rooftop bar or the touristy Peak Galleria. But the best way to take it all in is from a Star Ferry.
The green-bottomed ferries have been taking passengers across the harbor since the late 1800s. The ride between Central and Tsim Sha Tsui takes less than 10 minutes, but it's what many visitors remember most fondly about their trip to Hong Kong.
Hong Kong's Central/Tsim Sha Tsui service runs daily from 6:30 a.m.-11:30 p.m. Fares from $0.45 (HK$3.40). MTR: Central
2. Temple Street market
This is the place to go fulfill all your exotic fantasies of Hong Kong. Everything here looks old, filthy and somewhat threatening – in other words, perfect. A spread of laneways is filled with all manners of trinkets, the more useless they are the more we seem to desire them.
In another section of the market, a community of fortune tellers and tarot card readers gather. Most are swindlers; a handful are the real thing. A public toilet in a Temple Street market corner is known for gathering drug users. Around another bend, vendors are selling cartloads of cheap sex toys.
Street food – hot, fresh, of questionable hygiene and totally irresistible – beckons. Neighboring the eateries are old-school karaoke parlors where $13 (HK$100) gets you access to center stage, a live band and an audience of geriatric regulars who have been attending nightly for decades.
Getting there: Take the MTR to Jordan and take exit A. Turn right onto Jordan Road and walk three blocks to Temple Street. The market is open from around 4 p.m. till midnight.
3. Food challenges
There comes a point when every visitor to Hong Kong has to confront his or her food phobias. Whether it's bones, heads of animals or food that smells like garbage, it's likely that you'll find it on your plate and you won't know what to do with it. But the thing about these foods that initially makes a person recoil is that there's nothing challenging about their flavors.
The gateway "weird food" is chicken feet dim sum. The claws are typically chopped up so they heap into a neat little pile and are served in a cute bamboo steam basket. It's all very civilized.
Even the name is euphemized to "phoenix talons." Get past the idea of it being feet and you've got one of the most delicious things to eat on the planet. Highly recommended are the abalone sauce chicken feet at Lei Gardens.
Lei Gardens, Shop 2068-70, 2/F, Elements, 1 Austin Road West, Tsim Sha Tsui. Tel: +852 2196 8133
Must-try eats in Old Town Central, Hong Kong
4. Nature shock
One of the biggest surprises about Hong Kong is that pristine nature exists just minutes away from the most crowded parts of the city. It's possible to do a day trip – even a half-day trip – to a beach or mountain for a verdant time out.
The best journey is the one-hour hike from the entrance of Sai Kung Country Park to a string of isolated beaches, inaccessible except by boat or by foot. Tai Long Wan is our favorite for the large expanse of clean sand, building-free sea view and a small eatery serving cold beer and fried things.
Walk Hong Kong runs organized walking tours that depart from Hong Kong's General Post Office, 2 Connaught Place, Central. See Hong Kong Tourism Board for more info.
Hong Kong's most scenic drives
5. Nightly Mardi Gras
We recently took an American visitor to Lan Kwai Fong on a Monday night. The crowds floored him. "This is like Mardi Gras," he said.
He was saying it for dramatic effect, but Lan Kwai Fong really is the place to go to see Hong Kong's work-hard-play-hard ethos stemming from the high-pressure-big-money lifestyle of investment bankers, stock brokers and entrepreneurs, of which the city has plenty.
The weekends, of course, are completely mad. Bypass the cover-charging, velvet-roped nightclubs and head to the dance bars along Wyndham Street and D'Aguilar Street. (MTR: Central, exit D2)
You'll find that roadside binge drinking is the norm, people really like to dance and that you do know the words to all the songs. It's mainstream nightlife at its best.
6. Learn the meaning of 'density'
Mong Kok. Saturday afternoon. Shopping. Brace yourself for one of the most overwhelming examples of population density.
Literally meaning "prosperous and crowded corner," Mong Kok (MTR: Mong Kok) is where everyone goes to buy stuff and feel the energy of hundreds of thousands of people going about their business.
A look at the various markets in Mong Kok is also telling of Hong Kong people's passions. There's the Ladies' Market on Tung Choi Street, east of Nathan Road. Cheap fashion, knock-offs and trinkets dominate here. Then there's the Mongkok Computer Centre as well as Sneakers Street on Fa Yuen Street and Goldfish market on Tung Choi Street and Bute Street. For trendy junk food, there's Dundas Street.
Inside Hong Kong's top boutique hotels
7. Prodigal floating restaurant
Shun Kee is a floating restaurant made up of wooden boats in Causeway Bay's typhoon shelter, a protective area for vessels during a storm.
There used to be thousands of boat dwellers settled in the typhoon shelter. The community was tight and developed its own subculture. From the early 1960s to end of the 1980s, the shelter thrived as a floating nightlife hub. Then it disappeared because of hygiene problems and changing consumer trends.
Shun Kee is the first floating restaurant to return and serves the same tasty, rustic recipes from decades ago, showcasing the chef's wok skills. It's unchanged from the glory days of the shelter.
The area is undergoing tunneling works as part of a major roads development in Causeway Bay, but recent visitors say the restaurant is still operating – finding it repays persistence.
Located at the Causeway Bay typhoon shelter, near the pedestrian footbridge connected to Victoria ParkTel: +852 8112 0075
8. Strange fruit
A fruit market sounds innocuous enough, but the wholesale fruit market in Yau Ma Tei is the opposite of sweet and fresh. Known as disputed territory between triad groups, the market has been witness to gang fighting and has an unsavory rep. But it's OK for tourists to visit.
Coming alive at four in the morning daily, the market is populated by tough-looking big guys with lots of tattoos, each holding a stern expression as they charge down the corridors pushing small mountains of fruit boxes.
The market building itself is a historic landmark. The two-story structure dates to 1913 and looks it. Weathered signboards and crumbling Chinese architectural flourishes abound, with plenty of darkly lit corners, rusty folding gates from the 1950s and a pervasive smell of fresh and rotting fruit.
All of this makes the Yau Ma Tei fruit market one of the most atmospheric and photogenic places in Hong Kong.
Getting there: Take the MTR to Yau Ma Tei Station and head out exit A2.
9. Pig out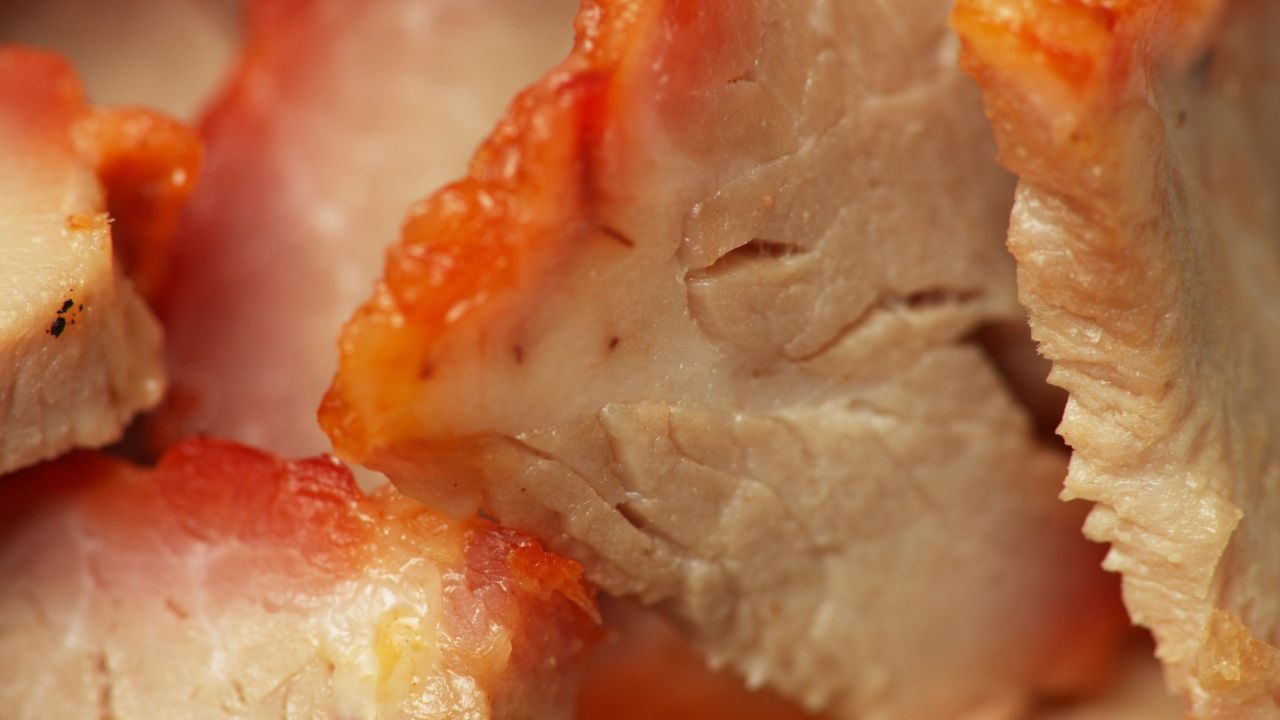 We love pork. It's estimated that Hong Kong people consume 10,000 pigs a day. That kind of makes us a city of pork experts.
Bacon? Too greasy and too easy. The kind of pork that we love here can't be cooked at home. You need huge ovens, you need generations of expertise, you need days of prep and you need secret ingredients. There are two kinds of pork dishes to check out in Hong Kong:
1. Barbecue pork, called char siu, is a tender and moist piece of meat with a honeyed red-colored glaze. The best can be found at Joy Hing Roasted Meats in Wanchai. We recommend the half-fatty, half-skinny char siu. Joy Hing is closed on Sundays.
2. The second kind is roast pork. When done right, this dish will change your life. Layers of flavorful, briny pork are chopped into bite-sized pieces. The skin is crisped – perfect pork crackling. Most Cantonese restaurants have a version of it.
Joy Hing, Chong Hing Building, G/F 265-267 Hennessy Road, Wanchai. Tel: +852 2519 6639
17 beautiful reasons to visit Hong Kong in 2017
10. Bet on fun
Whether it's at the Sunday afternoon mahjong table with grandma or in the luxury property market, gambling is a big pastime in Hong Kong.
The best place to witness the passion of punters is at the Happy Valley horse race nights. We have another track at Shatin, but the Happy Valley one is the original and most picturesque.
Races take place from September to June every Wednesday night from about 7-11 p.m. The track is lit up and ringed by residential building tower blocks. Dark hills loom beyond. It's so Hong Kong. While there are plenty of hardcore gamblers here, there's also a younger crowd that comes to enjoy the beer garden. All are none the wiser at picking a winner.
Happy Valley Race Course: 2 Sports Road, Happy Valley, Hong Kong Island
Zoe Li traveled around the world on a fistful of dollars and has now returned home to rediscover her hometown Hong Kong.
Editor's note: This article was previously published in 2012. It was reformatted, updated and republished in 2017.