Though bigger and swankier airports continue to open around the globe every year, the 20-year-old Hong Kong International Airport is still regarded as one of the best – and most profitable – aviation facilities in the world.
Replacing the unforgettable and slightly frightening Kai Tak Airport in 1998, Hong Kong's main air hub has set the standard of what it means to be a modern, world-class travel facility.
But the best might be yet to come.
The Airport Authority of Hong Kong is now implementing an ambitious plan to enhance the 20-year-old facility that's expected to cost more than HK$140 billion (US$18 billion).
This includes an addition to Terminal 1, dubbed T1 Annex, that will offer more check-in counters, luggage conveyor belts and an open-air rooftop garden.
The T1 Annex, due for completion in 2019, will also include a 200-meter-long and 28-meter-high sky bridge – high enough for A380s to pass under – featuring an observatory deck and retail offerings.
A new 12-story multi-purpose building is also now being developed at Hong Kong Airport that will include an Aviation Academy, recreational facilities for all airport staff, 1,400 new car parking slots and a new nursery for working parents at the airport.
And then there's the 25-hectare Skycity, an integrated destination with dining, retail and entertainment offerings as well as new hotels and offices.
The project is expected to be completed in various phases between 2019 to 2027. Instead of being an extension of the airport, developers hope Skycity will become a destination of its own.
"The Skycity is what we have been talking about lately – turning the concept of a city airport to an airport city," says CK Ng, executive director of Hong Kong International Airport's airport operations.
Smart airports, smart luggage
Though passengers won't get to experience any of the above developments until 2019, there are more subtle upgrades happening right now.
More automation and robotics technologies, including CCTV with analytic capabilities, are being introduced to various airport screening checkpoints.
"We want to be a step ahead of response," says Ng. "We want to be able to predict so we can prevent and minimize the congestion."
In the near future, mobile self-check-in kiosks will be deployed remotely around the city – from hotels to convention centers – and can be used for all airlines.
This follows the recent addition of smart luggage tags, which can to notify passengers when their luggage is hitting the carousel via the HKG My Flight app, saving them from having to crowd around the luggage belt.
The controversial Third-Runway System
But the biggest – and most debated – airport upgrade is the third runway system, scheduled to open in 2024.
In order to build a new runway, about 650 hectares of land north of the existing airport needs to be reclaimed.
One huge concern is how the reclamation project will affect the population of Chinese white dolphins (currently listed as a vulnerable species on global conservation status.)
But Ng says they're taking precautions to minimize impact.
"One of our biggest and most expensive construction methods is what we call deep cement mixing – meaning we don't drag the sea floor or pound foundation in the seabed," he says.
"We also have a stringent monitoring system. We test the water for pollution every day. We observe to see if there are Chinese white dolphins. If there is a sighting at a certain distance, we'll stop work until it swims away."
An amazing engineering feat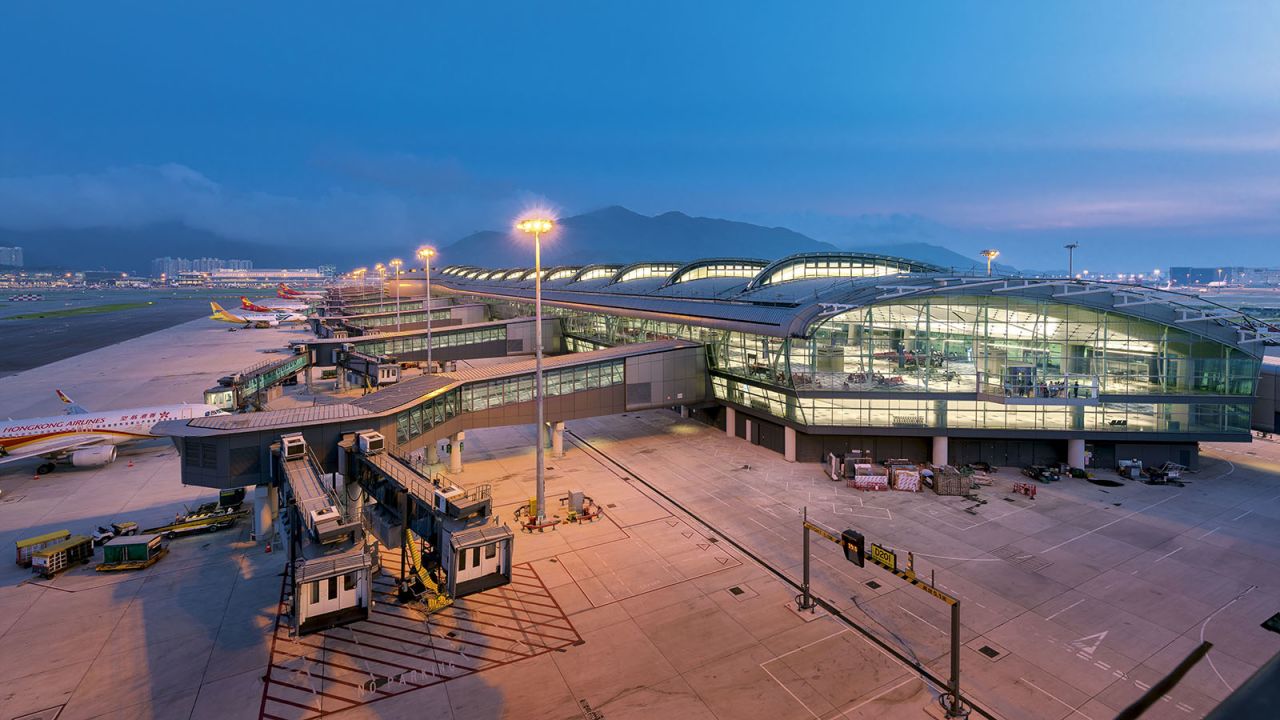 Hong Kong International Airport: Past and present
The new runway system is not Hong Kong's first reclamation project.
Flying into the city today, it's hard to imagine that its 12.55-square-kilometer airport started out as two islets made up of about three square kilometers of hilly lands.
Before famed architect Norman Foster could design and build the iconic Hong Kong International Airport on Chek Lap Kok island, hills were leveled, lands were reclaimed and islands were merged into one.
When construction was complete and the airport opened in 1998, replacing the infamous Kai Tak International Airport, Chek Lap Kok became the third largest island in Hong Kong, not to mention one of the biggest projects in global civil engineering history.
In ConExpo 1999, less than a year after its official opening, Hong Kong International Airport was named one of the Top 10 Construction Achievements of the 20th Century, together with the Panama Canal and the Golden Gate Bridge.
One of the busiest transportation hubs in the world
Today, it all seems to be paying off.
Hong Kong International Airport has been the world's busiest cargo airport for eight years in a row. It's also one of the busiest airports by passenger traffic.
"[Prior to closing] Kai Tak handled around roughly 29 million passengers a year," says Ng.
"In 2017, we served 73 million passengers a year. And our cargo transportation has increased from 1.6 million tons 20 years ago to 5.1 million tons today."
"This is quite something within 20 years. Many airports are high in one thing but never high in both elements," Ng tells CNN.
London's Heathrow Airport, for example, handled around 78 million passengers and 1.7 million tons of cargo in 2017.
Changi Airport VS Hong Kong International Airport
Having worked in the aviation industry since 1984, Ng served Hong Kong's old Kai Tak Airport for 14 years before moving to work at Hong Kong International Airport on July 6, 1998, the night the then-new airport opened.
He's seen a lot of shifts in the aviation industry and credits the airport's ability to change with the times for its success.
"Airport management, traditionally, was about infrastructure management," says Ng.
"It then turned into flow management – the flow of passengers, cargo, information and finance. But the latest changes have turned into experience creation management.
"You can no longer just provide the things your customers want and like. Now, you really need to make yourself distinct from other airports. You want to curate a unique passenger experience for your customers."
For some critics in the local media, the Hong Kong International Airport's upgrade may have come too late – particularly when it comes to the fierce competition from Singapore's Changi Airport.
The city-state's jaw-dropping new terminal, Jewel Changi, by architect Moshe Safdie, is set up open in 2019, while more expansion plans are also underway.
Skytrax's World's Best Airport Awards seems to agree.
Changi Airport has been named the world's best airport for the 6th year running while Hong Kong International Airport – winner of the title from 2001 to 2005, 2007 to 2008 – was bumped down to no. 5 in 2018.
"We don't really have a desire to go for the title because a lot of surveys like this aren't exactly an apple-to-apple comparison, sometimes it's comparing apples to oranges," says Ng when asked about the rivalry.
"Many airports' configurations are different so we don't think it's very appropriate. Secondly, awards-wise, we don't only focus on one award – there are many other awards to aim for.
"For example, I recently traveled to Korea. We were named the most efficient airport by the Air Transport Research Society. If you look at that particular award, Singapore wasn't even on the list. So really, it depends on how you look at it," says Ng.
A multi-modal airport, not just for Hong Kong
Fall in love with Hong Kong in 2 minutes
Awards aside, there's one obvious advantage Hong Kong International Airport has – its proximity to China.
And another mega construction – the Hong Kong-Zhuhai-Macau Bridge – will further strengthen its position in the region.
Spanning 34 miles (55 kilometers), the Hong Kong-Zhuhai-Macau Bridge will be the longest sea-crossing bridge when it's open later in 2018.
The bridge will connect Hong Kong with other parts of mainland China via a border crossing station on Chek Lap Kok.
Despite controversies stirred before and during the construction, the new bridge will undoubtedly benefit Hong Kong International Airport's traffic by bringing a new wave of passengers from the Pearl River Delta (PRD).
It isn't a novice idea for the airport.
"In 2003, we opened Skypier because, at that time, we've already thought about our market catchment area," says Ng.
"We've a limited population here in Hong Kong, so we can't rely only on Hong Kong,"
Nine ports have been set up in the PRD region, where passengers can check-in for their flight and hand in their baggage without even having to step foot in Hong Kong, essentially being treated as transfer passengers.
Travelers can then simply take the airport ferry across the border, straight to Hong Kong International Airport, and hop on their plane.
Airport officials say they've handled more than three million cross-border passengers in 2017.
"It's a very different approach to the traditional philosophy of airport management," says Ng.
"As when you talk about managing an airport you talk about managing planes in the air, but when you manage an airport in Hong Kong, you manage ferries, limousines and coaches also. Hong Kong International Airport is very unique in this way."