Editor's Note: Call to Earth is a CNN editorial series committed to reporting on the environmental challenges facing our planet, together with the solutions. Rolex's Perpetual Planet initiative has partnered with CNN to drive awareness and education around key sustainability issues and to inspire positive action.
Adventure cruise company Hurtigruten Norway today revealed plans for a zero-emissions electric cruise ship with retractable sails covered in solar panels, which is due to set sail in 2030.
The company currently has a fleet of eight ships, each with a capacity of 500 passengers, that travel along the Norwegian coast from Oslo to the Arctic Circle. Although a relatively small firm, CEO Hedda Felin hopes that this innovation "can inspire the entire maritime industry."
The project, named "Sea Zero," was initially announced in March 2022 and since then, Hurtigruten Norway, along with 12 maritime partners and Norway-based research institute SINTEF, has been exploring technological solutions that could help to achieve emission-free marine travel.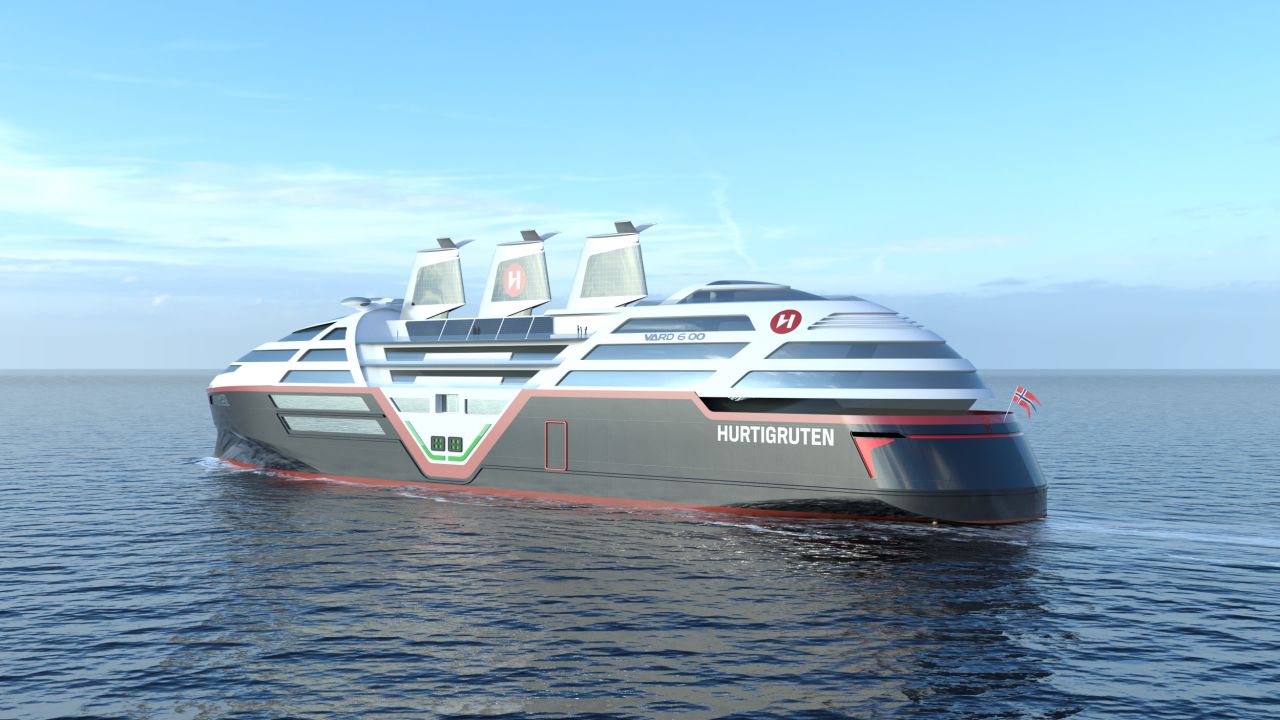 The resulting design will run predominantly off 60 megawatt batteries that can be charged in port with clean energy, as renewables account for 98% of Norway's electricity system. Gerry Larsson-Fedde, SVP of marine operations for Hurtigruten Norway, who came up with the idea of a zero-emission ship, estimates that the batteries will have a range of 300 to 350 nautical miles, meaning that during an 11-day round trip, one liner would have to charge around seven or eight times.
To reduce reliance on the battery, when it's windy, three retractable sails – or wings – will rise out of the deck, reaching a maximum height of 50 meters. They can adjust independently, shrinking to pass under bridges or changing their angle to catch the most wind, explains Larsson-Fedde. He adds that the sails will be covered in a total of 1,500 square meters of solar panels that will generate energy to top up the batteries while sailing – and the battery levels will be displayed on the ship's side.
"In Norway, although it can be dark sometimes in winter, we still have sun in the south. And we have sun 24 hours a day in the summer. We will be super-powered by the midnight sun on top of everything else," he says.
The ship will be fitted with 270 cabins to hold 500 guests and 99 crew, and its streamlined shape will result in less air resistance, helping to further reduce energy use. On board, guests will be invited to minimize their own climate impact through an interactive mobile app that monitors their personal water and energy consumption.
"We want to make them more aware of how much energy they use by spending 10 minutes more in the shower or having air conditioning going full," says Larsson-Fedde.
Greener shipping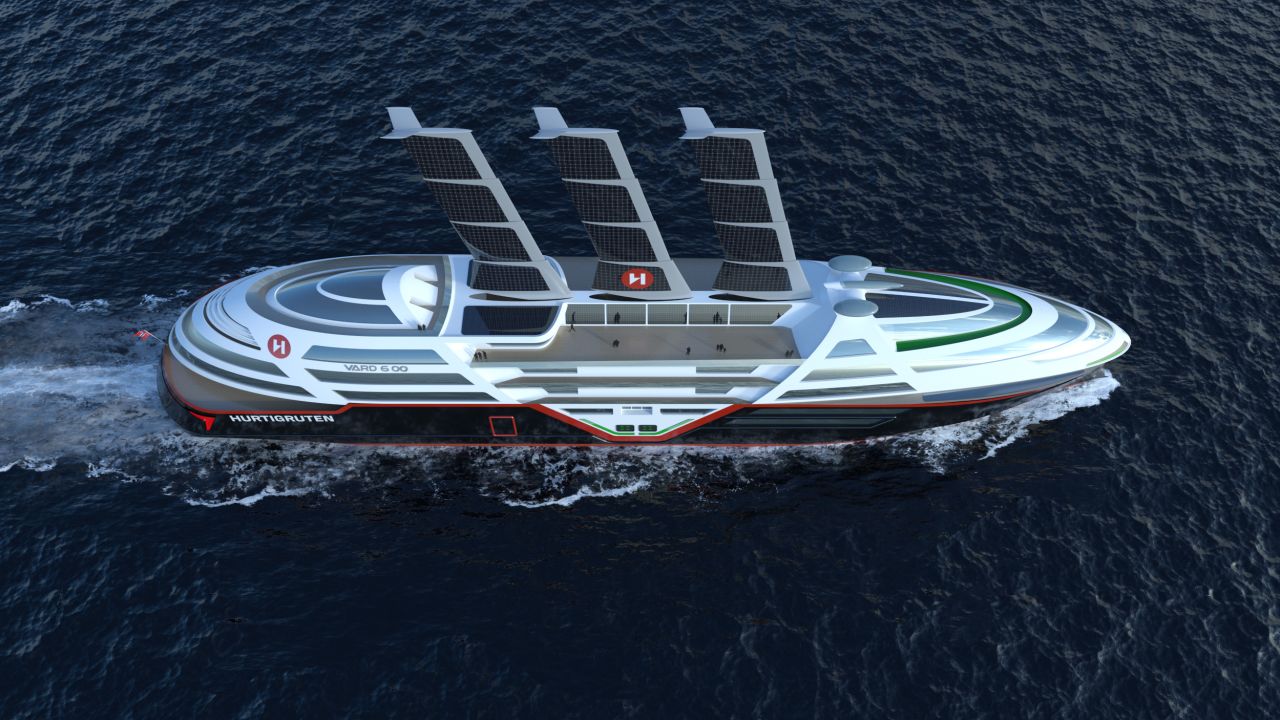 The shipping industry accounts for around 3% of global manmade greenhouse gas emissions, according to the International Maritime Organization (IMO), the UN body that regulates global shipping. In 2018, the IMO introduced a target to cut the industry's greenhouse gas emissions by at least half by 2050.
This has led to a new wave of designs for eco-friendly sailing vessels, from the transatlantic car carrier Oceanbird and various cargo ships with retractable sails, to Oceanco's Black Pearl superyacht and Chantiers de Atlanique's cruise ship with folding solid sails. But most of these will also rely on engines that run off fossil fuels. Larsson-Fedde notes that while Hurtigruten Norway's design will have a backup engine for safety reasons, it will run off green fuels, such as ammonia, methanol or biofuel.
The wider Hurtigruten Group has long touted sustainable shipping. In 2019, Hurtigruten Expeditions launched the world's first hybrid, battery-supported cruise ship and is currently in the process of converting the rest of its expedition fleet to hybrid battery power.
"We are dependent on the ocean and the environment. That's our product: clean oceans, clean harbors, local suppliers," says Felin. "We want to push and be the leader in sustainability, as we believe that our industry is far too slow and not ambitious enough."
Over the next two years, Hurtigruten Norway will test its proposed technologies before finalizing the design in 2026, and aims to begin shipyard production in 2027. The first vessel is due to enter Norwegian waters in 2030. After that, the company hopes to gradually transform its entire fleet to zero-emission vessels.
This story has been updated to clarify the company that launched the world's first hybrid, battery-supported cruise ship.