Editor's Note: CNN Insider Guides are thoroughly checked for accuracy. Given the fluid nature of the travel industry, however, some listings may fall out of date before guides can be updated. The best practice is to confirm current information on official websites before making plans to visit any business or attraction.
We'll always have Paris, goes the line, but it's easy sometimes to feel like the capital of France is having you. Lines at major sites are long and the coffee you just drank cost €6.
Still, there's no denying the beauty of the best of Paris, with its elegant monuments and gardens, ornate shop displays, foodie traditions and artistic heritage. Almost every one of the 20 arrondissements in this city of 2.2 million residents provides visitors with something to see or do. Or at least something good to eat (this is France after all).
Quick tips: Check opening hours before heading out, especially on public holidays and during August.
Manners matter here. The first thing you say to friend or stranger is always "bonjour" ("bon soir" in the evening), and always "merci, au revoir" on the way out of shops and restaurants. If you don't, you'll be the one who is being rude.
Getting around is easy. The Metro is efficient, taxis are usually an option and there's an excellent public bike-sharing program.
To soak in the best of Paris, however, walking is essential. Strolling neighborhoods, peeking behind courtyard doors and taking your time are legendary rites of the Paris traveler passage.
More insider tips on: London | Amsterdam | Berlin
Hotels
Luxury
Le Georges V
This Golden Triangle mainstay is difficult to top in terms of luxury, service and price.
Capacious guest rooms incorporate styles of different eras for a result that's a little bit Marie-Antoinette, a touch Joséphine and unmistakably French. Though part of the Four Seasons group since 1999, everyone still calls it the George Cinq.
Le Meurice
The gilded Louis XVI interiors in this 200-year-old palace hotel were recently updated by ubiquitous designer Philippe Starck. Facing the Jardin des Tuileries, it's hard to get more central than this best of Paris hotel, and you don't have to leave the building to enjoy one of the city's most delicious and opulent dining experiences, courtesy of chef Yannick Alleno, a champion of local products.
Mid-Range
Hotel de Nell
If toile and brocade aren't your style, consider the clean lines of this new boutique offering in the 9th arrondissement. Foodies may feel especially comfortable: the hotel restaurant is the newest outpost of the beloved bistro La Régalade.
Hôtel du Petit Moulin
To be king or queen for a day, you don't have to wake up a pauper. Housed in a 17th-century building, the 17 rooms of this Marais hotel were individually (and flamboyantly) decorated by Christian Lacroix. Are the heart-shaped mirrors a bit much? Maybe, but this is the best of Paris. Embrace it.
Budget
Mama Shelter
The Trigano family (of Club Med fame) solicited Philippe Starck (him again) to design this surprisingly reasonably priced boutique hotel, which comes with plenty of amenities, including Wi-Fi, on-demand movies and Kiehl's products in the bathroom.
It's not central, but it's convenient to the Metro, Père Lachaise cemetery is around the corner and, yes, that's the Eiffel Tower you see in the distance. If you want "real" best of Paris, this is it.
Apartments
Though you'll have to make your own bed, renting an apartment is often less expensive than a hotel, and frees you from the shackles of eating out all the time.
Haven in Paris features a best of Paris collection of properties for weekly or nightly rental that'll make you want to drop everything and move here. For a more DIY experience – and more budget options – try airbnb.
20 of Europe's most beautiful hotels
Dining
A few guidelines will help you navigate this fabulous food city:
Bistros and restaurants have specific opening hours for lunch and dinner, and are usually closed at least one day a week. Cafés and brasseries are open all day for casual eating.
For lunch on the go, most bakeries sell sandwiches – for the best bread, look for the words "Artisan Boulanger" on the sign.
Reservations are always recommended, except at the most casual cafés and brasseries, or when bookings are explicitly not taken. If you have dietary restrictions, be sure to mention it on the phone.
Alain Ducasse at the Plaza Athenée
Under the deft hand of chef Christophe Saintagne, the cooking at Ducasse's Paris flagship has undergone a sort of makeunder, away from extravagance for its own sake and toward cleaner, stripped down style, without sacrificing any of the luxury or glamour for which this legendary dining room is known.
L'Arpège
Chef Alain Passard's love of vegetables borders on fetishism, and yours may, too, after dining at this Michelin three-star, where les legumes get equal billing with lobster and lamb. Many of the best young chefs in Paris have passed through this kitchen.
L'Astrance
Pascal Barbot's modern cooking seamlessly incorporates global influences and ideas, while resting on solid classical underpinnings. A signature dish: a stacked gateau of shaved mushrooms and verjus-marinated foie gras with hazelnut oil and lemon confit.
The dining room (mercifully) lacks the frou-frou that comes with so many of Parisian three-stars. You won't miss it.
Septime
Youngster Bertrand Grébaut made waves when he opened Septime in 2011 for serving food of obsessive quality and imagination at reasonable prices in a no-tablecloth setting in the 11th. This is what a contemporary Parisian restaurant looks like.
Mini Palais
Mini Palais bills itself as a modern brasserie, feeding a chic crowd with a menu that manages to be both gourmand and plenty of fun. A best of Paris setting, in a corner of the Grand Palais, doesn't hurt, and the terrace is one of the prettiest in town.
Chez L'Ami Jean
This bastion of Basque pride has evolved into a serious gastonomic destination, but it's still elbows out in the packed, noisy room.
With only an €80 (US$102) prix fixe option at dinner, it's not the steal it used to be, but you won't walk away hungry after being subjected to Stéphane Jego's belly-busting, imaginative bistro cooking.
Yam'tcha
Adeline Grattard earned her stripes at L'Astrance and in Hong Kong before opening this restaurant with her husband, who serves as tea steward and sommelier in service of her exquisite, Franco-Chinese cooking that's neither one nor the other – it's just hers. Call exactly 30 days before you want to eat here.
Breizh Café
You can't enjoy the best of Paris without eating a crêpe. As an alternative to one of those street stalls, this superb Marais address serves perfect, lacy buckwheat galettes with organic fillings and a range of easy-drinking ciders.
Le Relais de L'Entrecôte
The only thing on the menu at this best of Paris eatery is steak, served with a never-ending pile of golden fries and an addictive, herb-laden secret sauce. It's all served by uniformed women who mean business. They don't build waitresses like this anymore.
Jacques Genin
If it's sweets you're after, the tea room of this masterful pastry and chocolate shop has unrivaled mille-feuille and biting lemon tarts. Genin's chocolates and caramels make an excellent gift. For yourself.
7 of the best dishes in Paris and where to get them
Nightlife
Experimental Cocktail Club
Cocktail culture in Paris got a jumpstart when this speakeasy-ish bar opened, serving seriously well-crafted drinks – both new and old school – to a friendly crowd that gets younger and hipper as the night wears on.
Gascony: Wine lovers should give it a second look
Le Baron
Le Baron was founded by one-name impresario André and is lodged in a former bordello. Most of us can't get into Le Baron, but chosen ones can expect dancing models, red walls hung with soft-core art photos and maybe a few celebs.
La Vue at Concorde
There are two main draws to this mod lounge in the Concorde-Lafayette hotel: expert drinks mixed by a champion barman, and a panoramic view over the best of Paris. Both make it worthwhile.
Harry's Bar
An institution, Harry's has been pouring drinks since 1911. Hemingway drank here (not everyone approves of the current incarnation) and some stories pin it as the birthplace of the Bloody Mary.
Winner of "World's Best Bartender" shares her favorite Paris spots
Shopping
Rue Saint-Honoré
Rue Saint-Honoré and neighboring streets offer ample opportunity to empty your wallet – while sightseeing, of course – from best of Paris haute jewelry stores on Place Vendôme to vintage shops along the gardens of the Palais Royal.
Those too young to remember the Eighties clamber into concept store Colette to pick up a Lanvin iPad case or a late-model Polaroid. Leather goods granddaddy Goyard is handy if you're in need of a new steamer trunk. Ceramicists Astier de Villate is good for a chic tabletop.
The Flea Market at Porte de Vanves
Keep looking, you're bound to find something worthwhile. A more manageable size than its Clignancourt cousin, the Vanves marchés aux puces is also a little less expensive. Like all flea markets, there's plenty of trash among the treasures, but it's French trash.
The Flea Market at Porte de Vanves, Avenue Marc Sangnier, 14th arrondissement; Saturday-Sunday, 7 a.m.-2 p.m.
Galeries Lafayette and Printemps
These landmark department stores rub shoulders on boulevard Haussmann, creating a massive shopper's paradise.
Between the two, all label lovers should be able to find what they're looking for, though the draw here isn't just fashion: both stores feature stunning glass cupola ceilings, and the sixth floor café at Galeries Lafayette offers a panoramic view over Paris.
Le Bon Marché/La Grande Épicerie
The oldest (dating from 1838) and chicest department store in the best of Paris pantheon, with a food hall to match, Le Bon Marché and La Grande Épicerie are perfect for watching Rive Gauchers in their native habitat. And good picks for edible souvenir shopping.
From here you can walk to the Luxembourg Gardens or stroll the St.-Germain-des-Prés neighborhood, which, though it's developed an international, high-end blandness, still inspires dreams of literary grandeur with its iconic pair of cafés.
What's the best season to visit Paris?
Attractions
Eiffel Tower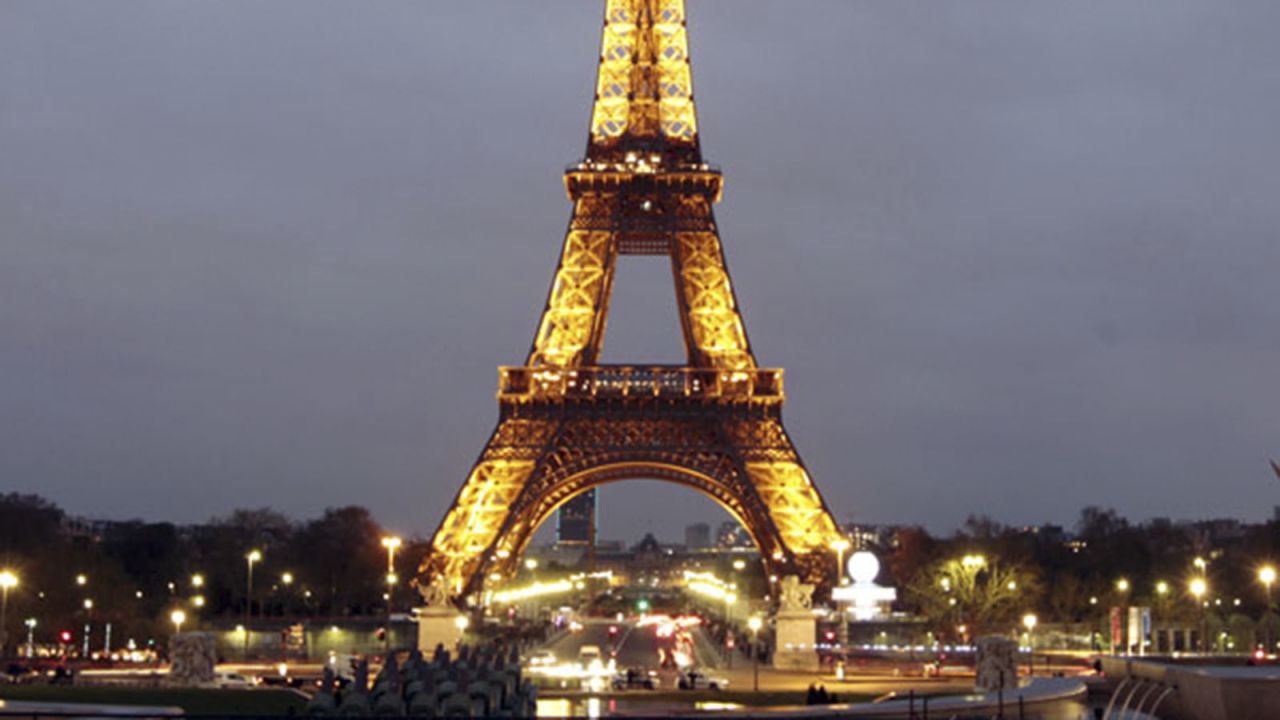 Yes, it's going to be crowded, but Gustave Eiffel's 320-meter-high (1,049 feet) curving lattice of puddle iron is iconic for a reason.
You can take the stairs or an elevator to the second floor, or ride all the way to the top of what is the tallest building in the city. (Ochlo-, claustro- and acrophobes should think twice.) In warmer months, consider picnicking on the Champs de Mars.
You can join the cheering when the glittery evening light show starts – and ponder the fact that many critics judged the tower an eyesore when it was built as the grand entrance to the 1899 World Fair.
Notre-Dame, Sainte Chapelle and the Islands
This is the oldest part of Paris, tracing its metropolitan roots to the 17th century. On Île Saint Louis you'll find a touristy-but-charming main street, and quiet spots to perch along the river.
Île de Cité is home to the Palais de Justice and the Conciergerie (where Marie Antoinette awaited her doom), along with two landmark churches, Notre-Dame (which celebrates its 850th anniversary this year) and Sainte Chapelle.
Entry to Notre-Dame is free, unless you want to ascend 387 steps to the towers, which affords a decent view of the city and a chance to play out any Quasimodo-Esmeralda fantasies in front of the 13-ton Bourdon bell.
Le Marais
The narrow streets of Le Marais offer the best view of Pre-Haussmannian Paris. Once the city's aristocratic center, it's now a hub of gay life, a fashionable district that spreads from the 4th into the 3rd arrondissement.
There are always lines for lunch at L'As du Fallafel (34 rue des Rosiers, closed Saturday) in the heart of the old Jewish quarter. You can learn more about the best of Paris through archival photos, civic relics and decorative objects at the Musée Carnavalet, dedicated to the history of the city.
You can shop on rue des Francs Bourgeois, contemplate the divine symmetry of the Place des Vosges or hang out at the Maison Victor Hugo. The ultimate bourgeois-bohemian shopping experience starts or ends the day at Merci .
Proceeds from your new Isabel Marant leather pants will go to charity. Retail therapy never felt so good.
Museums
Paris has an astounding collection of world-class art museums and exhibition spaces. If you plan on packing in several, consider a Museum Pass, which includes entry to more than 60 museums and monuments while allowing you to skip ticket queues each time. Admission to most Paris museums is free on the first Sunday of each month.
Musée du Louvre
Simply one of the world's greatest museums, this sprawling palace houses works of art from prehistory through the 19th century (and an Apple store in the attached underground mall).
The best strategy for tackling this huge place is to not try to cover too much at once, and have an exit strategy. It's the Louvre. It'll exhaust you, but you must go.
Musée d'Orsay
The Orsay picks up where the Louvre leaves off, with a collection of mostly French art from the late-19th and early-20th century that's packed with Impressionist and post-Impressionist masterpieces.
Musée de l'Orangerie
Just across the river, this smaller sibling to the Orsay houses Monet's "Waterlilies," which look much better here than on a coffee mug. A €16 ticket lets you see both museums in the same day.
Le Centre Pompidou/The Pompidou Center
This polychrome, inside-out building has been dividing public opinion since its construction in 1977.
Love it or hate it, it houses a pulsating survey of 20th- and 21st-century art in the permanent galleries that no Modernist should miss. There are also vibrant temporary exhibitions and multimedia activities.
Musée Rodin
If you saw Woody Allen's "Midnight in Paris," you'll recognize the gardens of this museum, dedicated to the life and work of Auguste Rodin. An exquisite mansion houses the interior galleries, and outside you can walk among some of the artist's most celebrated bronzes, including "The Thinker" and "The Gates of Hell."
Musée du Quai Branly
A cultural legacy of the Chirac presidency, the Branly (opened in 2006) is dedicated to non-European art. Supporters of the museum rejoice at the effort toward multiculturalism, while critics smell the unpleasant scent of lingering colonial attitudes in its conception and displays.
Le Grand Palais
Crowned by an expansive, barrel-vaulted, cast iron and glass ceiling, the Grand Palais is itself an attraction. Constructed for the Universal Exposition of 1900, it contains multiple galleries that play frequent host to blockbuster traveling exhibitions.