Looking for serenity, unspoiled nature and that elusive far-away-from-it-all feeling?
These exquisite little-known islands off the coast of France offer a mix of pristine sandy beaches, hidden coves, dramatic coastline, natural reserves and historic or prehistoric sites.
Some permit cars, others do not, and though day trips are doable, most offer lodging, dining and bike rentals to get the most out of your stay.
Here are nine French islands that are worthy destinations to explore:
1. Ushant, Brittany
On the ferry ride over you'll understand why Ushant – the westernmost point of France – is called "the island at the end of the world."
Eight kilometers long and four kilometers wide, this perpetually windswept island – known in French as Ouessant – remains almost as it was hundreds of years ago, when sheep farmers, fishermen and sailors were its only inhabitants.
Now they're joined by artists and vacationers happy to leave the world behind and traverse the island's stretches of biking and walking trails past lighthouses, vertiginous rocky cliffs, hidden beaches, lighthouses and dramatic seascapes.
Getting there: Take Penn Ar Bed ferries from Brest (2.5 hours) or Le Conquet (1.5 hours). You can stop off en route at the tiny island of Molène, just a few miles from Ushant.
2. Île de Batz, Brittany
Luxuriant palm trees and white sandy beaches belie the fact that this is indeed Brittany.
Just a hop from the mainland, this three-and-a-half-kilometer-long, car-free island is easily explored on foot or by bicycle over its coastal footpath.
Many prefer to grab a picnic and head to Grève Blanche, the island's largest and loveliest beach, or the Jardin Georges Delaselle botanic garden, harboring 2,000 species of plants from every continent.
Getting there: Three ferry companies make the 15-minute trip from Roscoff: Compagnie Finistérienne de Transport Maritime, Armor Excursions and Compagnie Maritime Armein.
3. Île de Bréhat, Brittany
A discreet and private sanctuary for generations of French vacationers, this island off Brittany's wild and jagged Côtes-d'Armor is actually several islands joined at low tide.
Thanks to the passing Gulf Stream, the island's mild microclimate supports Mediterranean palms and luxuriant flowers and is also home to 270 pairs of nesting puffins, which can be spotted from the beach alongside other seabirds.
The dramatic coastline of the northern island is best for coastal walks and lighthouse viewing, and Guerzido, to the south, is among its best beaches.
Getting there: A 10-minute ferry ride from Pointe de l'Arcouest drops you at Port-Clos on the southern island.
4. Belle Île en Mer, Morbihan
The largest of Brittany's many islands, 16-kilometer-long Belle Île en Mer, off Brittany's southern Morbihan coast, is also its most diverse, with dozens of charming hamlets and hotels, as well as camping, dining and nightlife options.
Add to that exquisite natural beauty encompassing fields and dunes, sprawling sandy beaches – Grands Sables and Port Donnant are the most spectacular – hidden coves, lighthouses, archeological sites and a 17th-century fort. A walk or bike ride along the Côte Sauvage is a must for views of the picturesque coastline and crystalline sea, which were frequently painted by Monet.
Getting there: Compagnie Océane makes the 45-minute crossing from Quiberon. You can also take the Compagnie du Golfe from Vannes (two hours) and Port Navalo (50 mins).
READ: Cannes day trips – Retreat to these special islands
5. Groix, Morbihan
Ringed by wild coastline and jagged, storm-battered rocks, it's plain to see why eight-kilometer-long Groix was named "Witch's Island" by the Breton natives.
Or maybe it was to keep people away, as this remote island's stunning natural beauty, white sand beaches and sparkling turquoise waters are a treasure known only to the few French vacationers, cyclists, nature lovers and birdwatchers that come here.
While picturesque in the sunshine, Groix's three ports, charming villages, country churches and solitary lighthouse turn ferociously thrilling when a storm rolls in.
Getting there: Compagnie Océane operates 45-minute ferry crossings from Lorient. The port is a short distance out of the city center, so you may wish to travel there by bus or taxi.
6. Île-aux-Moines, Brittany
Among the 42 islands of the legendary Morbihan Bay, cross-shaped Île-aux-Moines is the most popular.
Known as "the pearl of the gulf," it attracts a lively crowd for its biking, boating and all-round fun in the sun. Seven kilometers long, this temperate island offers sun-worshippers long sandy beaches and clear shallow bays, and its dazzling coastal landscapes are easy to explore on foot or by bike.
In the south, the 6,000-year-old Dolmen de Pen-Hap standing stones affirms its prehistoric past.
Getting there: Ferry shuttles depart every half hour year-round from Port-Blanc, Baden, for the five-minute ride to the island. In July and August there are three ferries a day from Vannes.
7. Île de Ré, Charente-Maritime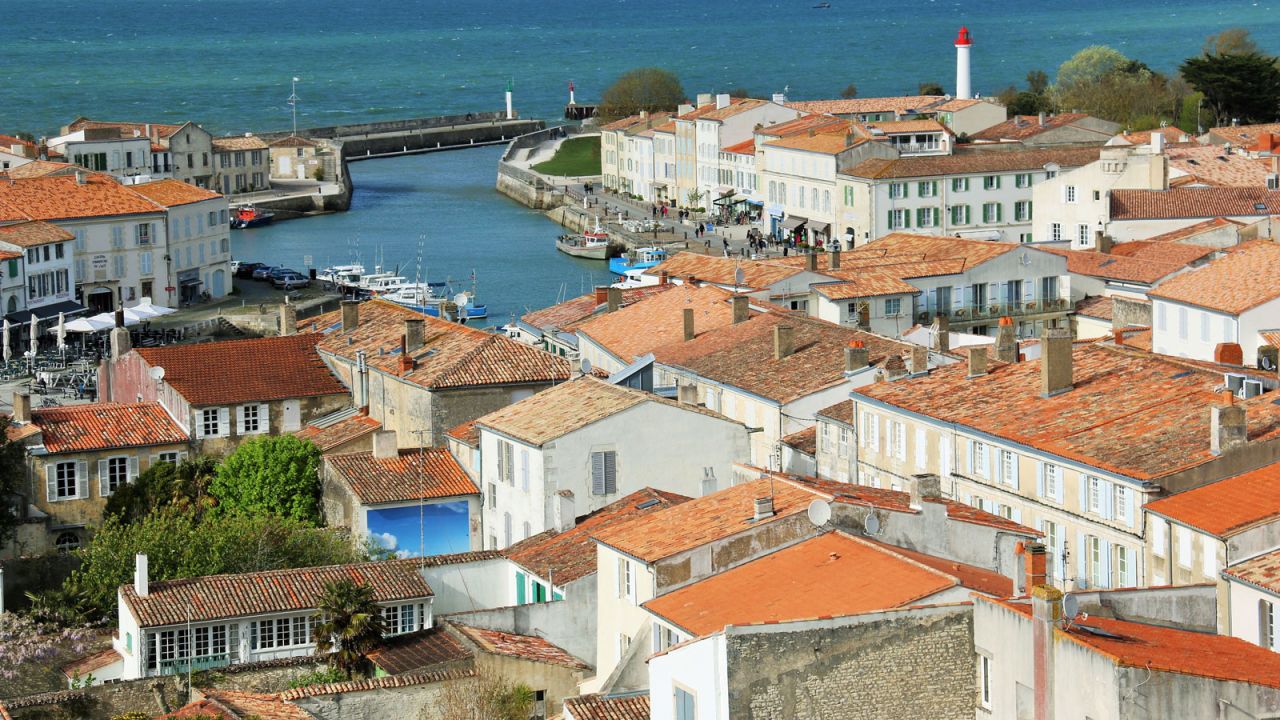 This accessible island off the coast of La Rochelle is a traditional favorite of the French upper crust for its storybook villages and poetic landscapes – with the upscale hotels, boutiques, galleries and restaurants to go with.
Don't expect glitz and glamor, though in summer the island is the go-to retreat for a more raffinée French elite, who descend in droves.
If it's peace and quiet you're after, come in fall, when the crowds have returned to Paris and Bordeaux and you can explore the island's lovely forests and dunes, idyllic villages and Vauban fortifications in relative peace.
Getting there: From La Rochelle take the three-kilometer-long toll bridge (open 24/7), traversable by car, bicycle or on foot. There's no toll for pedestrians or cyclists.
8. Îles d'Hyères, Provence-Alpes-Côte d'Azur
Of this group of four islands just off the Riviera, magnificent Porquerolles and Port-Cros are the best ones to explore.
Both designated national parklands, the islands' pristine landscapes and stunning beaches are protected against development, leaving these Mediterranean beauties untouched by Riviera glitz.
Hiking and biking trails take you up gentle or steep inclines, past dizzying cliffs offering stunning seaside vistas, or through forests and vineyards to sheltered coves with powdered sugar beaches and an azure sea.
A popular destination for boaters, beaches can get crowded in summer. The islands are paradise in fall and spring.
Getting there: TLV boat shuttles depart every 30 minutes in high season from the Tour Fondue, on the tip of Giens peninsula, to Porquerolles. The ferry takes around half an hour.
At the time of going to press, TLV's boats depart from Port d'Hyères for Port-Cros at 9.15 a.m. and return at 4.15 p.m. Check up-to-date timetables on the TLV site.
READ: Sicily's Aeolian islands – Where heaven meets hell
9. Îles de Lérins, Provence-Alpes-Côte d'Azur
These two emerald islands set in the shimmering cerulean sea 15 minutes from Cannes make for a spectacular day trip far from the glamorous crowds.
Tiny Île Saint-Honorat, home to a small order of winemaking Cistercian monks, is the place for a gourmet lunch, a dégustation of the monks' award-winning wines, or a placid walk through vineyards past an ancient fortress.
Sainte-Marguerite's miles of cool, wooded paths crisscross the island leading to a bird-watching sanctuary and the 17th-century Fort Royal, a former prison which once held the mysterious captive known as the Man in the Iron Mask.
Sunbathers and boaters flock here for its gorgeous waters and secluded sandy beaches.
There is dining on both islands but no lodging, though you can arrange a three-day contemplative retreat with the monks at the Abbaye de Lérins.
Getting there: Ferries depart every hour (Honorat) or 30 minutes (Marguerite) year-round from Quai Laubeuf, at the tip of Vieux Port in Cannes. Journey times to both are around 15 to 20 minutes.
American journalist Jennifer Ladonne, who's called Paris home for 12 years, writes regular travel features for France Today magazine and is the Paris restaurants and hotels reviewer for Fodor's Paris travel guide.