Central Italy's Abruzzo has always attracted visitors thanks to its enviable snow season, but up until recently the majority were European.
Now the region, a world away from modern Italy, could be on the verge of an international tourism boom.
With incoming travel numbers on the rise in the country, visitors are increasingly searching for lesser known and undiscovered regional destinations – and Abruzzo has it all.
This includes lakes, the Adriatic coastline, national parks, imposing mountain ranges, UNESCO heritage sites, some of the most beautiful medieval towns in the country, and an eclectic and diverse cuisine that changes from the beach to the mountains.
Many tourism operators and trailblazers are working hard to put central Italy's green region on the map.
In the province of L'Aquila, Sulmona locals Katy Gorman and Susanna Iraci run the Welcome to Sulmona project, the only English guide of its kind to the area.
Beyond tips and advice, they offer a range of visitor services including a walking food tour.
"Abruzzo takes you by surprise," says Gorman.
"It represents what most people expect from an Italian vacation experience but simply cannot find in the more well-known destinations.
"In Sulmona, we like to think we are the jewel in Abruzzo's crown and perfectly located within reach of the mountains, the Adriatic coast and an enviable number of national parks and protected areas."
With no crowds, easy access from Rome and its own airport in Pescara (servicing some major Italian, UK and European cities), Abruzzo has something for everyone, from the food and wine traveler (and don't expect to pay what you would in the big cities) to the adventure and sports traveler.
Here are 10 reasons you should visit Italy's next hot destination.
1. Abruzzi cuisine
With mountains and sea as its strategic borders, fishing and farming are this region's lifeblood.
The cuisine therefore varies significantly from the coast, where seafood dishes are prominent, to the inland areas where legumes and meat – especially mutton and pork – reign supreme.
Arrosticini, thin mutton skewers, are one of its most famous dishes. Simply salted and flame-grilled, they are ordered at family dining tables in the hundreds.
Abruzzo also has a long history of pasta-making and has produced handmade spaghetti alla chitarra for more than 200 years.
This variety of egg pasta is pushed through a wooden contraption that has stainless steel guitar-like strings.
Antico Pastificio Rosetano (Via Salara 9, Roseto degli Abruzzi) is one of several historic pasta production houses in the region that have been producing the pasta since the late 1800s.
It makes the popular Verrigni brand with water from the Gran Sasso mountain ranges, and exports across Italy and beyond.
Owners Francesca Petrei Castelli and Gaetano Verrigni welcome guests for visits in which they can learn about the production process.
2. Culinary courses
Visitors to the region have the option to sign up for a cooking school or even turn their trip into a full-blown culinary one.
Boston-based chef Ezio Gentile runs three-day and even one-week long cooking vacations in Prezza, a tiny medieval town in the mountain ranges of L'Aquila province.
Prices start at $935 for three days and $2,549 for a week.
Then there's Rosaria and her mum Annabella, who run cooking classes (Cooking by Rosie) by the sea in a small town near Pescara. Here guests are taught how to make at least two types of traditional pasta, then there's the local wine to wash it down with.
Three-hour classes followed by a big lunch start at 70 euros ($81) per person and customized activities can be arranged on request.
Meanwhile Giulia Scappaticcio runs a stay-and-cook style programme at Casale Centurione Abruzzo, a country house in a lush green setting with mountain views in Manoppello in the province of Pescara.
3. World-renowned wine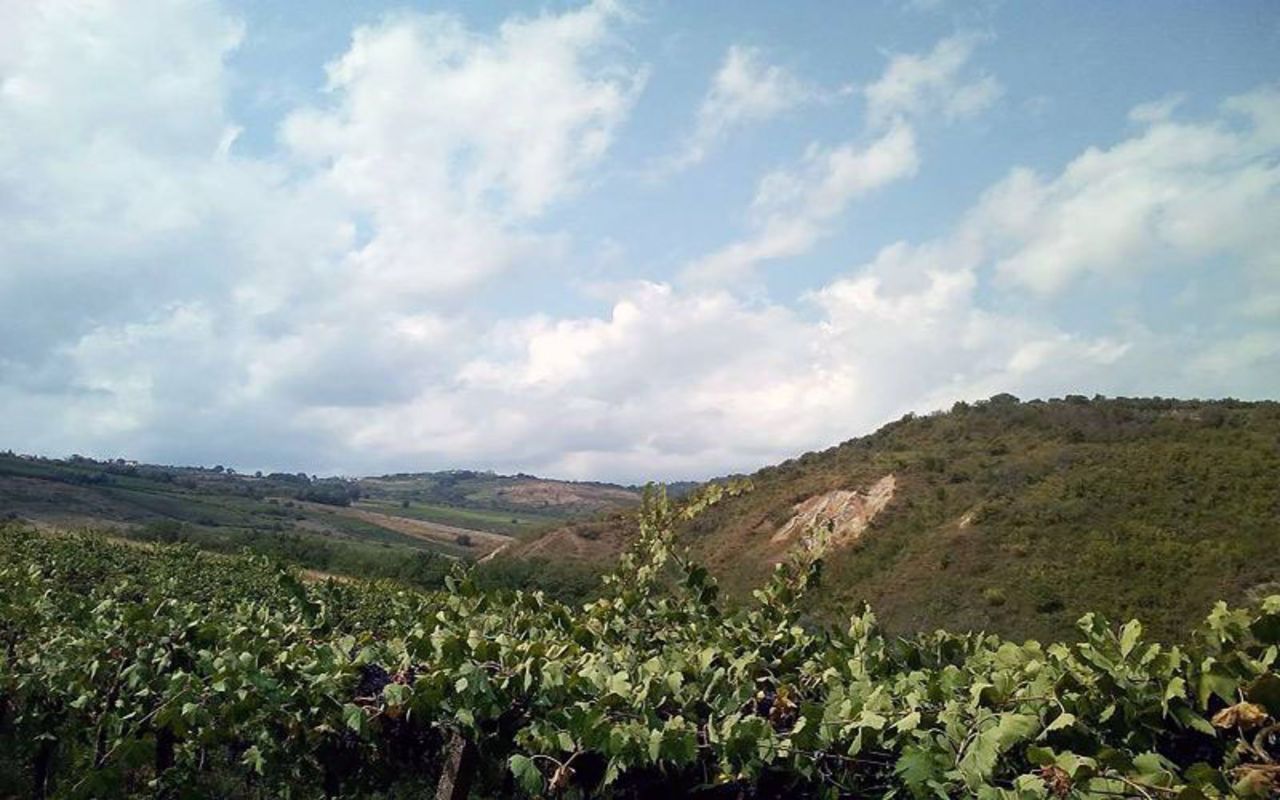 Abruzzo native and founder of the Abruzzo4Foodies blog, Emiliana Dell'Arciprete says food and wine tourism is key to positioning Abruzzo as a destination of choice.
"Historically, any tourism here has been because of the national parks and for skiing in winter. So food and wine is another, and perhaps unexpected, drawcard for visitors and one which Abruzzo is slowly beginning to capitalize on."
When it comes to wine, Abruzzo is famous for its red Montepulciano d'Abruzzo, produced with the Montepulciano grape, distinct from the Sangiovese grape used to make the Tuscan Vino Nobile di Montepulciano.
The majority of the region's wine production is in Chieti province and some of the first bottles of Montepulciano that received the coveted DOC ( denominazione di origine controllata) quality assurance label are on display at the EnoMuseo wine museum in Tollo (Via Cesare Battisti, Tollo).
Some notable local producers that have cellar door openings include Cantina Cerretano who produce organic and vegan wine varieties (Via Ortonese, Orsogna), the Trappeto di Caprafico (Località Caprafico, 35, 66043 Casoli), who also produce award-winning extra virgin olive oil, and Villa Carrene, a family-run vineyard and cellar located a few miles from Sulmona in the medieval town of Prezza, offers wine tasting by appointment (Via San Rocco, 2/A, 67030 Prezza).
4. Idyllic beaches
Abruzzo may never have the beach reputation of the Amalfi Coast, Sicily or Sardinia, but it holds its own in terms of long stretches of sandy beach along the Adriatic.
The ones that consistently receive the Italian blue flag rating for pristine waters are in Chieti or Teramo province.
Ortona is popular with locals and boasts many beach clubs and Pineto is another resort town with sandy beaches shaded by pine trees that give it its name.
To the south, Vasto was a famous Roman fishing village and boasts a sandy stretch, and the characteristic medieval town is perched high with lovely sea views.
5. Beautiful lakes and natural springs
The natural beauty of Abruzzo rivals every region across the boot-shaped peninsula.
Many of its seven picturesque lakes have nearby camp sites or accommodation options as well as water sports like rafting and canoeing.
Lake Bomba has tourist resorts in its vicinity and Lake Scanno and Barrea are some of the prettiest, encircled by mountains and winding roads on approach.
The Sorgenti del Pescara (natural reserve with crystal clear springs) by the small town of Popoli is another favorite with locals, particularly on hot summer days.
6. Spectacular skiing and hiking trails
With their mountain landscape, it's no wonder towns like Roccaraso, Castel di Sangro, Ovindoli and Campo Felice are magnets for avid skiers from Italy and other parts of Europe.
The area gets a heavy and lasting snowfall each year and with the Cinquemiglia (a five-mile long, 1,200-meter-high plain), Abruzzo gives other Alpine destinations a true run for their money (at a fraction of the cost).
A third of the region is made up of national parks, making it the most rural region of Italy.
In the warmer months, hiking trails in many of these towns are perfect for those who love the great outdoors. Some of the best are in the Abruzzo National Park and the Majella National Park.
7. Preserved medieval towns
Away from the crowds of more famous medieval towns like Tuscany's Siena or San Gimignano, places like Pescasseroli, Tagliacozzo and Santo Stefano di Sessanio provide even more authentic regional experiences and stunning scenery (some even with castles).
One of the most distinctive is Rocca Calascio, which boasts a watchtower from the 10th century and remains the highest fort in all of Italy, at nearly 1,500 meters above sea level.
Abruzzo is touted as the greenest region of Italy due to the number of national parks within its borders and most towns sit off dramatic cliff faces or with imposing mountain ranges as their backdrop.
Marianna Scoccia, mayor of Prezza, one of many small towns dotted along the mountain ranges, says these medieval gems must be protected.
"Our region is known for its medieval hamlets and towns. Many of them, including Prezza, remain relatively untouched," she explains.
"Here in these towns you can walk the streets and enjoy the tranquility of a world gone by and it's where century-old traditions are honored, like the Malmozzetto medieval festival held in Prezza each August."
8. Italian confetti
Sulmona is famous for being the capital of sugared almonds, known as "confetti" in Italian, and torrone, classic Italian nougat. The city sits within a UNESCO-protected valley, once a lake that disappeared in prehistoric times.
The streets here are lined in floral creations made up of confetti covered in colored paper and bunched into bouquets.
You can buy these beauties in any flavor imaginable – Nutella, tiramisu, ricotta and pear, fruits of the forest, hazelnut, the list goes on.
Guardiagrele in Chieti province is fast developing a local reputation as a foodie town. It even has its own sweet, Le Sise delle Monache, which literally translates as "nun's breasts", so named for its rounded, perky shape.
This chantilly cream-filled bun of sorts is most commonly eaten at Pasticceria Emo Lullo (Via Roma 105, Guardiagrele).