They're pristine, wild and extremely hot – and not just because of the high temperature and the stunning volcanic landscape with constant little eruptions.
Stromboli and Filicudi, two beautiful islands in Sicily's Aeolian archipelago, are believed by some to have magical, aphrodisiac powers ideal for those seeking – or desperately trying to recover – the ecstasy of passionate nights.
Which is why they're often known as the "fertility atolls."
Not that anyone needs an excuse to travel to what is a beautiful corner of Italy – if they can get there in these tricky times for travel – but for some, a trip here is more than a vacation; it can be a life-changing experience.
Locals say the islands have have become "sex pilgrimage," sites due to their apparent ability to raise libidos. They also claim, although it's not clear exactly how they know, that the relaxing environment encourages couples to engage in bedroom experimentation.
The islands' warm thermal waters, the spectacular lava flow scars, its intriguing grottoes and mysterious flowers are considered an "orgasmic" cocktail that apparently turn people on.
Newlywed couples longing to have a baby are said to flock here from all over the world, while young women hoping to find a man say silent prayers in front of odd-looking sea stacks that thrust into the air like… well, you get the idea.
Lava fireworks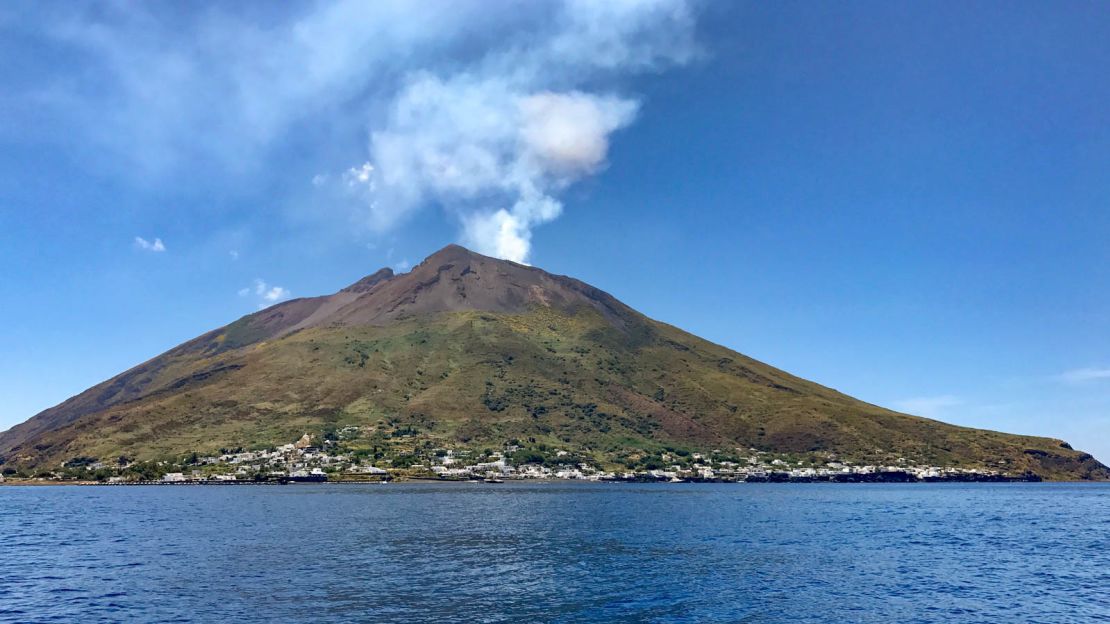 Stromboli, one of the world's most active volcanoes, is said to be the most aphrodisiac of the islands.
It can be a little unsettling, even if your mind isn't on more carnal pursuits. There are frequent eruptions, every 15 minutes or so, with smoky cannonball blasts that make the ground rumble and hearts palpitate.
The volcano's flanks are patchworks of yellow, red, orange, black and green sand and rocks covered in pink flowers. Former lava flows scorched huge scars on the landscape that are known as "sciare."
The jet-black scenery contrasts with the translucent aquamarine water and the string of whitewashed houses that runs from the island's port to its lonely beach of Piscità. There are boat tours at night that let visitors admire the lava fireworks under starry skies.
At each eruption of the Black Giant, as Stromboli is known, heat builds up beneath the ground and is released underwater through tiny air bubbles. At night, when the air temperature cools, roads and sidewalks are hot to the touch and rough stone walls radiate heat.
"It's a very sensual place, an isle of fire and passion," says Maria Puglisi, a local wine trader. "You can feel the constant vibrations inside of you each time the pinnacle erupts; it's like if the volcano explodes in your body. It's a powerful, aphrodisiac pull."
'Naughty boy'
Many people who embark on an eight-hour trek up to the crater like to strip naked, she says, and lie with their bellies on the trembling soil to better feel the eruptions and vibrations run through their bodies.
"It's an orgasmic experience, a ritual that ignites passionate sex. The heat and volcanic beat get into your blood and trigger this sexual vibe in the air. The volcano is alive, we call it "Iddu" (him), and he's guilty of turning folks on. He's a naughty boy."
Stromboli's unique nocturnal scents and pungent air are also blamed for heightening ardor.
The island is also home to an unusual plant that's said to release a hypnotic fragrance during the night which boosts libido and is believed to help couples conceive.
"It's called cestrum nocturnum and its greenish-white flowers bloom only when the sun sets," says Luisa Paduano, owner of Le Terrazza di Eolo, a seafood restaurant with panoramic views over an extinct volcanic crater known as Strombolicchio. "That's when it does its magic. We call it Lady of the Night or Beauty of the Night.
"Its fragrance is so strong, so overpowering, that it can cause a pleasant dizziness and it lingers until the first hours of the morning. Most dwellings here have this plant on the porch or in front of the main door. It makes you feel good."