Movie legend has it that when Robert De Niro needed to gain about 60 pounds to play an aging Jake LaMotta in "Raging Bull," he called on a country he knew could help:
OK, France also lent a hand, but with its piles of pasta and ice cream, Italy is practically built for elastic waistbands.
While the so-called Mediterranean diet tends to be relatively healthy, some of it's as calorific as it is tasty. Anyone wanting to visit Italy but stay slim might want to avoid the following nine places:
1. Randazzo, Sicily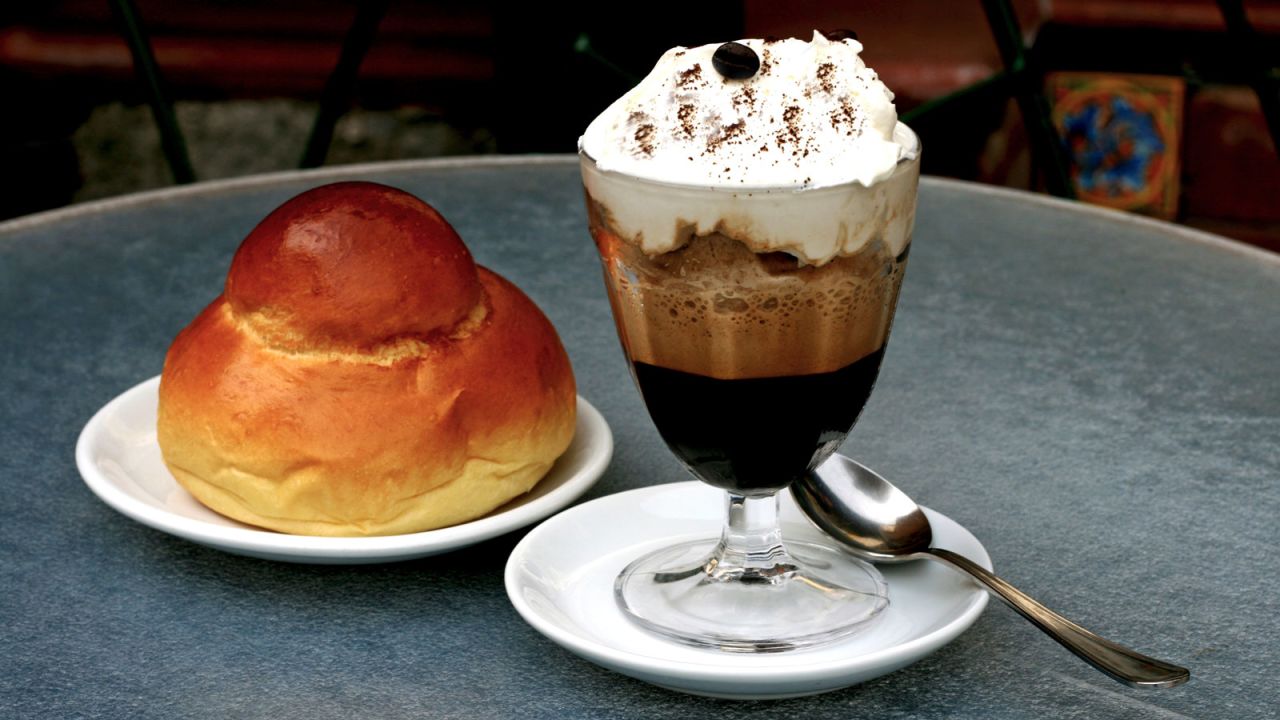 This picturesque medieval town at the foot of Mount Etna has given birth to a divine cult of granita – a slushy and ice-cream hybrid that Sicilians call their own. The dish traces its origins to Randazzo residents of years past mixing fruit juice with snow from Etna.
Yes, it has its imitators, but Sicilian granita is without equal. This is a dense mixture of sugar and water, mixed with locally grown pistachios, toasted almonds and the best seasonal fruit – mandarin oranges, figs, cactus figs or mulberries. Or, for flavor purists, just lemon or coffee.
Tourists eat it like a sandwich, served inside a brioscia con tuppo – a brioche bun shaped like a ball with a round "hairpiece" on top.
Locals have their own ritual. They use the brioscia as a spoon. And it's not dessert but lunch. It melts in the mouth quickly, but has lasting aftereffects. After tasting granita, all other gelati will seem inferior.
Pile it on: Musumeci is an artisan pastry shop. Piazza Santa Maria 5 Ransazzi; +39 095 921196
Sleep it off: Shalai Resort is a restyled historical mansion. Via Guglielmo Marconi 25, Linguaglossa; +39 095643128
2. Caserta, Campania
Yes, it's known as a stronghold of the local Camorra mafia, but Caserta has a much more savory claim to fame. It's the home of the best mozzarella in Italy – and therefore the world.
This is the real one, made with buffalo – not cow – milk. It's denser, porcelain white, smooth and bittersweet. Milk oozes out when you bite it. Monks started the tradition in the 12th century and it's been handed down from generation to generation.
Local stores sell all the different shapes – braids, eggs, small and big balls. The bigger the mozzarella, the tastier. It's possible to visit dairy factories in the morning, watch the mozzarella-making process and then sample the fresh produce. It's best to get there early, as by 10 a.m. everything's been sold.
The town also boasts the "Reggia," a stunning palace built for the Bourbon Kings of Naples in the 1800s as a banqueting house for lavish parties. A UNESCO-listed site, it could outshine the Palace of Versailles.
Pile it on: Le Colonne; Viale G. Douhet 7, Caserta; +39 0823 467494
Sleep it off: Hotel Amadeus is a cozy old palazzo. Via Giuseppe Verdi 72/76; Caserta; +39 0823 352663
3. Nursia, Umbria
Nursia, eclipsed by the fame of Perugia and Assisi, is normally missed by tourists. Too bad, because unlike its sister towns, this place does wonderful things with pigs.
All kinds of sausages and wild boar hams hang outside shops and in the middle of medieval piazzas. Strong aromas fill the nostrils: chili pepper and liver sausages with prized black truffle. There are also "donkey balls" – salami or other sausage meat that is shaped to resemble the animal's nether regions.
These products have given rise to Italy's "norcineria" tradition of meat-curing, using methods that originated in the 1300s. Addiction to cold cuts is a real risk.
Pile it on/Sleep it off: Palazzo Seneca is a restaurant and hotel offering typical wild boar and deer dishes. Via Cesare Battisti, Nursia, 12; +39 0743 817 434
4. Milan
It all began as a mistake.
Legend has it that one day Toni, a distracted baker's boy, dropped eggs, sugar and raisins into some bread dough and made a cake, which was then given his name: Pan de Toni.
Today panettone is one of the symbols of Milan. For centuries it was eaten just at Christmas and was traditionally embossed with a festive cross design. Now it's become a year-round gourmet delicacy and celebrated pastry cooks are reinventing it with new twists.
Passito wine, marron glaces, pine nuts, nuts, apricots, figs, chestnuts, black cherries, pineapple and tropical fruit have been added to the original raisin, candied citrus peel and butter recipe. Wilder versions have olives, truffles, pepperoni, capers, aubergine and fois gras.
Pile it on: T'a Milano is a pastry boutique selling 500-gram to 10-kilogram panettones, accompanied by hand-made chocolate and pears. Via Clerici 1, Milan; +39 0287386130
Sleep it off: Palazzo Parigi is a stylish hotel overlooking the Duomo. Corso di Porta Nuova 1, Milan; +39 02 625625
5. Borgo di Carpiano, Umbria
This former ghost village brought back from the grave and restyled into a boutique resort is so isolated by dense, green forest that there's nothing to do but eat, drink and eat.
Food here is better than in many Michelin-starred restaurants. Guests practically go from one meal straight to the next.
Breakfast involves plates of ham and cheese, seven different honeys, home-made smoothies, bruschetta and jam pies.
Lunch and dinner have multicourse tasting menus featuring the likes of fried porcini mushrooms in breadcrumbs, duck carpaccio, and twisted scialatielli pasta with pesto and mint.
There's also Margherita di Burrata – a mix of mozzarella and cream served with fresh tomatoes and basil in a cocktail glass mimicking the green, white and red of the Italian flag.
Dessert o'clock comes three times a day. Guests are served cocktails, wines and digestifs before and after each meal in a converted crypt. An apt place to lay diets to rest.
Pile it on/Sleep it off: Borgo di Carpiano; Localita di Carpiano, 06024 Gubbio, Perugia; +39 075920337
6. Orgosolo, Sardinia
Away from Sardinia's VIP luxury beaches and shimmering seas is a wild mountain region, once the haunt of bandits but now primarily home to shepherds.
Visitors are rare here. Not in winter though, when Cortes Apertas ("Open Courtyards") sees stables and ancient granite-and-turf taverns open to the public, offering crazily good wine, ham, cheese and a few other delicacies.
Honey is a way of life here. Top specialties include sweet-sour concoctions with plenty of salt and fat. One gruesome creation is "porceddu," a baby pig roasted and dipped first in blood, then coated in honey.
Pile it on/Sleep it off: Sa e' Jana is a family-run hotel restaurant serving specialty dishes; Via Catte 2, Orgosolo; +39 0784 402437
7. Matera, Basilicata
Exploring the rough stone alleys and primitive caves of Matera's Sassi district burns off calories. But the local chili peppers have a lot of firepower too.
Crusco – a huge red chili that is sun-dried then fried – is special. It's not spicy but instead has a sweet-salty taste. That's why no one can quit after eating just one. Local recipes all seem to feature crusco. It's used in simple appetizers and is the star ingredient of strascinate pasta in fried breadcrumbs or with stockfish and baby tomatoes.
Pile it on: La Talpa makes a hot variant – crispy Assassin Spaghetti fried in olive oil, tomato sauce and killer chili. The plate is covered in blood-red blotches.
Sleep it off: Grotte della Civita features luxury grotto suites suspended above a gorge. Via Civita 28; +39 0835332744
8. Vasto, Abruzzo
Mealtimes in this Trabocchi coast town of stilted fishing huts converted to restaurants involve a side order of self-restraint.
The local classic dish brodetto involves a ritual that, if not approached with caution, could result in some serious belt-straining. Brodetto is a gigantic fish soup, served as a single main course but is so big it takes two people to finish it.
Ray, mullet, sole, redfish and prawns gaze up from the bubbling pot, swimming in a pool of mezzotempo half-ripe tomatoes, parsley, pepperoni and garlic. The trouble is there's a lot of bread: grilled slices are dropped in before the eating starts and left to absorb the fishy liquid.
Once all the fish is gone, it's time to devour the soaked bread. But the trickiest part comes at the very end when thin spaghetti, called capelli d'angelo, or angel hair, is thrown inside the pot and mixed with the remaining sea broth.
There's no choice but to plow on.
Pile it on: Da Marino makes the best brodetto in town. Via Cavour, Vasto; +39 0873365309
Sleep it off: Hotel Locanda dei Baroni is in a former 17th-century palace. Via S.Francesco D'Assisi 68; +39 0873370737
9. Modica, Sicily
It's too hot for snow-capped mountains, and they're not famous for timekeeping, so why is this place known as Italy's little Switzerland?
One word: Chocolate.
Chocolate here is a family passion going back generations. It's still made using the same technique: by hand and in cold temperatures. The lack of industrial processes – just the same techniques used by the Aztecs – makes it unique.
The Baroque setting, with gargoyles jutting out of elegant palazzos, enhances the experience. The chocolate contains lumps of hard sugar that give it bite. It's salty, with a rough edge and floury consistency. Locals call it "glass chocolate."
Pile it on: Caffe dell'Arte is a historical patisserie that makes chocolate variants with pistachio, vanilla, chili pepper, salt, cinnamon and bergamot. C.so Umberto 114, Modica; +39 0932 943257
Sleep it off: Le Magnolie is in an 18th-century villa. Via Campailla 25, Modica; +39 0932752552
Italy's 20 regions, dish by delicious dish
Travelers must eat – best new restaurants for 2017
Eat your way around the world in 18 dishes!
Silvia Marchetti is a Rome-based freelance reporter. She writes about finance, economics, travel and culture for a wide range of media including MNI News, Newsweek and The Guardian.