Twenty-five years ago, "Jurassic Park" brought velociraptors to a new generation – and broke a few box office records in the meantime.
It also had the unlikely benefit of turning Jeff Goldblum, who played Dr. Ian Malcolm in the film, into a sex symbol.
Now, to commemorate both of those events, a 25-foot, 330-pound statue of Goldblum in character as Dr. Malcolm – more specifically, as a reclining, open-shirted Dr. Malcolm – has appeared in London next to the famous Tower Bridge.
The statue will be on display through July 26, giving Jeff-loving Instagrammers plenty of time to visit when they travel there.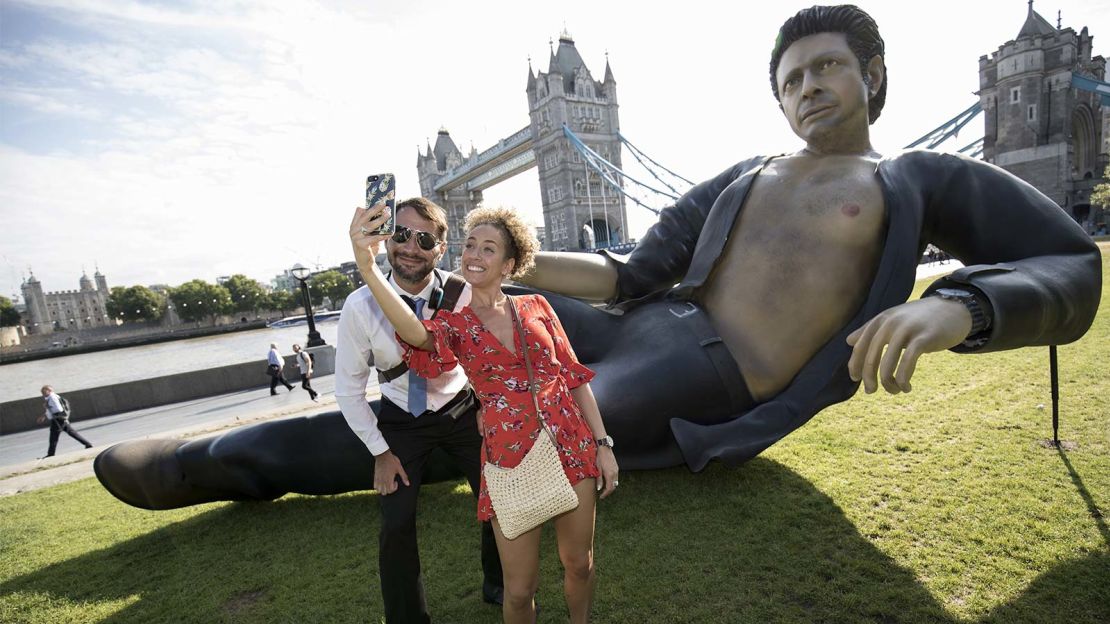 Although the movie doesn't have any specific connection to London – it wasn't filmed or set there – that doesn't seem to bother the fans who are already flocking to the statue.
The #JurassicJeff hashtag on Instagram and Twitter is filling up with mentions.
"This monstrously large Jeff Goldblum is how I like to imagine the man himself in his true form," Helen McClory, author of the Goldblum-themed flash fiction collection "The Goldblum Variations," told CNN Travel. "Or how he would have appeared in the age of megafauna."
While the latest installment in the rebooted franchise, "Jurassic World: The Fallen Kingdom," starring Chris Pratt and Bryce Dallas Howard, is in theaters now, the original Steven Spielberg-directed "Jurassic Park" still has a significant cult following.
And this isn't the first time that a giant replica of an actor has shown up in London.
In 2013, an enormous fiberglass Colin Firth, in his costume as Mr. Darcy from "Pride and Prejudice," was placed in the Serpentine in Hyde Park, also with an open shirt. It seems like there's a trend about.
Fans of public art who prefer fewer male chests on display can also head to Hyde Park to view the latest work by Christo, a 65-foot structure made of oil barrels that is floating in the Serpentine.