Story highlights
Japan's Jison-In Temple is filled with offerings depicting female breasts
Temple's head priest says visitors come to pray for women's health
On the surface, there's little out of the ordinary at the Jison-In Temple complex in Japan. Sitting at the foot of Mount Koya – the country's most spiritual peak – in the small town of Kudoyama in Wakayama prefecture, it's a textbook example of Japanese Buddhist architecture.
Upon closer inspection, however, one notices an abundance of something a bit, well, out of a place at a site of spiritual reverence.
The temple grounds are filled with thousands of depictions of female breasts.
Left hanging in various corners of the complex, these busty decorations are actually left by visitors as spiritual offerings. And, perhaps adding to the authenticity, they come in all shapes and sizes.
Some are puffy, made with fabric and stuffed with what appears to be foam, their nipples bedazzled with tiny beads. Others are simply blocks of wood topped with circular mounds dotted with pink nipples that hang from a string.
Not all have a three-dimensional appearance – there are also wooden plaques simply featuring painted images of busts. According to the temple's head priest, Annen, it all began years ago when a doctor from the nearby city of Wakayama came to pray for a patient who was undergoing treatment for breast cancer.
The doctor asked temple staff to place a symbol of female breasts as an offering. Word of the unusual request began to spread and soon the temple became known as a site to pray for women's health issues.
"The breasts represent birth, so people use them to pray for safe pregnancies, protection from cancer and even a healthy breast milk supply," says Annen, who has been head of Jison-In for over 40 years. Being the only temple in Japan with such a specialized form of offerings – breasts can be purchased on-site – Jison-In receives visitors from all over the world, says Annen.
$27,000? Inside Japan's luxury fruit habit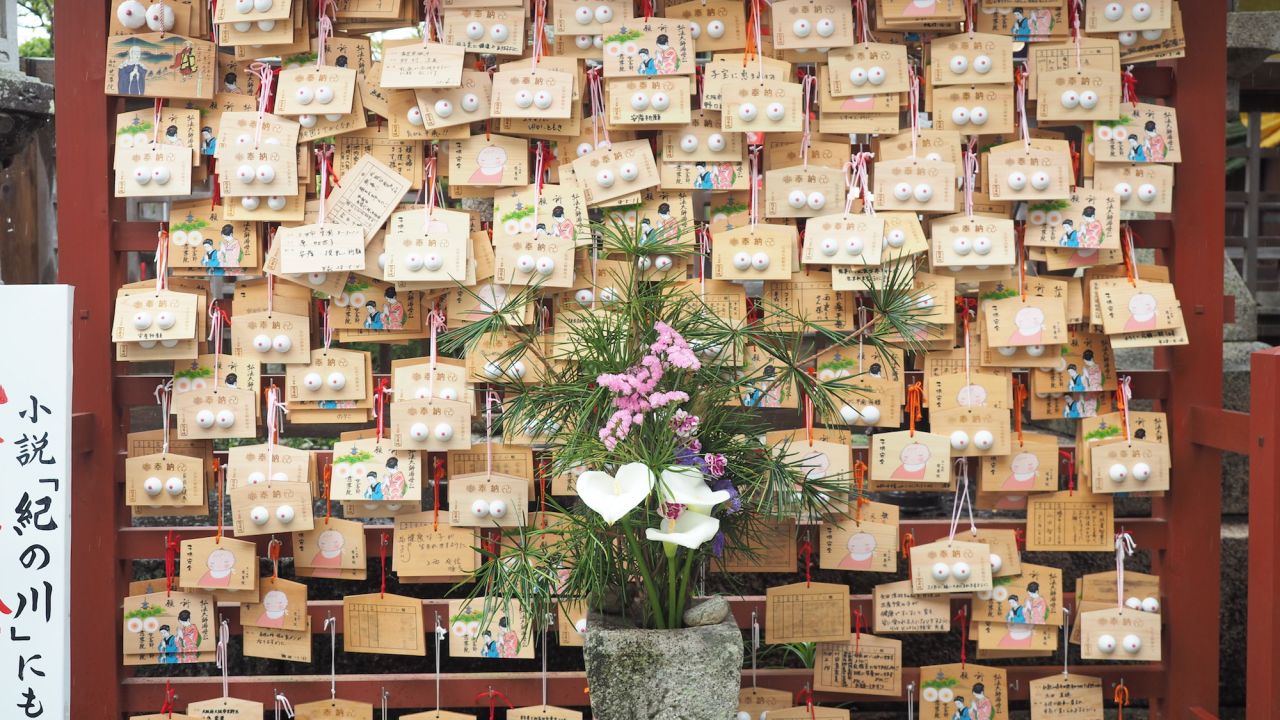 Gateway to Japan's most sacred mountain
The temple's strong connection to themes of motherhood dates back over 1,000 years. Jison-in is a gateway to the sacred Mount Koya, or Koyasan.
Koyasan was first settled in 816 by Kobo Daishi – the founder of Shingon Buddhism, a Chinese-influenced esoteric sect introduced to Japan in the year 806. Today, Koyasan has a population of around 3,000 and functions as the Shingon Buddhism headquarters for more than 4,000 temples and missions throughout Japan and overseas.
Up until the late 1800s women were not allowed to visit the mountain, thus Jison-in became a sacred site of worship for them. Among the temple's residents was Kobo Daishi's very own mother.
According to legend, he walked back and forth from Mount Koya – 24 kilometers each way – nine times a month to see her there. (And to think some sons even struggle to remember to call dear ol' ma on her birthday.)
"That's why the town is called Kudoyama – 'Nine Times Mountain'," says Annen.
World's best unknown hike: Japan's Kumano Kodo
Hiking the Choishi Michi trail
Jison-In marks the entrance the Koyasan Choishi Michi trail – known in English as the Koyasan Stone Marker Path. Designated a site of national importance in 1977, it's made up of 180 "choishi," or stone markers, each of which features five tiers to represent the principle elements of the esoteric Buddhist universe.
Stone marker number 180, at Jison-in, marks the start of the pilgrimage route. The trail is about 24 kilometers long – it's the same route Kobo Daishi took – and features a stone marker every 109 meters leading to the Danjo Garan temple complex, one of the most holy sites on Mount Koya.
Local tourism officials say over 80% of the markers still standing today were constructed in Japan's Kamakura period (1185-1333). In those days, Koyasan pilgrims would stop and pray at each marker as they made their way up to the mountain.
During our visit to Jison-in and subsequent hike on the Choishi Michi trail the rains are heavy, but this doesn't detract from the overall experience.
The downpours shroud the mountainous terrain in a misty veil, providing a delightfully eerie vibe to the walk. It's a weekday so we pass only a handful of fellow pilgrims as we hike, though our guide says the trails can get incredibly busy on weekends and holidays.
Besides the stone markers, shrines and deities can be spotted along the way, as well as the odd basket filled with fruit from Wakayama's famed orchards.
Pilgrims follow the honor system and leave their cash in a provided container.
Getting there
Jison-in is located in the town of Kudoyama, in Wakayama prefecture. Trains depart regularly for Kudoyama from Osaka's Namba Station. The ride takes about an hour.
Prefer to skip the hike and drive straight to Koyasan? More here: Overnight on one of the world's most sacred mountains.